Enhance every mean of communication with an employee engagement app
Customize our employee engagement app to perfectly suit your company culture, organizational language and business needs. With powerful tools in an easy-to-use platform, you'll find everything you need to engage your employees like never before.
Getting started is easy and free!
Start for free
Book a demo
An all-in-one employee app to raise engagement, reduce turnover, get honest feedback and improve everyday productivity.
Employee engagement, redefined
Add dedicated features for all forms of engagement
Engagement comes in many forms; an announcement from management, team discussions, birthday wishes, a private suggestion box, an easy to navigate directory, and much more. Connecteam's employee engagement app is flexible and packs multiple tools to enhance employee engagement and to better create connected, engaged employees.
Make it familiar and welcoming
Customize the app to directly reflect your company's culture, look and feel
Customize virtually everything so employees feel like the app was designed and built especially for them and the company. This familiarity and open-minded attitude raises employee engagement and reduces turnover. Employees don't need flashy perks but rather a personal touch.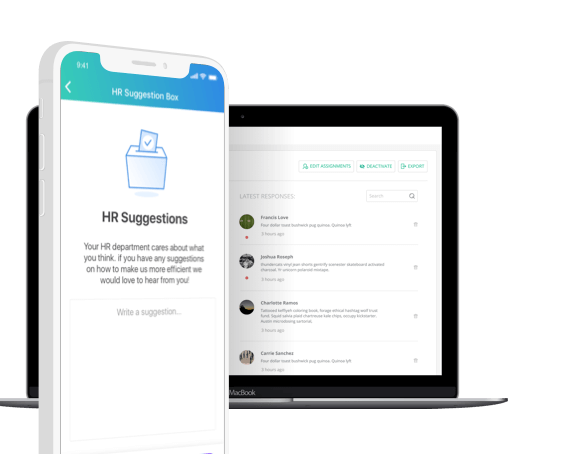 Revamp your company brand
Review what employees say and take action
By studying honest feedback and with daily engagement, you'll find numerous opportunities to improve your business and create employee rapport, and as you create a better workplace, current and future employees will take notice. Sounds like a lot of work, right? Well with Connecteam, it's not. Our user-friendly admin dashboard is actionable and provides live feedback for all app activity.
Multiple engagement tools in one place
All-in-one employee engagement hub
No need to acquire and integrate multiple tools in order to implement a rich and effective engagement experience. Connecteam's employee engagement app packs amazing features and capabilities that are accessible from anywhere at anytime, ensuring no time is wasted on either side.
Analytics and activity, in real time
Measure your engagement efforts with visual insights
Connecteam's admin dashboard is your everyday tool as a manager. It tracks everything that happens in your employee engagement app and makes the data clearly visible and actionable. Always know who viewed messages, and easily reach out to those who didn't with advanced filtering and custom push notifications. The best part? All app activity is documented over our secure cloud and is accessible at anytime with no storage limit.
Connecteam is trusted by over 8,000 companies worldwide
Testimonials
"Connecteam enables us to reach 100% compliance on the job. We save time and cost, while improve communication, job performance and service quality."
"As a big retail company, Connecteam 's solution is ideal for us. The App and its management system help us to be in constant contact with all the employees of the company, which are located throughout the country."
"Connecteam improved our work processes in a significant way. The mobile app helped us improve our workflows and made our projects run more effectively. As an organization, our overall communication and flow of information has become fast and accurate""
"Connecteam is an intelligent collaboration solution. In Sodastream, we found this solution friendly and useful, with high adoption rates among our users. The Connecteam staff are creative and dynamic, and great partners to work with."
Engage your employees like never before with Connecteam's employee engagement app
A simple, powerful and affordable solution to manage non-desk employees. Try it yourself!
Start for free
Connecteam's employee engagement app was designed and built especially for non-desk employees. It's a user-friendly solution that makes employee engagement effective, scalable and easy like no other. With Connecteam's employee engagement app, companies can engage their employees with various tools for different purposes. Activating and customizing employee engagement features is easy and only takes minutes to set up. At Connecteam, we understand that employee engagement can take many forms according to each business' cultures and beliefs. That's why our employee engagement app is highly customizable and can fit any business, from SMB's to big enterprises, while delivering high value to the organization and its employees, while saving time and resources. Start engaging your employees with a modern, mobile-first solution like Connecteam's employee engagement app today.