Good internal communication enhances productivity and creates a positive working environment. Discover how to improve internal communications with 8 simple and effective strategies.
Table of contents
Studies show that good internal communication improves employee engagement, decision-making, and profitability.
Effective communication also helps workers understand company goals and builds trust with leadership.
But today's work environment makes building good communication practices increasingly difficult.
Excessive distractions, too many communication channels, and scattered work can lead to misunderstandings, errors, and more.
Managers are struggling to adapt their internal communications strategies to this changing landscape.
That's why we've put together this handy guide to help you. We explain how to improve internal communication with 8 relevant, easy-to-implement practices.
Key Takeaways
Good internal communication enhances progress, productivity, and team morale.
Setting clear communication channels and sharing consistent guidelines helps improve communication.
Open lines of communication and good training can also help build a collaborative and inclusive work environment.
Connecteam lets you implement the best communication strategies from a single platform.
What Is "Good Internal Communication"?
Effective internal communication is generally:
Clear—free of ambiguity and jargon and doesn't need the recipient to make any assumptions.
Transparent—builds trust among team members through openness and honesty.
Timely—delivered and acted on quickly and efficiently.
Interactive—allows workers to express their feedback, ask questions, and make suggestions
Relevant—concise, aligned with business objectives, and free of unnecessary information.
Engaging—keeps employees involved and committed to the tasks and goals at hand.
Inclusive—non-discriminatory and fosters a sense of belonging while respecting diverse backgrounds.
📚 This Might Interest You:
We put together a list of the best communication apps that will help you perfect your internal communication.
What Are the Consequences of Poor Internal Communication?
Poor communication can have disastrous consequences in the workplace. These include:
Reduced productivity and reputational damage
Inefficient communication can lead to confusion, misunderstandings, and costly mistakes at work. It also wastes time and resources, as workers need to backtrack, clarify information, and fix duplicate or missed tasks. Companies that consistently make these mistakes lose credibility with existing and potential customers.
Low employee morale and loss of trust
Poor communication can be frustrating for the communicator as well as the recipient. This can lead to conflict, resentment, and dissatisfaction among team members. Further, inconsistent communication leads to a loss of trust in coworkers and leadership. This, in turn, can cause low employee engagement and high turnover in your company.
Financial and legal implications
Miscommunication can lead to major blunders at work. Some customer contracts may require you to cover the cost of mistakes, putting you at financial risk.
Plus, certain communication mistakes can be dangerous. For instance, if one worker miscommunicates that they've completed a safety check, the check might never actually happen. This can put workers and customers at risk and lead to legal action against your company.
8 Ways To Improve Internal Communication in Your Organization
Here are 8 best practices that can help improve internal communication in the workplace.
Establish clear communication channels
Most employees have access to various communication methods and tools at work. They can speak face to face, send emails or text messages, connect over voice or video calls, and more.
However, too many communication channels can be confusing and distracting for employees. For example, a worker may miss an important work call because they're used to interacting on a team chat app only.
Establish a few preferred channels of communication and encourage employees to use these.
Additionally, each communication channel should serve a specific purpose. Using them incorrectly can result in misunderstandings and errors. For instance, it's quicker to reach someone via a phone call versus an email. But if you try sharing long-form information over a phone call, recipients will likely forget important details.
Help workers understand how to use communication channels effectively to prevent these mistakes. For example, ask them to use a work chat for high-priority items so they're less likely to miss them. You can also restrict the use of social media or personal chat apps, such as WhatsApp, so communications are secure and distraction-free.
Set consistent standards and norms
Establishing clear internal communication strategies can prevent miscommunication at work.
For example, some workers use a lot of jargon in their communication. This can be confusing to those unfamiliar with industry-specific terms. So, encourage employees to use simple language when interacting with cross-functional teams.
Also, consider creating a glossary of technical terms and abbreviations. This way, workers can quickly look up meanings and align with each other.
You can also set specific communication guidelines for your teams. For example, you can ask workers to interact over video instead of voice calls. This way, they're less likely to misunderstand each other's tones of voice, body language, and more.
Finally, workers from different backgrounds often struggle with language and culture barriers. For example, while some cultures consider maintaining eye contact confrontational, others find it polite and engaging. Providing guidance around meeting rules, languages to use with colleagues and customers, and more can help with consistency.
💡 Pro Tip
Include a section about communication best practices in your employee handbook. This way, workers know exactly where to find the guidelines and can access details quickly.
Support information-sharing in multiple formats
Encourage employees to use appropriate communication formats—such as written, visual, or verbal communication—for different types of information. Consider the below best practices for using different communication formats.
Written communication is best for meeting minutes and other detailed information so workers can refer to them as a single source of truth.
Forms and checklists are great for ‌recording safety reports, operating procedures, and other critical information.
Videos work well for teaching skills—for instance, how to operate machinery.
Visuals and infographics can help workers better digest project planners and trackers.
Audio or podcasts are a great way to share announcements, market updates, and testimonials.
Create an open and decentralized communication system
Establish clear lines of communication, but avoid too many layers. For example, imagine a business owner has an idea to improve customer experience. They share their idea with their assistant, who tells the head of operations, who then conveys it to the relevant worker.
Along the way, the original idea may have been misinterpreted or miscommunicated several times. It would have been more effective if the owner had spoken to the relevant worker directly.
Minimize bureaucracy and hierarchies and encourage management and leaders to communicate with workers regularly. For instance, they can post to a newsfeed, conduct in-person or online town halls, and meet workers at company events.
You can also enact an open-door policy at your workplace. This means managers, leaders, and senior staff let employees know they can share concerns, questions, challenges, and suggestions whenever needed.
Another great way to make internal communication more open at your business is to involve workers in company decisions. You can create focus groups, distribute surveys, or conduct polls. This gives workers a chance to share their ideas and suggestions, making them feel heard and valued.
🧠 Did You Know?
Connecteam offers built-in polls that you can use to gather real-time votes and opinions from your workers. This allows you to keep your finger on the pulse and quickly implement important changes in your business.
Create a sense of belonging and shared purpose
Barriers between teams are a common source of poor communication and make employees feel disconnected. You can do several things to prevent this and build a good rapport among employees.
For starters, company events help bring employees together, and they can get to know each other's backgrounds and communication styles. You can also organize virtual events and networking sessions when employees work from different sites. Plus, team-building activities are especially helpful in bridging communication gaps between team members.
Moreover, having a common purpose and direction can foster a sense of belonging and help workers communicate and collaborate more efficiently. Without this, one employee may be working toward a particular goal—for instance, maximizing sales—while another could be aiming for more profit. This could lead to confusion and misunderstandings.
Use events and newsletters to remind workers of the company's mission, progress, and challenges. Establishing shared goals helps in improving internal communications in the workplace.
Conduct check-ins and gather feedback from team members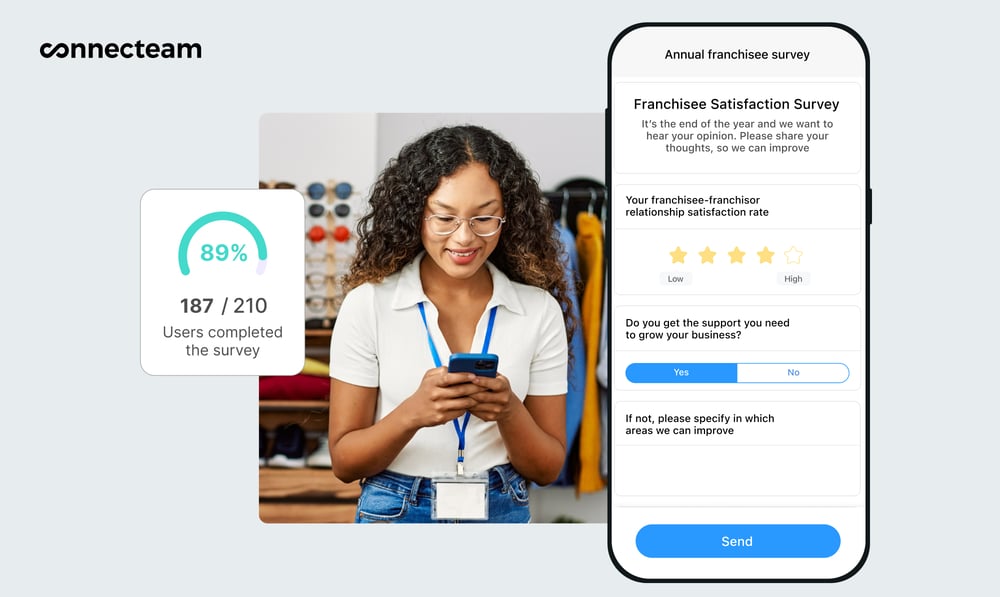 A lack of clear goals and expectations can lead to poor employee communication. Regularly check in with your employees to ensure they're clear on their goals. You can do this through in-person or virtual catch-ups, phone or video calls, or a chat app.
Check-ins also create consistent opportunities for workers to communicate with their team members. This makes it easier for them to share thoughts, concerns, and ideas. Plus, it gives them a defined space to seek clarification on tasks and projects.
Employee surveys also help with improving internal communications in the workplace. Consider running an annual employee engagement survey to assess workers' satisfaction with internal communications. You can also use pulse surveys that are shorter and quicker to complete. These provide helpful insights into the quality and frequency of employee communications.
Provide relevant training
Training is invaluable to improving internal communications in the workplace. It enhances written and verbal communication and can teach employees to stay focused in noisy or distracting environments.
Training also allows workers to learn how their communication styles differ from others. For example, a worker who learns that their coworker prefers concise communication with no small talk will be less likely to feel personally offended by the coworker's directness.
In addition, diversity, equity, and inclusion (DEI) training is hugely beneficial to strengthening communication. It encourages employees to be aware of each other's backgrounds and be inclusive in their communications. You can also train employees on conflict resolution to maintain good working relationships.
You can deliver training in person or through e-learning courses. To supplement your courses, create guides, images, and videos to engage employees. Then, store these in a central location for workers to refer to as needed.
💡 Pro Tip
Consider using microlearning, where complex topics are broken down into bite-sized chunks. This training method aids in better learning and retention.
Use communication software
In today's digital world, internal communication channels go beyond email and phone calls. Various digital tools can help streamline communication within your business.
For example, you can use instant messaging apps, social media platforms, voice and video conferencing tools, and more to connect with your workforce. There are even digital solutions for training so you can teach workers how to communicate effectively.
The best solution, though, is all-in-one employee communication app. Top platforms—like Connecteam—combine instant messaging, social media-style feeds, team conferencing, training tools, and more in a single, secure app.
How Connecteam Can Improve Internal Comms
With Connecteam, you can implement all the above communication strategies from a single platform on any mobile device or web browser.
Connecteam's in-app workplace chat lets you and your workers connect instantly in one-to-one or group conversations. Add files, images, videos, audio notes, and more to any message and receive instant notifications when you have a new message to read. Connecteam's chat is restricted to company employees, and workers don't need to input their phone numbers to use it.
In addition, the newsfeed is a great space to post company-wide updates and announcements. You can even track workers' comments and reactions to posts to ensure they understand them.
Connecteam also makes it easy to train employees on effective communication. You create and deliver custom courses straight to workers' devices. Employees can complete courses at their own pace, and you can track their progress through the central admin dashboard.
Plus, Connecteam's company knowledge base system lets you store your training materials and all other important company documents in a secure central location. It supports PDFs, images, videos, podcasts, and more. This way, you can share information in the most suitable format.
That's not all: You can also use Connecteam's surveys for employees to gather feedback, plan company events with the event management tools, and use the employee directory app to reach workers or their emergency contacts quickly.
Get started with Connecteam for free today!
FAQs
What causes poor workplace communication?
Too much information, noise, or distraction can lead to miscommunication at work. Language and cultural barriers can also lead to misunderstandings among team members. Finally, a lack of communication skills training makes it harder to prevent workplace tensions and disputes.
What makes a powerful communicator?
A powerful communicator is one who both conveys and grasps messages effectively. They'll likely be concise, timely, and transparent when relaying information. They're also active listeners and can adapt their communication styles in different situations. In addition, people who are engaging and can hold people's attention are usually excellent communicators.
Summary
Effective internal communication is crucial to running a successful business. It keeps your employees aligned with company goals, enhances productivity, and reduces mistakes. However, distractions and other factors make it challenging to enhance workplace communication.
Set clear communication channels and establish consistent guidelines to improve internal communications. Communication skills and conflict resolution training also help prevent misunderstandings at work. Finally, create a culture where workers can raise concerns, ask questions, and seek guidance.
Connecteam provides a range of tools to implement these best practices. It lets workers connect in real time, participate in surveys, learn communication skills, and more.
Get started with Connecteam for free today!
Want more great articles straight to your inbox? Subscribe Here ⤵