In 2021 alone, the catering industry is projected to increase by 1.4%, however will grow to 6% by 2024, and is expected to grow by 187 billion (USD) during 2020-2024. 
With an increase in popularity of online catering, the catering industry is one of the major factors that is driving the market, therefore, even with COVID-19, the demand to start your own catering business or expand your current services is high. 
With that being said, though, there are a few challenges that the catering industry faces that catering software can help to correct. For example, efficient management, high turnover, long hours, inefficient training, and so on. 
But what is catering software? Catering software can help restaurants and foodservice companies to better manage all of their organizational challenges that come with running a catering business (as we listed above). The catering software helps you manage bookings, increase communication and engagement, plan and schedule events via an online calendar, track hours, and send bills to customers for example. 
Catering management software makes it easier to reduce error-prone manual processes when switching to automated processes, there is a variety of catering software that differ in what they offer (features), implementation, ease of use, and price. This is why we created a list of the best catering software in the market today so you can make the right choice more easily. 
Top 8
Catering Management Software
Solutions in 2021
Connecteam's all-in-one mobile-first catering software is used by thousands of companies like yours worldwide. Thanks to its robust features, being easy to use with no training needed, and affordable pricing, Connecteam is the best catering software for your business. 
Efficient scheduling:

quick and easy scheduling

of all your employees for each of their different roles and for each event is easy to do. From kitchen staff, caterers, cleaning, etc. For each shift, you can

provide relevant information including time, address, and special instructions, allow employees to accept and reject shifts, and more on Connecteam's

catering scheduling app

.

Time tracking:

easily track work hours

, send automatic reminders to ensure employees are clocking in and out, vacation and sick day requests,

view timesheets

, and more.

Onboarding and training:

easily onboard new employees quicker by letting them read all your

policies

and operational processes on the go from their mobile phone. Train employees and prepare them for different events no matter where they are. Plus, create an accessible knowledge base of your catering dishes, or how tables and food should be organized and presented in events so everyone can easily find all the information they need at all times.

Streamline communication:

use updates for recognition, motivation, and to create a fun vibe and positive atmosphere towards an event. Compliment and recognize employees on their hard work. And you can even create event dedicated

communication

with chat groups.

Automate workflows:

create checklists

for each department for event preparation and closing, then collect information about the event from your employees, including broken flatware or dishes, ratings, event pictures (so you can share those on social media and get more traction), and more.

Task Management:

easily

oversee preparation

s for events, there are built-in reminders to direct your team to execute tasks and you're automatically updated in real-time on task completion. Create a tag for each event and delegate tasks for relevant stakeholders. 
Price: Connecteam is easily the most affordable catering management software and catering scheduling app in this list as it offers pricing starting at just $39/month for up to 50 users! In addition, it offers a free for life plan. 
#1 Catering Management App
Never pay more for less again! Connecteam offers everything you need to effectively run your catering business with its all-in-one catering management app. Start for free today!
Start for free
Tripleseat is a cloud-based event management solution that is designed for restaurants and other hospitality industries. The system helps your business to respond to leads, communicate with guests, track event details, take payments, and more. Tripleseat ensures everyone, from the event manager to the head chef, is on the same page.
Tripleseat also offers the following features:
Centralized bookings calendar

Branded documents and proposals

PCI compliant online credit card processing

Offline payment tracking with your POS

Automatic payment reminders and alerts

eSignatures

Insightful reporting

Automatic tasks and reminders
Price: Contact a representative to learn more about pricing. 
Whether your business deals with online ordering, retail catering, onsite catering, event catering, or corporate catering, FoodStorm allows you to automate processes, generate more sales, and satisfy your customers. 
Depending on your catering needs, the features may vary but in general, FoodStorm offers:
CRM features

Online ordering

Order tracking

Reporting

Integrations with various accounting, online payment, marketing & communications, and other software solutions 

Payment and invoicing 
Price: Licensing starts at $500/month and there is also a one-time implementation fee and an ongoing monthly subscription fee.
Better Cater is great for restaurants, large scale food reparation, function and event caterers, corporate catering, food trucks, and onsite catering. This software prides itself on offering you one solution to manage events, create automatic packing lists, and to generate reports.
Better Cater also offers the following features, however, you can find the full list on their website:
Professional-looking proposals

Simple & customizable reports

An integrated calendar that syncs with Google Calendar, Outlook, and Apple Calendar

Intuitive scheduling

CRM database

Unlimited BEO Templates

Items in partial quantities
Price: Pricing is divided into monthly or yearly payments. For yearly, it costs $690 and you can add additional users for $25/each/month. Or monthly costs $69/month and you can add additional users for $30/each/month. There is a 30-day trial as well. 
Priava is an award-winning software for venues and events. Priava is designed to assist teams with the management of catering orders, CRM, sales and marketing, quoting, equipment hire and tracking, resource requirements, and business intelligence.
The core features available on Priava include:
Opportunities and quotes

Task management

Advanced reporting

Email functionality

Cloud-based file storage

Interactive chart

GDPR compliance

24/7 support
There are also add-on options available, for example, catering, inventory, online bookings, ticketing, advanced permissions, packages, and more. 
Price: Priava offers a subscription basis using the SaaS licensing and delivery model, therefore, the cost depends on what type of venue you have, and how many add-on modules you need. Speak with a sales representative to learn more.
Curate considers itself a modern and intuitive software option for catering businesses. This software allows you to automate processes so it's easier to grow your company.
Curate offers the following features:
Turn digital forms into proposals

Keep track of customers and vendors

Project accurate prices based on recipe costs

Send orders off to the supplier of your choice

Inventory tracking

Overbooking notifications

Advanced reporting
Price: There are 3 monthly pricing modules but its most popular, "Scale", costs $230/month for 2 users and up to 300 proposals. For the year, the "Scale" plan would cost $2,160. 
With Caterease, you can easily manage every single aspect of your catered orders and events. As a manager, you can track your business through flexible reports and customizable queries. In addition, you may use customizable wizard tools and create custom prints to reflect your brand image.
These are a few features that Caterease offers:
Wizard driven event booking

Drag and drop menu selection

Equipment inventory

Automatic packing lists

Site location management

Cost and profit management 

Mobile app
Price: Their most popular plan costs $125/month. There is also a $200 one-time setup fee for each user and each additional user costs $35/month. Any additional features will cost extra. 
Total Party Planner is a web-based catering software that allows you to streamline your catering business to allow your creativity to translate into profitability. 
The following features are available on Total Party Planner:
CRM

Insightful reporting

Calendar reminders

Task management

Accurate food costing controls
Price: For just one user, you pay $75/month and additional users cost $15/month each. While two users cost $150/month and additional users cost $25/month each. 
The Bottom Line On
Catering Management Software
The list of 8 best catering software solutions above can help to eliminate common issues your catering business faces on a daily basis. While also streamlining day-to-day operations like efficient management, billing and invoicing, scheduling staff, tracking hours, venue management, in-depth reports, and more. Therefore, ensure you go through each of the catering software we listed so you can choose the best choice for your business. 
Leading App For Catering Businesses
All the tools your team needs under one roof: Communicate, operate, track hours, create schedules, onboard, and train your deskless employees with Connecteam's all-in-one employee app. Easy to use, customizable and scalable like no other.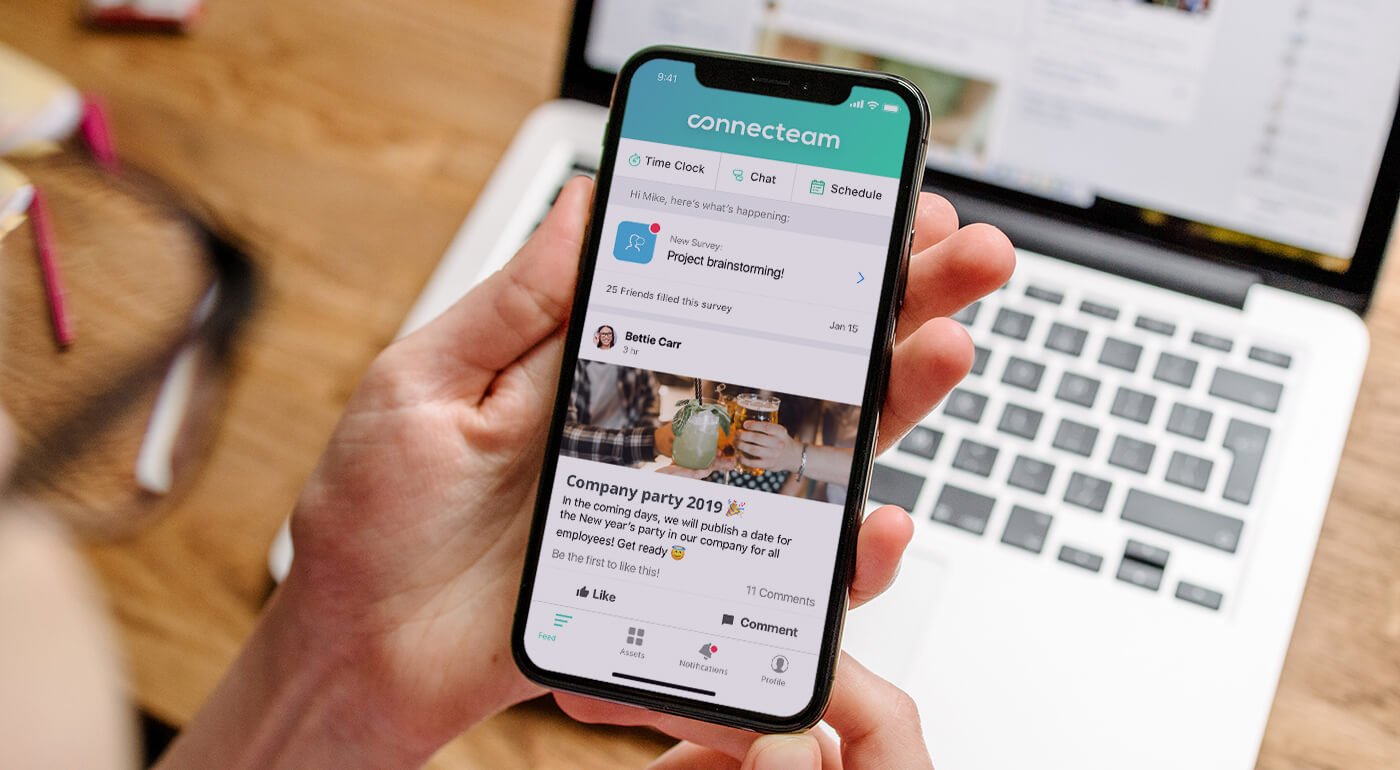 Learn more