Table of contents
"Generation Z expects wifi and 4G as basic needs, the same as an expectation of running water and electricity for older generations."- Anonymous
In 2019, the first graduating class of Generation Z started its professional journey and entered the workforce. Boomers, in all probability, will retire over the next ten years, and Millenials will take charge of senior management roles. To be concise, Gen Z will make up 24% of the global workforce by 2020.
Full of unbridled enthusiasm that drives them to make a mark, employers, and managers need to utilize this high energy by providing their young workforce with the most congenial environment to work in. Along with a positive and productive workplace, you'd also need to provide your team of Generation Z employees with apps to channelize their energy and enthusiasm in the right direction, for the ultimate benefit of your business.
Before we move on to read about some of the best productivity, management, and note-taking apps available out there, let us first have a glimpse of exactly who you call Generation Z and what separates them from millennials.
Who Is Generation Z?
Generation Z is the newest generation to be named and starts roughly between 1996 to 2012. Also known as the iGeneration or Digital Natives, they are currently between 8-23 years old. Their current population is approximately nearly 68 million in the U.S.
It means that many from Generation Z have already started their professional journey in the workplace as interns or entry-level employees. There is also little room for doubt given the infographic above that "Generations are shaped by the context in which they emerged."
By understanding this, the need to further motive your younger generation workforce, you need to be working at the level they're most comfortable at. Their mobile phone.
Below are the top five apps you need if you really want to ensure your Generation Z employees are working more productively.
5 Apps You Need To Make Your Gen-Z Employees More Productive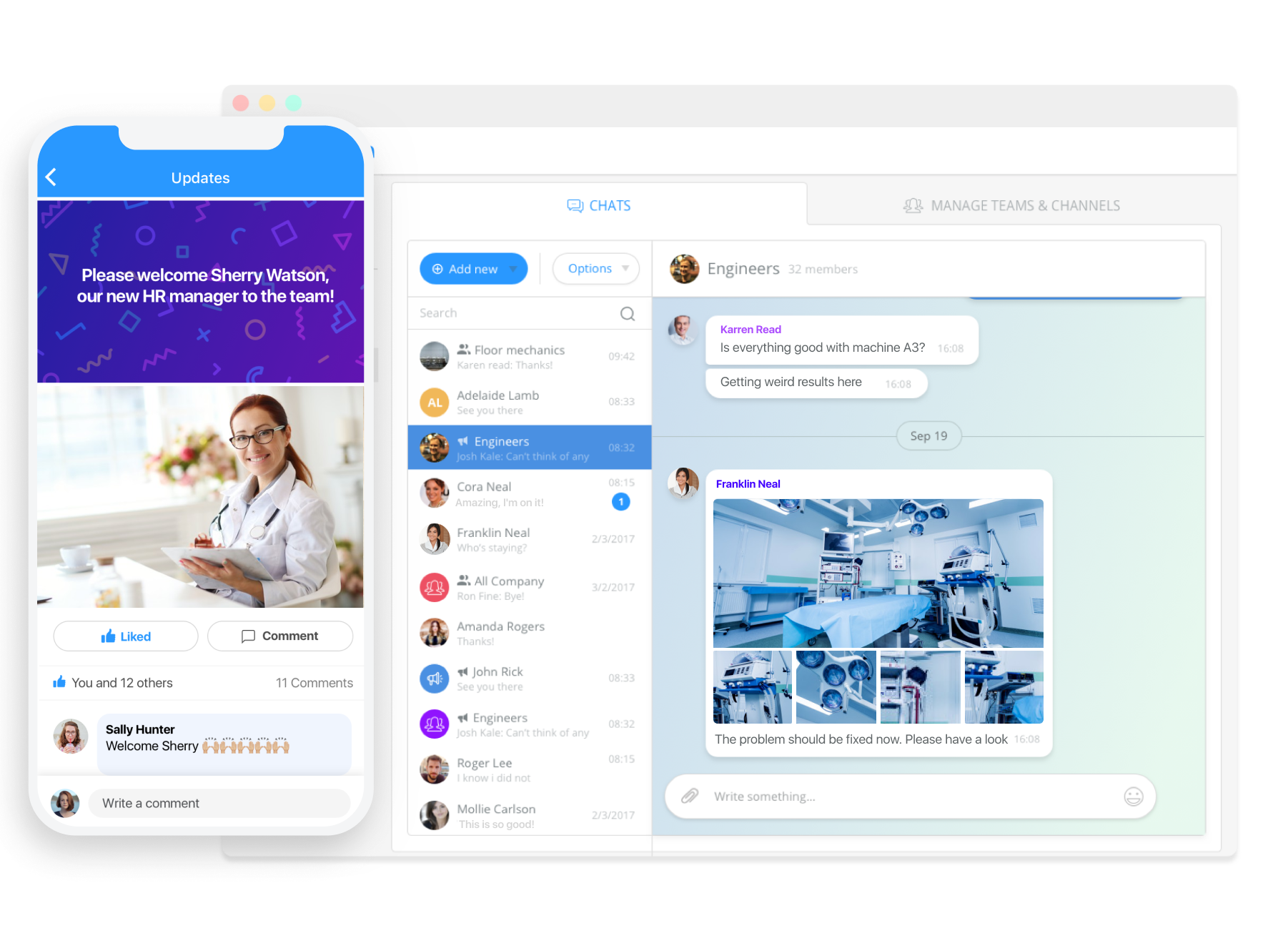 Connecteam is an all-in-one that helps you manage your mobile workforce from one place. It helps you build a native employee app so your workforce, particularly mobile employees, can connect, communicate, and collaborate with ease and speed.
This reliable tool is easy-to-use, customizable, and scalable, which makes it an ideal tool for growing teams. With multiple employee management solutions in one place, managers and employers can easily stay on the same page to avoid any confusion or misunderstanding regarding work.
Some Powerful Features Include:
Streamline your internal communication when everyone is on the same page thanks to real-time push notifications and updates, chat groups, an employee directory, an events page, and more.
Enhance training & onboarding with direct access to training resources on an employee's mobile phone. Plus, they can easily get familiar with the company through materials such as employee handbook, training routines, benefits, etc.
A GPS time tracker as long as your team is clocked in with their smartphones. Know where your staff is at when they're on the clock and be sure they are clocking in and out only from the jobiste. They can also send time off and vacation requests that you can approve or reject on the go. Also, easily export timesheets to QuickBooks Online or Gusto for 100% accurate payroll.
From the field, send and receive reports and all in real-time so it's easier to streamline reporting and ensure compliance like an incident report, expense reimbursement, etc. Your employees can also sign forms, add photos, share notes, and more.
Create a more efficient scheduling process when you're able to assign a schedule that's based on different requirements, offer more information like time, address, and special instructions so nothing gets missed, allow your employees to accept and reject shifts, and more.
Put the focus on enhancing employee engagement with a robust set of tools like employee surveys, share photos or videos or GIFs, the suggestion box, live polls, sharing company announcements with like and comment capabilities, and so much more, you can create an open-door policy.
Pricing: The paid plan starts from $29/month for up to 30 users so you don't need to pay for each user!
#1 Productivity App
Take productivity to the next level with your Gen Z employees.
Generation Z likes to use technology in every sphere of their lives. They want to communicate and collaborate efficiently on tasks and projects to stay updated on the progress of work. ProofHub is a top-rated project management and team collaboration tool that simplifies complex projects and takes team collaboration to another level.
This all-in-one solution is packed with a never-ending list of powerful features in one centralized location, which means teams don't have to use multiple tools for different purposes. Be it task management, reporting, time management, online proofing, or group chat, ProofHub has all that it takes for Gen Zers to easily plan, collaborate, organize and deliver projects of all sizes, on time.
Some Powerful Features Include:
Online Proofing
Custom Roles
Task Management
Kanban Boards
Gantt Charts
Timesheets and Time-Tracking
Group Chat
File Management
Calendar
IP Restriction
Project Templates
Pricing: The Ultimate Control plan is priced at $89 per month, with unlimited users, and is billed annually.
Evernote is a popular, and comprehensive note-taking application with several tools that allow users to do much more than simply creating and saving notes. You can store everything from personal moments to business projects, and be assured that your documents are safe and ready whenever you need them. You can capture notes by writing, capturing photos, recording videos, uploading PDFs, sketching digitally, and more.
Evernote auto-syncs across all your devices, including desktop, smartphone, and tablet. Your ideas, photos, and clipped pages are always available, no matter where you are. Evernote auto-syncs across all your devices, including desktop, smartphone, and tablet. Your ideas, photos, and clipped pages are always available, no matter where you are.
Some Powerful Features Include:
Sync and Organize
Web Clipper
Templates
PDF and Doc Search
Spaces
Search Handwriting
Document Scanning
App Integrations
Pricing: The paid plan starts from $2.58 per user, per month.
Zoom is a cloud-based highly popular video conferencing software that allows users to schedule virtual video and audio conferencing, live chat, webinars, and screen sharing to communicate and collaborate seamlessly. You do not need to sign up to log into Zoom and use this application to attend a Zoom meeting.
The platform is compatible with Windows, Linux, Mac, iOS, and Android, which means nearly anyone can access it. No other software has brought people together like Zoom. Zoom video conferencing is celebrated for its ease of use, high-quality video and audio, and collaboration facilities such as text chat and screen sharing – and the basic version is free of charge!
Some Powerful Features Include:
Meetings and Chat
Rooms and Workspaces
Phone System
Video Webinars
Marketplace
Developer Platform
Quick Invite
Mute Everyone
Share Screen
Pricing: The paid plan starts from $179.48 per year, for up to 100 participants.
RescueTime is an automatic time-tracking and productivity tool to help you see how and where all your time goes, and block your worst distractions. RescueTime tracks and records the apps you use, the websites you visit, and the breaks you take while working. Apart from time-monitoring functions, the software's premium plans offer advanced features, like measuring phone calls, meetings, and breaks.
The software also classifies each app and website you use into five productivity ratings i.e. very productive, productive, neutral, distracting, and very distracting. RescueTime can also block distracting websites when you need to focus, and help you set goals for what you want to get done.
Some Powerful Features Include:
Unlimited Data and Advanced Reports
Focus Time Distraction Blocking
Real-Time Focus Alerts
Track Offline Time With A Single Click
Goals Reporting
Daily Highlights
Productivity Scoring
Monitor time spent in meetings/phone calls
Pricing: The paid plan starts from $9 per user, per month.
The Bottom Line On Productivity Tools For Gen Z
These five productivity tools are the best you can provide your Generation Z employees to help them achieve more efficiency at work as well as reduce work-related stress. These tools automate many manual tasks for you, which saves time and energy of your young workforce.
Since Generation Z prefers to use the latest technology, all of these tools are packed with advanced features that are easy-to-use. Let your Gen-Z employees have the best tools to register increased productivity and better performance at work without having to cut corners.
Leading Employee Management App
Connecteam is the employee app that connects everything a business needs from field to office, all in one place. In the click of a button, you can connect your staff, manage day-to-day operations, improve employee experience and engagement, and drive your business forward.
Learn More
Want more great articles straight to your inbox? Subscribe Here ⤵