Table of contents
For many companies, vehicles are the workhorses, carrying tools, equipment, and workers to jobsites, day in and day out. As such, the company van is a core purchase that defines the kind of work you carry out, the types of customers you serve, and the sorts of employees you hire. The size and versatility of a van impact its capabilities; make sure to consider towing capacity, mileage, cargo space, and other specifications uniquely required by your company's services.
What are some reasons you need to choose a cargo van for your business:
When choosing a cargo van, you have to choose an incredibly fuel efficient van – not only will it help the environment but you'll also get better mileage for less money. And with all the competition out there, many cargo van makers are taking fuel efficiency very seriously, with some vans ranging 22 miles a gallon. Most cargo vans available today are far more efficient and a lot of them are comparable to that of a big sedan.
There are so many well known brands available that you always know that when choosing a van, you are getting the most advanced van with all the standards. As long as you keep up with the maintenance service, the van can last for years beyond most other vans.
You can easily have mobile billboard for your business! Choose a simple design but make sure the logo is easily seen. Instead of spending big bucks for an advertisement outside, like on a single billboard in a busy area, every single time you're on the road, you are exposing your company to everyone who passes by. So keep the message short and sweet so it's easy to remember as others are driving!
Either the interior or exterior can be customized. You can transform the van to be as comfortable and practical as you need.
A full-size cargo van is spacious and on average has 120-200 cubic feet of space. This makes it easy to fill the van with more supplies so you can be ready for any situation.
Most commercial vehicles are uncomfortable but a full-size cargo van does carry the comfort level of an SUV or minivan. And also has the storage and hauling potential of that of a commercial vehicle.
Now that you have a few factors to consider when choosing a cargo van, we need to discuss which should make the top 8. We've already taken everything into account and factored in the most important thing – your recommendations. The vans listed below are the ones most commonly recommended by HVAC business owners but their recommendations definitely apply to contractors of all trades.
What businesses usually use a cargo van? Florists, musicians, plumbing and HVAC professionals, caterers, painters, doggie daycare or grooming professionals, and so on. If you are considering pursuing these career options then be sure to anticipate the added cost.
That being said, before you make your next cargo van purchase, make sure you're buying a quality vehicle that's capable of meeting the demands of your trade. Here's a rundown of ten van models you might consider, as well as what actual business owners have to say about them:
Installation/Construction/Commercial Vans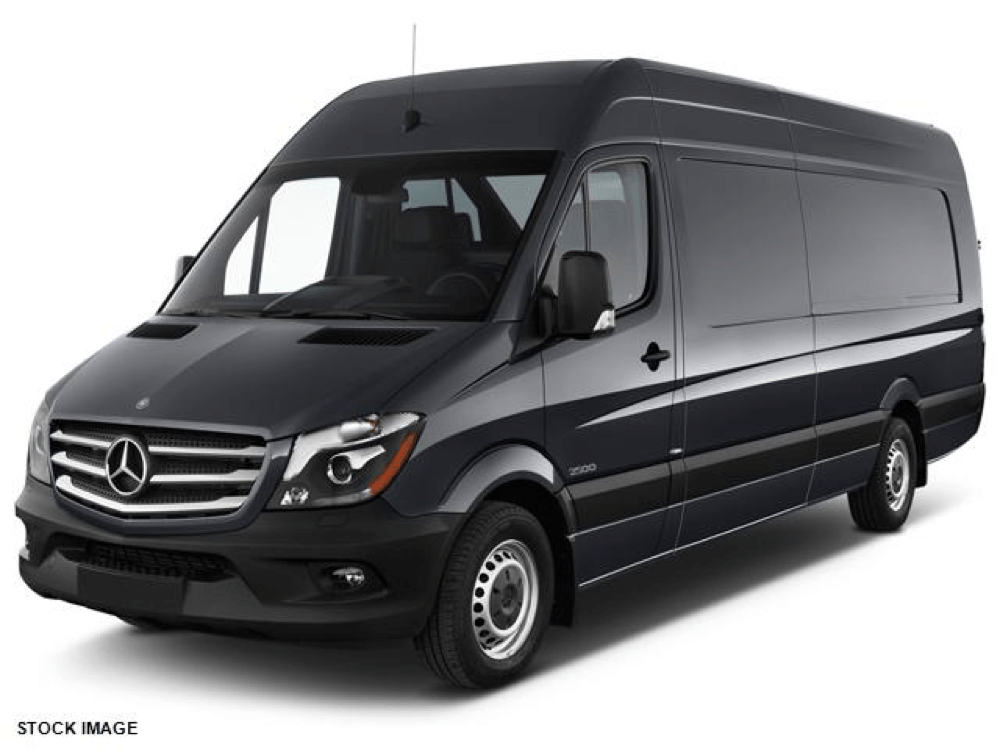 MPG: 19
Storage (width x height): 70.1″ x 66.5″
Engine type: Diesel
Price: Full-size starts at $33,790* mid-size starts at $26,570*.
The van we most highly recommend for heavy-duty work is the Mercedes Benz Sprinter. It might be on the expensive side, but you get a big loading capacity, good mileage, and loads of features with this diesel van. Keep in mid, maintenance costs can run high. An HVAC company owner from Montreal writes:
We have three going on four vans, and Sprinter is far better in fuel economy. Usage is also amazing because of the high top. Costs more, but does a whole lot more, so we're switching to all Sprinters.
MPG: 24
Feature: 261-hp, 4.0-L V6 engine
Engine type: Petrol
Price: starts at $28,850
Our second highest recommended van is the NV Cargo, which offers a lot of cargo room and excellent reliability, for a reasonable price. It's not at the top of our list for fuel economy, but owners find a lot to appreciate about its roomy interior and low maintenance costs.
"We've had our Nissan for three years – still has original brakes, only been down for the oil changes – no repairs!" writes an HVAC business owner from San Antonio. Another HVAC business owner from Arkansas was delighted with the cargo space, noting,
With shelving on both sides, I still can get a five ton condenser on a skid in between them. Plus, I can stand up and walk around inside without having to stoop over.
MPG: 15
Available max payload 4,282 pounds
Max Available towing 10,000 pounds
Engine type: Petrol
Price: $31,000
The Chevrolet Express may lack the cargo room and traction control features common in the other commercial vans on this list, but its reputation for reliability and low maintenance needs have earned it a following, among many of our readers. The Express Cargo Van does allow you to also personalize the exterior and interior. "Express is my pick, hands down," writes an HVAC business owner from Oregon.
Bought brand new, now at 155,000 miles with regular service and maintenance; this van never skips a beat!
MPG: 22
Weighs 1,600 pounds with 135 cubic feet of storage space.
Engine type: Petrol
Price: $33,000
The Ford Transit handles smoothly and boasts a high cargo capacity and good safety features, including ABS and driveline traction control, but some owners report reliability problems. "We have eight of them, and they all have issues," writes an HVAC shop owner from Illinois. "Mine has only 19,000 miles, and the transmission is horrible already." Another owner from South Carolina says, "I like it. Only flaw is the emergency brake between seats".
MPG: 15
Over 460 cubic feet of cargo capacity
Engine type: Petrol
Price: starts at $29,295
The van with the fewest recommendations from our readers is the Dodge ProMaster. The sticker price and cargo capacity might not look bad on paper, but reliability issues and mechanical problems are what kept the ProMaster from winning over owners. It does have front wheel drive and wide door openings. A New Jersey HVAC shop owner writes, "ProMasters are the biggest hunks of s*%t! We had a few in our fleet, and every other week, they were down, and that's not counting the recalls." Another HVAC shop owner from Toronto added,
"We have three ProMasters, all have problems, and one has been at the dealer for a month".
Service/Maintenance Vans (City Vans)
MPG: 22
199 cubic feet of cargo space
Engine type: Petrol
Price: $31,000
With the Metris, Mercedes Benz cleans up nicely, as far as the service and maintenance van category goes. With its high performance, wealth of features, and reliability, the Metris balances out the relatively high maintenance costs.
"We love our Mercedes… the maintenance is expensive, but maintenance intervals are longer. Gas mileage is way better. And, they last longer, so the return on investment is worth it," writes an HVAC shop owner in Atlanta. Another HVAC shop owner out of California puts it concisely, "They are sweet!"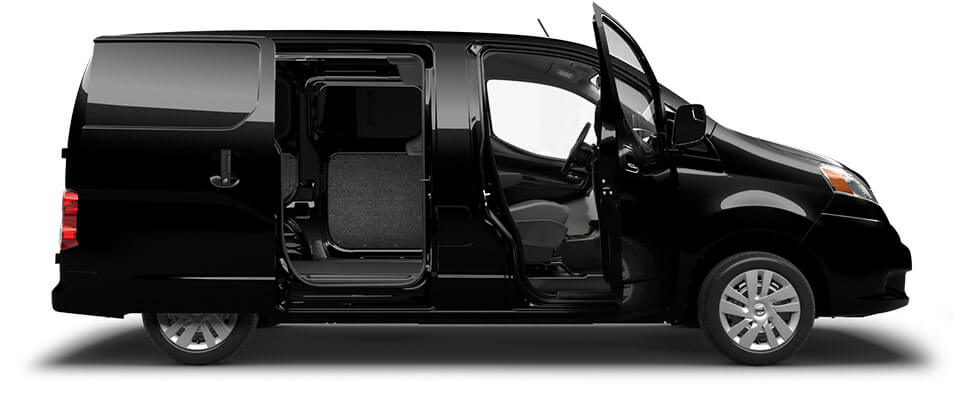 MPG: 25
Storage (width x height): 54.8″ x 53″
Engine type: Petrol
Price: starts at $22,200
If you don't need a huge amount of cargo space, the Nissan NV 200 can be a great buy, with excellent gas mileage and a low base price.It also boasts of 2.0-L DOHC 16-valve 4-cylinder engine. Our readers had lots of good things to say about it. "We had two, including one with shelving, ladder racks and a conduit box, and one without that we used to pick up orders as needed. They are great for residential service calls," writes an HVAC shop owner from Louisiana. An HVAC company owner out of Oregon says,
We are buying NVs as our new go-to. They drive the best, and blow away the others' warranties. Guys are all envious of the guy with one.
MPG: 24
4.3L V6 engine with 276 horsepower
Engine type: Petrol or Diesel
Price: starts at $31,000
The Express Cargo Van has a full-frame design with an incredibly powerful engine, plus it has a ton of cargo room and available technology. Choose from the 2500 or 2500 Express. It doesn't have as much space and capacity as its competitors but you do get three wheelbase lengths, passenger or cargo variants. One review came out and said, "I have owned over 20 of these vehicles and would recommend it over any other full size van. Great durability and power. Not the best for large people (I am 6 foot 4 inches tall) but the best I have found of the full size vans. The worst features are the outside mirrors and the cargo doors, be ready to replace the plastic clips that hold the latch actuator rods. Overall, everyone of these vans I have owned has passed 250,000 miles. Of all the vans I have owned, I have only replaced two batteries, one water pump, 1 transmission and multiple door clips."
MPG: 24/27
Storage (width x height): 60.4″ x 51.8″
Engine type: Petrol
Price: starts at $24,000
The Ram ProMaster City may not stand head and shoulders above the rest of the vans on this list, but it meets solid benchmarks for capacity, traction control, reliability, and fuel economy, at a reasonable sticker price. "They are tight on space, but you can't beat the mileage". Writes an HVAC business owner from Oregon. However, some drivers report clunky shifting and a tendency for the van to lean when cornering.
MPG: 20
Storage (width x height): 48.3″ x 49.7″
Engine type: Petrol
Price: $27,000
Last, and certainly – according to our readers – least, as far as recommendations are concerned, is the Ford Transit Connect. The gas mileage isn't terrible, but it comes with a fairly high price, for the smallest cargo space on this list, and many drivers report issues with reliability. "Will not buy any more Transits. They don't compare to the ProMaster yet cost more and require more maintenance so far", writes an HVAC shop owner from Oregon. An HVAC manager out of Ohio puts it bluntly, "Absolutely not! All but worthless. If you put shelves in it, that's it. It's full".
The Reviews Are In
If you've got the budget for it, Mercedes is likely to provide the best overall quality for both heavy-duty and light van requirements. However, if you don't want to invest that much in the initial purchase or in ongoing maintenance, there are plenty of other viable options.
The vans you and your employees drive say a lot about the standards of professionalism your company adheres to. Plus, drivers appreciate a reliable, well-made vehicle that handles well and makes them feel safe on the roads. When it's time to add to your fleet, make sure you've done your research to ensure you choose the right vehicles for your company.
"Connecteam helped us transition from a handful of productivity apps into ONE"
Choose Connecteam as your tool to manage employee engagement, development, and relationship.
Discover More
Want more great articles straight to your inbox? Subscribe Here ⤵