8 Best Trucking Dispatch Software Solutions
It's not surprising that with so many different trucking dispatch software providers, it can be overwhelming to even search for the right solution. Everywhere you look, a trucking dispatch software solution guarantees to reduce costs and improve productivity, but how do you know what to look for? We don't just list which solutions are the best (if you want the list, scroll on down), we take it a step further by dissecting what you really need from such a software.
You need to evaluate your needs before simply choosing a trucking dispatch software because the price isn't the only factor you need to consider. Create a list of the "must-have" capabilities, like operational functions, reporting, performance management, and more.
And then look at the "nice to have" features that your company needs, such as GPS timestamps when employees clock in and out, survey creations, a suggestion box, and so on.
Most likely, you're looking for an all-in-one solution as your employees are on the go and you need to operate your business remotely. Plus, you aren't in the business of wasting your driver's time with office logistics, you want and need them out on the road, but you also want them engaged and to feel connected to the company.
What should you look for in trucking dispatch software? Like we said already, price isn't the only driving factor in choosing the right trucking dispatch software. Ensure that it's easy to use, it has a robust feature set, can work for your company size and business niche, and also has positive customer reviews. Not to mention, it should have the best customer support team on standby to assist you with anything you need, whenever you need it.
So now that you know the features you want, it's time to go over the solutions that fit these parameters and your price range. Narrow your choices down to the top three and if there is a free trial or plan available, do it and see if it is the right fit for you and your company.  
8 Best Trucking Dispatch Software Solutions
Connecteam is the all-in-one, mobile-first employee management solution you were looking for. Everything you need to effectively manage your employees and take your business to the next level is available under one roof. 
Efficient job scheduling: assign routes based on different requirements, provide relevant information such as time, address, and special instructions. Set shifts, repeating shifts, or open shifts that are up for grabs. Send notifications and reminders, get notified when drivers acknowledge or reject a shift, check-in late, or when they complete their tasks.
Mobile-first & GPS empowered: accurate time tracking allows your employees to clock in and out directly from their smartphone. Whenever employee clocks in and out, a real-time timestamp and GPS location is tagged.
Send and receive reports in real-time from the field: streamline reporting from field to office by allowing real-time reports to be submitted on the go, such as truck repair request, vehicle inspection, and more.
Streamlined communication: logistical and operational communication, engaging updates, announcements, and more are easy with advanced communication features like chat groups and channels, real-time push notifications, private chat,  employee directory, and more.
Task Management: allocate one-time tasks to your deskless teams and include built-in reminders for your team to execute and automatically receive updates in real-time on task completion. Examples of one-time tasks include license renewal and yearly vehicle inspection.
Compliance through 'read and sign' forms: ensure all employees are compliant through digital 'read-and-sign' forms, for example, employee handbook, uniform agreement, sexual harassment policy, and more.
Better safety: ensure your employees have instant access to important safety information and resources, safety protocols, ongoing safety training, and real-time safety reporting.
Onboarding new hires and training: quickly and efficiently onboard your drivers and get them up to speed. Create a structured onboarding experience with read and sign forms, quizzes, videos, PDFs, and more.
Price: Connecteam does NOT charge per user! Instead, you pay a fixed monthly price starting at just $39/month for up to 200 users. Or you can start with the free for life plan.
#1 Trucking Dispatch App
Connecteam is the leading solution for trucking dispatch companies and is an all-in-one app equipped with everything your business needs to run day to day operations smoothly.
Start for free
Streamline operations, integrate Onfleet easily (website, mobile app, online ordering system, ERP or inventory management system), and when it comes to providing exceptional customer service, Onfleet makes it easy to send automatic SMS notifications, offers real-time driver tracking, proof-of-delivery and feedback collection tools. If you're a multi-national courier, retailer, and distributor to on-demand delivery startups, Onfleet is right for you.
In addition, Onfleet leads the way for last-mile delivery for companies across various industries such as food and beverage, retail, e-commerce, pharmacy, and more.
It's never been easier to "consolidate routing and dispatch operations in one intuitive web dashboard."
Price: Start with a 14-day free trial and then choose from four pricing plans: Starter – $149/month, Basic – $349/month, Premium – $799/month, or Professional – $1,999/month.
ProTransport allows you to combine your fleet's operations into just one easy-to-use system so that you can save time, quickly measure performance, and can make strategic decisions more easily. Plus, ProTransport integrates every single aspect of your trucking business into a single system – everything is readily available, like safety, dispatch, accounting, reporting, driver communications, and GPS tracking. 
Additionally, with over a decade's worth of experience, ProTransport is user-friendly, versatile, and made for any fleet size.
Price: Chat with a representative or start a live demo to learn more about your pricing options.
Customers who are truckload/LTL carriers, oilfield, auto, livestock, and heavy-load haulers can benefit from Axon Trucking Software. Since 1982, Axon has made accounting, dispatch, maintenance, transportation management, fleet maintenance, ticket software, and IFTA reporting a smooth transaction. Even its integration process is smooth. Stay connected with all your employees through a mobile app as well. 
As information is captured in real-time, everything is entered into the platform automatically and receives an instant update about your dispatch, billing, driver pay, fuel management, fleet maintenance, and accounting.
Price: Start a customized demo and learn more about pricing from a representative.
When you need to handle accounting, dispatch, maintenance, document management, and IFTA reporting, TruckingOffice is for you. TruckingOffice was made especially for small truckload and LTL fleets, owner-operators and freight brokers.
In addition, receive reports on what a driver loads, stay on top of maintenance and expenses, premium routing information makes it easy to send information to drivers, assign two drivers to a route, and more. Depending on which plan you sign up for, the features included will differ so make sure you choose the one your business and employees would most benefit from.
Price: TruckingOffice offers two pricing plans, Basic and Pro. Each plan then varies per month based on how many trucks you need. Start your free 30-day trial today.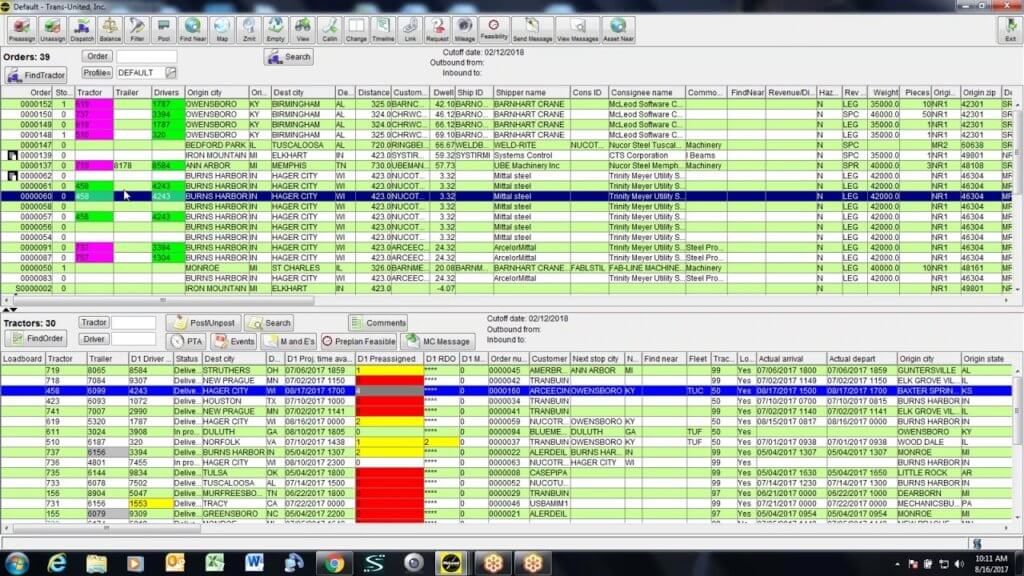 Since 1985, McLeod Software has made it easier than ever to manage trucking dispatch operations management, freight brokerage management, fleet management, document imaging, workflow, EDI, and business process automation solutions. Who was the software made for? Industries like trucking, freight brokerage, third-party logistics, and shipper companies.
With McLeod, you can improve customer service and operating ratios, attract and retain top drivers, and automate crucial business processes so you can focus on the big picture.
Price: Sign up for a free demo and learn more about pricing from a representative.
ITS Dispatch is a web-based software affiliate under the popular load board, TruckStop.com. This trucking dispatch software integrates with QuickBooks Pro and QuickBooks Online. Customers can easily add software modules, including file storage, IFTA reporting, and more. What capabilities does it boast of? Dispatch, accounting, IFTA reporting, fleet maintenance, and load bidding. Who was it made for? Small-to mid-sized carriers, freight brokers, and owner-operators.
Price: There is a mobile app and a free demo! Sign up for a free demo and learn more about pricing from a representative.
TMW Systems is perfect for truckload/LTL carriers, freight brokers, private fleets, oilfield services, waste management, ready-mix, and construction. Founded in 1983, TMW offers transportation management software or products made especially for dispatch, fleet maintenance, or accounting.
Price: There is a free demo and a mobile app, TMW Go!. Chat with a representative about pricing.
Bottom Line On Trucking Dispatch Software
With the right trucking dispatch software, you are able to view, track, and manage dispatch activities from one single app. Whether it's scheduling, compliance, communication, task management, and more, trucking dispatch software streamlines all processes for your business and your employees.
Carefully examine the trucking dispatch solutions we listed above to make the right choice.
Leading Dispatch App
With Connecteam, it's much easier to manage all of your deskless employees with robust dispatch features, communication tools, time tracking, job scheduling, and operational procedures and so much more. Get started with the free 14-day trial today!
Start for free
Want to get more tips?
Join 20,000+ others who get our weekly newsletter with Business owner tips!