7 Effective Management Tips for Hotel Management
You've probably heard the saying, "A hotel is only as good as its employees." That's why you need skilled employees who provide exceptional customer service, otherwise, even the best hotel won't make it. As the manager, it's up to you to make this happen and with our easy seven tips for hotel management, you're well on your way to creating the best hotel experience that your guests deserve.
7 tips for hotel management:
1. Communicate!
Miscommunication leads to mistakes and that is something you want to avoid! By keeping everyone on the same page, you are minimizing the likelihood of errors occurring. As the hospitality manager, you are the problem solver and the role model for all to follow so give out clear instructions, address concerns and thoroughly explain procedures.
Use the following methods to communicate effectively:
Face-to-face:

helps make a personal connection.

Meetings:

helps you gain feedback from all your employees.

Video:

helps tell a story because pictures are worth 1,000 words.

Internal social media:

helps build culture and rapport.

Employee app:

helps to keep everyone on the same page and easily keeps all employees engaged.
Connecteam is an easy to use employee app that helps take your hotel business to the next level. All employees need to do is download the app, enter the company number and GO. There's no training involved so employees can get started in minutes. Within the click of a button, you can sync between multiple employees, especially as you're working shifts around the clock.
Employees have access to all relevant information within seconds, from anywhere at anytime. From viewing the shift schedule to looking up hotel activity for the day to reviewing FAQs or sending an update, Connecteam has you covered.
2. Delegate.
Delegation is key. As the hospitality manager, it is your job to oversee all the departments but make sure that the employees report to a department head and not the hotel manager. Hold daily meetings with the department heads so everyone is aware of what's going on for the day – for example, if there is a big conference happening at your hotel then mention this so the staff are aware of extra foot traffic and can keep the area as tidy as possible.
Source: https://www.orgcharting.com/hotel-organizational-chart/
Now that the department heads know what is going on, they can manage the employees more effectively and efficiently. Giving your department heads wiggle room is crucial to keeping things running like a well-oiled machine. However, occasionally popping in just to make sure there are no hiccups is an effective management tool. As you interact with the staff more, the more accountable they feel to do the best job possible.
3. Know what you're talking about.
Walk a mile in your employee's shoes. That's the only way you'll ever run the hotel exceptionally. Clean a room on your own so you know how long it takes and what tasks must be done. Work in the kitchen to familiarize yourself with the menu and to know how long certain meals take to make. For a shift, work the front desk so you are aware of how many customer complaints occur and what issues your employees handle. Talk with the valet and the maintenance staff so you are aware of what a typical day looks like on their end.
When you have this experience under your belt, you are a far better manager. Not only do you have hands-on knowledge but the employees will respect you more because you possess that knowledge. They will know the decisions you make are based on genuine first-hand experience and isn't just a willy-nilly decision.
4. Hire right.
Your job will never run smoothly if you're constantly picking up after someone else. That's why you need to hire dedicated, honest and skilled employees from the start. If you have employees who steal or lie, are rude to customers or do a poor job, then you need to let them go. With the right employees, your customers will be much happier!
Don't rush the hiring process, take your time and be sure to ask the right questions. Try asking behavioral questions to bring the best candidate aboard the team. Behavioral interview questions are meant to force the candidate to avoid giving a generic answer but rather relying on their personal history.
5. Reward star employees.
When an employee does something exceptional, praise them! Do it right away, be sincere and do it publicly. If you have an Employee of the Month program, send a congratulatory message to the employee straight away and update the photo of the new "winner".
Additionally, if a customer raves about an employee and how they helped them, you can share this with all employees to help push employee recognition and engagement. With Connecteam's employee management app, you can send a company-wide message and can allow other employees to like or comment to boost engagement. When employees see the encouragement and recognition a fellow co-worker is receiving, they will want that same recognition and that only helps to push them to work harder.
6. Have amazing incentives.
Drive engagement, boost motivation and keep employees happy with amazing employee incentives. It's not all about raises and promotions, employees need more to keep them working hard and loyal.
You need to think a bit creatively to get your employees energized – bring in breakfast or pay for lunch, give scratch offs for a job well done or even a Netflix subscription, write a hand-written note and more. You don't need to dig deep, a simple gesture can make all the difference.
7. Create a positive work environment.
Treat all your employees well! This will keep them loyal to your company, which in turn helps lower the turnover rate. By creating apositive work environment, you are building comradery amongst employees who respect one another and each other's skills. This will help employees take pride in their work because they know their co-workers admire their abilities. Creating a positive work environment is as simple as smiling, celebrating birthdays and personal achievements like marriage, buying a new house or car, or the birth or adoption of a baby. When employees have a positive environment to work in, they feel more positive and this reflects in their work.
The success of a company boils down to a sound, unmistakable company culture, found a Deloitte study. In the study, 94% of executives and 88% of employees came to the above statement. And if those numbers weren't enough, in addition, they also found that a whopping 76% of employees agree that a "clearly defined business strategy" helped to create a positive culture.
Go the extra mile.
Using these hospitality management tips will help hotel managers manage their employees effectively so everything runs like a well oiled machine. Signing up for Connecteam's free plan can help them do all we pointed out above and so much more. Find out for yourself and sign up now.
Connecteam's hospitality app is for you
Whether it's scheduling shifts, sharing the hotel's activity information, accessing FAQs, or sending an immediate update, Connecteam's hospitality app has you covered.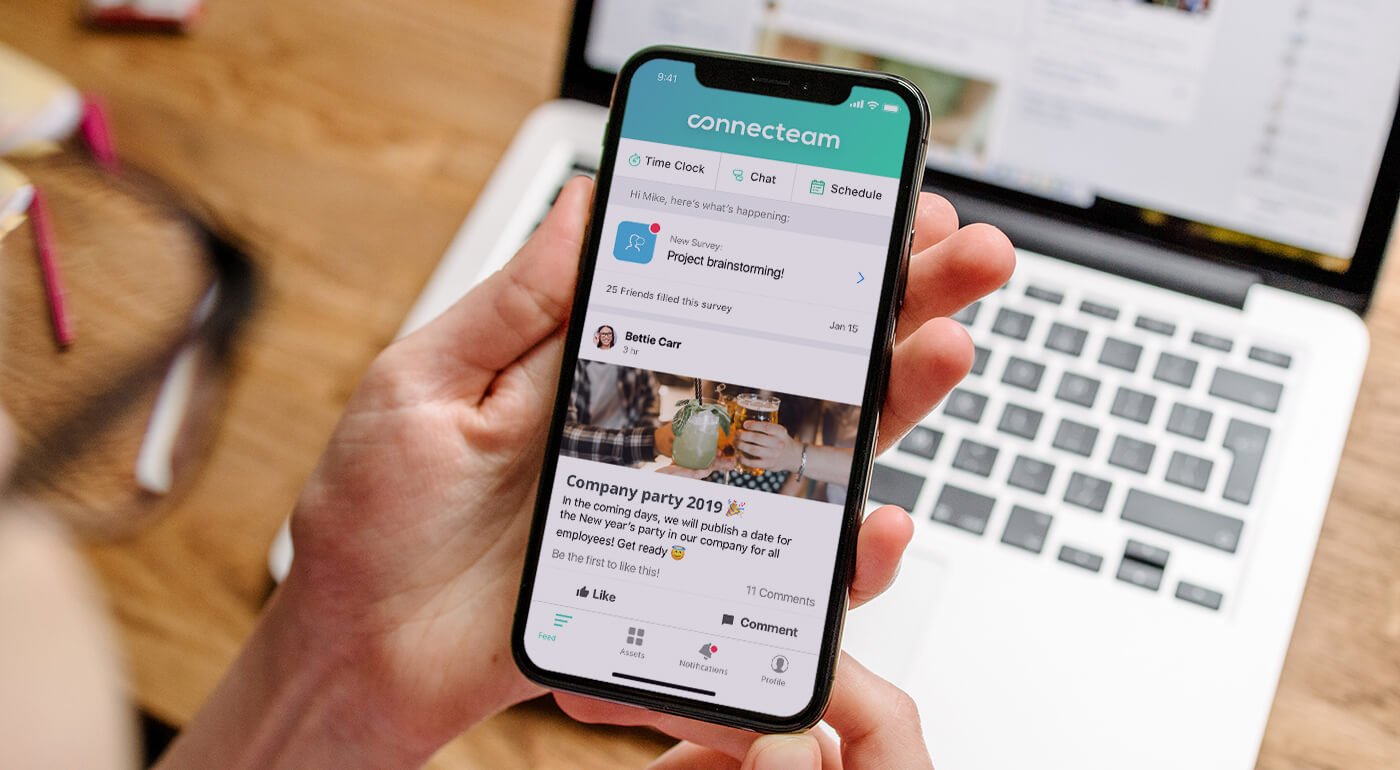 Find out more
Want to get more tips?
Join 20,000+ others who get our weekly newsletter with Business owner tips!