We interviewed dozens of hotel and hospitality managers to better understand the main goals and challenges of their roles. Many said the same thing:
Give the best customer experience possible!

Decrease operational costs as much as possible.

Run your business as smooth as silk.
But the reality of the situation is that you have a ton of temporary employees and a majority of non-desk employees. So creating a dynamic, well-oiled machine can cause a bit of a headache. That's why using Connecteam's hotel management software is crucial because, without the best suitable software solution, you are only wasting time and money – which only keeps you from your customers and from providing an amazing guest experience.

As the travel industry is picking up after the pandemic, you want to ensure you are ready for the influx of customers that could be coming your way. With a mobile app, you can add safety checklists to make certain that all staff are checking that everything is sanitized and according to the guidelines. Digitizing your safety checklists can let you know employees have completed them in real-time.
Connecteam Helps Dozens of Hospitality Companies Achieve Their Goals
1. Keep Everyone up to Date
Day-to-day customer activity information is always accessible – shows, nightly activities, exercise classes,  everything that is going on – all employees should know.

Your employees work in shifts so you need to keep all employees on the same page and ensure they're all up to date with relevant information. Such as events, fire safety drills, a letter from the  CEO and more.

Access to FAQs so they're always on top of things.

Targeted communication: you can instantly address all or a specific group of employees, such as: (1) a manager sending an update just to his or her employees, (2) HR notifying all users of an update or important announcement, (3) Senior management updating all housekeeping personnel.
2. Minimize Operation Cost
Save time on tasks, everything is automated with

checklists and workflow

. Eliminate pen and paper by going digital!

Set up your

job scheduling

easily and simply – without pen and paper or having to chase employees down to discuss availability. And make changes on the go, automatically notifying users in real-time.

Collect data from the field like a

hazard ticket

, a maintenance ticket, etc.

Minimize time spent on administrative tasks.

Report a crisis in real-time and automate the information flow, so you can deal with it as fast as possible. For example, i

f there is a situation – such as someone fell or a customer complained – you can report this ASAP.

For better compliance across the board, you can send many "Read and Sign" forms and can even conduct periodical refresher training for your employees.
3. Best Customer Experience
All the data is accessible for the employees from anywhere –  so if a customer asks for something –

every single employee

can give him a quick answer.

It is super easy to send surveys right after a meeting, an event, a problem, and so on. And you'll be surprised how quickly you can receive and review the answers!

Open a customer ticket!

Customers usually ask irrelevant employees questions, like the pool guy about getting their room cleaned. What you don't want is the pool guy to say, "I don't know, talk to the front desk." Instead, he can open a ticket right then and there on the customer's request and it gets taken care of.
Want to design your own employee app? Connecteam is for you. With custom features such as a mobile time clock (including timesheet export with Quickbooks Online), work schedule, event calendar, incident report app, reimbursement report app, online education center, custom push notifications, digital company handbook, in-app messenger, team self-assessment, team surveys, a mobile help desk, and much much more? Connecteam solved every problem I've had. I've paid over 2x as much for other programs to do that couldn't. Connecteam is what all other 'create your own app in a few clicks' companies wanted to be and promised to be.

Nyla C. – Founder & Owner, Hospitality
4. Minimize Training Cost
Every one of your employees can interact with customers so they need to be very professional and up to date with company policy in order to efficiently answer any customer questions.

On-boarding new employees is done quickly and you can track each employee's progress. Send a formal letter welcoming aboard, go through the on-boarding checklist, get their personal information (contact details, emergency contact, etc.), health and safety training and more can be done right from the app.

Knowledge centers – all training material is available at all times in just a click so employees can always refer to the knowledge center when they need some help. (You can include visuals, like a video that shows how to prepare the hotel room).

Existing resources can be used and embedded with Connecteam as PDFs, links or videos.

The common training material includes health and safety training, driving-related training, sexual harassment training, equipment usage and maintenance, and test and quizzes.
5. Create Amazing Internal Communication and Engage Your Employees
Share amazing customer feedback immediately!

Constant access to reports so you can run your business efficiently. Reports can be divided into departments like housekeeping needs a room inspection checklist whereas lifeguards need an incident report.
6. Better Your Human Resource Needs
With Connecteam, the HR department finds it easier to automate processes, gain control over workforce-related issues, easily communicates employee benefits and encourages recruitment and in-house career development. 
Recommend a friend:

recommending a friend to work at the hotel helps boost the company's recruitment reach.

Vacation or sick leave requests:

employees receive an automatic update is a request was approved or denied and this happens in real-time so there's no time wasted.

Employee benefits and wellness programs:

communicate new and existing plans, make all relevant resources available in a click and raise employee awareness of benefits available.

In-house career development:

allow employees and managers to directly apply for new openings, make all relevant information on job opportunities available via the app.

Personal information form: when onboarding new employees, receive the information you need instantly like contact information, emergency contact, address, photo ID, and more. 
Employee satisfaction quarterly survey: or performance evaluation.
Now that you know exactly what you can get out of using Connecteam's hotel management software, we have a few more points as to why so many hospitality companies choose Connecteam for their day-to-day business needs. As if the points above weren't enough!
Connecteam is the right choice for your business: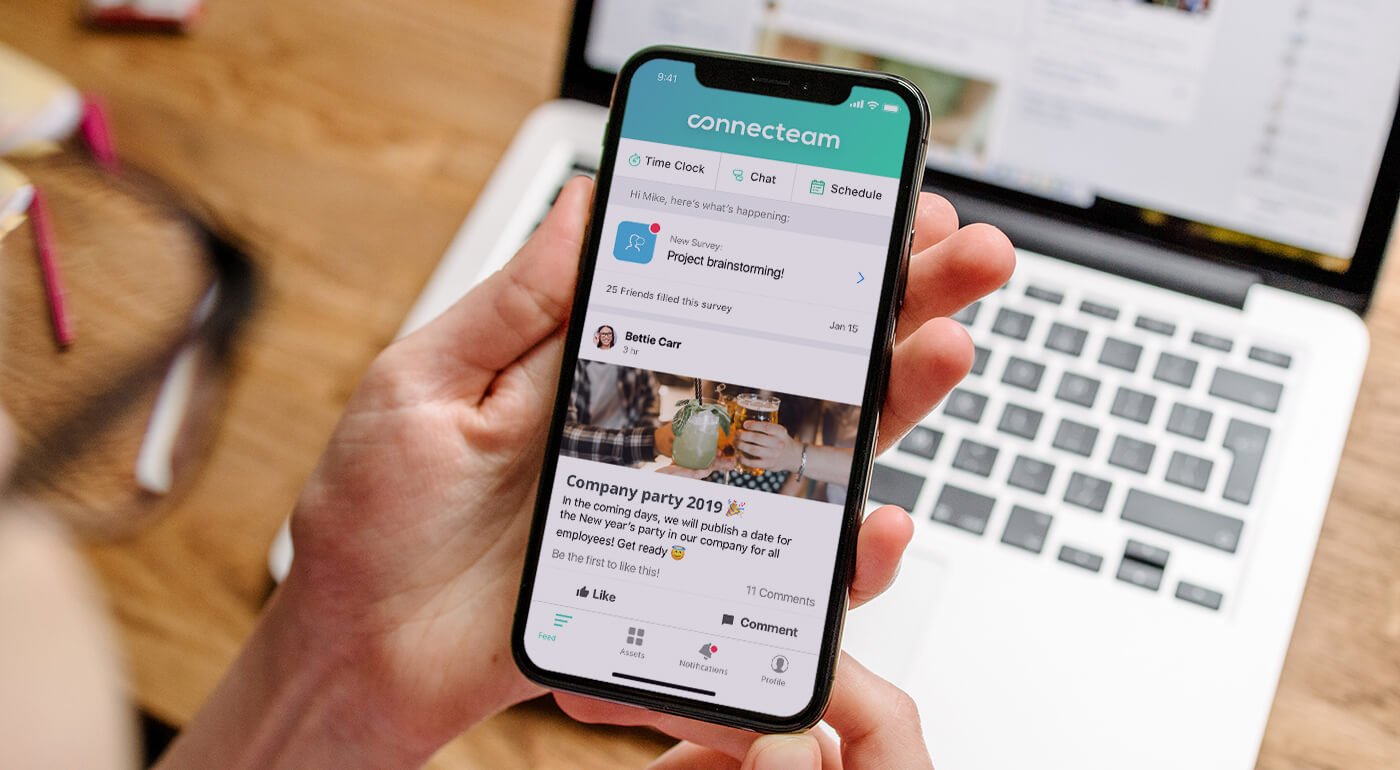 Trusted by hundreds.

So many hotel establishments are already using Connecteam, from 50 employees to 8,000.

Easy to use.

Setting up your Connecteam app is SO simple and takes minutes. You can even customize it to reflect your company's look and feel. Plus,

no training is required!

It's as simple as installing the app to get going. Really.

Detailed, real-time reports.

Via the dashboard, everything is automatically tracked and measured and all data is clearly visible and actionable.

Secure. All communication is encrypted and stored on Microsoft Azure's servers with the highest industry standards.
All-in-one solution

, you don't need anything more than Connecteam. Everything that you want to manage, like operation, internal communication, training, etc, you can do on Connecteam.

Simple employee directory.

There's no need to save work contact details on your personal phone,

everything is kept on the Connecteam app

.

Search by name, department, job role, location, and so on.

Easily create surveys.

Track

employee satisfaction

and

employee engagement

to increase morale and productivity and keep employees around for years to come.
Suggestion box always available.

Gain valuable ideas from your employees and act on their suggestions.

AFFORDABLE.

Connecteam is the only software that offers fixed price plans that start at $39/month,

start your free plan now

!

Time to Get On Board
With all the tasks you have to run on a daily basis, your number one priority is that everything runs smoothly and according to plan. This includes bookings, ensuring everything is working in the hotel rooms, attending to guests, maintenance, and cleaning. 
If you are still running everything manually, those tasks can often take a very long time and are prone to errors. Digitizing with hotel management software helps you achieve the same jobs effectively and efficiently. The right hotel management software can give your precious hours back that you can spend on other areas in the hotel, or even just talk to your guests. 
Once you make the switch you will notice how easy and simple it is to use. With all the extra time, you could be working on expanding your business.
Scale your business with Connecteam
Everything your hospitality business needs is available in one place. On top of that, Connecteam is highly customizable and is insanely easy to use. And let's not forget, it's super affordable! Start your free plan now!
Start for free