Table of contents
The window cleaning industry offers some interesting advantages. Windows need regular cleaning, which means easy access to repeat business.
There's little training required to get started and your startup costs are relatively low, so you can start small and scale up over time. Plus, you get to be your own boss.
For all these reasons, starting a window cleaning business is a promising opportunity. However, there are some challenges to be aware of. And to succeed as a business owner, it's important to make the right decisions ahead of your launch.
We'll explain everything you need to know about how to start a window cleaning business in seven steps.
Key Takeaways
Window cleaning businesses have relatively low startup costs and don't require any specialized skills. However, launching a business is hard work.
To get started, create a business plan that identifies potential customers, lays out a budget, and includes in-depth research on your local market.
After naming and registration, you'll need to consider funding options, get permits and insurance, and market your business to attract your first customers.
Once you launch, business operations software like Connecteam can help you manage employees. Accounting software can ensure you get paid for your work.
How Much Can You Make as a Window Washer?
Ultimately, this depends on how successful your business is. But window washers typically charge around $50 per hour. If you work 40 hours per week, you could pull in $100,000 per year in revenue.
A portion of that revenue will go towards business expenses and taxes. After accounting for that, you could potentially make $50,000-$75,000 per year, working independently.
If you grow your business and have employees who can help generate revenue for your business, you could earn even more over time. Employees come with their own costs, but expanding your staff will be one of the best ways to grow your window cleaning business.
What Does Running a Window Washing Business Involve?
It's also important to know what the day-to-day of running a window washing business looks like.
The majority of each day will likely involve washing windows. It's demanding physical work, so you need to be in good shape and ready for the challenge.
In addition, as a business owner, your job will involve more than just traveling from site to site. You'll also need to spend time on tasks like:
Managing employees
Scheduling future jobs
Finding new customers
Ordering supplies
Maintaining equipment
Invoicing and accounting
It's important to embrace these parts of the job since they're crucial to ensuring your business's success. Expect to spend at least a few hours each day on these tasks. That said, the right business software can streamline many of your daily tasks with features like drag-and-drop scheduling.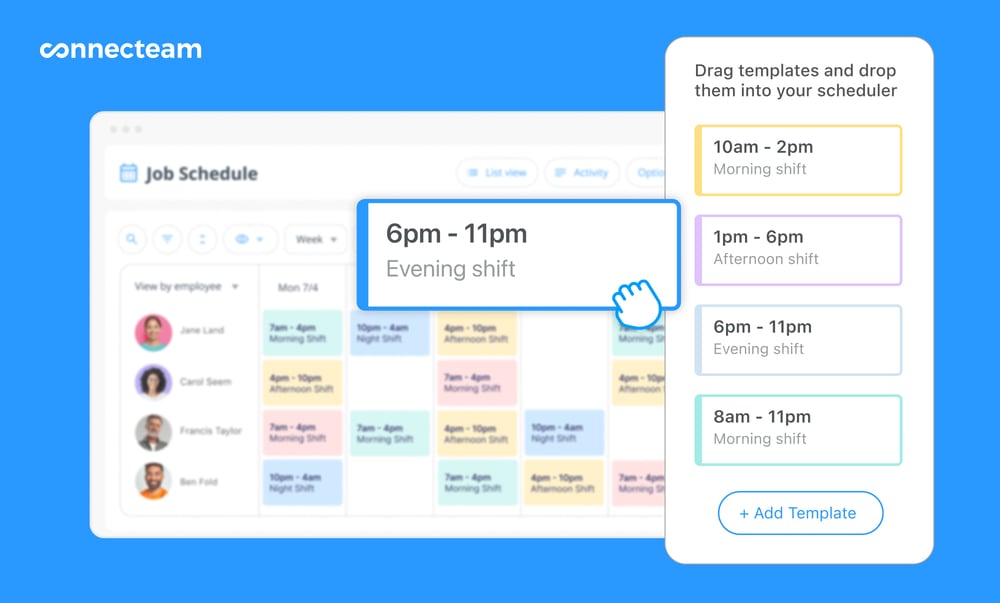 Before You Get Started
To start a window washing business, you of course need great window cleaning skills. Homeowners and businesses will hire you again if you leave their windows looking spotless. On the flip side, a poor job is unlikely to generate repeat business.
Hone your skills by cleaning windows around your and your neighbors' homes. If you plan to clean commercial buildings, look for opportunities to clean windows for free or at a discount while learning the tricks of the trade. You can also find valuable information and free and paid training from groups like the International Window Cleaning Association.
Running a business requires a large reservoir of motivation, perseverance, and organization. You'll need to be ready to work hard and roll with the punches. Good organizational skills will also help you keep track of appointments, invoices, supply and inventory, too.
You also need great customer service skills and a good eye for detail. Little things like sweeping a customer's home or business at the end of a job can really impress and lead to repeat business.
Step One: Create a Business Plan
The first step to launching any business is to create a business plan. A business plan serves as a blueprint for your enterprise and should include everything from who your customers will be to what your expenses and revenue will look like.
Writing your window cleaning business plan will force you to think carefully about how your window washing business will operate. It can clarify what steps you need to take during the launch process and help you see the big picture of your future business.
A business plan is also required by most investors or to get a loan from a bank.
Here are some of the key elements your business plan should include:
Executive summary: A single paragraph that succinctly describes your new business and why it will be successful. Think of it as your "elevator pitch": a short, persuasive description of your new company meant to spark interest and garner trust.
Business description: A more detailed summary of your window washing business. This should include your business's name and structure, which we'll discuss in steps two and three below.
Market analysis: A section explaining who your target customers are, whether you have any competitors, and how your business will stand out in a competitive market.
Budget: A summary of all of your business's planned expenses, including both startup and operating costs. This section should also cover your pricing structure for washing windows (covered in step six) and provide an estimate of your net profit.
Marketing plan: A detailed explanation of how your business will market itself to customers. We'll cover marketing in more detail in step seven.
The market analysis and budget sections are especially important, as they help establish that there's a need for your business and that you can turn a profit.
So, let's take a closer look at how to write these two sections.
Market analysis
An important early step in starting your business is deciding who your customers will be. You could work on homes, commercial buildings, or a combination of the two.
You can also specialize further. For example, you could focus on:
Colleges
Apartment buildings
Government buildings
Grocery stores
Retail stores
Restaurants
High-rise office buildings
There are advantages to specializing in one type of building, including being able to focus your marketing efforts on a very specific set of potential customers. However, you also don't want to limit your potential market. Many window washing businesses work on a wide range of buildings but start out by focusing on just one or two to keep startup costs down.
💡Pro Tip:
If you're not sure who your best customers will be, don't be afraid to ask. One of the best ways to find opportunities is to survey potential clients about whether they would use your business.
Think carefully about what region you plan to serve and conduct competitor research to see where the greatest opportunity lies. For example, maybe the market for washing commercial buildings in your area is already saturated, but there is only one other company serving homeowners. Use Google Maps ("window washers near me") and speak with local business owners to better understand your competition.
If you will have competitors, it's important to identify how your business will stand out from them. For example, you could offer lower prices, better service, or reach out to new customers who don't currently pay for window washing.
Budget
It's important to create a detailed budget for your business early on in the startup process. This information can help you determine if and when your business will be profitable and whether you need funding to pay for startup costs.
While window washing businesses have lower startup costs than other types of businesses, you'll still have several major expenses to think about. These include:
Business registration fees
Licensing and insurance costs
Disposable supplies (rags, cleaning solutions, etc.)
Equipment (scaffolding, extension poles, squeegees, buckets, ladders, etc.)
Vehicle costs (including gas and maintenance)
Office costs (including rent and utilities)
Marketing costs (including your website and paid advertising)
Business software costs (including operations and accounting software)
Wages for employees
These costs vary based on location, the types of windows being cleaned, and more. Business registration fees range from $50-$300 per year in most states, while insurance for a window washing business typically costs between $400-$700 per year.
Expect to spend around $1,000 on window washing equipment and supplies to get your business off the ground. It can help to buy used extension poles and pressure washers to minimize cost.
💡 Pro Tip:
Consider buying disposable supplies like cleaning solution, rags, and scrub brushes from a wholesaler rather than a hardware store, as they typically offer lower prices.
Office costs vary widely by location and can run upwards of $20,000 per year in major cities. However, you can eliminate this cost by running your window washing business out of your home at first. Consider renting a storage space for your equipment, which can cost as low as $1,000 per year.
There are other simple ways to keep your costs down. For example, you can find very cheap or even free solutions for your website and accounting software.
Once your business grows, you can use operations software like Connecteam to schedule employees and manage them in the field. Connecteam is ideal for a new window washing business because it offers a free plan for small businesses with up to 10 employees.
Remember that the types of customers you plan to serve will have a big impact on your equipment and supply costs. If you're washing residential homes, you can likely run your business without hiring extra employees or investing in expensive scaffolding.
If you plan to wash apartment buildings or large commercial buildings, on the other hand, you'll likely need to hire one or two extra window washers and spend more on equipment.
Always be realistic about your costs. It's better to budget too much than too little.
Joining a franchise
It's worth noting that there are several national window cleaning franchises you could consider joining, including Squeegee Squad and Window Genie.
Joining a franchise still allows you to own your own business, and you'll get benefits like training, an operations manual, and brand recognition from day one. Being part of a franchise can make it much easier to get your business off the ground.
However, franchises also limit your flexibility and have steep costs. There are rules you must follow about how you advertise your business, for example. You'll also need to pay a franchise fee (at Squeegee Squad, the franchise fee starts at $75,000) and send a portion of your revenue back to the franchise each month.
So, you need to think carefully about whether joining a franchise will help you run the business you envision for yourself.
Step Two: Give Your Business a Name
Your business's name should be catchy, memorable, and easy to understand. If possible, customers should know from the name alone that you offer window cleaning services.
You can get help finding a name using tools like Shopify's name generator or Namelix. Or go with a simple, local name like "[Your City] Window Cleaning."
For legal reasons, your business's name also needs to be unique. Your state's Secretary of State website will have a list of all registered business names. You can also search online to see if the domain name you'd like for your business's website (e.g., www.yourbusinessname.com) is available.
In addition, it's always a good idea to run the name by friends and family for a second opinion or fresh ideas.
Step Three: Register Your Business
The next step is to register your business with state authorities and the IRS.
Structure your business
To register with your state, you'll need to decide how you want to structure your business. There are a few options.
Sole proprietorship
By default, your business will start out as a sole proprietorship. From a legal and tax standpoint, this means you and your business are the same entity.
You don't need to register with your state if you run your business as a sole proprietorship, although you may still need permits to operate (see below).
Limited liability company (LLC)
It's a good idea to structure your business as an LLC. With this structure, you and your business are separate legal entities. That's important because if your business were to go bankrupt, your personal assets, like your home, would not be impacted.
You can restructure your business as an LLC by filing paperwork online with your state's Secretary of State. There's a filing fee in most states and you'll need to renew your registration each year. Depending on the state, this will cost around $50-$300 per year.
Corporation
You can also structure your business as a corporation. This is advantageous if you want to issue shares in your business, such as to investors.
The drawback to structuring your business as a corporation is that it requires a lot of paperwork. In addition, you could end up being taxed twice on your income.
For most business owners, it's a good idea to start with an LLC. You can restructure your business as a corporation in the future if the need to issue shares arises.
Request an EIN
You should also request an Employer Identification Number (EIN) from the IRS. You can do so for free on the IRS's website. Even if you don't plan on hiring employees right away, you'll need an EIN to set up a business bank account.
Open a business bank account
It's important to avoid mixing your personal and business finances. Doing so can make it difficult to track your costs and revenue and get you in hot water with tax authorities.
Fortunately, opening a business bank account is simple. Most major banks and credit unions offer fee-free or low-cost business checking accounts. Some online banks also offer attractive accounts for small businesses.
Payments you receive from customers should go to your business bank account. You can also use this account to pay for business expenses, like cleaning supplies.
Step Four: Funding your new business
Getting the money you need to launch your new window washing business is a major part of the startup process. The good news is that you have a few options available, including:
Self-funding
Small-business loans
Personal loans
Family and friends
Let's take a closer look at the benefits and drawbacks of each.
Self-funding
One of the simplest ways to fund your new business is to pay for it yourself. This is known as self-funding or bootstrapping.
For this to be a viable option, you'll need to have enough savings available to cover all of your startup expenses. You should also make sure you still have savings left over to cover at least three to six months' worth of personal expenses, like food and rent, since your business may not be profitable right away.
The benefit of self-funding is that you'll maintain complete control over your business. You also won't have to go through the lengthy process of getting a loan or pay any interest on it.
The downside is that all of the money you put into your business is at risk. If your business doesn't work out, you could lose a significant portion of your savings.
Small-business loan
Another option is to take out a loan from a bank or credit union. Many financial institutions offer small-business loans, including low-interest loans backed by the Small Business Administration (SBA). Applying for these loans can be a long process, but they offer very favorable terms.
The benefit of funding your business with a small business loan is that you don't have to draw on your own savings. Small business loans also tend to have favorable terms. Some loan programs even offer the option for a portion or all of your debt to be forgiven if you meet certain qualifications.
The drawback of taking out a loan is that the process can be lengthy. It typically takes one to three months to get an SBA loan. You'll also have to make interest payments on your loan, which will add to your total startup cost.
Personal loan
If you don't want to go through the process of qualifying for a small business loan, another option is to take out a personal loan. Personal loans are often easier to qualify for and some lenders will send you money the same day you apply.
The drawback to taking out a personal loan is that they typically carry much higher interest rates than small business loans. You'll also need to watch out for terms like prepayment penalties, which can impose fines if you pay back your loan early to reduce your interest charges.
Family and friends loan
You can also go to family and friends for a loan. In many cases, family and friends may be willing to offer loans with low or no interest.
Bear in mind that borrowing money from family and friends can negatively impact your personal relationships. It's a good idea to draw up a contract and stick to a repayment schedule just like you would for any other loan.
Step Five: Get Permits and Insurance
Depending on your location, you may need permits or licenses before you can start washing windows.
For better or worse, there's no single license that applies everywhere—every city and state has its own rules. The best way to find out what permits you need is to contact your state's Secretary of State office and your city's business office.
Business insurance is also important and may be a legal requirement in your city or state. There are several different types of business insurance available, but the one that every window washing business should have is general liability insurance.
General liability insurance protects you from damages if there's an accident on a job site. For example, this type of policy will pay for most costs if you or someone else gets hurt while you're cleaning windows or if property is damaged.
"You should consider investing in liability insurance to protect yourself from any potential lawsuits that might come up due to accidents or damages caused while on the job," says Nathaly Vieira, owner of InspireClean.
In addition, if you have employees, you'll be required to purchase workers' compensation insurance in many states. Some states have public insurance pools that you must pay into, while others require you to purchase a private workers' compensation insurance policy.
It's a good idea to speak with an insurance agent to get the right insurance coverage for your business.
Step Six: Choose Your Pricing Structure
There are several different ways you can charge for window cleaning services.
Hourly pricing
How it works
Many window washing businesses charge $40-$75 per hour. You may want to charge a higher rate if a job requires extra equipment such as scaffolding or is otherwise particularly difficult or dangerous.
You can also offer two hourly rates—one for a "standard" window cleaning and one for a "deep" window cleaning to remove stuck-on grime and algae.
You can also charge an extra fee for cleaning hard-to-reach features like skylights or panes behind storm windows. For example, you could charge $60 per hour plus $10 per skylight and $5 per storm window pane.
When providing quotes for customers, you may want to slightly overestimate how long a job will take. Most customers will be happy to pay less than your quote because work went faster than anticipated. But they won't be happy if you underestimate the time a job will take and charge more than your quote.
Best for
Hourly pricing works well for complex buildings like those with facades that make cleaning the windows more difficult. It also works well for buildings that have a wide range of window types, since it can be difficult to estimate how long work on these buildings will take.
Pros
One of the simplest ways to price your services.
You're paid the same amount no matter what type of building you're working on.
You're also paid for all of the time you work, including any extra hours if a job takes longer than expected.
Cons
You can't earn more money by increasing your efficiency. But this needn't be a problem if you already work efficiently and set your rates accordingly.
Per-project Pricing
How it works
Another way to price your services is to set a fixed rate for an entire window cleaning job. For example, you might charge $250 for washing the windows of a small house or $500 for washing the windows of a medium-sized grocery store.
Best for
Project pricing works well for small jobs for which you can tell quickly how long cleaning will take. An experienced window washer will be able to look at a house and quickly estimate how much time the job will take.
It also works well for very large jobs, such as cleaning high-rise buildings. In these cases, you can set a project price based on the number of employees and the amount of equipment you'll assign to the job rather than based solely on how long you think it will take.
Pros
Both you and the customer know how much a job will cost ahead of time. You can accurately project your revenue, and the customer won't be hit with a surprise bill at the end of the job.
Encourages efficiency: you'll earn the same amount no matter how long a job takes you. If you invest in high-efficiency washing equipment, like better pressure washers or longer extension poles, you can increase your efficiency across all of your future jobs.
Cons
A fixed-price project might take longer than expected. If that happens, you won't be paid for the extra time like you would be with hourly pricing.
Works best once you have experience washing windows professionally and can accurately estimate how long a project will take.
Per-window pricing
How it works
Some window cleaning businesses charge a flat rate of $5-$15 per window. You can also charge a higher rate for difficult-to-clean windows such as skylights.
Best for
This pricing structure works best if a building has a relatively uniform set of windows. That's sometimes the case for office buildings, but not for many other types of buildings. For most business owners, hourly and per-project pricing are better options than per-window pricing.
It also works well for homes, which have relatively few windows and don't require anything more than a sturdy ladder and cleaning supplies.
Pros
Helpful for customers, since they know exactly how much a job will cost ahead of time based on how many windows their building has.
Cons
Can be cumbersome, as you not only have to count how many windows a building has but also decide how much to charge if a building has windows of different sizes.
💡 Pro Tip:
Be sure to research what pricing structures competing businesses are using and how much they charge. You don't have to use the same pricing structure, but your overall prices should be competitive.
Step Seven: Market Your Business
Marketing your business is essential to reaching people who need their windows washed.
To help people find you online, you should create a simple website with a low-cost website builder like Wix or Squarespace. Add your business to Google Maps and Yelp, too.
In addition, you'll want to leverage some or all of these tools:
Posting flyers around town
Cold-calling potential commercial and residential clients
Knocking on doors and making in-person visits
Radio ads
Television ads
Paid search engine ads
Social media advertising
There are a wide variety of simple tools available today to help entrepreneurs and small businesses with their advertising. For example, Canva offers attractive templates for flyers and social media posts and is free to use.
Cold-calling can be daunting, but it's one of the most effective ways to connect with homeowners and business owners for window cleaning. ChatGPT can help you come up with engaging scripts for cold-calling clients. Remember that you're helping potential customers with a problem and keep a positive attitude. The worst thing anyone can say is no.
You should also consider partnering with other businesses in your target market. Muffetta Krueger, founder of Muffetta's Domestic Assistants, suggests "networking with real estate agents, property managers, and businesses to secure recurring contracts."
When starting out, your goal should be to find your first, loyal customers—not build a window-washing empire overnight. Keep your approach simple and low-cost.
"Don't try to take on too many jobs in one go," says Nathaly, owner of InspireClean. "It will be overwhelming and you don't want to put yourself in a position of having too much work that you can't handle."
Talk to everyone you can about your new business and be ready to pitch your services to interested customers. You can also carry business cards with you and ask family and friends to spread the word.
Once you find customers, it's up to you to provide excellent service to generate repeat business and word-of-mouth referrals.
Step 8: Launch!
Now you're ready to launch your new window washing business and start impressing your first customers.
To make sure you put your best foot forward, it's important to keep your operations running smoothly. Business software like Connecteam can help you schedule jobs and employees, communicate with them in the field, and train them in proper window-washing techniques.
Connecteam is free for small businesses with up to 10 employees, making it the perfect solution for your new window cleaning company.
It's also important to stay on top of your business's finances. It's surprisingly easy to fall behind on collecting payments from customers, especially if you issue an invoice at the end of a job and then quickly move onto the next project.
Consider using accounting software to issue invoices to customers, track payments, and send reminders about unpaid invoices. Accounting software can also help you track your expenses and ensure your business is turning a profit after your first few months.
Growing Your Business
After your business gets off the ground, it's time to think about next steps. There are few things you do to grow your business and increase your revenue.
First, consider offering additional services like gutter cleaning, pressure washing, or Christmas light installation. These services use a lot of the same equipment your business already owns and can help you generate more revenue.
Second, think about expanding your team. Hiring a few employees can enable you to take on simultaneous jobs and double your revenue. You can also take on larger projects, like commercial buildings, that require multiple window cleaners to be completed in a timely manner.
Once you have employees on board, you can use Connecteam to manage multiple jobs and schedule employees to work. Our mobile app for iOS and Android also makes it easy to communicate with your employees throughout the day.
Conclusion
To start your new window washing business, you'll need to identify a target audience, name and register your business, and prepare your business's financial needs. You also need to decide on a pricing structure and use some simple marketing tactics to reach your first customers. After you launch, you can use operations software like Connecteam to keep your business running smoothly.
To learn more about how to plan out your business, check out our complete guide to creating a business plan. You can also read our guide on how to start a cleaning business, which has some overlap with starting a window cleaning business.
FAQs:
Is a window cleaning business profitable?
A window cleaning business can be profitable, especially if you cultivate repeat customers that keep your schedule full. However, running a business is also hard work. Think carefully about what you'll need in order to provide high-quality cleaning day in and day out.
Is it easy to start a window washing business?
Window cleaning businesses have lower startup costs than other types of small businesses. You also don't need any specialized skills, just a willingness to work hard. No business is easy to start, but a window washing business offers a lot of opportunity for motivated individuals.
What do I need to start a window cleaning business?
To start a window cleaning business, you'll need great window cleaning skills and a willingness to work hard. You'll also need a plan for who your business will serve and funding to get your company off the ground. Organizational skills, a knack for sales, and perseverance are all skills to hone as well.
Want more great articles straight to your inbox? Subscribe Here ⤵