Employee wellness surveys can help you spot areas where your team needs extra support at work. But it's not always easy to know what questions to ask or how best to get responses. This guide breaks down survey questions for you across different well-being categories, offers a template, and leaves you with plenty of best practice tips.
Table of contents
Employees who feel healthy and happy at work are bound to perform and engage better, so investing in employee well-being initiatives has obvious benefits.
That said, the tricky part is identifying your staff's biggest well-being issues and how to tackle them. But don't worry: an employee wellness survey will do that for you.
But what goes into a wellness survey, how is it best structured, and what are the musts of conducting one? We answer these questions and more in this comprehensive guide. Below, grab our free template with 25 wellness survey questions and perfect your process with our best practice tips.
Let's dive in!
Key Takeaways
Wellness surveys help measure employees' health and satisfaction at work. You can use these insights to create or improve well-being initiatives and foster a more positive work environment.
You should define clear goals before designing your survey. This ensures the responses are meaningful so you can use them to make practical improvements.
Questions in a wellness survey for employees span categories including mental health, job satisfaction, management and support, stress management, and workplace wellness resources.
A combination of open-ended, multiple-choice, and rating-scale questions offers you a wider range of data while making the survey easier to navigate for employees.
Employee management apps are useful for designing and distributing your wellness survey. Employees get automated reminders to complete it and can take it wherever they are.
What Is an Employee Wellness Survey?
An employee wellness survey, sometimes called an employee well-being survey, is a set of questions you ask your staff so you can understand their health and well-being levels and determine how to improve employee satisfaction.
Wellness surveys feature a range of questions to help paint a complete picture of employee wellbeing. Common question categories include job satisfaction, mental health, workloads, and management and team support.
Benefits of employee wellness surveys
These surveys give you an immediate overview of your workers' well-being levels and issues. This enables you to:
Identify potential causes behind problems such as low productivity and absenteeism.
Spot trends like an increase in work-related stress around holidays.
Plan future wellness initiatives, such as creating ergonomically designed workspaces or developing mental health programs.
Furthermore, collecting data on a regular basis—say, yearly—helps you set benchmarks for specific key performance indicators (KPIs) like burnout or job satisfaction rates. For example, you could aim for 80% of employees to be highly satisfied with their jobs. Then, you could measure your progress against that goal with each yearly survey.
But wellness surveys don't just provide short-term guidance. In the long-term, using wellness initiatives can bring your business:
Improved employee health
Increased job satisfaction
Higher employee engagement
A more positive corporate culture
Higher productivity
Lower turnover
Decreased costs
Employee Wellness Surveys: 25 Questions & Template
You can use the template below as a starting point for your workplace wellness survey. Make sure to customize questions and initiative suggestions according to your business needs.
Introduction
First, write a short introduction to explain why your business is conducting a wellness survey for employees and how responses will contribute to an improved environment at work. Emphasize that the information provided is anonymous and confidential.
Here's an example:
[Name of your business] is committed to providing effective resources that support employee well-being at work. Therefore, we're pleased to invite all staff members to complete this employee health and wellness survey.
Its aim is to help [name of your business] understand our staff's well-being levels, work preferences, and individual needs. We'll use the responses to identify potential areas for improvement and specific wellness resources that could be useful to you and your colleagues.
All information you provide is anonymous and confidential and will be used strictly for the purposes outlined above.
This survey should take about [survey duration] minutes to complete. Required questions are marked with [symbol—e.g., an asterisk]. You can skip optional questions if you wish.
The deadline for responding to this survey is [deadline date and time].
Next, on to the survey questions.
Survey questions
Wellbeing at work
How would you rate your current overall health and well-being?*
1 – Very low
2 – Fairly low
3 – Neither low nor high
4 – Fairly high
5 – Very high
What kind of impact would you say your job has on your overall health and well-being?*
Negative
Neither negative nor positive
Positive
Tell us more about how your job and workplace affect your well-being.
Job satisfaction
How satisfied do you feel with your job overall?*
1 – Very dissatisfied
2 – Fairly dissatisfied
3 – Neither satisfied nor dissatisfied
4 – Fairly satisfied
5 – Very satisfied
Which aspects of your role give you the most satisfaction?
Which aspects of your role would you change if you could?
Workload
How manageable is your workload, usually?*
1 – Highly unmanageable
2 – Slightly unmanageable
3 – Neither manageable nor unmanageable
4 – Slightly manageable
5 – Highly manageable
Do you have an opportunity to take regular breaks during work?*
Mental health at work
How often do you experience a high stress level at work?*
Never
A few times a year
Once monthly
Once weekly
Several times a week
What specific things contribute to you experiencing stress or mental health difficulties at work?
Work-life balance
How easy do you feel it is to take sick days at work?*
1 – Very hard
2 – Fairly hard
3 – Neither easy nor hard
4 – Fairly easy
5 – Very easy
How easy do you feel it is to take paid time off (PTO)?*
1 – Very hard
2 – Fairly hard
3 – Neither easy nor hard
4 – Fairly easy
5 – Very easy
Which statement best describes your current remote work preferences?*
I'd like to work from home less
I'm happy with my current work-from-home frequency
I'd like to work from home more
State whether you agree or disagree with the following statements.*
I have enough time to pursue hobbies and interests outside of work hours.
I have enough energy to pursue hobbies and interests outside of work hours.
I feel like my team culture is supportive of my responsibilities toward family and friends.
Management and support
Do you feel the company supports its employees' health and wellbeing?*
Do you feel comfortable speaking to your line manager about your well-being issues and needs?*
In what ways could your line manager better support your well-being at work?
How supported do you feel by your team, excluding your line manager, when you encounter challenges at work?*
1 – Highly unsupported
2 – Slightly unsupported
3 – Neither supported nor unsupported
4 – Slightly supported
5 – Highly supported
In what ways could the company as a whole better support your well-being needs?
Wellness resources
Are you aware of the following wellness resources provided by the company?*
Free monthly team lunches
Weekly healthy snack delivery
Health and wellbeing company policy
Work-from-home policy
Bike-to-work scheme
Where you've answered "Yes" above, rate the current resources according to their impact on your wellness.
Free monthly team lunches
1 – A negative impact
2 – No impact
3 – A positive impact
Weekly healthy snack delivery
1 – A negative impact
2 – No impact
3 – A positive impact
Health and wellbeing company policy
1 – A negative impact
2 – No impact
3 – A positive impact
Work-from-home policy
1 – A negative impact
2 – No impact
3 – A positive impact
Bike-to-work scheme
1 – A negative impact
2 – No impact
3 – A positive impact
How would you describe the impact on your well-being of the company's current wellness initiatives?
The following wellness initiatives are potential actions we may take in the future. Please rank them from 1-6 in order of importance to your well-being.*
1 = Most important, 6 = Least important
Monthly well-being workshops led by professionals
Free access to a well-being app of your choice
Free gym membership
Team building events
Management training on wellness awareness
More flexible work options, including remote work
What other suggestions do you have for workplace wellness initiatives that this survey hasn't mentioned?
Would you like to share anything else regarding your well-being at work?
How To Conduct a Wellness Survey: Best Practices
You now have a wellness survey template—what next?
You'll want to tailor it to your company and workforce to ensure you get meaningful responses. Here are some best practices to follow when designing, distributing, analyzing, and following up on your survey.
Survey design
When designing your survey, focus first on your overarching goals and then on the structure of your questions. Follow these steps:
Define your goals
First, determine your survey goals and the information you aim to gather. Are you looking to understand employee well-being in a general sense? Or is the goal of your survey to gather specific insights on team members' work-life balance?
Defining your goals will influence the types and number of questions you'll include. For instance, to get a general sense of employee wellness, you might use broad, open-ended questions such as, "How do you feel about your overall workplace well-being?"
To dig deeper into the causes of their dissatisfaction, you should use detailed questions that probe specific areas of concern or interest—such as, "On a scale of 1-5, how satisfied are you with the communication from the management team?"
Be smart with your questions
Here's how you can make the most of your wellness survey questions.
Make survey responses anonymous, confidential, and voluntary to encourage honesty.
Structure your employee wellness survey questions into 2 or more categories, like mental health and workplace relationships. This helps break up a longer list of questions into manageable chunks.
Use a mix of questions with varying answer types. For example, the questions above ask readers to choose between answers, rate statements, rank lists of options, and provide text-based answers. Mixing question types can help you capture a more comprehensive view of respondents' opinions and feelings, allowing for both measurable data and detailed feedback.
Always clarify what numbers stand for when using scale questions. For example, for a 1-5 scale, you might specify "1 = Very low, 5 = Very high."
Add open-ended questions so employees can expand on positive or negative thoughts in their own words. An example is "What types of company initiatives would support your wellbeing at work?"
Re-use some questions in each new survey to effectively track progress and changes in workforce well-being over time. By keeping questions and answer types consistent, you can compare like for like in your survey analysis. For instance, knowing that last year's overall well-being was 3/5 and this year's is 4/5 confirms that there's been an improvement in well-being over time, which could indicate that your initiatives have worked.
Survey distribution
Distributing your wellness survey effectively means maximizing the number and quality of responses. You want to ensure employees can easily access the survey invite, understand the survey's importance, and answer questions honestly.
Here's how to distribute surveys effectively.
Explain the purpose of your wellness survey
Sometimes, employees feel they're too busy to complete a survey or that it won't make a real difference to their work environment. So, craft a message clearly stating why you're conducting the survey and how individual responses will contribute to real-world outcomes. You can use our template's introductory statement as a starting point.
This will encourage participation and even help employees answer questions more honestly.
Distribute your survey using an employee management app
While you can share your surveys through email or in all-hands team meetings, a better way to distribute surveys is with an employee management app.
Apps like Connecteam allow you to design, distribute, and analyze surveys easily. You create your survey within minutes and then share it with all or some of your employees with one touch. With Connecteam, your employee database is already in the app, making distribution more seamless than it would be with third-party survey software.
Connecteam's survey tools let you send an instant survey request to your employees, who can complete it via the app wherever they are. You can also often automate regular survey reminders for users who haven't yet participated—which increases response rates while minimizing admin work.
Incentivize employees to take the survey
Providing an attractive incentive can help you get more responses while compensating employees for the time spent away from their tasks or breaks completing the survey. For example, you could offer a randomly selected respondent a gym pass, a gift such as headphones, or a gift card they can use at their favorite retailer.
🧠 Did You Know?
With Connecteam, you can also manage employee recognition and rewards. For instance, you can send digital tokens to team members that they can easily convert into gift cards. These can make for a great survey incentive.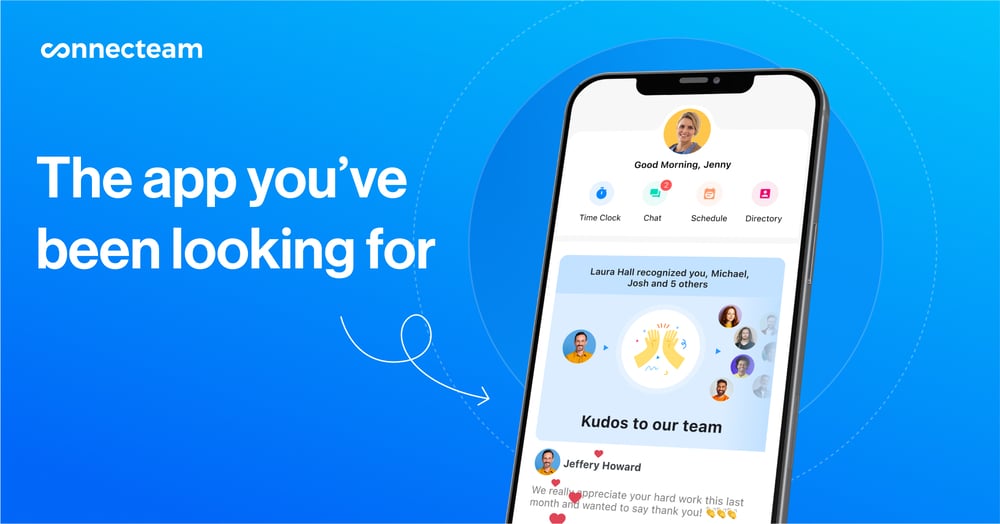 Survey analysis and follow-up
Once the survey closes, it's time to assess the results to identify stats and key patterns. For instance, a notable finding could be that employees receive excellent support from colleagues but their relationships with line managers are lacking. This could indicate a need for training managers in wellness awareness.
Here are the steps to take.
Calculate KPI scores
First, pair measurable questions, like scale or multiple-choice questions, with your chosen KPIs, such as job satisfaction, burnout levels, and work-life balance. For instance, the following scale questions would fall under the work-life balance KPI:
How easy do you feel it is to take sick days at work?
How easy do you feel it is to take paid time off (PTO)?
Then, create formulas to calculate overall scores for those KPIs. In the example above, assume the KPI is based on only the 2 scale questions and that both have equal weight. This means the questions should add up to 100%, so each will be worth 50% of the KPI score. Here's how to calculate the total score:
Work-life balance KPI score = 50% x [Average score for ease of taking sick days] + 50% x [Average score for ease of taking PTO]
Let's say the survey's average score is 3 for ease of taking sick days and 4 for ease of taking PTO. In that case, your KPI score would be:
Work-life balance KPI score = 50% x 3 + 50% x 4 = 3.5
Look for patterns
You don't need to be a data analyst to draw conclusions from survey results. Simply look for patterns, including:
Questions in the same category having contrasting responses. For example, let's say that 30% of respondents say "Yes" to the question "Do you feel supported by your manager?" Meanwhile, 80% of respondents say "Yes" to the question "Do you feel supported by your team members?" This pattern could point to a lack of management training.
Similar issues and suggestions coming up in open-ended question responses. For instance, say that over 50% of responses to "How can the company better support your well-being?" mention flexible work. This could signal that your organization should consider offering flexible working arrangements for your employees.
Consistent middle-ground responses, such as 3s on a 1-5 scale. These may not indicate strong dissatisfaction, but they can point to a pattern of employee apathy. For example, say you consistently see scores of 3 on the question, "How satisfied do you feel with your job overall?" This suggests a notable level of employee indifference.
Identifying patterns in your survey results also enables you to form hypotheses—or assumptions—that you can test to confirm the causes behind certain issues.
For instance, a low job satisfaction score and a low work-life balance score could prompt the hypothesis, "Improving employees' work-life balance will boost job satisfaction." You might then develop an initiative where workers can clock out early on Fridays or take a certain number of personal days off per year to test this hypothesis.
Take meaningful action
Finally, act on the results of your wellness surveys by creating or improving company policies and initiatives.
These can be long-term projects, such as trialing a flexible work policy and addressing a toxic work culture. They can also be short-term actions, like ordering healthy snacks at job sites or reminding workers to take regular breaks.
To pick the right initiatives, check what employees requested in their survey responses. For example, when the most-wanted company initiative is wellness-oriented workshops, developing these could be your first step post-survey.
Conclusion
Employee wellness surveys help you identify ways to increase staff wellness, which can boost job satisfaction and engagement, decrease turnover, and more. Now that you've got best practices and example questions, you're equipped to design and send out your own wellness survey.
Analyzing and acting on your survey results is key to improving staff well-being, but receiving quality responses depends on effective distribution. Connecteam is the top solution for this. You can share your survey with employees instantly after creating it, set up automated completion reminders, and analyze responses with just a few touches of your device.
Get started with Connecteam for free today!
Want more great articles straight to your inbox? Subscribe Here ⤵