What is an Employee Database?
An employee database is a system that contains information about a business's members of staff. It will typically include details such as an employee's:
Name
Address
Date of birth 
Contact information
Resume
Application form
Job title
Salary, benefits, and other compensation
Employment dates
Attendance records
Social security and tax details
Performance reviews
Details of education and training
Emergency contacts
Types of Employee Database
You have several options when creating an employee database:
Cloud-based solutions
With a cloud-based database, your employees' data is kept on internet servers, rather than your business's own systems.  As cloud-based systems solutions are typically provided by an external company, you won't normally need to install any expensive software. Both you and your employees will typically access their information through an internet browser. From a security perspective, these systems tend to be safer than other databases as all information will be encrypted. Most systems will also include a self-service feature that allows employees to edit personal information, such as their addresses. In many cases, employees can also submit expenses or request time off via the self-service tool.
Database software
If you prefer to handle data security within your company, database software will allow you to store your employees' data on your own servers.  This software normally allows you to customize its features based on your needs. As with cloud-based solutions, most software will include an employee self-service feature. To keep your employees' data safe, you should store all information using an encrypted system. This way, the information cannot be deciphered if lost or stolen.
Spreadsheets 
If you employ relatively few individuals, you could organize your database through spreadsheets. Remember to ensure that your spreadsheets are only available to those who need access to employee data. 
Paper documents
While this solution is less common in the digital age, some businesses still keep paper records on employees. If you choose this method, ensure that all records are stored in a secure location. All employees must also have both a general personnel file and a separate file for confidential data. For instance, if you have conducted a background check on an employee, you should keep this information in a confidential file. Again, you should check that only authorized personnel can access these filing cabinets or storage locations. As you are required to keep certain information separate, you should keep your paper records in several different locations.
The Benefits of Employee Databases
Setting up an employee database may seem overwhelming. However, there are numerous business benefits to doing so.
Improved accuracy 
By having a standardized system, you can help ensure that your information is up to date and accurate. Without a reliable database, you could be vulnerable to having errors or omissions in your records.  In some cases, inaccurate records could result in legal difficulties for your business. Learn more in the Employee Databases and the Law section below.
Saves time
Having an employee database can greatly reduce the amount of time spent on people management. If your database is running smoothly, your HR team can find a piece of information within seconds. Your HR team can then devote this additional time to more meaningful aspects of their role, such as employee wellbeing and training.
Streamlined performance management
An employee database allows you to hold all information on your employees' performance in a single system. You can then identify individuals who are performing well, and those who may need additional training.  Likewise, you may notice common areas in which employees are underperforming. This could indicate a need for better training in this area across your entire business.
Different types of Employee Data
We tend to use the term 'employee data' to loosely describe all information about the people working in a business. However, there are different types of data.
Personally identifiable information (PII)
This is any data that could specifically identify a particular member of staff. It includes their name, Social Security number, passport information, address, and contact details. PII falls into two categories: sensitive and non-sensitive. Sensitive information is any information that could cause financial loss or personal embarrassment if made public. All sensitive data should be kept in a separate confidential file. Sensitive data would include a person's driving license or any information relating to their personal finances. Non-sensitive information is information that may be easily accessed through other means, such as public records. Non-sensitive PII may include a person's zip code or place of birth.
Payroll
This is typically all the data that you need to pay your employees their salary and other benefits. It includes the amount of their salary, overtime, and withheld taxes.
Personnel
These types of details mainly relate to an individual's history with your organization. It will include details such as their resumes, performance reviews, and training record. Once an employee has left your business, it may also include their exit interview comments. 
Medical
An employee's medical data may include information such as their sickness record, reasonable accommodations, and details of any workplace accidents. If an employee has applied for leave to care for a dependent under the Family Medical and Leave Act (FMLA), the dependent's details may also be included. Learn more about the appropriate storage of medical records in the Employee Databases and the Law section below.
Download your FREE guide on "10 Tips for Engaging Your Frontline Teams" ⤵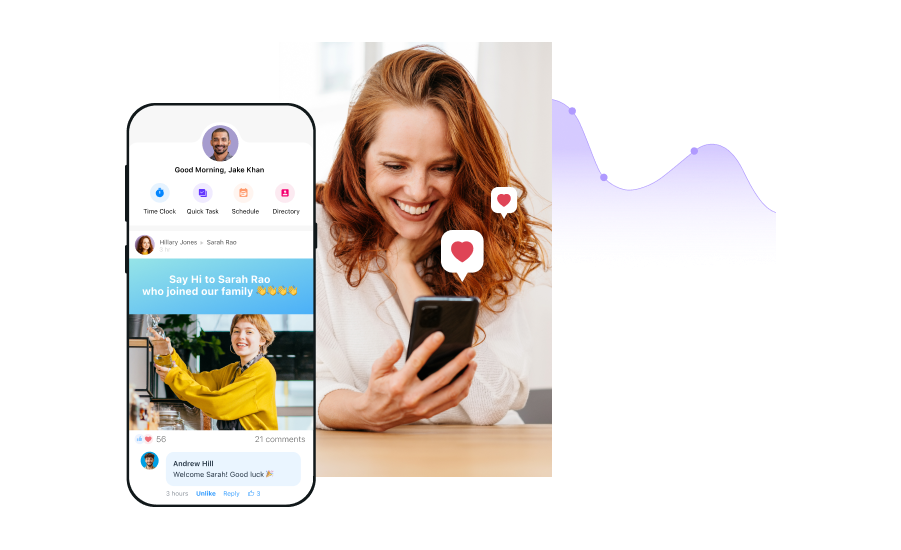 Employee Databases and the Law
There are strict laws surrounding the handling of employee data. The main pieces of legislation you need to be aware of are:
Selected Recordkeeping Obligations in 29 CFR Part 1602 
This regulation relates to the amount of time you need to retain an employee's data.  The legislation states that private businesses must hold these records for a year. The start date relates to the date the information was gathered. Alternatively, it is the date on which you took action based on the data, whichever is later. If legal action or a charge of discrimination has been made against your company, you should hold relevant information until the case is resolved.
The Recordkeeping Requirements under the Fair Labor Standards Act (FLSA)
Under this legislation, you need to keep certain required pieces of information about all your non-exempt workers. This includes:
Full name 
Social Security number
Address
Date of birth (if under 19)
Occupation
Sex
Working days and hours.
Wages frequency (ie daily, weekly, or monthly) 
Hourly pay
Straight-time earnings per day or week
Overtime earnings 
Wage additions and deductions
Payment date and pay period covered
There are no rules governing the manner in which you hold this data. However, it must be factually correct and show details of hours worked. The act also requires employers to keep all information relating to payroll for at least three years. Likewise, you will need to keep records that explain your justification for paying different rates to employees of different sexes, if applicable.
The Americans with Disabilities Act
This legislation prevents employers from storing medical records alongside other employee data. Instead, you will need to store this information in a separate file. Likewise, managers and supervisors should not have access to this data. If you fail to follow these rules correctly, you may face an allegation of disability discrimination.
Government forms
There may also be special conditions relating to the handling of any government forms. As this likely varies by state and form, you should check the rules surrounding each document carefully.
Legal documents
Where employee data contains any records relating to past or present legal action, you will need to store this separately. Only your company's legal team should have access to this.
The consequences of a breach
If an employee can prove that you have failed to take proper care with their data, they may be able to take legal action. In a worst-case scenario, the financial and reputational consequences could be devastating for your business. Remember, if the lost data reveals personally identifiable information, it could put your employees at risk of identity theft. An employee data breach could also suggest to customers that you do not take proper care of their data.
Tips for Database Management
Once you have created your database, there are several steps you can take to ensure the system runs smoothly. 
Regularly audit your data
One of the best ways to ensure your database is operating effectively is to conduct regular checks. As part of this process, you should check factors such as user access and editing rights. It is also helpful to do a spot check on the accuracy of data. As part of this process, you could select an employee at random, check the last time their information was updated, and ask them to confirm it is accurate. If data relates to time and attendance, you may want to check your electric database against any paper timesheets you may have.
Back up your data
However you set up your database, you'll need a system to recover your information. A backup system can allow you to recover lost information in the event that it is accidentally overwritten or you are the victim of a cyberattack. 
Create an employee privacy policy
In order to avoid legal issues, you should create an employee privacy policy, and make it readily available to staff. Your policy should include details of how you collect and use any information.
Train your staff in data management
When it comes to employee information, it's essential that you properly train all staff involved in data handling. If you discover gaps or errors, you should investigate how your HR department gathers, and updates, this information. It is also crucial to educate your employees on relevant laws surrounding data management.
Establish role-based access
If you want to keep your employees' data secure, you should limit access to those who need to see this data. Most systems allow you to set strict permissions on which users have access to personally identifiable information.
Conclusion
All businesses collect vast amounts of information on their employees. In certain cases, failing to follow the rules surrounding employee data could expose your business to expensive legal action. However, you can help keep both your business and your employees safe by following the steps outlined in this article.