It's important to make employees feel acknowledged and valued if you want them to stay at your company. A great way to do this is by having a work anniversary recognition program to foster employee engagement and strong company culture.
Table of contents
Employee anniversary recognition isn't just a ceremonial gesture; it shows how much a business appreciates its employees' dedication.
As companies deal with challenges like high turnover rates and employee disengagement, recognizing and celebrating work anniversaries can be a powerful tool to foster loyalty, boost morale, and promote a positive work culture.
Why is it Important to Celebrate Employee Work Anniversaries?
Consider how much time, energy, and effort you put into your job. Now, imagine how demotivating it would feel if no one recognized your efforts!
Celebrating employee work anniversaries shows your staff that you value their work, appreciate their efforts, and shows how committed the company is to its workforce.
All of these factors lead to increased employee engagement, a crucial aspect of business success.
In fact, companies with actively motivated and engaged employees see 27% higher profits and 50% increases in sales and customer loyalty, just another reason to prioritize employee anniversary recognition.
Benefits of Employee Anniversary Recognition Programs
Recognizing employee anniversaries is about more than just marking time; it's a powerful tool for building a stronger, more connected business.
Here are six reasons why celebrating these milestones can make a world of difference in your company.
Trust Building:
What's this about? Think of it as the unspoken promise between the employee and the business. When you celebrate their milestones, you're saying, "Hey, I notice your hard work and commitment." This builds trust and makes employees feel more connected to the business.
Why does this matter? When employees trust their employers, they're more likely to stay, be more committed, and feel happier at work.
Team Bonding:
What's this about? Celebrating anniversaries is like remembering a friend's birthday. It brings everyone closer and reminds them of shared memories.
Why does this matter? Teams that feel close are better at working together. They have each other's backs and are more willing to collaborate.
Strengthening the Company's Story:
What's this about? Every time you celebrate an employee's anniversary, you're adding a chapter to your company's story. It shows that employees are the heroes in this narrative.
Why does this matter? A strong company story makes people proud to work there. It also makes for great word-of-mouth, attracting more customers and talent.
Keeping Knowledge In-House:
What's this about? Think about your long-time employees. They know the ins and outs of your business. By celebrating them, you're highlighting the importance of their knowledge.
Why does this matter? It's simple: when these experienced folks feel valued, they're more likely to stick around. This means less time spent on training new people and fewer mistakes.
Mapping Out Career Paths:
What's this about? Anniversaries can be a checkpoint. A moment to chat about where an employee sees themselves in the future and how the company can help them get there.
Why does this matter? When people see a clear path ahead, they're more motivated. It also helps businesses place the right people in the right roles.
Time for Feedback:
What's this about? Besides celebrating, anniversaries can be a time for some heart-to-heart. What's going well? What could be better?
Why does this matter? Regular feedback keeps everyone on the same page. It can catch small issues before they become big problems and helps the company evolve.
In a nutshell, recognizing employee anniversaries isn't just about cake and a pat on the back.
It's about building trust, keeping the team tight-knit, and making sure your business keeps growing in the right direction.
Every anniversary is a chance to say "Thank you, and let's plan for the future together!"
Tips for Creating an Employee Anniversary Recognition Program
Have a reminder system in place
The only way you can recognize employee anniversaries is by remembering them in the first place and planning ahead! That's why it's vital to have a system in place that reminds you the dates of everyone's work anniversaries.
You can use an online calendar like Google Calendar, or take advantage of an employee management app, such as Connecteam. Connecteam's employee timeline feature sends you automatic reminders of every employee's work anniversary so you won't forget them.
Make it personal
Consider personalizing employee anniversary gifts to really make each individual feel special. This can be as simple as writing a card with a personalized note or words of affirmation and encouragement. That way, you can make your team member feel truly special and show how much you value their hard work.
Have different gifts for different years of service
Anniversary gifts should be reflective of how long an employee has been with the company. At a time when about 30% of the total workforce changes jobs every 12 months, businesses should do everything in their power to hold on to talented workers. 
Share employee anniversaries with everyone
Allow your employees to shine by acknowledging their work anniversaries on your company newsfeed or on social media. This promotes comradery and team building by giving everyone the chance to congratulate them on their achievement. Include a photo of the employee with a digital badge of recognition to make them feel truly special.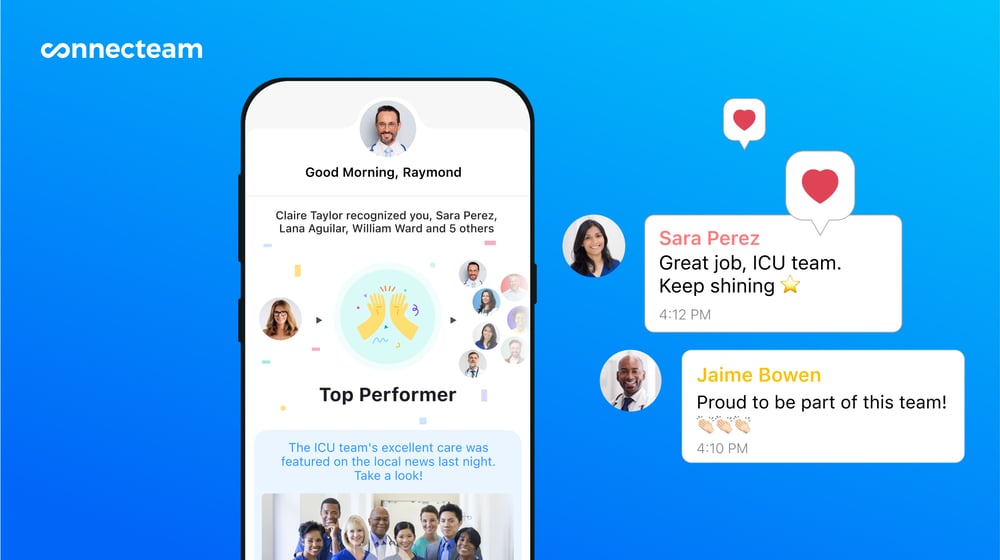 Make sure all employees are treated equally
Show your employees you care about each individual on the team by creating an equitable and fair employee anniversary recognition program. Providing a gift for one employee and not for another one celebrating the same milestone will result in angry, upset workers.
YouParcel CEO Onur Kutlubay explains how his logistics provider company celebrates employee anniversaries:
At YouParcel, work anniversaries come with a mix of bonuses and heartfelt gestures. For instance, we throw a small celebratory lunch as a team-building event alongside giving a bonus. Employee reviews have indeed taken center stage during work anniversaries, reinforcing growth. This twofold approach enhances employee satisfaction and nurtures a motivated and cohesive work culture.
10 Work Anniversary Recognition Ideas
Here are 10 ways to make your employees feel special after reaching significant anniversary milestones. Consider using one or a combination of the following ideas:
Bonuses
There's no better way to reward good work than with a little extra cash in an employee's paycheck. Consider gifting bonuses on a yearly basis and increasing the amount with every anniversary.
Weekend getaway
A weekend trip lets employees relax and rejuvenate–and even more so if it's on the company dime! Because this is a more expensive work anniversary gift idea, you may want to reserve it for more tenured employees (think after 2+ years at the company).
Gifts
Physical gifts are always a good idea. You can designate a specific gift for employee anniversaries or consider a gifting platform like Snappy or Goody. These websites allow you to give employees a budget, and they get to choose their own gifts from a very large selection. That way, they get exactly what they want.
Gift cards
Reward employees celebrating their work anniversaries with gift cards to stores, restaurants, or online marketplaces like Amazon. This allows them to spend their gift card however they choose. And with an employee management app, like Connecteam, you can reward gift cards directly in the app. That way, employees don't have to worry about losing their gift cards because the app stores all the information directly on their phones.
Extra PTO
Nothing says, "Happy work anniversary!" quite like extra PTO. This employee anniversary gift gives your workers time to relax, spend time with friends or family, or simply enjoy a few extra days off. This is a great reward for employees who may be struggling with work-life balance.
Raises
Is there anything better than getting a raise? This might be one of the best ways to reward a hard-working employee on their work anniversary. How much you choose to give your workers is up to you, but keep in mind that the average pay raise is 3-5%.
Throw a party with a team lunch or dinner
Celebrate your employee's anniversary by throwing them a party with a special lunch or dinner in their honor. You can throw an office party or take your team out to a restaurant if you are all located in the same area.
Pay for an activity
Give employees the option to do something they may not normally get the chance to do. Ideas include: taking a cooking class, going skydiving, or wine tasting at a local winery.
Massage or spa day
Your employees work hard every day, so give them the gift of rest and relaxation with a massage or a full spa day. Consider allowing them a day off to do so.
Extra break time or half day
Reward hourly workers with an extra long break on their work anniversary. Or, allow them to work a half day to enjoy a little extra free time.
Make Employee Anniversaries Extra Special
Employee anniversary recognition is an important part of creating a collaborative and positive work environment. Taking the time to acknowledge your workers on their employee anniversaries will make them feel special and appreciated.
Consider coming up with work anniversary ideas for employees to promote happiness and positivity amongst your team.
Want to Receive More Great Articles Straight to Your Mailbox? Subscribe Here ⤵