Business communication skills are essential for aligning teams, creating and maintaining relationships with customers, building trust with your staff, and producing positive results at work. In this article, we'll be discussing the importance of effective communication skills plus our top tips for doing so.
Table of contents
Effective communication is vital for business success. It's what keeps teams working well together, enhances productivity, keeps customers happy, and helps the company continue to grow.
In fact, there is no skill more important in life than effective communication. Whether you're a manager or an employee, communication helps resolve conflict and fosters healthy relationships. In this article, we'll be discussing the importance of effective communication as well as our top communication tips.
What is Effective Communication?
So, what is effective communication anyway? It's more than just having a conversation with someone or sending an email. To communicate effectively, you need to convey information, ideas, thoughts, or feelings in a clear, concise, and easy-to-understand manner. On top of this, the person you're speaking to needs to comprehend the intended meaning of your message.
This isn't as easy as it may sound. You need to make sure to use language the recipient understands and non-verbal cues that are appropriate for the audience. It's also important to be empathetic and compassionate to more easily connect with your audience.
🧠 Did You Know?
There are 4 primary forms of communication:
Verbal communication: Speaking face-to-face, on the phone, and via voice notes.
Nonverbal communication: Cues, gestures, and body language.
Visual communication: Images, videos, and graphics.
Written communication: Emails, texts, and instant messages.
If your employees don't work in the same physical location, you may end up using more written and visual communication with your team. No matter what communication tools you use, remember the tips in this article to effectively get your message across.
Benefits of Communication Skills in Business
Effective business communication is the most powerful leadership tool business owners and managers can have. The importance of communication skills for conducting job interviews, writing resumes and cover letters, aligning teams, producing better work results, and maintaining client relationships simply cannot be understated.
Let's take a closer look at the benefits of improving communication skills in business:
Efficient operations: When tasks are understood and delegated properly, employees are able to work more efficiently.
Collaboration and teamwork: Open communication encourages idea sharing and better team performance.
Conflict resolution: Effective communication in business ensures that conflicts and misunderstandings are addressed and resolved quickly.
Employee engagement: Open and transparent communication promotes a positive work environment and better employee engagement.
Organizational alignment: Clearly communicating goals, values, and strategies aligns everyone with the business' mission and objectives.
Better decision-making: When you communicate effectively with employees and they fully understand what's going on at work, they're able to make more informed decisions on the job.
Customer satisfaction: Clear customer communication enhances their experience, loyalty, and perception of the company's brand and services.
There's no doubt that managing a team requires good communication skills. So here are our top tips for accomplishing effective communication.
The 5 C's of Effective Communication
Between team meetings, trainings, assigning tasks and schedules, and providing emotional support to your staff, communication is a much bigger part of management than people may realize.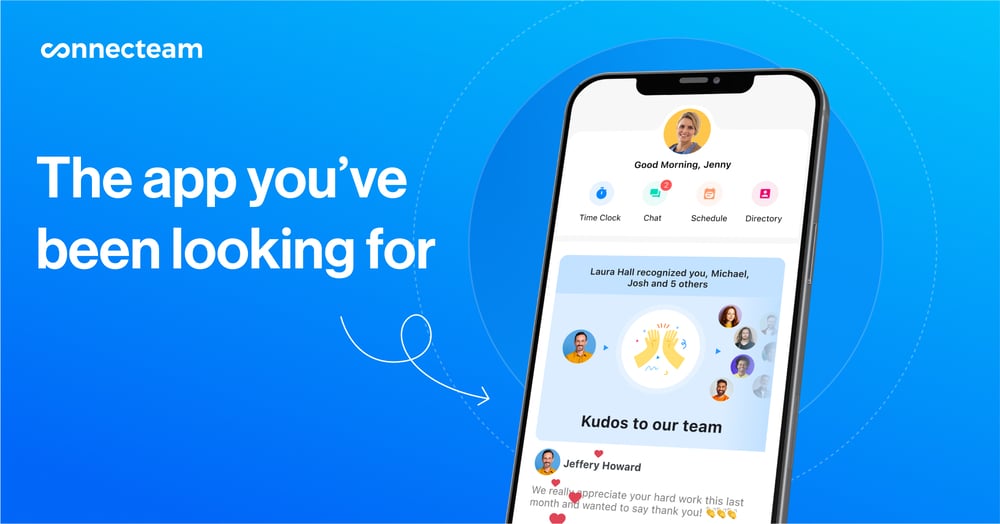 To maintain a clear channel of communication with your staff, we recommend following the 5 C's of effective communication. While these may vary slightly depending on who you ask, the basic idea is the same. We consider treating the 5 C's as a communication checklist when relaying a message to your team:
Be clear
No matter who you're speaking to, your message may be lost or misinterpreted if you don't present the information clearly. Whether you're speaking to someone in person or via text or email, make sure your words are clear and make logical sense. Or if you're assigning a task to a worker through an employee communication app, like Connecteam, include instructional checklists outlining instructions or attach supporting images, documents, or videos to help clarify the task.
Be concise
No need to use 20 words to say what can be said in 5. Using excess words or trailing off on tangents can lead to confusion and loss of interest. Instead, say exactly what you mean in a simple, uncomplicated way.
Make a compelling request
After communicating an issue, point, or request, offer solutions or next steps that you think the other person would be happy with. For example, if an employee isn't performing as well as you think they should be, have a positive conversation with them and offer specific points as to how you think they can improve.
Be curious
Approach any type of communication with an open mind. Managers, in particular, need to work together with their employees to make decisions and navigate challenges. It's important to be receptive to new ideas and listen to what your employees may need or want for you in response to your request.
Be compassionate
As a company leader, an essential part of your job is building connections with your team. Listening skills are just as important as speaking skills. To be compassionate, listen intently and respond to your employees when they have questions, concerns, or need to discuss personal issues unrelated to work.
Make sure to actively listen and engage in these conversations and respond appropriately. As a manager, this is crucial for building trust with your employees.
💡 Pro Tip:
Whether you're speaking to an employee in person, through an employee chat app, or on the phone, allow them the chance to speak without interruption. Acknowledge what they're saying by repeating back their main points and asking questions to show you're engaged.
If speaking in person, make sure to pay attention to your facial expressions and nonverbal cues. Maintain open and approachable body language, maintain eye contact, smile genuinely, and don't cross your arms. Avoid actions like checking your phone, which make you appear uninterested.
5 Extra Tips for Improving Business Communication Skills
Now that you understand what effective communication is and the 5 C's, let's discuss 5 more essential tips on how to improve communication skills in your professional life:
Keep your cool
Effective communication starts with keeping a level head. Even if discussing a pressing issue with a team member, do your best to remain relaxed. Use non-threatening language and positive, actionable words to show your employee that you're on their side.
This will help them remain calm and focused on what you're saying instead of becoming stressed. It can also help prevent them from getting defensive.
Consider the best method to deliver your message
Not everything needs to be an in-person meeting. In fact, a lot of work-related communication can be conveyed effectively in written and visual formats. Not only does this allow your employees time to read and absorb the message, but they'll have time to think about their response. Or, if a response isn't necessary, you can simply turn on read receipts so you know they got the message.
🧠 Did You Know?
With Connecteam, you can use multiple mediums to communicate with your team that don't require face-to-face meetings. Send personal or group messages, create videos, surveys, checklists, forms, or make announcements on the company newsfeed to get your message across.
Get started with Connecteam for free today!
Be patient
Not everyone communicates the same way. Some employees may respond to a message immediately, while others may need some time to absorb the information and respond appropriately. Be patient and allow your staff to respond in their own time, and keep in mind that you can always follow up with questions or comments if needed.
Provide a summary
Once important projects, tasks, or discussions are over, summarize the main points in written format so your employees can reference the key takeaways.
For example, if you've noticed that one of your team member's work is slipping, have a meeting and explain where you see room for improvement. Then, write up a short summary of your discussion and action items on how they can improve. Make sure they have open access to this summary whenever they need. For example, you can store it in an online Knowledge Base and set permissions so that only they have access to it, keeping it confidential as well.
Use an employee communication app
An employee communication app, like Connecteam, is your secret weapon for effectively communicating with your team, no matter where they're located.
This all-in-one team management app allows your entire team to stay connected and aligned. You can effectively communicate tasks and projects, ask questions, express concerns, check up on your staff, and even provide ongoing professional development, all from one place.
Here are a few of Connecteam's key communication features:
In-app chat makes it easy to communicate from anywhere
Instantly communicate with your team with 1:1 messages or group chats with in-app chat. You can also share files of any type, including PDFs, images, and videos to make sure employees have access to all the information they need while on the job.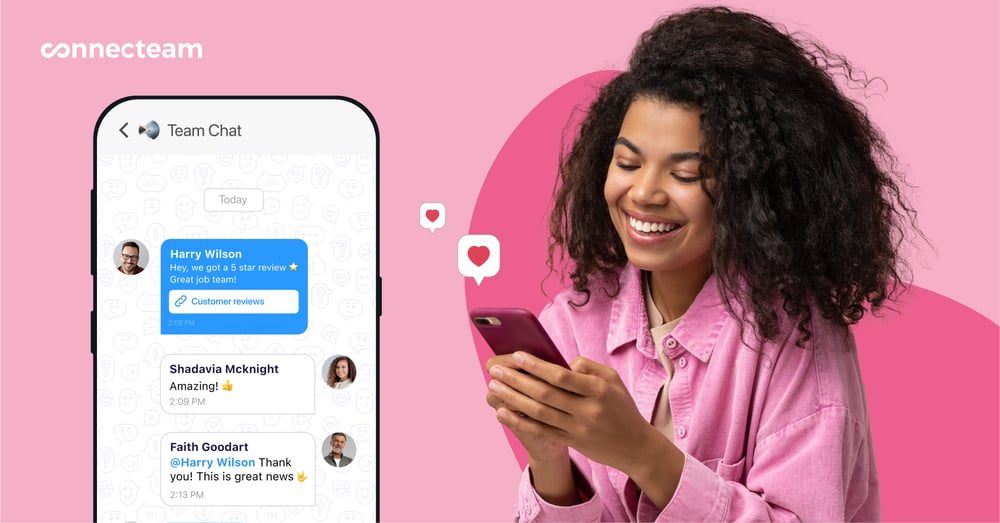 Social media-style newsfeed keeps everyone in the loop
Share company news, announcements, and shout-outs with your team through the company newsfeed and allow employees to comment and react. This is a great way to keep your entire team in the loop and engaged.
As an admin, you maintain a clear overview of who viewed and read your updates. You can easily ensure your message gets across with notifications, pop-up updates, and read receipts.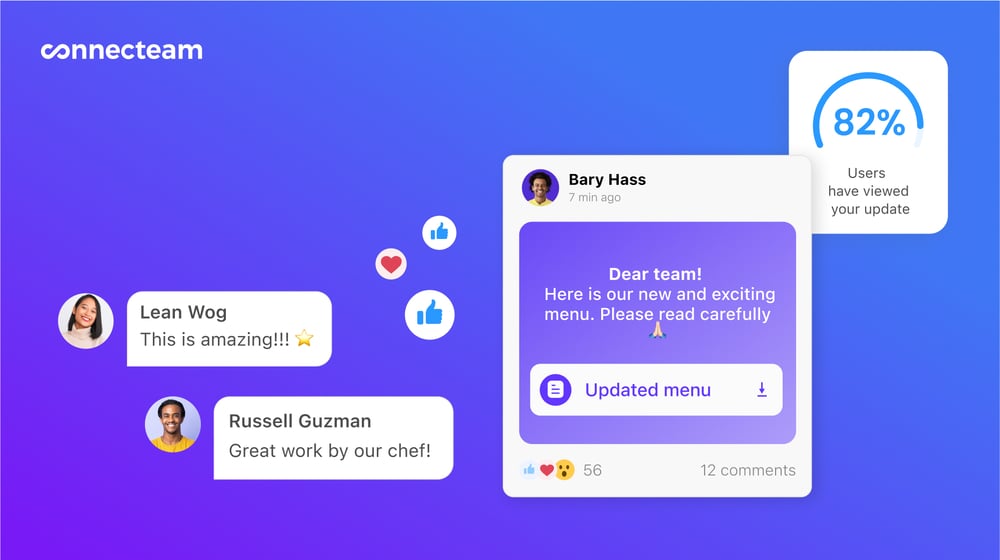 Employee directory provides everyone's contact information
The employee directory acts as your team's digital phone book where you can quickly look up and contact coworkers and customers directly from the app. You can search contacts by name, job title, department, location, or custom field and add notes with additional details, such as preferred call hours.
Store all your team's important documents in the Knowledge base
Create, organize, and share important documents with Connecteam's Knowledge Base. Your employees will be able to quickly find and access information, like policies and training manuals, right from their phones. Content automatically updates across everyone's devices, too, so everyone has all the latest information at their fingertips.
Clearly assign tasks and assignments, and answer questions in real time
Make sure employees know how to complete tasks by providing them with checklists. You can even include a form for them to sign with an e-signature once they're done. To further clarify instructions, include a video or image so they have a visual idea of what they need to do, reducing any confusion.
Surveys and live polls help you gain insights from your team
Gain valuable insights, make informed decisions, and ensure your team feels heard with customizable surveys and live polls. Boost response rates with an easy and engaging user experience, an auto-save functionality, notifications, and an anonymity option.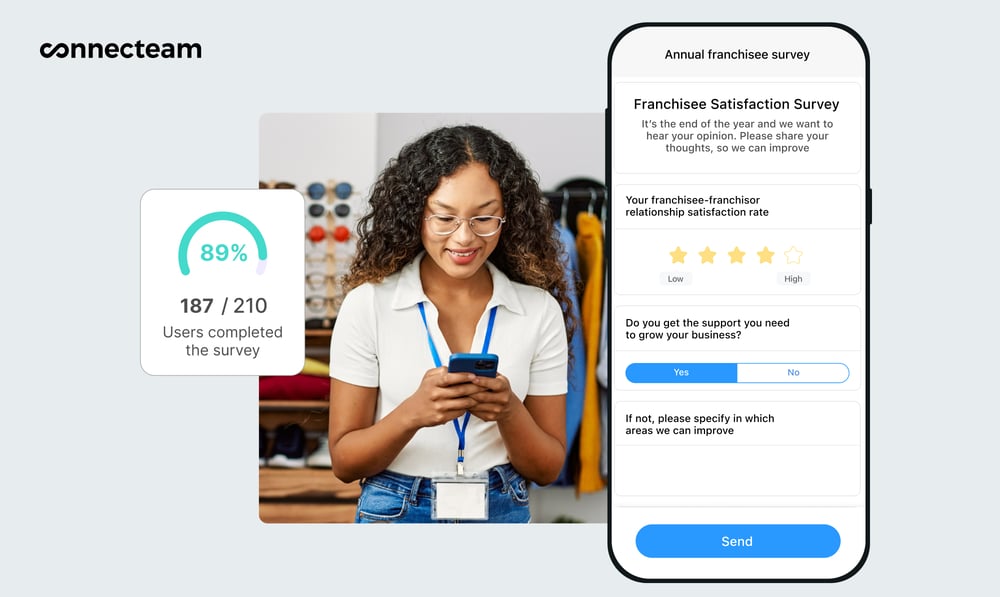 Provide ongoing, professional development courses
Easily create your own professional developing training courses with documents, images, and self-made videos to create interactive and educational content directly in the app.
You can then store all training courses in consecutive order in one centralized place so no matter where your employees are located, they can complete the training at their own pace. You can also monitor their progress with the employee dashboard and communicate with team members during training in real time.
💡 Did You Know?
Connecteam is more affordable than many employee communication apps on the market. In fact, it's 100% free for small businesses with up to 10 users, and premium plans start at only $29 for up to 30 users per month.
Get started with Connecteam for free today!
Effective Communication is Essential for Business Success
Without effective communication, businesses cannot successfully manage their employees or retain customers. Maintaining open lines of communication is essential for building trust with both your team and clients, ensuring your staff has the necessary information to do their jobs, and creating a positive and healthy work environment.
The best way to do this is by following the tips outlined in this article and using a communication app to connect your entire workforce. This will dramatically reduce miscommunication, improve collaboration, and streamline the flow of information within the organization.
Want to Receive More Great Articles Straight to Your Mailbox? Subscribe Here ⤵