Workplace celebrations are festivities that you hold with your team or organization to mark a holiday or special day. These events can also be used to acknowledge employees. Celebrations can range from big galas that last an evening or a day to a simple team huddle with a treat. They can be customized for your organization and your needs. There are many things you could be celebrating at your workplace.
Federal holidays
Company holidays—such as the day your organization was founded
New hires
Employee birthdays or other milestones
Retirements
Employee returns from leave
Completed projects
Product launches
Why Hold Workplace Celebrations?
In Charles Dickens's The Christmas Carol, the protagonist Ebeneezer Scrooge says of an employer who threw great Christmas parties: "He has the power to render us happy or unhappy; to make our service light or burdensome: a pleasure or a toil. . .The happiness he gives, is quite as great, as if it cost a fortune." Even back in the 1800s, the importance of a celebration was recognized. So why might you want to host workplace celebrations? There are several reasons. Some of them might even surprise you.
They let you recognize employees
Celebrations can give you a chance to celebrate your workers. And that in turn can have an impact on your bottom line. One study—conducted by Gallup and workhuman—found that when a 10,000-person organization makes employees feel recognized, they can save up to $16.1 million in employee turnover costs alone each year.
They can create stronger teams
When employees celebrate, they often get to know each other beyond work. Socializing can make employees feel more connected to each other, which in turn can mean stronger teams.
They help you build company culture
How does your organization celebrate? When you have a specific "way" of hosting parties, this can become part of your company brand and culture—no matter whether your parties are quiet and focused on giving or fun and boisterous.
They can boost productivity
In one study by Staples, 85% of workers said breaks would help them improve productivity, but only 55% of these employees said they felt empowered to take rest at work. When you celebrate, you get everyone's mind off of work for a while. Employees can then return to their jobs refreshed and ready to focus. If you're celebrating employee achievement at work, employees may even be motivated to work hard to be recognized at the next event you host.
They help you build your employer brand
Many years after he left employment at Fezziwig's, Scrooge still remembered the wonderful parties his employer had thrown. Throwing great presentations can make you stand out as an employer and can even help you attract and retain talent. Company celebrations show you care about your workers—and employees want to be at an organization that cares.
How Can You Host Successful Workplace Celebrations?
While spontaneous work celebrations can be great, planning your events—no matter how big or small—in advance is a great way to make sure it goes down a storm. Here's how to make festivities part of your work culture.
Decide to celebrate
Consider what you might want to celebrate as a company—and how often. Do you want to have monthly, casual festivities? Do you want to celebrate federal holidays? Do you want presentations to hand out awards and prizes to employees? Think about what makes sense for your company.
Survey your team
You may have ideas you're excited about. But will your employees want to take part, especially if the celebrations are unpaid time? You can use Connecteam surveys and polls to find out whether your teams want celebrations—as well as what and how they might want to celebrate.
Create some ground rules
Decide whether celebrations will be paid time off or not. Set a budget. Determine why you're hosting these events and what rules—if any—apply. For example, if there are dress codes, costume or theme requirements, or anything else that's important to these festivities, make sure you decide in advance. A good ground rule you might want to establish—for example—is to make celebrations voluntary. You don't want anyone to feel like they have to show up.
Download your FREE guide on "10 Tips for Engaging Your Frontline Teams" ⤵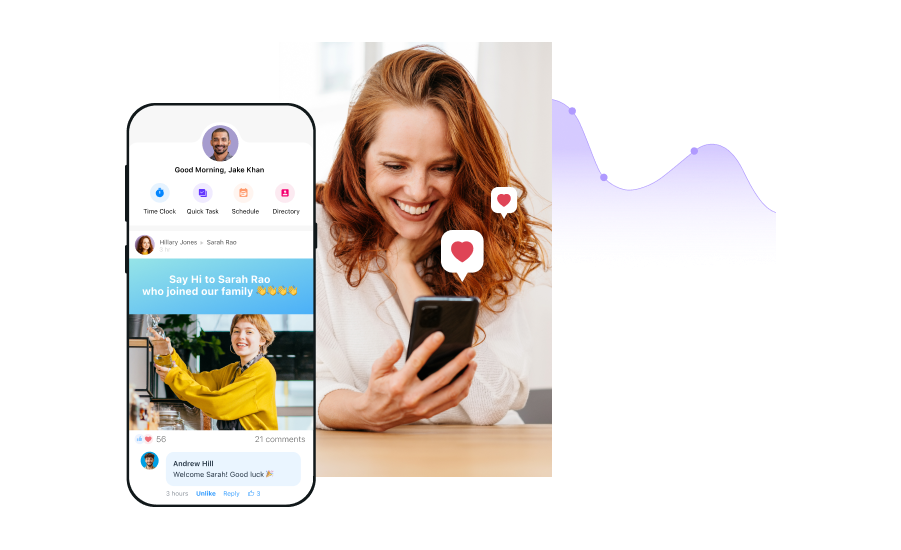 Make someone responsible
A party or culture committee—or even just one person—to take ownership is a great way to ensure everything gets organized properly. This person or group can schedule events, answer questions from employees, and plan festivities. They may order snacks—for example—or book venues when needed. They will send out the invitations well in advance so workers can take part if they want to.
Think small
Bringing in a pizza on Fridays or sending everyone a gift card to a coffee shop once a month so you can "virtually" have a cup together can be just as powerful as a big party. When you celebrate in small ways, teams don't have to wait as long for something fun. You can also keep your budget modest and still make employees very happy!
Build on your celebrations
As you plan your company celebrations, think about what's next. Do you want to keep a list of workers who have been recognized with awards for their work? Do you want to keep and share photos through an app like Connecteam chat, so you can reminisce about your company traditions? Or do you want to share your celebration online through social media or the company website? If you're considering this last one, remember to get employees' permission before sharing any of their photos!
Ideas for Workplace Celebrations
You've decided to have fun together and mark some special occasions as a workplace. How can you make your events stand out? Here are some celebration ideas to get you started.
Play arcades and games
You could take your team to an arcade or gaming venue. Or, you can rent inflatable big screens and bring video games to the workplace. If your workers are in different locations, you might want to play video games online together. Don't forget some small prizes for the winners!
Break bread together
You can get together at a restaurant to celebrate a big event or have food delivered to your place of work. If employees don't all work in a centralized spot, you can also have food delivered to different locations or send everyone a restaurant gift card they can enjoy on their own time.
Bring in treats
If everyone works in one office, you can bring in a pizza, donuts, or other treats for a short and low-key celebration. If you decide to do this, keep dietary restrictions and choices in mind. 
Host an awards ceremony
There's a reason millions of people around the world watch the Academy Awards. It's exciting to see people being acknowledged! You might want to create your own awards ceremony—and could even create certificates or order small trophies for the winners. If you're interested in a more low-key awards celebration, you could award an "employee of the month" and offer a special parking spot or another perk to the winner.
Give small gifts
Gift cards, company t-shirts, tote bags, mugs, phone cases, laptop cases, and other small gifts all show you care. They can be a stand-alone way to celebrate or you can combine them with other festivities. For example, you can send a handwritten note of appreciation to employees along with a gift. Or, you can hand out small gifts as prizes if you host a company games night.
Give public shoutouts
A simple way to celebrate your team is to send out some appreciation via team chat or even on social media. A simple "great job on the latest project" or "thank you for helping us finish this launch" can be rewarding to hear. And once you share a shoutout like this, colleagues have a chance to jump in and share their own congratulations to the worker you're celebrating.
Decorate desks
If your team has employee desks or cubicles in a central workplace, you can decorate desks for special occasions. For Valentine's day—for example—each desk could have a few paper hearts hung on it. For birthdays, the desk of the person having a birthday can be decorated with balloons and banners as well as cards signed by colleagues. If you have remote teams, you can do something similar with chat feeds. For a birthday, you can have coworkers send pictures and birthday greetings to the person celebrating via chat. You can record short videos of yourself singing "happy birthday" and send these via chat also.
Throw an office party
A traditional party with balloons, music, dancing, and food is a time-honored way for companies to mark holidays, company events, and employee awards. If you have remote teams, asynchronous and virtual parties have become popular. You can have a remote party using video conferencing software and even take part in karaoke or virtual games together.
Celebrating Each Other in the Workplace
Company celebrations can include festivities, quiet recognition of a job well done, a special holiday, or someone's personal milestones. Whether you're celebrating publicly or not, marking special occasions takes employees out of their work and brings them together. And no matter why you get together as a team, stepping back from work once in a while to have fun and socialize together can make you stronger as a team and boost morale. It also allows you to recognize each other and can even help you stay more productive.