Virtual workplace events are an organization's meetings, celebrations, training, and other proceedings that take part through video conferencing or online meeting software. Online events became very popular during the COVID-19 pandemic, especially during 2020, when many businesses were closed for in-person work. However, they have continued to be an important way to connect teams, organizations, and clients even as in-person work has resumed. Many types of virtual workplace events are held today. These include: 
Webinars, presentations, and learning events 
Workshops
Virtual trade shows
Virtual office parties and celebrations
Fully virtual workplace meetings, where everyone is attending remotely
Hybrid company meetings, with in-person and remote or deskless workers in attendance
Virtual kick-offs and product launches
Virtual social events, such as game sessions or lunches
Why Host Virtual Workplace Events?
Virtual workplace events are here to stay. At the start of 2022, 92% of companies reported that they had continued to host virtual events even as in-person work resumed. In addition, 46% of companies committed to hosting more online events in 2022 than in 2021. So why are they popular?
Virtual workplace events are cost-effective. You don't need to rent a venue for your event, and you don't need to serve refreshments. In most cases, attendees use their own computers or mobile devices. While some virtual meeting software comes with a price, there are free versions you can use, too, further reducing costs.
They help your team connect. Like in-person events, virtual events help you share information, train your employees, and build camaraderie. They can build morale and help your team problem-solve, too. Many of the things that can be done with in-person meetings and events can be accomplished by taking your events online.
Virtual events are accessible. Attendees for your event don't need to navigate an office or other venue, which can sometimes pose challenges if they are living with a disability. Instead, they can sign in straight from their home. Equally, neurodiverse workers may find taking part in a virtual event easier than being in a space with a lot of sensory input. For deskless and remote workers who can't easily access your HQ, virtual events can let them take part in regular meetings, as well as holiday parties and other events. Today's conferencing technology also includes features such as closed captioning, which can make your virtual events more accessible for everyone.
The technology is getting better. Today's virtual meeting software lets you record meetings and events so you can refer back to them. You can also capture ideas in the chat feature, use a whiteboard, or share presentations and other visual elements. If you're looking to create a fun, social event you can even host a karaoke party!
Virtual workplace events can be more time efficient. There's no commute to a virtual business event. Workers can sign in as soon as the meeting is about to start, from wherever they are. Once the meeting is over, employees can easily log out and continue with their day.
How Can You Host Successful Workplace Events?
Virtual events take as much planning as their in-person counterparts. Here are some of the steps you should take when organizing your online event.
Get your team ready. Make sure your team is ready for virtual events by ensuring that they have the software and devices they need. Offer training to make sure they understand the tech and be available for any questions your employees might have. Consider a test run of a virtual meeting or event before the big day.
Choose the tech you will use. The software or service you use for your events is important. Look for a platform that has the features you need (such as whiteboards or closed captioning). Think about how many people will attend your events and how long each event will be since some platforms charge based on these factors. Read reviews and test a few options to find the right fit. You can often try free demos or trials to get a feel for different platforms. 
Decide on the purpose of the event. A specific goal helps you shape the event so you use your time efficiently. For example, if you're holding a training presentation, your goal might be to show teams how to use your new platform. If you're hosting a holiday party, the goal might be to build camaraderie and to have fun! These two events would look very different based on these goals.  
Choose the format. Plan how many people will attend, what you need to accomplish, and which features you will need. This can help you decide whether your event will be a remote/in-person hybrid, fully virtual, interactive, a presentation, or something else. For example, you may decide you can hold the event over Connecteam chat in real-time, with files and pre-recorded videos. Or, you may decide that you need to see your team via webcam.
Plan your event. Decide what slides or visuals you need and what will happen in what order. Create a guest list and keep track of who will be there. You can use Connecteam events to make the process easier. Connecteam events lets you send out invitations, answer questions from your team about your event, send reminders, and keep track of who's attending.
Assign roles. You might want one person to be the host, while another could record the meeting and take notes. It can also be helpful to have one person available as tech support. This person can be who attendees direct message or contact if they're having a technical problem or have a question during the event.
Plan to humanize the event. With in-person meetings, it's natural for there to be a bit of casual chatter before and after the event. When you meet online, you may need to plan for this to avoid dead air. Bring in some fun! Consider sharing a fun meme on the introduction screen or do a check-in before you start, asking everyone to introduce and share something about themselves. Be prepared to lead by example.
Send out invitations. Once you're ready for your event, send out invitations well in advance. Ask your team to let you know if they can (or can't) attend. As part of the invitations, send out any information your attendees need. Before a meeting or training, for example, you might want to send files for your workers to look at. If you're hosting a virtual party, you might ask your employees to show up in themed costumes. If you're proposing a virtual lunch, you might encourage your workers to bring their own food if they want to. Provide all the information your team needs about the event and invite them to send you questions if they need extra help.
Download your FREE guide on "10 Tips for Engaging Your Frontline Teams" ⤵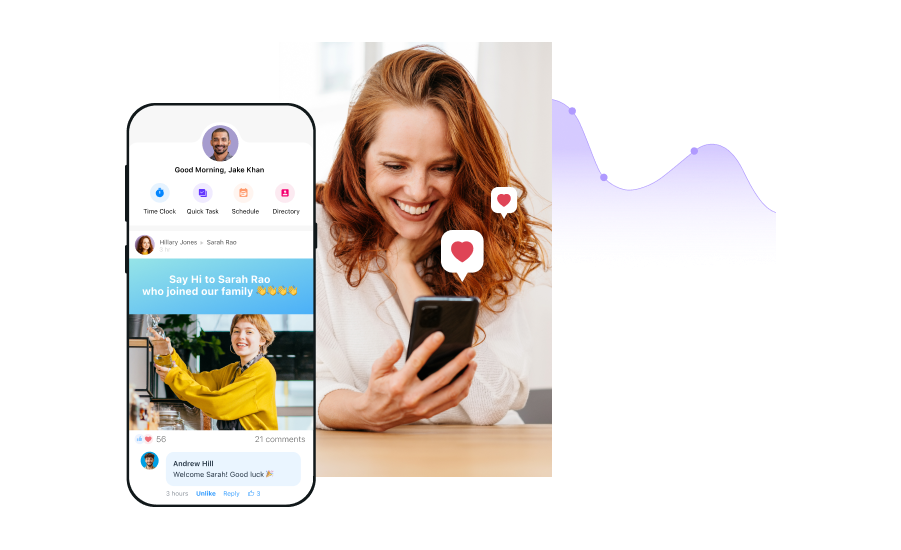 A Troubleshooting Guide to Virtual Workplace Events
Virtual workplace events have many benefits. However, like anything facilitated by technology, they sometimes encounter issues. Here's how to troubleshoot the most common problems.
Connection issues
Sometimes, a video conference or other virtual event just doesn't work out. Someone may not be able to sign in or there may be a problem with the servers or the program. The best way to handle this is to always have a Plan B. If your main presenter can't show up, have a plan to reschedule the event right away or to share the information some other way. For example, you might send out a file or pre-recorded video at a later date. You could also share the presentation asynchronously over chat. 
Microphone problems
Sometimes there is feedback, or a mic doesn't work. The best way to avoid these problems is to offer your team training for the meeting or chat features you use. Every time there is a major update, offer training to make sure everyone knows how to use the software effectively. You can use Connecteam training to create video training that walks your workers through video events step by step.    If a microphone issue happens during a meeting, you can ask the affected participant to sign out and back into the session. You can also send them to a breakout room (if your platform has such a feature) so they can test their microphone. Today's platforms have simple ways for users to check their microphones right inside the meeting room. Often, this is accessible through the "settings" menu. Another option is to ask a participant to switch the way they're accessing the audio for the event. They might try a headset if they have one, for example, or try their device's microphone if they were using a headset.
Videobombing and unexpected events
Sometimes, the unexpected can happen in virtual events. Someone can crash your meeting by using your video link, for example, or there can be a sudden burst of noise at one attendee's location, which can be distracting for everyone. There are a few ways to prevent these issues:
Host virtual events on secure platforms
Encourage employees not to share video links
Set up a virtual waiting room and manually let in each participant (this lets you make sure no one from outside your guest list attends)
Have an assigned tech person who can mute or remove anyone who is disruptive
Create a code of conduct for virtual meetings which help everyone understand what is expected
Ask people to mute themselves during meetings when they're not speaking
Maintaining engagement
Virtual events can blur the line between work events and personal lives. This can make it harder for attendees to focus. A study by Vyopta backs this up, finding that 93% of business leaders polled found that their workers were not engaged in online workplace meetings, while 95% found that not all workers were taking part in virtual meetings. You can improve focus by giving attendees roles and by creating an interactive event. If you're hosting a video event, ask questions and get people to engage via a chat or with emojis as well as on video. This gives people more chances to respond. If you're throwing a virtual party, set up games online so everyone can play. Another way to make sure everyone stays focused is to limit the number of virtual events. While some meetings and events are important to keep your organization thriving, too many can lead to meeting fatigue. Before booking another virtual event, ask whether the information you hope to share can be sent via email or chat rather than presented at a meeting.
Going Virtual With Workplace Events
Virtual workplace events today can include everything from the company all-hands meeting to product launches and even holiday parties. Virtual events are more accessible, cost-conscious and give more workers a chance to take part. With a few tweaks, you can make your meetings online as effective (or even more so) than in-person events.