Juneteenth workplace celebrations commemorate the holiday Juneteenth, a shortened form of "June Nineteenth." It's a chance for companies and communities at large to celebrate the end of slavery in America, and to have discussions about ways we can create a more equal society for everyone. The history of Juneteenth goes back to June 19, 1865. On that day, Union General Gordon Granger and his troops rode into Galveston, Texas, issuing an order that freed all enslaved peoples in the area. Juneteenth is traditionally celebrated as the end of slavery. While the day has been celebrated informally on June 19 for years, in 2021 President Joe Biden signed a bill to make Juneteenth a federal holiday.
Why Celebrate Juneteenth at Your Workplace?
Juneteenth is a recent federal holiday. While private companies are not required to offer PTO or time off on the day, you may want to include the holiday in your annual celebrations. Here are five reasons why you might want to make Juneteenth celebrations a part of your workplace.
It's an important holiday. Juneteenth celebrates a moment when enslaved peoples were freed in 1865. While the 1863 Emancipation Declaration should have freed all enslaved peoples, Juneteenth recognizes that, through a series of injustices, freedom was slow to come to some.
In some cases, enslaved people were not informed about the change in their legal status, while some states and individuals resisted the Emancipation Declaration. Juneteenth highlights this important part of history, and reminds us that justice and equality is still slow in getting to some communities.
It can be educational. Juneteenth is an excellent time to learn more about your team, the community where your business is located, and the larger world. It can be a chance to learn about parts of US history that aren't always taught in school.
It ties in with DEI efforts. If you have a Diversity, Equity, and Inclusion (DEI) strategy, Juneteenth celebrations can be part of your efforts. If you're considering a DEI strategy, Juneteenth can help you explore why equity and diversity are important.
It could help you foster change. While the world has come a long way since 1863, there is still work to be done. In 2020, Black Americans made up 13% of the workforce but only 31% of Black workers were in professional and managerial roles (compared to 54% of Asian workers and 41% of white employees in such roles).
The racial wage gap continues, too. In the second quarter of 2022, median weekly earnings for Black men were 82.1% of median weekly earnings of White men. Celebrating Juneteenth helps you shine a spotlight on these issues so that you can create and develop strategies to better equality in your workplace.
It may improve employee engagement. Employees appreciate being seen. Juneteenth lets your Black employees feel seen. It also helps all your employees understand Black history. Together, this can make Black employees feel valued and engaged.  
How To Celebrate Juneteenth at Your Workplace
Unlike other federal holidays, Juneteenth is not just about celebration. While it does celebrate the freedom of Black Americans, it also commemorates a painful part of US History. Here are some ways you can celebrate while also staying respectful.
Invite a guest speaker. Guest speakers can talk about the history of Juneteenth or about advocacy in your state or city. Guest speakers can give your employees a new perspective on race and can help them learn.
Take part in community initiatives. Traditionally, Juneteenth celebrations have included voter registration, since newly freed people looked forward to taking part in civic life. Many communities also hold street fairs, parades, block parties, BBQs, or rodeos. Your organization may be able to join a community celebration.
Celebrate successes. Hang posters or share online videos and images of Black leaders in your state or city who have achieved success. Often, we don't hear about Black inventors, doctors, and trailblazers, so celebrate these people and their achievements with your team.
Adapt the celebration to your company. If your company consists of deskless workers, for example, set up asynchronous celebrations so people can celebrate if they want to. If you're an international organization, encourage workers to share how progress towards equity has happened in their country's history. You can ask workers from other countries to share through an online messaging space or through an online team meeting. 
Hang the flag. The blue and red Juneteenth flag has a stylized star on it. The colors are the colors of the American flag, a reminder that enslaved peoples became Americans.
Download your FREE guide on "10 Tips for Engaging Your Frontline Teams" ⤵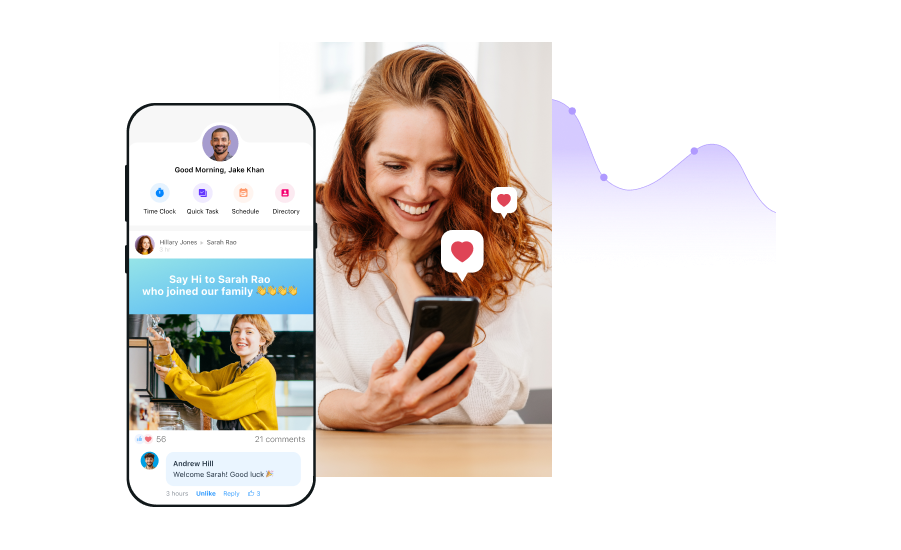 The star, starburst, and arc of the flag represent Texas and a new beginning for formerly enslaved peoples. You can hang the flag in your workplace or share it (and its meaning) with your team online. You can also decorate your virtual or in-person workspace with the colors of the flag.
Consider offering a day off. Since Juneteenth is now a federal holiday, many businesses are taking the day off. Giving your workers paid time off lets them observe the day in their own way.
Encourage company reflection. While the day celebrates the successes of the Black community, it also highlights that injustice still occurs. Have leaders reflect on Juneteenth and what it means to them. If leaders want to, they can share these reflections with the team.
Learn together. Connecteam lets you create custom video training your employees can access at any time from their mobile devices. Create video training about the history of Juneteenth or about Black leaders and heroes in your state or city.
Start relevant discussions. Juneteenth is a great time to start a conversation about equity and what your organization can do to create a more diverse and welcoming workplace for everyone. Buy lunch for your employees and host a round table discussion.
As you think about ways to celebrate, consider how you can make change meaningful all year long moving forward. The best way to honor the spirit of Juneteenth is to make systemic change. 
How To Plan a Successful Juneteenth Workplace Celebration
You can introduce Juneteenth celebrations into your workplace. Here's how:
Get leadership and management excited about the opportunity. Make sure leadership and managers understand why Juneteenth is important. They can then become champions for the holiday.  
Decide on how you will celebrate. Do you want to recognize Black leaders? Do you want to use the holiday to make change? Will Juneteenth be part of your DEI strategy? Your answers will determine what types of celebration are appropriate.
Create a committee or assign the planning to a group. Ask for volunteers who are willing to take care of logistics, from ordering a meal to creating questions for a team discussion.  
Set a budget. Your team will need to know how much they can spend on activities.
Find ways to support Black businesses. If you're ordering food as part of your celebration, look for a Black-owned catering business. If you're buying educational material, look for a Black-owned company. This helps invest in equity.
Send out information and invitations to your team. Give employees a chance to take part in Juneteenth events if they want to. Explain what Juneteenth is and how you'll be celebrating.
Ask for feedback. Before your celebration, consider sending out Connecteam surveys to find out how your employees want to celebrate. After Juneteenth, use Connecteam surveys to find out what you can do better next time.  
Marking Juneteenth at Your Organization
You can make Juneteenth a day of reflection and learning at your company, or a celebration of Black leaders. Either way, commemorating the day can help with your DEI efforts, can keep workers engaged, and can help your team learn how to create a more equal workplace and society.