A training needs assessment is a means of identifying any skills missing across your business and the support your employees need to fill these gaps. It is sometimes referred to as a training needs analysis, or an analysis/assessment. You can assess your entire business, a department or team, or an individual. If you're assessing an individual, you can do so when they join your business or at any stage in their employment. As part of the process, you'll need to break your employees' training needs down into the following areas:
Knowledge
Skills
Abilities
It's good practice to perform an annual needs assessment, as this will help you plan your training strategy for the upcoming year. If, however, you've identified a significant training need within your business, you may want to conduct more regular assessments to check whether you are plugging these gaps.
Why Does a Training Needs Assessment Matter?
When carried out effectively, a training needs assessment can be beneficial for both your employees' professional development and your business's bottom line. Some of the key benefits are below.
Boosts employee engagement
By investing in effective training for your employees, you're demonstrating that you value their contribution and want them to have the knowledge, skills, and abilities they need to succeed. Creating a development-focused workplace culture will not only increase your employees' engagement and job satisfaction—it can also help improve employee retention. If an individual believes they can grow their skills within an organization, they are less likely to look for work elsewhere.
Helps future-proof your business
As part of your training needs assessment, you can identify any skills that your workers are likely to need in the coming months or years. If, for instance, a new piece of software or machinery is likely to become commonplace in your industry in 5 years' time, it's better to begin the training process sooner rather than later.
Prevents cost wastage
As well as identifying areas in which your workers require additional training, an assessment can highlight areas in which your business is spending money on unnecessary training.  You may, for instance, discover that you're offering training in skills that are no longer key to your business's success. Alternatively, your training needs assessment could show that the cause of a particular issue within your company is not a lack of training but an inefficiency in your processes or bureaucracy. In this case, you may not need to provide additional training but could consider examining the administrative process within your company.
Improves efficiency
If your employees are not adequately trained in a particular area, they may lack the expertise to perform tasks as efficiently as possible. As a result, they may be spending longer than necessary on relatively simple activities, which could ultimately inflate your company's labor costs. By providing your employees with the coaching they need, you could save money in the longer term.
The Different Types of Training Needs Assessments
When you're conducting a training needs assessment, it's important to understand that training needs may vary at different levels of your organization. It can be helpful to break your training needs assessment down into the following areas:
Business-wide
A business-wide training needs assessment involves looking at your company as a whole, considering your key objectives, and identifying the core skills needed to achieve these goals. Under this model, you won't consider any training needed to accomplish any low- or medium-priority objectives.
Tasks and processes 
This kind of analysis considers the knowledge and abilities your employees need to successfully carry out certain tasks and processes. It will also look at the practicalities of how your employees carry out their roles and the performance level needed to conduct these tasks successfully.
Departmental or team
As well as identifying your company's overall training needs, you should pinpoint any skills missing across certain areas or teams. This will allow you to target your training more effectively. For instance, your IT department likely has different training needs from your legal team.
Employee-level
If a particular worker is taking longer to complete certain tasks than their colleagues, it could indicate a need for additional training. Using employee time tracking software can be one of the most effective ways of highlighting any individuals working at a slower pace. Likewise, you may want to perform a training needs analysis on an employee when they take on a new role through promotion or transfer.
Download your FREE guide on "6 Pillars for Improving Frontline Employee Retention" ⤵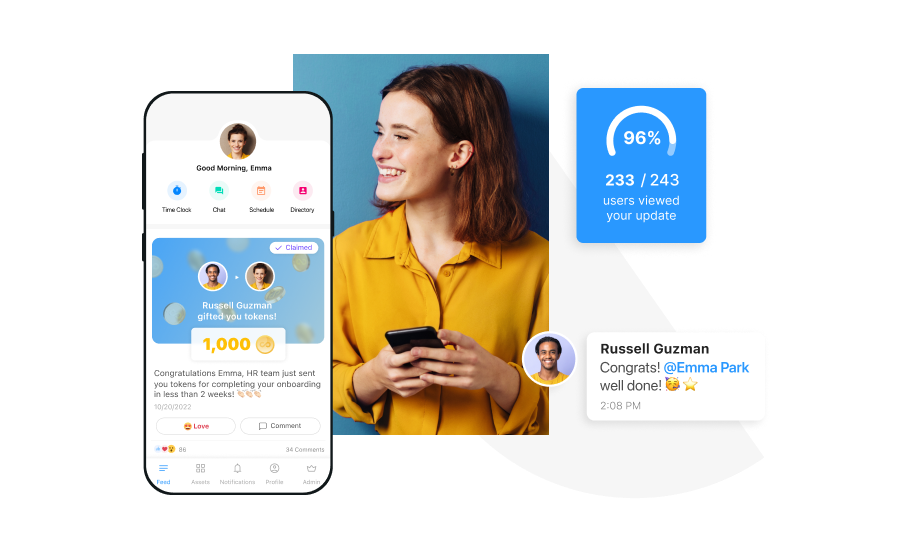 How to Conduct A Training Needs Assessment
Conducting a training needs assessment may seem like a daunting task. However, there are steps you can take to ensure the maximum benefit for your business and your people.
Assess your employees' existing skills
One of the most important steps in a training needs assessment is to identify the skills that already exist in your business.  There are several methods you can use to do so. You may want to ask your employees to assess their own skills and abilities. As well as being one of the least expensive methods of evaluating your workers' skills, a self-assessment process could prompt employees to reveal valuable skills you did not know they had. Another option is to ask your employees to complete competency-based tests. Typically, this will take the form of a written exam presenting various workplace scenarios. Your employee will then choose how they would respond in these situations. Finally, you may want to consider a 360-degree skills assessment of your existing employees. This approach typically involves soliciting the opinions of other stakeholders who regularly observe your employees in action, such as your other employees, clients, and suppliers.
Consider succession planning
When you're conducting your training needs assessment, it's wise to consider if any employees who possess skills vital to your company's success may be about to retire or resign.  If this is the case, you may want to begin training existing employees who could be strong candidates for filling these soon-to-be-vacant roles.
Analyze your results
Once you've established the skills your employees already possess, you can plot these against the expertise that your business needs to succeed against its competitors. This way, you can identify where the skills gaps lie and draw up a training strategy.
Set priorities
If your analysis identifies several gaps, it is unlikely that you'll have the time or budget to address all these issues simultaneously. You'll therefore need to determine which needs are most urgent and which you would like to address in the longer term.  If your budget is tight, consider your potential return on investment of any potential training. It makes sense to prioritize the delivery of training that is likely to provide a significant increase in profits.
Devise your training strategy
Having identified the training needs within your business, you can then decide on the most effective approach for addressing these. For instance, you may decide that your current training courses are adequate, but that they need to be rolled out to additional employees.  If you decide to make radical changes to your current training program, you'll need to consider whether you'd like to deliver this training internally or work with an external agency. If you choose the latter option, you should conduct extensive research to find a training partner that fits your budget and your learning needs. Another key point to consider is the format in which you will deliver your training. For instance, you should decide whether online or face-to-face training is most appropriate for your employees. In addition, you should decide whether one-to-one or group training sessions will provide the most value.
Training Management Software
If you would like to streamline learning and development across your business, you might want to consider training management software (TMS). As well as helping you to implement new training initiatives, this technology will help you track your employees' completion and pass rates. Many pieces of TMS also allow you to create extremely detailed reports, which could help you identify any modules with which your employees have struggled and may require additional support.
Conclusion
Effective training is one of the cornerstones of a well-run business. Worryingly, however, you could be wasting money on inefficient learning and development programs if you're unaware of the skills your business really needs to thrive. A training needs assessment can help you create training programs that align with your company's long-term goals. In addition, this process can provide an excellent boost to your workers' professional development. Remember, ensuring your employees are highly skilled will be beneficial for all concerned.