Companies use Training Management Software (TMS) to assist in employee training initiatives. With TMS, organizations can build new training programs and implement them efficiently, all while keeping track of employee progress through robust reporting.
Why Use Training Management Software?
By using TMS, companies can save a significant amount of time when building new training programs, distributing them, and tracking how the training is progressing. There are many benefits to using training software, but below are some of the advantages that make training more effective. You can:
Deploy new training programs faster by taking advantage of the automation capabilities within training management software.
Build online training and create content for new and existing employees.
Track employee training progress through robust reporting features, allowing you to generate reports based on specified criteria.
Support your employees better by identifying areas of improvement within reports and training scores.
Best Training Management Software in 2022
Connecteam
Touted as the new standard for employee training apps, Connecteam training management software allows managers to onboard new employees, carry out routine training, and to roll out onboarding campaigns and regulatory courses within the software. Connecteam's effortless course creation is flexible and customizable, allowing you to incorporate existing training documentation, as well as data directly pulled from your company website.  Employees can carry out training directly on the desktop app, or on their mobile devices using Connecteam's user-friendly mobile app, allowing them to complete training at their own pace.  Connecteam isn't just training management software; it incorporates all aspects of running a business. From employee time tracking to training session scheduling and training management, you can do it all. Small businesses can use the free version of Connecteam. The other pricing options are as follows: Small Business (Up to 10 users): Free Basic features: $29 per month Advanced features: $49 per month Expert features: $99 per month
TalentLMS
TalentLMS is a learning management system (LMS) that allows companies to train their employees, partners, and customers online. Users praise TalentLMS as a training tool that is intuitive and user-friendly. You can create beautiful training courses quickly and easily, and you can choose to reuse previous training materials such as videos and presentations, or select from TalentLMS' pool of online material. As TalentLMS is available on the cloud, users do not need to install, update, or back up any data or courses. Training managers can create online training courses without any concerns about hosting.  TalentLMS is available for up to five users for free. For larger teams, we've outlined the pricing options below. Starter: $69 per month (best for 6-40 users) Basic: $149 per month (best for 20-100 users) Plus: $279 per month (best for 50-500 users) Premium: $459 per month (best for 400-1000 users) Enterprise: Custom
Absorb LMS
Absorb LMS is an award-winning LMS that allows users to view and complete courses, vote in polls, and browse company training resources. In addition, Absorb LMS has a fantastic support team who are on hand to support you in training employees.  Employees and managers can access courses and reports from their desktops as well as their smartphones. Administrators can also use Absorb LMS's streamlined administration automation capabilities to achieve top-tier efficiency. While Absorb LMS's pricing structure likely won't suit small businesses, larger businesses can use this software to train their employees effectively. We've outlined the hosted pricing plans below. Up to 500 users: from $1,350 per month Up to 5,000 users: from $4,850 per month Up to 17,500 users: from $8,850 per month
Essential Features to look for in Training Management Software
There are many training management software options available on the market right now, each with upsides and downsides. We've put together a list of essential features you should consider when choosing training management software for your business.
Effective Reporting
Using software with effective reporting capabilities will enable you to keep track of employees in training, with details on when the training was undertaken, how long it took to complete, and what score—if any—was achieved. In addition, looking for software that allows you to view demographics, such as the department and the overseeing manager of the employee in question, is a good idea.
Full Automation
Onboarding and training new and existing employees can take a long time to manage, so it's a good idea to choose training management software that offers full automation. For example, many training management software applications allow you to automate which employees receive which training based on criteria such as their expertise or department.  Some software can also allow users to set up automated enrolling in order to enroll employees onto a course depending on which courses they have completed previously. Automated enrollment is helpful if you'd like employees to complete ongoing training.
Course Building Capabilities
We recommend that you look for training management software that offers course-building capabilities that allow you to build within the software. Being able to create and deploy online training in the same software cuts down on how long you'll need to spend learning new software and jumping between the two.
Download your FREE guide on "6 Pillars for Improving Frontline Employee Retention" ⤵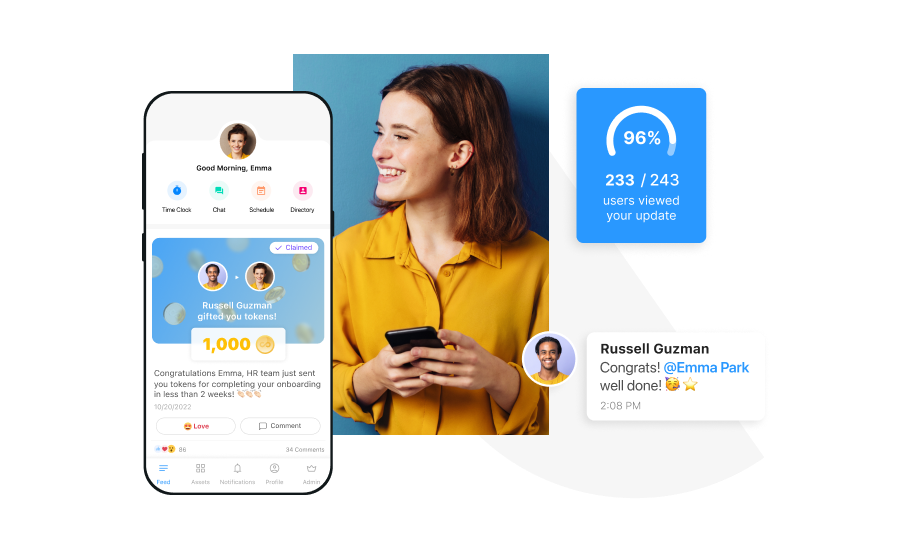 How to pick the correct Training Management Software for your Business
There are a few questions that each business must ask themselves when deciding what the right training software is for them. We've outlined four questions to consider before proceeding.
What capabilities are important to you?
As an organization, you must clarify your internal capabilities and what you can realistically accomplish with training management software. For example, do you have any experience in building training courses? How many admin and management resources do you have to dedicate to building the courses themselves if you do?  Answering these questions will help you decide which training software offers the support and capabilities you need and what you can realistically manage.
What do you need the software to do?
Ironing out what your organization needs the training management software to do is important in the selection process. For example, do you need it to roll out training automatically, or do you need it for reporting purposes only? If the different software apps offer free trials, identifying what you need from the software will help you make the most of the trial period and allow you to test its capabilities effectively. 
What will you require from the software in the near future?
While it's crucial to identify what you want from the software in the present moment, it's also essential to determine what you'll require in the future. Deciding what's important to your business is vital because you don't want to be held back by software that can't keep up with your growing business needs in two to three years.  If you're aiming to scale up your business, it's essential the software can accommodate bigger teams and allow for more users. It might also be worth opting for training management software that offers robust reporting, so you're not manually going through hoards of data.
What is your budget?
It's important to decide on the above aspects, but a large percentage of your decision will likely come down to budget. Smaller businesses can expect to spend less on a solution that has a smaller user allowance than some of the larger enterprise versions. However, spending less will also mean some great features like auto-enrolling and automated reporting could also be missing from the software, so balancing your budget with your essential business requirements is crucial.  On the other hand, growing businesses and large enterprises won't want to get stuck with software with user limitations and missing features like automated reporting and auto-enrolling, which helps organizations manage and roll out courses to large teams.
Staying Compliant
As a business, rolling out compliance training to employees is essential as it's your organization's protection against many varying risks. Training management software can help you keep on top of compliance training, protecting your employees and business. The software makes rolling out and managing compliance training courses easy through automation and reminder capabilities. For example, if you want to know which of your employees have not yet completed the required training, you can identify this in reports and automated notifications with TMS. Training management software allows you to keep digital compliance training records for litigation purposes. For example, when you want to prove an employee was informed of laws and policies relating to your business, you can do so with TMS.  As the best training management software is available on both desktop and mobile, you can make compliance training readily available to your employees wherever they are.
Conclusion
Training new and existing employees can demand a lot of company resources, such as administration, reporting, and course creation time. Using reliable training management software that meets the needs of your business will enable some of those resources to be freed up and invested elsewhere. By using a TMS, you can auto-enroll employees for training, build new training courses faster with easy-to-use course-building tools, and generate reports to analyze results more efficiently. Aside from the company benefits that training management software offers, it also allows companies to stay compliant. In addition, good training management software enables employees to take control of their own training, while the automation aspect of this software will keep HR and management up to date. So, allow technology to work for you, and utilize one of these fantastic software applications today.