Seasonal employment is a type of temporary employment that companies can use to bolster their workforce during busy seasons. It gives companies the flexibility to hire more staff members when they need extra help, without the added cost of keeping additional employees year-round. Seasonal employment is distinct from traditional part-time or full-time employment. Companies need to understand the regulations around seasonal employees to avoid running afoul of labor laws.
How Does Seasonal Employment Work?
Seasonal employment typically lasts for six months or less, and companies generally hire seasonal employees during the same peak season each year. There are few federal guidelines around how long employees can be hired for or how many hours they can work before they are no longer considered "seasonal." Seasonal employees can work part-time or full-time. However, many individual states prescribe limitations on how many months a seasonal employee can work for a company before they must be re-classified as full-time employees. Check with your state's labor department for specific guidelines. Many of the same state and federal labor regulations that apply to full-time employment also apply to seasonal employment. We'll review some of the key regulations that apply to seasonal employees.
Fair Labor Standards Act (FLSA)
Just like traditional employees, seasonal employees must be classified as FLSA exempt or FLSA non-exempt. Non-exempt employees must be paid at least the federal minimum wage and be paid overtime if they work more than 40 hours per week. Misclassifying seasonal employees can carry steep penalties, so be sure to understand the requirements of the FLSA when hiring seasonal staff members.
Benefits
You do not need to provide the same benefits to seasonal employees as you do your company's full-time employees. However, regulations around employer-sponsored healthcare coverage under the Affordable Care Act (ACA) do apply to seasonal employees. In short, companies with at least 50 employees—including seasonal and full-time employees—are typically required to provide healthcare coverage to seasonal employees who work more than 30 hours per week.
What Types of Businesses Use Seasonal Employment?
Many different types of businesses rely on seasonal employment to hire extra labor during their busiest times of the year. Here are some examples of businesses that rely heavily on seasonal employees.
Hotels: Hotels located in seasonal tourist destinations—such as near a beach or ski resort—may hire seasonal employees to help clean rooms or check in guests during their peak season.
Ski resorts: Ski resorts typically hire ski instructors, ski patrollers, lift technicians, ticket sales staff, and lodge staff on a seasonal basis each winter.
Farms: Farms often hire seasonal employees for the summer season to help with planting, harvesting, and packing.
Delivery companies: Delivery companies like FedEx and UPS typically hire seasonal employees around the holiday season as package volume increases.
Retail stores: Retailers ranging from local businesses to major companies like Amazon and Walmart also hire seasonal employees around the holidays to meet higher-than-average demand.
Download your FREE guide on "10 Tips for Engaging Your Frontline Teams" ⤵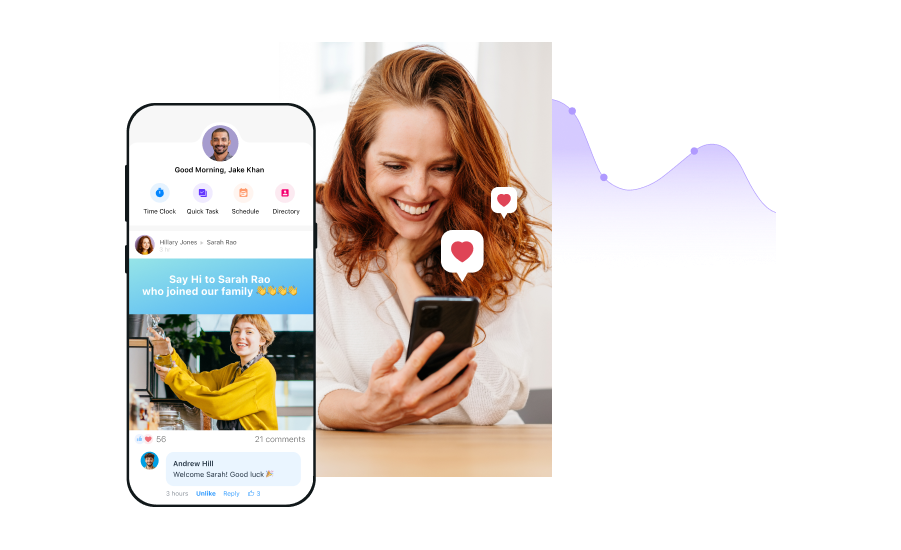 Advantages of Seasonal Employment
There are significant benefits to seasonal employment for companies that only need extra labor for a limited time each year.
Cost savings: Hiring seasonal employees enables a company to meet demand during peak times, without having to pay to keep extra employees during times of the year when there's not enough work to keep them busy.
Reduced overtime pay: Hiring seasonal employees can also save employers money by reducing the need to have existing employees work overtime—which must be paid at 1.5 times an employee's normal hourly rate for FLSA non-exempt employees.
Flexibility: Seasonal employment enables companies to quickly scale their labor force up or down in response to seasonal trends in demand.
Recruitment: Seasonal employment can also be an opportunity for companies to identify talented workers. Companies can always choose to offer a seasonal employee a long-term position.
Disadvantages of Seasonal Employment
While seasonal employment can be helpful for many businesses, there are also drawbacks compared to hiring year-round employees.
Reduced commitment: Seasonal employees may not have the same commitment to a company or its culture as long-term employees.
Limited labor pool: Many businesses are often trying to hire seasonal employees at the same time, which increases the competition for talented employees. At the same time, many qualified individuals who may be looking for work may not consider seasonal employment in their job searches.
Reduced investment in employees: There's a natural tendency at many companies to invest less in seasonal employees than in long-term staff members. Seasonal employees may receive less training or may not develop strong relationships with their managers.
Best Practices for Seasonal Employment
Companies can set themselves and their seasonal employees up for success by following a few best practices.
Start the hiring process early. Competition for seasonal employees can be tough, especially if your business is located in a seasonal destination or is hiring around the holidays. Start the hiring process as early as possible to make sure that you get the most qualified employees and leave plenty of time for training.
Set expectations for seasonal employees. Your company should be clear from the beginning about how long a seasonal employment contract will last, how many hours an employee is expected to work, and whether there are opportunities for extension or long-term employment. These expectations should be stated in the job description and the employment contract.
Connect seasonal employees to your company culture. Seasonal employees may be temporary, but you can still make efforts to connect them to your company's mission and culture. This can increase the likelihood that they stay for the entire season and increase their productivity at work.
Treat seasonal employees like long-term employees. Ideally, your company wants to bring back the same seasonal employees year after year as they gain experience. Pay attention to morale among seasonal employees just like you would full-time employees. Even if seasonal employees don't return, you want them to spread the word that your company offers a good seasonal employment experience.
Conclusion
Seasonal employment enables companies to add to their workforces during their peak seasons. As a result, companies can meet seasonal spikes in demand without having to keep extra employees on staff for the entire year. Seasonal employees are subject to many of the same regulations as full-time staff members, including the FLSA and ACA. In addition, companies should take care to set clear expectations for seasonal employees and treat them well to ensure that talented hires come back year after year.