A New Year's Eve company party celebrates the start of the new calendar year and the close of the previous year. A workplace party for the holiday can be held in late December or in early January. It doesn't have to be held on December 31 and it doesn't have to include the traditional countdown at midnight. New Year's Eve work parties can be held in the evening or during the day. They can include music, food, and drinks, or can be more reflective. You can decide what the event should look like, depending on your company culture and goals. New Year's Day is a federal holiday in the United States, meaning that most government employees get the day off on January 1. Many private businesses are closed on this day, too. Many organizations choose to celebrate the day with a party. Some also offer paid time off for the party, as well as the day off on January 1 itself. 
Why Is a New Year's Eve Company Party Important?
While there's no federal law requiring you to offer paid time off on New Year's Eve—much less throw a party—there are still great reasons why you might choose to celebrate.
It's an opportunity to reflect and plan together. Unlike other holidays, New Year's Eve is associated with fresh starts and goal setting. In fact, 39% of Americans make New Year's Resolutions. You can use this tradition to encourage your teams to set goals for the upcoming year.
It's a chance to celebrate your team. Your team has worked hard for the past twelve months. A party is a great chance to reflect on the past year's challenges and to celebrate the wins together.
It can be fun. A New Year's Eve party in the workplace can be a chance to enjoy some downtime together and socialize. After a year of hard work, your team deserves it!
It fosters employee engagement and satisfaction. A 2022 Gallup report found that only 21% of employees are engaged at work. When you celebrate workers and create opportunities for teams to socialize and unwind together, employees may feel more included in the workplace. They may also feel more appreciated, especially as your organization has made the effort to create this celebration. 
It can be part of your company culture. New Year's Eve company parties create memories and connections between employees. This can help build your company culture and create traditions within your organization.
How Can You Organize a New Year's Eve Company Party?
If you'd like to throw a New Year's Eve company party this year, begin preparations well in advance. Here's what you'll want to do.
Survey your employees. You can use Connecteam surveys to find out whether your employees are interested in a party and when they would be able to attend. You can also find out how your team would like to celebrate.
Create a budget and organizing team. Ask for one or a few volunteers who can choose a menu, book the venue, be responsible for organizing the event, and generally take care of the logistics. Provide them with a budget and timeline they can use.
Set a goal. Do you want to use New Year's Eve to celebrate your employees? Or to just have fun? What you want to accomplish can shape what activities you choose for your party.
Decide on the venue. You can host your party at your workplace. Local restaurants, art galleries, hotels, and museums can also be spaces you can rent for an in-person party. If you have remote workers, you can create an asynchronous experience online by having an ongoing, virtual party your employees can join when they have time. 
Plan events. Decide what everyone will do as part of the festivities. Will you be playing games, having a sit down-down meal together, or something else?  
Make it inclusive. Make sure everyone on your team can take part. If you have deskless or remote workers, create an online party or invite everyone on the team to an in-person event if possible. If anyone at your company has mobility challenges, choose a venue with the appropriate accessibility features.
Make it safe. Alcohol is often part of New Year's Eve celebrations, but serving alcohol can make you liable for any injuries or damages that happen as a result. Decide whether you want your party to be alcohol-free. If not, be responsible by serving drinks with food, refusing to serve to anyone who is inebriated, and offering workers a safe way to get home.
Send out invitations well in advance. Give workers a chance to attend by giving them lots of advance notice. However, make it clear that attendance is not compulsory, and allow employees to opt out of the event if they would like to. 
Download your FREE guide on "10 Tips for Engaging Your Frontline Teams" ⤵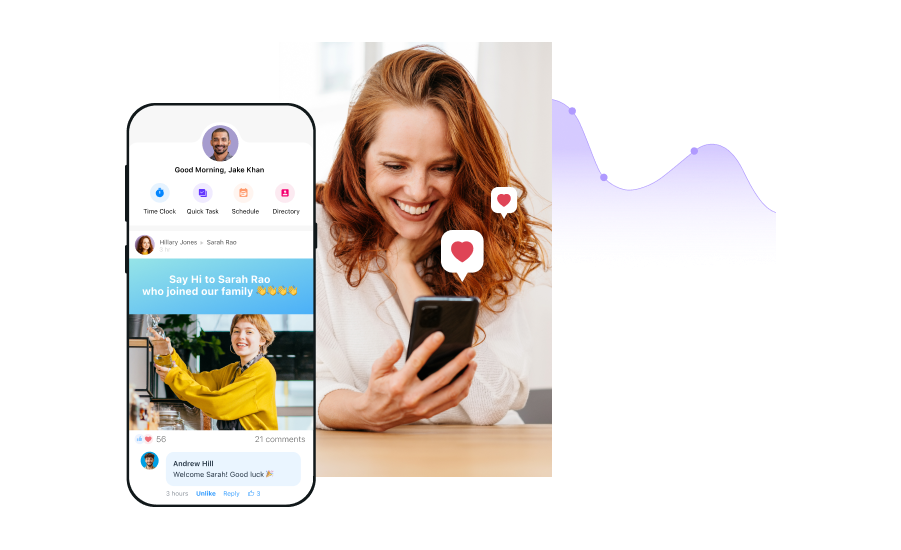 New Year's Eve Company Party Ideas
What kinds of icebreakers and activities could make your New Year's company party fun? Here are some classic ideas.
A potluck
Have everyone bring in food they've prepared so you can all share. It's a fun way to experience everyone's favorite cuisines and to share a meal together. If you have a potluck, make sure the food is served at the right temperature (hot dishes should be kept hot and cool dishes kept cold). You can rent coolers and chafing dishes for food safety. Ask each person to bring in a list of ingredients, in case anyone has allergies or dietary requirements.
A noon-time countdown
Not everyone can stay up until midnight. If your party is taking place in the middle of the day, you can still count down together at noon, or even during another hour. This way, you can toast to the New Year without needing to stay up all night.
A ball drop
Since 1907, a New Year's Eve Ball has descended from a flagpole in Times Square in New York City, from 11.59 pm on December 31 to 12.00 am on January 1. Many cities have followed suit with their own take on the tradition. You can create your own version, whether you're counting down at midnight or during the day. Make a ball by tying inflated balloons together with strings of fairy lights (look for the kind that are battery powered). You can also tie together inflated LED balloons, which come with lights. The goal is to create a mass of balloons that are filled with air (not helium). Let any cords for the batteries hang to the floor. Then, attach your ball to the ceiling of your workplace or party venue. A large net is a great way to keep this decoration secure. Once your New Year countdown is finished, cut the net to release the balloons and lights. Everyone can then toast in the New Year or use noisemakers to "ring in" the year.
Food
You can serve snacks or a buffet-style meal. Have food catered to your workplace or choose to sit down to a dinner or lunch together in a restaurant. If some of your workers are remote or in the field, you can send out restaurant gift cards or have meals delivered so you can eat together virtually.  
Music
Create a New Year's Eve playlist by having team members suggest favorite songs. Don't forget to add in some hits from the previous year. Whether you're dancing or not, music can create a great atmosphere.
Games and competitions
Another option is to have employees suggest or bring in board games they like. Or, you can play video games as teams online. You can even rent giant inflatable screens and consoles to play games in the workplace or head to an arcade together. Playing games brings out the spirit of competition and can be a great icebreaker.  Offer prizes for the winners to make the games even more fun. One great option is offering company-branded swag, such as t-shirts and hats with the company logo on. Gift cards can be another fun prize to hand out. 
Goal-setting
Work together to share company goals and set personal work goals for the next year. Sharing goals can be a great way to keep each other accountable and to support each other. You can create a goal-setting workshop to guide your teams in creating achievable plans for the upcoming months.
Choose a theme
Your theme could be based on fun memories or a positive story from the past year. If you're having a party mostly to celebrate and have fun together, you could throw a party themed around decades. Have employees dress up as their favorite decade, whether it's the disco look of the 1970s or the flower child look of the 1960s. Masquerade balls and black and gold parties are also traditional for New Year's.  If you're having a more reflective, formal celebration and your company was recently involved in a merger, for example, your theme could be the two companies who have joined. You can create décor that celebrates the two organizations together. For example, you can show both logos and brand names linked together.
Share memories
Employees can share photos and memories from the past year through Connecteam chat. This can be a way to celebrate great achievements and to capture big events. If you're celebrating in person, you can print out photos, memes, and headlines of top events at your company. Post these on a wall for everyone to admire.  You can choose to share your memories virtually or in person with a New Year timeline, too. Create twelve posters (if meeting in person) or twelve documents or screens (if sharing online with your team), one for each month. On each month's page, share the company events and successes you want to remember and celebrate. 
Have an awards or appreciation night
Celebrate your employees' achievements with formal awards or with gift cards and presents. Create fun categories to reward everyone's contributions, from "most punctual" to "always there for others." Send a sincere, written thank you after the event to each employee, thanking them for their hard work.
Ring in the New Year
A New Year's Eve company party can be a fun way to look back on the past while also looking forward to the next twelve months. Whether you use the celebration to reflect and plan, celebrate workers, or just have fun, a workplace New Year's Eve party can help you encourage company engagement and work satisfaction. It can also help you build memories and your company culture.