An internal transfer policy lays out how an employee can transfer or be promoted to a new role within the same organization. Aside from laying out a process for internal transfers, an internal transfer policy clarifies how the organization values employee growth opportunities.  Establishing a clear internal transfer policy can incentivize high-performing employees to stay with the organization, as well as strengthen employee engagement and trust.
Benefits Of Internal Transfers
Allowing and encouraging internal transfers can benefit organizations by expanding on talent you already have. Not every role can be filled with an internal hire, but you can often find strengths within your organization that are well worth exploring.
Encourages employee growth and dedication
When you have a top employee that is ready for a new challenge, you probably aren't hoping they will find that challenge in a role at a competitor company. Encouraging internal transfer and promotion opportunities can help match the top talent you already have with areas of the business that can benefit from that talent.  Employees who make an internal transfer can also be your biggest cheerleaders. Internal employees who have grown within a company are
more likely to refer others
to join the company. Building a reputation for encouraging internal growth can therefore help you with your external recruitment.  
Retains institutional knowledge
Employees who transfer or who are promoted within the organization are likely to get up to speed in their new role more quickly than new hires because they already know the business. By comparison, an external hire often needs a significant onboarding period before they can begin to reach their potential in their role.  Over time, employees develop their own institutional knowledge. Simply put, employees learn how to do things more effectively and efficiently through the actual experience of doing those things. That learning is known as institutional knowledge. It is often not documented and can be lost entirely when an employee leaves the organization. By encouraging internal transfers, organizations can benefit from retaining access to individual banks of institutional knowledge. This institutional knowledge can also further benefit the employee's new team as the employee can apply what they already know about the business to a new context. 
Internal hires perform better and cost less
Recruiting external hires is expensive. Aside from the standard expenses related to the recruiting process itself, one study found that
new external hires were initially paid 18% more
than promoted employees. This is because internal hires typically do not demand, and are not offered, higher salary ranges and are less likely to negotiate beyond the company's initial budget. The same study found that the promoted employees had significantly better performance than new hires for the first two years in a new role, and had lower rates of voluntary and involuntary turnover. 
Why Do You Need an Internal Transfer Policy?
If you want to encourage internal transfers, you should create an internal transfer policy. Having an internal transfer policy demonstrates to employees that:
You want employees to consider growing within your company.
You know what you value in long-term employees and will readily share what those values are.
You will happily provide an easy-to-follow process, so employees know how to find new opportunities.
Employees who receive these clear messages are more likely to feel engaged and valued in the organization. 
Download your FREE guide on "10 Tips for Engaging Your Frontline Teams" ⤵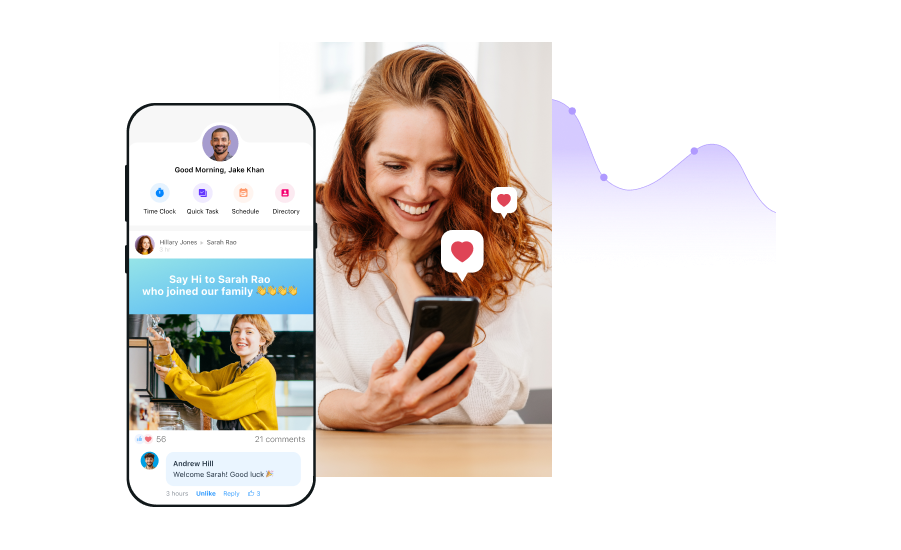 What To Include in an Internal Transfer Policy
Your internal transfer policy needs to establish three key elements: the purpose of the policy, who is eligible for transfer, and what process must be followed to obtain a transfer. You can add more information if it suits your business—such as a list of factors you will use when evaluating internal transfer applications—but make sure to include these key elements to ensure your policy is effective.
Purpose statement
This is the reason behind your policy. Explain why the organization is adopting this policy and what it hopes to achieve with the policy. For instance, you could state that your organization wants to encourage career growth for all employees and is establishing this process to help guide employees to their next challenge.
Eligibility requirements
Eligibility requirements explain what an employee must demonstrate in order to be considered for internal transfer. Use this to lay out any targets that must be met before applying for a transfer, and anything that would prevent a transfer from being approved.  Target requirements usually involve showing a good performance track record. For example, you might want to require a minimum result on the employee's most recent performance appraisal. Equally, you might want to set a minimum amount of time that an employee should be in their current role before they apply to transfer or require that they have a positive referral from their current manager. Most policies also include a requirement that the employee meet the skills and education criteria for the open role in order to be considered for a transfer.  Reasons why an employee may be ineligible for transfer usually focus on discouraging employees who aren't performing well. The most common examples of a block to eligibility would be prohibiting transfer for an employee who has received a recent negative performance appraisal or who has been issued discipline for their performance or conduct. 
Process outline
The process outline should tell employees exactly how they can apply for an internal transfer. Consider these questions when developing your process:
Who should they contact to express interest? This is usually HR or their manager. 
Do they need to fill out an application form to be considered? Some companies have streamlined applications for internal candidates, or they might be asked to apply in the same manner as an external candidate. 
Will they be guaranteed an interview? Many companies make a practice of interviewing all internal candidates who meet the eligibility requirements.
Do they have to tell their manager that they're applying? Most companies do require that employees be candid with their manager about their application at some stage in the process.
When will they know whether they are approved for the transfer? It's best to be as clear as possible about timelines for decisions and the method that will be used to notify the employee of the result. 
How To Communicate an Internal Transfer Policy
Having an internal transfer policy in place is only effective if employees are aware of it and know how to access it. Like most policies, it should be in writing, easy to find, and easy to understand. As internal transfers have an impact across the organization, you shouldn't communicate the policy to employees until you've secured buy-in from all of your internal stakeholders. These are typically department heads and executive leaders.  To ensure clear communication of your internal transfer policy, consider adding a separate process guide or FAQ to address common questions on how the process works. You can also improve the policy's visibility by posting it on the company job board, celebrating notable internal transfers at meetings, and including the policy in the employee handbook and on the company intranet. 
Conclusion
Organizations have much to gain by leveraging their talent pool through internal transfers and promotions. Developing a clear internal transfer policy will encourage talented employees to stay with the organization longer and can improve employee engagement overall. Focus on providing a clear policy outlining the purpose, eligibility requirements, and process for internal transfer applicants to reap the benefits of internal transfers in your organization.
Reach Every Single Employee With Company News and Updates
Keep your employees informed and engaged with visually appealing and personalized content. Give Connecteam a try today.