Make the most of every day with a shift schedule app
Easily schedule shifts for multiple employees, save valuable time and make the most of your workday with a shift planning app that can do so much more. Getting started is easy and free!
Start for free
What is Connecteam?
Discover how a shift planning app can take your business forward
Easy planning
Spend less time on planning and more on doing
With Connecteam's shift schedule app, you can easily create shifts for all your employees. Whether it's one-time or recurring shifts, your employees will always know when they're on the schedule, while having the ability to accept or reject shifts, as a manager, you'll get the automated notification. On top of all this, we added capabilities like copying the previous week's schedule, duplicate multiple shifts, import shifts from an excel file and much more; all of this helps you save time while increasing employee productivity.
More than just a shift
Add actionable information to your employee schedule
A shift schedule app is all about saving time for you and for your employees. Add customizable notes with files of any kind so your staff will have valuable information for the day's work, a location address for quick navigation, and clickable phone numbers and emails for easy communication when needed. With so much information, you'll be able to reduce phone calls and paper work on a daily basis, while increasing your employee performance.
Communicate on auto-pilot
Add powerful communication and compliance tools to your shift schedule app
Connecteam's shift planning app adds great tools to enhance your employee communication when planning and scheduling ahead, and during their work day for live employee feedback. Allow employees to communicate easily with quick action buttons for calls or in-app chat integrated directly to your scheduler. And, while working, employees can notify you easily with GPS status updates for accept, reject, check-in and complete a shift. All, highly customizable to your choice.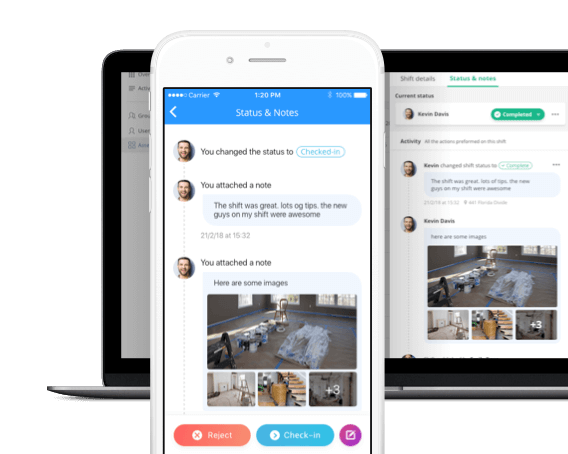 Better together
Explore Connecteam's unique shift collaboration
Connecteam's shift schedule app allows managers and employees to collaborate under each and every shift in the shift planning app. With GPS status updates and the ability to add notes and share images directly from the field during the work day, you'll find it easier than before to stay on top of employee performance. All important actions can be set to automatically notify users and admins, while saving all shift activity in a timeline that's always accessible for you and your staff.
The complete suite to make it work
Take your business to the next level with one solution
Connecteam's shift schedule app can do much more than just schedule shifts. On top of the great communication tools, like in-app chat and employee directory, Connecteam offers a GPS time clock to track employee work hours and digital checklists and forms for live reports directly from the field. All those features and much more can be accessed from a single place, for the same price, at anytime.
Connecteam is trusted by over 8,000 companies worldwide
Testimonials
"Connecteam enables us to reach 100% compliance on the job. We save time and cost, while improve communication, job performance and service quality."
"As a big retail company, Connecteam 's solution is ideal for us. The App and its management system help us to be in constant contact with all the employees of the company, which are located throughout the country."
"Connecteam improved our work processes in a significant way. The mobile app helped us improve our workflows and made our projects run more effectively. As an organization, our overall communication and flow of information has become fast and accurate""
"Connecteam is an intelligent collaboration solution. In Sodastream, we found this solution friendly and useful, with high adoption rates among our users. The Connecteam staff are creative and dynamic, and great partners to work with."
Take your business forward with Connecteam's shift schedule app
A simple, powerful and affordable solution to manage non-desk employees. Try it yourself!
Start for free
Connecteam shift schedule app was designed and built especially for non-desk employees, which makes it easy to use, user friendly and packed with great features to provide an all in one solution for your team. The shift schedule app will help you schedule your employee shifts and plan employee work hours weeks ahead if needed. With high customization options, the shift planning app can be modified with various useful tools, such as adding a button to accept, reject, check in and complete a shift, all with custom notifications to keep managers on top of your game. The shift schedule app can create personal or team shifts with a unique Connecteam feature of shift collaboration, which allows users and admins to share status updates, notes and media on a timeline for every shift. To save you more time, Connecteam's shift planning app also includes capabilities like import shifts via an excel file, copy last week's shifts, custom duplication, drag and drop options and more. Connecteam's shift schedule app has so more incredible features to provide you a true all in one solution. Get started with our free trial to explore how a shift planning app can save you time and enhance your everyday work.