Manage Employee Schedules in a Breeze
No matter the size of your business, this employee scheduling app is for you!
Create schedules in minutes
Avoid conflicts and unnecessary costs
Share instantly with your team
Manage from anywhere
Trusted by Over 36,000 Companies Worldwide


Save hours of your precious time by eliminating paper-based scheduling
Easily Plan Your Crystal Clear Work Schedule
Straightforward drag & drop scheduling app.
Assign, duplicate, drag & drop, or set repeating shifts
Create open shifts and enable shift swaps between employees
Easily keep track of vacation days, unavailability, and overtime
Manage and control all shifts - both overnight and during the day
Start for Free
Save Time by Scheduling with Pre-made Templates
Work with scheduling templates and reduce manual work
Use single shift templates, full week templates or repeating shifts
Save your schedules as templates for future use
Tailor the schedule planning process to your needs
Easily fill shift templates based on employee availability
Start for Free
Provide Your Team All the Information They Need
Improve operations and go beyond the basics of scheduling
Keep employees informed with shift information
Add shift instructions such as location, time, notes & attachments
Reduce unnecessary interaction and speed up processes
Mobile interface for employees and managers on the go
Start for Free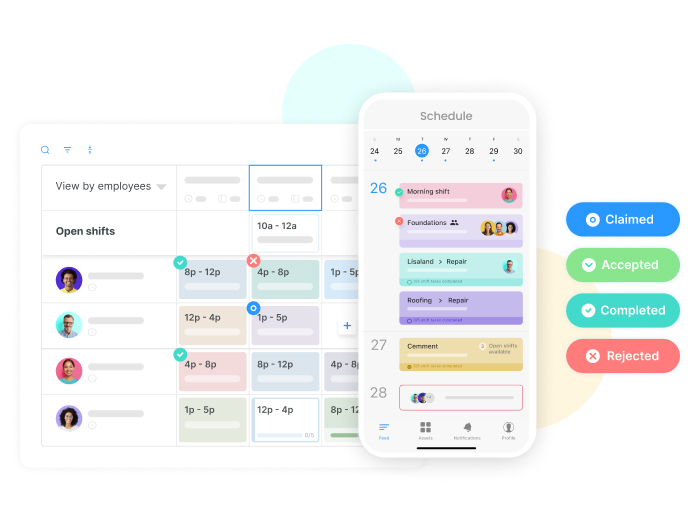 Get Full Visibility with Real-Time Updates
Track progress and get notified upon execution
Ensure that all shifts are completed to perfection
GPS Scheduling updates
Shift status changes
Real-time shift updates
Check-in late
Shift task completion
Shift rejection
Start your free trial
An attractive user interface that employees love
Super easy for your employees to quickly understand their schedule
Your employees know exactly where they need to be, and when to be there
Users have all of the information they need to execute their shift perfectly
No more needless back and forth or last-minute phone calls
Everything is transparent and visually easy to understand directly from their mobile app
Start for Free
It takes only 5 minutes to set up
Over 92% adoption rate among employees!
Available in 11 different languages
We had one software solution for scheduling, one for task management, one for messaging, and another for time-tracking and timesheets... until we found Connecteam. Not only did we cut our previous costs by 80%, but everything is now in a single solution.
What You See
Managers can plan shifts, dispatch employees, simply oversee the progress of their schedule, all on their phone and computer
What Your Employees See
From a tablet, phone, or desktop, employees can accept, reject and claim shifts, communicate and clock in and out directly from their shift
It's easy and free to get started with Connecteam!
Sign up for a free trial

Set up your company account in just a few minutes

Invite your employees to download the app

That's it - time to relax
About the Connecteam Scheduling app
What is an employee scheduling app?
An employee scheduling app allows you to easily assign shifts and notify employees of their schedules.
Digitalizing scheduling allows you to input data, such as time-off requests, and view the schedule according to job or employee to limit scheduling errors. Reassigning previous shifts is also a time saver.
With a good scheduling app, you can also communicate directly with your employees regarding each shift. Look for features such as adding a shift description, where you can add the location, specific tasks, and if any questions arise, you and your employee can directly message each other.
Is Connecteam's employee scheduling app free?
What are the benefits of using Connecteam's employee scheduling app?
Can I attach shift-related tasks to the schedule?
Are there shift templates included?
Can Connecteam's Job Schedule help me keep track of my assets?
Is it possible for my employees to let me know when they are available to work?
Can I schedule open shifts to be claimed?
Connecteam's employee scheduling app is an easy way to schedule shifts and dispatch jobs for remote and non-desk employees. With Connecteam, online employee scheduling is made easy and powerful. Ranked as one of the best employee scheduling apps, Connecteam offers some unique tools that make its online employee scheduling capabilities very unique, such as integrated in-app chat and true shift collaboration that includes status updates and notes for every shift. With this unique approach to online employee scheduling, you will not only save valuable time and keep everyone on the same page, but also add more value to your employees with Connecteam's employee scheduling app by adding important information like job location, detailed notes, and file attachments. If you're looking for online employee scheduling for your deskless teams, Connecteam's employee scheduling app is the easiest and most affordable solution you can find for online employee scheduling.