A fun and creative new employee announcement is a great way to introduce your new hire to the business. In this article, we cover what to include in these announcements and share 7 ideas to make them engaging.
Table of contents
When a new hire joins your team, it's an exciting time for both the candidate and your current employees. To ensure your new hires start on the right foot, you should announce their arrival before their first day. You can do this by sending a company-wide employee announcement email or by announcing the new starter in a meeting.
However, announcing a new starter this way may not generate the buzz and excitement you hoped for. Announcing your new hire's arrival in a fun and exciting way can help them embrace company culture, break the ice with their new colleagues, and feel engaged from the start.
In this article, we share 7 ways to make new employee announcements fun and exciting. We also discuss what you should include in new hire announcements and why they're important.
Key Takeaways
Announcing your new employee in a creative way breaks the ice with existing employees, reduces first-day anxiety, and improves employee engagement.
At the very least, new hire announcements should contain the employee's name, pronouns, job title, and start date.
Check whether your new hire is comfortable with the content of your announcement before sharing it with the rest of the team. 
Ways to make new employee announcements fun and engaging include video introductions, social media shoutouts, and more.
What Are New Employee Announcements?
New employee announcements can be formal or informal communications that introduce a new hire to the business. They're usually made before a new hire's start date and can be made in person, via email, group chat, company bulletin board, or workplace newsletter.
A new hire announcement is a simple way to let everyone know that a new employee is joining the company. They can help break the ice with existing employees and reduce first-day nerves for the new starter.
Including the new staff member's name (including their preferred name), pronouns, job title, responsibilities, and professional background in the announcement is good practice.
Why Are New Employee Announcements Important?
There are many benefits to announcing a new employee's arrival before their start date. It can:
Reduce first-day nerves
Announcing your new hire's arrival can help break the ice with their teammates. It also allows current employees to put a face to the new hire's name—and vice versa. This makes the new employee's first day less daunting and reduces any anxiety they may be feeling.
Increase employee engagement
Announcing a new hire's arrival in a fun and exciting way will increase your current employees' emotional investment in their team. Your current team will get excited about the prospect of a fresh face joining. It helps build camaraderie and team relationships from the get-go.
In addition, this excitement boosts employee engagement. Current workers can become more motivated to do well to set a good example for the new hire. And by receiving a fun, enthusiastic introduction, your new employee will feel valued from day 1. This makes them feel more invested in their work and the company.
Encourage a sense of community and a strong company culture
Getting the team excited to have a new hire join is a great way to start colleague relationships off on the right foot. Sharing information about your new starter's background, skills, and hobbies will encourage friendly conversation with team members. This helps foster a sense of community among colleagues by showing them they're part of a workplace family.
Additionally, new hire announcements can increase morale by showing employees they're part of an expanding and dynamic company. With growing morale, a strong sense of community, and developing workplace relationships, your business will benefit from a strong company culture.
What To Include In a New Employee Announcement
As a rule of thumb, the announcement of new employees should include:
Their first name and preferred name. For example, "This is James, but he prefers to go by Jim."
Their pronouns. For example, he/him, she/her, or they/them. This clarity prevents colleagues from misgendering their new teammate.
Job title and which department they'll be working in.
Job responsibilities, at a high level. For example, "As our new food and beverage manager, Maria will oversee inventory management and monitor compliance in the kitchen and bar."
Where they're from and where they're currently based. For example, "Jim is originally from Texas but moved to Florida 5 years ago."
Where they work from. For example, on-site, flexible, or home workers.
Professional background. For example, "Sally joins us with 5 years of experience as a construction project manager."
Academic background, if applicable or relevant.
Professional qualifications, particularly certifications.
A few fun facts about them.
Their start date.
You can summarize this information into 1 or 2 paragraphs.
After you write up the announcement, consider sending it to your new hire for approval before sharing it with the rest of the team. You don't want to accidentally share something your new employee isn't comfortable discussing in the workplace.
Below are two examples of new employee announcements you can send via email.
New employee announcement example 1
Subject line: New employee incoming!
Hello everyone,
I'm pleased to announce that we have a new teammate joining us.
Please give a warm welcome to Lauren-Elizabeth. Lauren-Elizabeth prefers to go by Lauren and will join our marketing department on Monday, June 19.
Lauren uses she/her pronouns and is our new Junior Social Media Executive. She'll be working primarily on creating social media content and handling paid advertising. Lauren expects to be on-site once or twice a week and will be remote the rest of the time.
Lauren is originally from Canada and graduated from Pepperdine University, majoring in Film Studies. She has a pet rabbit named Cloud and enjoys hiking.
Let's give Lauren a warm welcome to the team!
New employee announcement example 2
Subject line: Let's give a warm welcome to Tim
Hi everyone,
I'd like to introduce you to a new employee joining our team: Timothy, who goes by Tim. Tim uses he/him pronouns.
Tim will be joining our team as your new supervisor. He has previously worked for [COMPANY] and [COMPANY], and has 12 years of experience in the construction industry.
Tim's official start date is Tuesday, August 1. However, on Monday, August 31, he's dropping by the work site on 1st Street to say a quick hello to the team.
Tim enjoys playing ice hockey, watching football, and going to happy hour on the weekends!
Please join me in welcoming Tim to [YOUR COMPANY].
7 Ways To Make New Employee Announcements Fun And Engaging
A quick introduction via email gets the job done, but you can craft creative and fun new employee announcements using the methods below.
Video introductions
Asking your new employee to record a video introduction of themselves is a great way to announce their arrival. This method enables your new hire to show their personality and feel in control of how they're introduced to the rest of the team.
The benefit of a video introduction is that it can be recorded at a time convenient to the employee. Plus, your current employees can watch it at a time convenient to them. This prevents disruption to the workday.
In addition, when employees record their own video introductions, they're in control of the information they share. You don't have to worry about accidentally sharing information about your new hire that they aren't comfortable with the company knowing. For example, they may not want to share their pronouns or academic background. Having the employee record their introductory video removes this risk.
An email from the top
Considering appointing your CEO or Managing Director to send an email announcing the new hire. This method gives your new hire's introduction a sense of importance. It also increases employee engagement by showing new hires they're joining a supportive and welcoming work environment.
Lunch-and-learn
Lunch-and-learn is an initiative where employees get together during lunchtime to learn about a new topic or upcoming project. Usually, lunch is provided by the company.
This can be utilized as a creative employee introduction method as well. Try inviting your new hire to a lunch-and-learn session where the topic is their professional background. This allows employees to get to know one another in a personal but laid-back setting. Plus, everyone will be pleased about the free lunch and will be more likely to attend.
Two Truths and a Lie
"Two Truths and a Lie" is a common workplace icebreaker game. In this game, employees make 3 statements. Two of them are true, and 1 is false. Their colleagues must guess which of the 3 is the lie.
You can use this game as a fun new employee announcement. Your new hire can provide you with 2 truths and 1 lie. Then, you can share these with the rest of the team in a larger announcement that includes basic information about the employee.
Share them via your current communications channels, such as a group text or company newsfeed. You can then create an online poll and have employees guess which statement is the lie. 
Remember that these statements should be light, professional fun facts. They shouldn't be about the new hire's professional experience, pronouns, or educational background.
Here's an example:
Antonia met Oprah Winfrey while out to dinner with her family.
She ran the New York City Marathon last year.
Antonia has seen the movie The Princess Bride 100 times.
These fun facts give your current employees a chance to get to know the new hire on a more personal level before their official start date.
Office or workplace tour
Another great way to announce your new employee is to invite them into the workplace to meet the team and take part in a workplace tour. Depending on where the employee will be working, the workplace might be the office or a particular job site.
This is best done during the workday at a time convenient to your new employee. Remember, they'll likely be working through their current employer's notice period after resigning, so you must offer them flexibility around times and dates.
Inviting your new hire into the workplace allows them to meet their new coworkers and managers, see what a typical workday looks like, and explore the office or job site. This can help reduce first-day anxiety and allows the employee to ask any questions face-to-face.
You could also take this opportunity to set the new hire up on the company's systems and give them a health and safety induction.
Scavenger hunt
A timed workplace scavenger hunt is a fun and creative way to announce your new hire to the team. However, this creative employee introduction method does require some planning.
This scavenger hunt aims to help your current employees learn more about your new hire. Have your new hire write 3-5 clues to help their new team learn more about them. These should be fun facts about the employee. Solutions to each clue should be items your current employees can find in the office or at the job site.
Split your employees into 2 or more teams. Then, have them complete the scavenger hunt in a set amount of time, such as 15 or 20 minutes.
Some examples of office-based scavenger hunt clues are:
"I am passionate about healthy eating, and it's a well-known fact that one of these a day keeps the doctor away." (Answer: Apple)
"I enjoy running, but you should never run with a pair of these in your hand." (Answer: Scissors)
"I studied finance at college, and I'm a total math nerd. But I couldn't work out the square root of 794 without one of these!" (Answer: Calculator)
Social media shout-out
Announcing your new employee's start date on social media can be a great way to let colleagues and customers know to expect to see a new face at work. This is usually best for businesses with an active social media presence and engaged followers.
The benefits of using social media are that you can use fun GIFs, videos, or infographics to share information about your new starter. You can also use hashtags to expand your reach and inform other businesses about your new hire. Check how your employees feel about this before you post them on your social media.
Social media shout-outs don't have to be public, however. You can use a digital tool with a social media-style company feed to announce your new starters in a fun and engaging way.
For instance, with Connecteam's Updates feature, you can introduce a new employee to the team with a personalized update post. You can add images, videos, and GIFs to announcements, which are sent directly to your current employees' mobile devices. Connecteam also enables you to schedule posts and share them with certain teams or departments.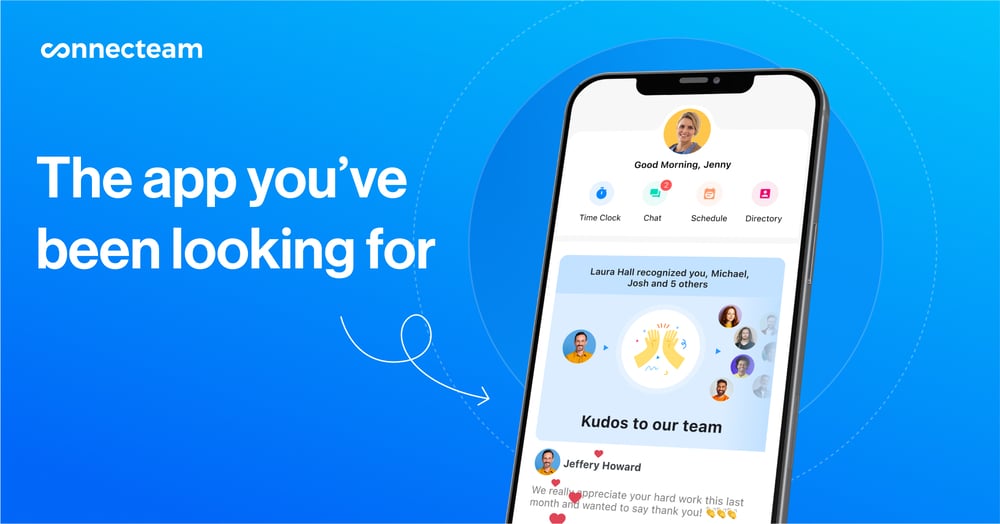 Summary
New employee announcements are a great way to let your current team members know they have a new colleague joining them. You can make this announcement via formal channels like email, or be a bit more creative.
There are many fun and creative ways to announce your new team member. These include organizing a scavenger hunt, hosting a lunch-and-learn session, or having the new hire record a video introduction.
Be sure to include relevant information about your new starter to help break the ice between your current team and new teammates. This includes their name, pronouns, start date, and job title as a minimum.
Crafting a fun and creative new employee announcement will help your new hires get familiar with your workplace culture and increase their engagement from the get-go.
Want more great articles straight to your inbox? Subscribe Here ⤵