While restaurants are fulfilling and lucrative businesses, setting them up is no easy feat. In this guide, we tell you how to start a restaurant business in 12 steps—from choosing your restaurant concept to using restaurant management software.
Table of contents
Restaurants are among the most fun, rewarding, and profitable businesses to run. If you love food, have a concept in mind, and want to be your own boss, running a restaurant could be for you.
Despite the high costs, legal hurdles, and operational challenges, a well-run restaurant can set you up for lifelong success. But many aspiring restaurant owners don't know where to begin.
Or worse—they go in unprepared, making grave mistakes that quickly turn their dream into a nightmare.
That's why we've created this guide on how to start a restaurant business. We take you through 12 steps to opening a restaurant so you can plan and launch your company quickly and effectively.
Key Takeaways
Starting your restaurant business in the right way can set you up for long-term success.
First, research the market and choose a concept, location, and menu that helps you stand out.
Then, pick the right legal structure, register your business, and secure the necessary licenses and permits to run your establishment.
Use software like Connecteam to hire and manage staff, stay compliant, and ensure seamless operations.
1. Choose Your Restaurant Concept and Name
The first step to starting a restaurant business is defining your concept. Your chosen concept will represent your restaurant's identity and attract customers. So, think carefully about it and ensure it resonates with your target audience.
Here's what you should consider.
Market: Conduct a market analysis to see which restaurants currently operate in your location. You can see what's already working well and aim to do it better. Or, you might find a gap in the market—for instance, vegan food—so you can offer something different. Ensure that a new offering will resonate with local preferences and trends by speaking to your target consumers.
Cuisine: Pick a cuisine based on your market analysis, existing knowledge, or passion. For instance, if you enjoy Mediterranean food, you could specialize in Spanish, Italian, or Greek cuisine.
Service style: Determine which type of service you want to provide. For instance, you could opt for fine dining, casual dining, fast food, a food truck, or a self-service buffet.
Unique selling point (USP): Think about what sets your restaurant apart—for example, farm-to-table dining, organic ingredients, or niche cuisine.
Next, choose a suitable name for your restaurant. Try to pick something memorable, easy to pronounce, and relevant to your restaurant concept. Also, ensure it's unique so you avoid confusion with other establishments.
You can work with a branding professional or use AI tools like ChatGPT to brainstorm different name suggestions. Consider asking potential customers for feedback on a few names before picking one. This is a great way to check that customers like and resonate with your chosen name and brand identity.
Finally, design a logo that reflects your chosen concept and name. A good logo can help people remember your brand. And, you'll eventually use it to represent the restaurant across all your marketing platforms and materials. You might design your own logo or work with a graphic designer to create it.
2. Create a Business Plan
Crafting a comprehensive business plan is essential to opening up a restaurant. It helps you organize your ideas and develop a clear plan of action. Plus, it's a great way to outline your vision and secure funding from potential investors.
Here's what you need to include in your restaurant business plan.
Executive summary
This provides a snapshot of your business, including your concept, location, goals, and funding requirements.
Concept and mission
Discuss which type of restaurant you want to run, including cuisine style, service style, and USP—for instance, a casual dining restaurant that specializes in gourmet burgers. Also, write and share your company's mission. It could be "To serve the best gourmet burgers in Tampa, using top-quality ingredients and creative flavors."
Market research
Show investors and other readers you've done your homework. Discuss the local dining scene, competitor analysis, and gaps in the market. Importantly, explain why your restaurant will have demand and how it fits into the landscape.
Also, include data from any interviews, focus groups, or surveys you've run. This helps to back your insights and shows credibility.
Menu and pricing strategy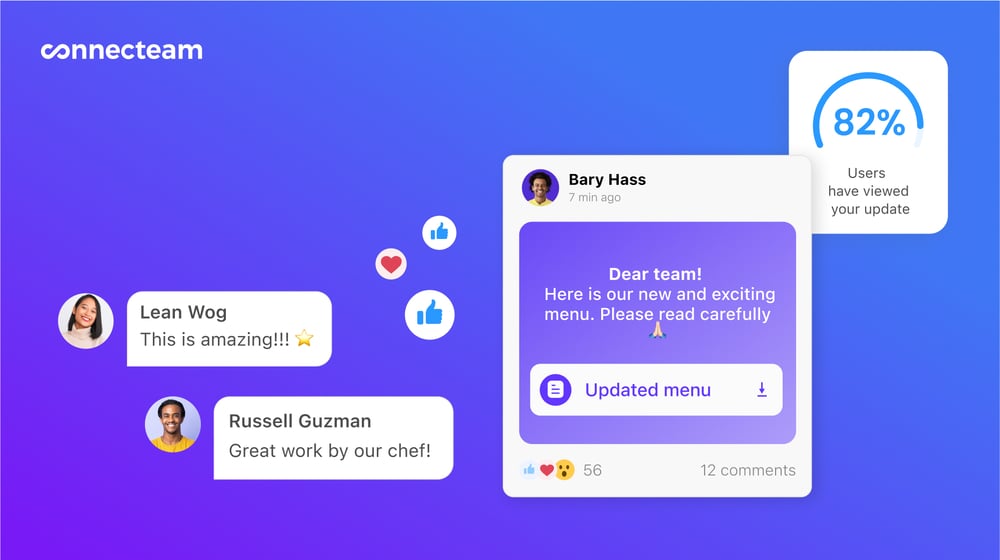 Detail your menu's offerings—everything from sample dishes and starters to desserts. In addition, highlight any signature dishes or special menus that reflect your concept.
Pricing is another crucial aspect of business planning. Ensure your prices make sense for your location and target audience. You should also account for the costs associated with producing and delivering your offering so you can aim to make a profit in the future.
Management and staffing
List out your management team, advisors, and other company leaders. Include a snippet about their backgrounds, expertise, and what they bring to the table.
Also, outline your staffing needs—for example, chefs, wait staff, cleaners, and more. Finally, discuss your hiring strategy and how you plan to train your employees.
Marketing plan
This section focuses on how you're going to market your restaurant. Discuss relevant marketing channels, including social media, influencer marketing, digital marketing, newspaper ads, and more. Share your brand name, logo, and other key branding elements.
Financial projections
Create financial projections detailing startup costs and potential income. You can share a cash flow statement, balance sheet, and break-even analysis to give readers a complete picture. These projections should cover at least the first year of operations.
Funding requirements
Lay out the funding your restaurant requires for a successful launch. This could include rent, equipment, working capital, and other operating costs. Also, list potential funding sources—personal savings, small business loans, angel investors, etc.—and how you plan to split ownership.
3. Pick a Legal Structure and Register Your Business
Selecting the right legal structure and registering your company is essential to starting a restaurant business.
Choosing a legal structure
This choice will impact your personal liability, tax obligations, and decision-making authority. We briefly explain a few legal structures below.
Sole proprietorship: This is the simplest structure if you own and run the restaurant by yourself. But, it also puts your personal assets at risk if the company faces legal issues.
Limited liability partnership (LLP): This is a popular choice for individuals who want to co-invest and run the restaurant. Their personal liability is limited to how much they individually invested in the business.
Limited liability company (LLC): An LLC is a widely used structure, especially for small businesses with multiple owners. Owners don't have personal liability, so their assets are protected. In this structure, the business doesn't pay corporation tax. Instead, owners report profits and losses through their personal taxes.
Corporations: In this structure, ownership is granted in the form of shares in the business. Shareholders' personal assets aren't at risk in the case of lawsuits or bankruptcy. You can choose a C corp, where your business is taxed on its profits but you're also taxed on the income you make. Or, pick an S-corp, where you report profits and losses through your personal taxes.
💡 Pro Tip:
Franchises are usually set up as LLCs or corporations so you can avoid personal liability. If you're unsure which legal structure is best for you, speak to an attorney.
Register your business
Ensure your chosen business name is available. You can do this with an internet search. But, double-check with your state's business registration office and the US Patent and Trademark Office. Then, register your restaurant business with the Secretary of State Office.
Lastly, find and secure your domain name if you plan to have a traditional website for your restaurant.
Get tax ready
Speak to your accountant or a tax specialist to understand which local, state, and federal taxes apply to you—for instance, all corporations must obtain an "employer identification number (EIN)." This can be done through an online application with the IRS.
You'll also need to register with the Secretary of State and pay a filing fee ranging from $50-$500.
4. Secure Permits, Licenses, and Insurance
Restaurants require various permits, licenses, and types of insurance to operate. Consult your local agencies and providers to understand how to open a restaurant with the right paperwork in place.
Below are some overall considerations.
Permits and licenses
A business license from your local city or county enables you to operate your restaurant.
A food service permit issued by your local health department lets you prepare and serve food.
A liquor license, which varies by state or locality, permits you to serve alcoholic beverages.
A sign permit from your local zoning department lets you post outdoor signage.
An entertainment license, which varies by location, lets you offer live music, dancing, and other forms of entertainment.
A music license from performing rights organizations like ASCAP allows you to play copyrighted music in your restaurant.
A fire department permit from your local fire department or fire prevention bureau lets you obtain a fire alarm system and other fire safety equipment.
Insurance
Property insurance helps protect your physical assets, including furniture and equipment, in case of damage or theft.
General liability insurance provides protection in case of injuries or accidents in your restaurant.
Workers' compensation insurance covers any workplace injuries for employees.
Liquor liability insurance protects you against claims related to alcohol-related incidents.
💡 Pro Tip:
Maintain records of all your legal documents, registrations, permits, and licenses. This will help you stay organized and compliant.
5. Find an Ideal Location and Space
Selecting and securing the perfect location is a pivotal step in opening a restaurant.
Eric Sornoso, CEO at MealFan, advises, "Choose a prime location that matches your target demographic. Negotiate lease terms carefully, considering rent, lease duration, and landlord agreements."
Below are some additional considerations to guide you through the process.
Picking the right location
Research your potential location before choosing it. Analyze the surrounding population, their income levels, and dining preferences to ensure the area aligns with your concept. Also, look at nearby restaurants to identify issues like excessive competition.
Seek a location with high visibility, or somewhere that's busy. This way, you can get good footfall in your restaurant.
Finally, check that your chosen location complies with zoning regulations so you won't have trouble obtaining the necessary permits.
Leasing or buying process
Once you've identified a suitable property, engage in lease or buying negotiations with the landlord. Ensure the property has the necessary permits to run a commercial establishment. If you're renting, check that the lease covers essential details, like maintenance responsibilities, rent escalations, and exit clauses.
In addition, seek support from restaurant consultants, real estate agents, and attorneys. They might be able to help you secure a favorable deal and prevent any oversights in your agreement.
6. Secure Funding and Get Financially Set Up
Raising capital and setting up your finances are critical when starting a restaurant business.
Funding
Consider the following funding options when opening up a restaurant.
Personal savings: This is one of the most common ways to fund a restaurant.
Friends and family: Borrow money or offer a small percentage of shares to family or friends who believe in your vision.
Bank loans: Approach banks or credit unions for small business loans.
Small business administration (SBA) loan: This government-backed loan for small businesses usually offers favorable terms and better interest rates.
Government grants: Look up government grants offered in the food and beverage (F&B) space. For example, some grants seek to revitalize neighborhoods, encourage sustainable food sourcing, support minority entrepreneurs, or enhance tourism.
Third-party investors: Seek financing from angel investors, venture capital firms, or private equity firms in exchange for equity.
Crowdfunding: Use platforms like Kickstarter to raise funds from individuals who support your restaurant concept.
Supplier financing: Some vendors and suppliers may invest in your company if they see promise and potential for a long-term partnership.
Financial set-up
Opening a restaurant requires you to be able to make and receive payments.
First, choose a bank or credit union to open a business checking account. Ensure your bank supports merchant services to process credit or debit card payments. Also, consider opening a savings account to allocate funds for taxes, emergencies, and future investments. Then, apply for a business credit card to manage daily expenses.
Next, invest in a point of sale (POS) system that can handle the payment methods you want to accept. For instance, you may want to let customers pay with credit or debit cards, through mobile QR code payments, or via contactless systems like Apple Pay or Google Wallet.
Then, maintain a cash register to handle cash payments and provide change.
Finally, select an accounting system like QuickBooks or Xero. Alternatively, hire an account to manage your restaurant's financial records.
💡 Pro Tip:
Choose a POS and an accounting software platform that integrate. This helps streamline tracking sales, creating financial reports, and managing inventory.
7. Create an Ambience and Purchase Equipment
Here's how to prepare your restaurant for customers.
Design your space
A well-designed space plays a vital role in creating an inviting atmosphere for customers. Choose a design theme that aligns with your restaurant's concept. For example, you could choose a cozy bistro, American diner, or modern eatery vibe for your gourmet burger restaurant.
Plan a layout that optimizes the use of space and creates a seamless flow for customers and staff. For instance, avoid seating customers next to the toilet. Similarly, ensure your kitchen is accessible for quick service and clearing.
Also, follow the Americans with Disabilities Act's disability-friendly guidelines. For example, install handlebars or have an entry slope for wheelchair access.
Finally, select and purchase furniture, lighting, and decor that reflect your restaurant's theme and style.
💡 Pro Tip:
Seek professional help from an interior designer or architect. They can tell you how to open a restaurant that meets your design goals and budget, as well as health, safety, and civil rights regulations.
Purchase equipment
The equipment you'll buy will depend on your restaurant concept, budget, and other factors—for example, whether it's an indoor or outdoor space. But here are some basic considerations for all restaurant owners.
Kitchen appliances, including ovens, stoves, refrigerators, and other specialized equipment.
Chef's essentials like knives, pots and pans, broilers, roasters, etc.
Dining room equipment like chairs, tables, tableware, glassware, and more.
Safety and compliance requirements—for instance, ventilators and fire alarms.
💡 Pro tip:
Consider sustainable design elements and energy-efficient equipment choices. They can add to your brand value and save you money and resources.
8. Develop Your Menu, Find Suppliers, and Set Prices
Curating a menu, sourcing suppliers, and setting your price point is the next step to starting a restaurant.
Menu development
In addition to deciding which cuisine you're serving, think about the types of menus you want to offer. Maybe your restaurant offers a tasting menu with a set number of courses. Or perhaps you've gone for a traditional à la carte menu with starters, mains, and dessert. You can also consider something niche—like a tapas style concept—or add a seasonal specials menu.
Also, don't forget to cater to special dietary requirements. Include some vegan or gluten-free dishes if these fit with your concept.
Find suppliers
Search for reliable suppliers with reasonable prices and high-quality ingredients. Most restaurant businesses must source suppliers for the following products:
Fresh fruits, vegetables, and herbs.
Poultry, meat, and seafood.
Alcoholic and non-alcoholic beverages.
Dry goods, condiments, and canned products.
Specialty ingredients like truffle oil.
Negotiate terms and contracts with suppliers and other vendors. This can help you secure good prices, favorable delivery schedules, and quality assurance.
Pricing
Choose a relevant pricing strategy based on your goals. For example, with a cost-plus strategy, you can price items based on the costs of producing and delivering them. Costs could include ingredients, rent, and costs.
You could also opt for a value-based strategy where you price dishes based on what customers are willing to pay.
Alternatively, some restaurateurs use a penetration strategy starting with low initial prices that increase as demand rises.
9. Hire and Train Your Staff
Hiring the right people for your restaurant is essential. As Tim Hopfinger Lee, Founder of Tim's Coffee, says, "Unfortunately, unless you find the right staff who would be as passionate as you, every single thing will be your responsibility."
Lee also advises, "A good idea here would be to start looking for such staff members even before your restaurant is open for business."
Here's what to consider.
Types of staff members
Restaurants require several key staff members to run smoothly. Below are some key positions to look for.
Front-of-house staff, including servers, hosts/hostesses, and bartenders.
Back-of-house staff, like chefs, line cooks, prep cooks, pastry chefs, and dishwashers.
Service staff, including wait staff and bussers/runners.
Administrative staff, like restaurant managers, accountants, and marketing managers.
Hiring the right staff
Online job boards are the most popular tool for hiring staff. You can post your open roles on websites like Indeed or LinkedIn. Posting them to industry-specific websites like Poached or Culinary Agents is also a good idea. Additionally, consider sharing open roles on social media to reach a wider audience.
In addition, culinary schools, industry events, and restaurant associations are great places to meet potential candidates with industry knowledge. Consider offering internships or apprenticeships to students or aspiring chefs, too.
💡 Pro Tip:
Consider accepting walk-in applications for certain positions like servers and bartenders. This process is quick and lets you test their skills immediately.
Training your restaurant staff
Training your staff members is essential to running a successful restaurant. It ensures your team understands the company's mission and goals. Plus, it brings consistency to F&B, service, cleanliness, and more. It also keeps you compliant with health, safety, and civil rights regulations.
Here are some training courses typically run in the restaurant industry:
Cooking and bartending.
Customer service and conflict resolution.
Food safety and hygiene.
Allergen management.
POS and other systems.
Table setting and service.
Time management.
Emergency procedures.
Compliance training.
You can train your chefs, servers, and bartenders in person using instructor-led courses and then conduct practical exercises to test their skills. For other training topics, like allergen management, you can roll out online courses.
Your administrative staff can also take online courses.
10. Follow Health, Safety, and Labor Regulations
Adhering to health, safety, and labor regulations is vital to the well-being of customers and staff.
It's best to speak to a restaurant consultant to understand the specific rules that apply in your location. Meanwhile, we've listed some standard regulations your staff needs to learn and follow.
Food safety and hygiene
Frequent handwashing, especially after using the restroom, handling raw food, and touching their face.
Food allergen awareness to recognize allergenic ingredients, prevent cross-contact, and inform customers about potential allergens.
Regular sanitation, including cleaning and disinfecting surfaces, utensils, equipment, and restrooms.
Health, safety, and civil rights
Fire safety protocols and following evacuation procedures.
Slip and fall prevention, such as ensuring dry and clean floors and providing proper signage for wet areas.
Emergency response protocols in case of accidents, injuries, or other medical emergencies.
Chemical safety, such as safe handling, storage, and disposal of cleaning chemicals and other hazardous materials.
Waste management, including proper waste disposal, recycling, and composting practices.
Civil rights laws like Title II of the Civil Rights Act, which makes it illegal for restaurant staff to discriminate against customers based on race, color, religion, or national origin.
Labor regulations
Safe working environment for employees.
Compliance with local, state, and federal labor laws, including minimum wage, overtime, and working hours regulations.
Non-discrimination and harassment policies.
11. Market Your Restaurant and Launch
Consider using these strategies to promote your restaurant and generate buzz before your grand opening.
Marketing
Social media
Use platforms like Facebook, Instagram, and Twitter to increase brand awareness. Share visuals of your food, engage with customers, and promote special events or offers. Also, encourage customers to post about their dining experiences to create user-generated hype.
When creating posts, consider this advice from Madhuram Prabhakar, Founder of Eggless Cooking: "It's key to know who your target market is. By understanding who I was catering to, I could craft content that resonated with my audience."
Online ads
Invest in online advertising through Google Ads, Yelp, and other platforms. You can target potential customers based on their locations, interests, and demographics to increase visibility and draw them to your restaurant.
Influencer campaigns
Collaborate with food bloggers and other influencers in the F&B space. They can review or promote your restaurant on their social channels so you can reach a broader audience.
Short-form video content
Create engaging videos of your culinary process, food preparations, and behind-the-scenes footage on platforms such as TikTok, YouTube, and Instagram Reels. These are great for captivating and attracting potential customers—especially Millennials and Zoomers.
Pop-up events and food festivals
Participate in F&B markets and food festivals so customers can learn about your brand and sample your dishes.
Newspapers and magazines
Post content and advertisements in local newspapers and lifestyle magazines to build credibility and attract the right audience.
Launch
You're now ready to launch your new restaurant. Prepare thoroughly, run trials, and invite friends and family for the grand opening.
You can continue some paid marketing efforts after launch. But, providing an exceptional customer experience can help you grow organically through word-of-mouth marketing.
12. Use Relevant Software To Manage Ongoing Operations
Eric Sornoso, CEO of MealFan, tells aspiring restaurant owners, "Embrace technology solutions like point-of-sale systems, online reservations, and food delivery apps to streamline operations and enhance the customer experience."
Consider the below restaurant management tools to ensure smooth operations, save time, and reduce errors.
Work management software
Good work management software is essential to managing your restaurant staff. For example, Connecteam offers several tools for effective team management. These include:
Customer management and service tools
The below systems can help improve customer experience at your restaurant.
Reservations and table management solutions help manage bookings, assign tables, and optimize seating.
Customer relationship management (CRM) software lets you build and maintain customer databases, track preferences, and engage with customers.
Online ordering and food delivery app integrations enable customers to order their food online and enjoy a seamless delivery experience.
Operations software
Consider using the following operations software solutions to keep your business running smoothly.
A robust point-of-sales system enables you to process orders, manage tables, and accept payments.
Inventory management tools are good for tracking stock levels, ensuring you always have the right ingredients, and reducing wastage.
Efficient accounting software simplifies payroll processing, taxes, expense tracking, and more.
Summary
There's nothing quite like seeing your restaurant vision come to life. But the path to get there can be confusing and bumpy. Missteps and errors during your set-up stages can lead to financial losses, legal issues, and other problems. That's why it's critical to follow all the right steps when starting your restaurant business.
Use our guide as a checklist to ensure you're ready for business before you launch. It covers everything from choosing your cuisine and theme to creating a business plan, designing your restaurant, hiring staff, marketing, and more. After you've launched, use staff and restaurant management software to minimize mistakes and ensure seamless restaurant operations.
FAQs
How can I open a restaurant without an HR manager?
While hiring an HR manager is helpful, it's not essential in the early stages of your restaurant. There are plenty of staff management systems to consider instead. For instance, Connecteam provides tools for employee scheduling, time off management, time tracking and payroll, employee training, employee engagement, and more from a single platform.
What are the biggest challenges when opening up a restaurant?
Leasing a space, purchasing equipment, and applying for licenses can be very expensive. This often deters people from starting a restaurant. The restaurant industry is also competitive, making it difficult to succeed. Finally, restaurants are subject to many regulatory hurdles—several that are daunting to understand and follow.
Want more great articles straight to your inbox? Subscribe Here ⤵