Scale your business with Connecteam's construction employee app
Connecteam's construction employee app is the perfect solution for your construction company. Time tracking, job scheduling, multiple communication tools, online mobile-first checklists, forms and reports, and much more, all from one place.
Getting started is easy and free!
Start for free
Revamping your construction employee management is just a few clicks away
Safety first!
Next level construction safety hub
In the construction industry, safety at the worksite is a top priority. With Connecteam's construction employee app, you'll be able to set a new standard of employee safety. Add principles and regulations, safety case studies and safety meeting summaries by adding files of any kind, such as videos, images, PDF documents, or even create online content directly to your app. But that's not all, you can also add reports, checklists and workflows of any kind by creating your own or using our templates for potential safety hazards report, employee report of injury form, accident report and much more. All data is documented securely on the cloud and is always available for further actions, filtering and analysis.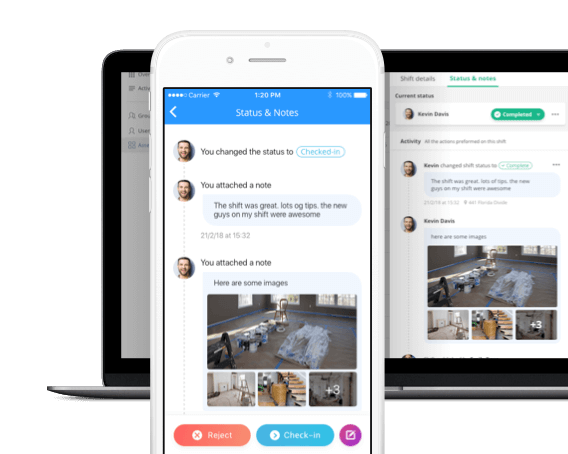 Online construction employee checklist and reports
Automate daily processes and operational procedures
Receiving live informative insights from the field is the name of the game, and you can count on Connecteam's construction checklist app to do just that. With our online checklists, forms and reports, you can automate daily processes like never before. Daily team brief approval, beginning and end of workday reports for potential hazards at the construction site, inspection reports for managers, daily vehicle checklist, tool inspection checklist, and more can be completely managed online. Allow automated status and note notifications to keep employees on the same page at all times.
Easy and powerful employee scheduling
Schedule jobs and project tasks for your construction employees
Our construction employee scheduling software allows you to easily and quickly schedule individual or team shifts, and dispatch jobs for your on-site employees in various projects and tasks. Schedule ahead and save time, with open shifts and by importing shifts from Excel, plus shifts can have a lot of info, such as job location, manager notes, customer details, equipment to be used and more. With GPS status updates, employees can report their job status while keeping you on top of things with automatic notifications that can be customized to your workday. Plus, with our unique shift collaboration, your construction employees can share job-related information and media directly from the worksite.
Construction employee timesheet and time clock
A core functionality for every construction company
Connecteam's construction employee time clock makes it easy and efficient to track work hours and measure time spent on jobs and projects. Our time clock app is extremely user-friendly and it takes seconds for an employee to clock in. You can customize your construction employee time clock with multiple tags to understand what employees are working on, and add shift attachments to gain as much information as possible, like job type, equipment usage, used tools, client name and more. Plus, our construction employee timesheets are easy to navigate and manage with a user-friendly interface. Add multiple export options, automated push notifications and mobile-first experience for a brilliant construction employee timesheets experience.
Now your employees are ready
Make sure your employees are always on top of their game
It's not all about what's happening while on the job, it's also how to prepare for it. Connecteam's employee app for the construction industry packs multiple solutions for training and knowledge base purposes, all in one place. Create training manuals for vehicles, gear and equipment with videos, documents, online libraries and your company web services; have a great employee on-boarding experience and company induction section; have all necessary work and emergency contacts available on your company directory; create and auto-manage team chat based on projects, teams, locations, roles and more. All can be customized according to your construction company needs and preferences.
Yes, you can have it all in one place
Add more company operations, HR and welfare content
Connecteam's construction employee app can do more for your company, all from the same place. Add multiple company operations to save time, increase productivity and enhance employee experience, like work uniform order, expense reimbursement form, personal info update, non-paid request time off, ticket opening for IT/HR/HQ, and more. You can also add HR and welfare content, like company policies with searchable in-app libraries, personal request forms, suggestion boxes for ideas on various matters, happy holidays, company-wide announcements, birthdays, celebrations or whatever comes to mind, your construction employee app can do it all and more for the same fixed price for up to 50 users! Or you can get started for free!
Connecteam is trusted by over 8,000 companies worldwide
Testimonials
"Connecteam enables us to reach 100% compliance on the job. We save time and cost, while improve communication, job performance and service quality."
"As a big retail company, Connecteam 's solution is ideal for us. The App and its management system help us to be in constant contact with all the employees of the company, which are located throughout the country."
"Connecteam improved our work processes in a significant way. The mobile app helped us improve our workflows and made our projects run more effectively. As an organization, our overall communication and flow of information has become fast and accurate""
"Connecteam is an intelligent collaboration solution. In Sodastream, we found this solution friendly and useful, with high adoption rates among our users. The Connecteam staff are creative and dynamic, and great partners to work with."
Improve safety and increase productivity with Connecteam's construction employee app
A simple, powerful and affordable solution to manage non-desk employees. Try it yourself!
Start for free
Connecteam's employee app is the best all-in-one solution for a construction company with non-desk employees. Our construction checklist app will help you increase employee compliance and get rid of pen and paper tasks and checklists, and with our construction employee scheduling software you'll find out that you can spend more time on work than on managing your employee tasks. On top of that, we added a construction employee time clock that makes time tracking for jobs and projects easier than ever by using multiple customized features like tags and shift attachments. Plus, Connecteam's construction employee timesheet is one of the easiest ways to save time when issuing employee payrolls, reviewing work hours, and managing construction employee timesheets in general. All, and much more, is available for a fixed, affordable price. Start with the free plan today!