The job of home care agencies and family caregivers is extremely important, but rather challenging for a number of reasons.
 Just think of it: caregivers are not really considered doctors or medical personnel, so they don't get the same amount of money and respect for their work and often go underappreciated, but the list of requirements and skills needed for this job is actually quite extensive, and the pressure is high.
Home caregivers have to combine many different roles and responsibilities in one:

Remembering medication and dosage

Tracking symptoms and health conditions

Making and keeping appointments for senior citizens

Remembering all the personal information, habits, special requirements and preferences of each patient

They need to constantly communicate with patients, colleagues, medical institutions, relatives

Finally, they need to balance their own schedules and track hours for the payroll, fill-in shift reports, provide receipts for reimbursements and so much more.
As you see, except for the actual caregiving activities, there's a big part of accounting, payroll, scheduling, task management, and communication challenges involved in the daily routine of a caregiver or a home care agency employee.
So no wonder lots of healthcare and home care agencies are sold on the idea of a helpful app for home care providers. 
What Is A Caregiver Management App? 
Caregiver management software helps non-medical caregivers with record-keeping, inter-agency communication, provides a caregiver scheduling app, billing services, onboarding, training, enforces compliance, and so much more. 
Find out how Connecteam's caregiver management app helped one care agency save time on admin tasks and keeps the team connected and engaged. 
#1 Homecare App
Streamline you home care business with the only all-in-solution that puts you in control so you can focus on the big picture.
Learn more
Main Issues A Home Care App Can Help You With
Low employee engagement and broken communication
The home care staff isn't able to communicate with each other easily, most numbers of other carers are saved on their personal phone or aren't at all. So when they suddenly need to exchange shifts with their colleagues or update the manager on some changes — it takes a lot of time to do.
Whether it's a birthday wish or an important procedural update, it's often done by sending mass emails or text messages. Tracking who actually read those is almost impossible. That's why companies with deskless employees need to use an employee chat app.
Paper forms, which take forever and require a tremendous amount of attention — both for the employee to fill-in and for the manager to check. And they always get lost!
Tough schedule management
Caregivers are always on the go and their schedule is ever-changing! There are many customers and caretakers per each caregiver, often in different locations. The home care providers need to adjust shifts to multiple factors, such as the personal caretaker's schedule and preference, medication regimen, the medical institutions working hours, and so on. In other words, scheduling for home care providers is a huge challenge for care agency owners and managers.
Information is scattered and gets lost
Those papers caregivers need regularly, such as forms, checklists, instructions, notes have to be stored somewhere, be printed, updated, and delivered to each caregiver, which is a mess. 
You can never be 100% sure each caregiver has the latest material and the most relevant file.
Also don't forget their own notes and to-do-lists, spread between the smartphone notebook, sticky notes, and the back of that old magazine that was there during the phone call. And we didn't even mention the parking tickets and drugstore receipts from last month for reimbursement, found in the glovebox.
Employee churn and turnover rate
The turnover rate in the homecare industry is massive, mainly due to low pay, weak benefits, little training opportunities, and poor communication. Caregivers are constantly on the run, juggling multiple patients or clients with different requirements and preferences, needing to keep the schedules up to date, and barely having a chance to talk with colleagues or managers.
Training new carers take time
Our clients say that many caregivers leave the job within half a year, so the home care providers feel that spending a lot of time training and onboarding them is irrelevant, but at the same time, untrained and unengaged employees are the first to leave. So being a home care agency owner or manager, you need to make sure your staff is getting the needed training and onboarding, but you need to find a way to do it in a more efficient and quick way.
So, with all that said, it's obvious that smooth and high-quality home care service is not an easy job, and might be quite a challenge for both the patient and their caretakers. 
From organization and communication tools to medical tracking; from overwhelming paperwork to high turnover, poor communication, lack of engagement, and more, care agencies are facing a plethora of challenges. 
We've researched how home care agencies overcome those challenges, improve their operations, communication and engagement with their staff in order to successfully execute your caregiver agency duties, and came up with a list of the 10 best apps for home health care that will make the lives of caregivers easier, and the quality of their work higher.
10 Best Apps for Home Health Care Professionals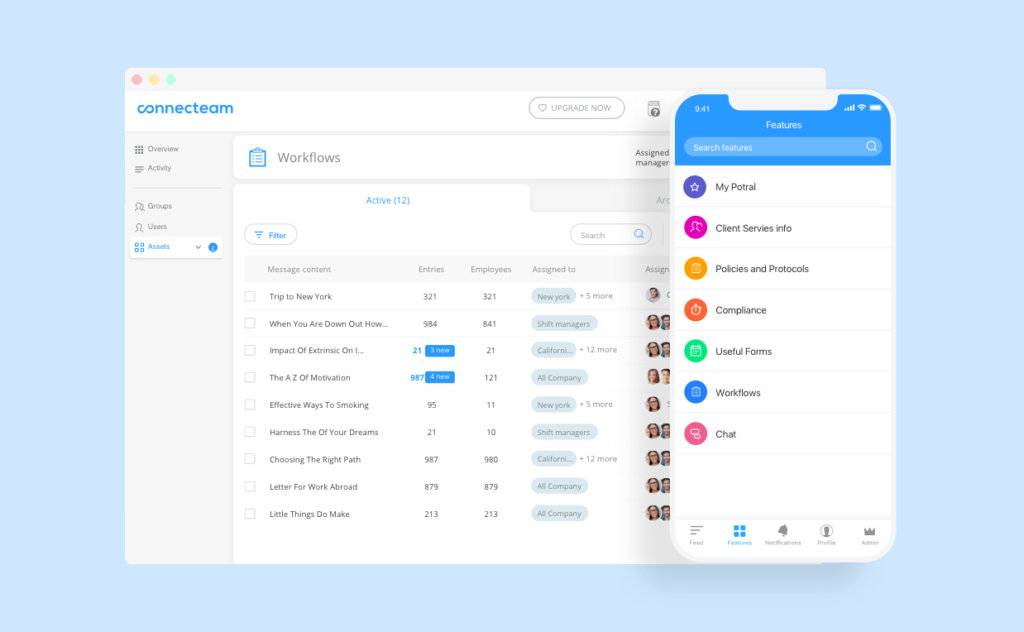 Connecteam is an all-in-one, mobile app, designed for field-employee management and trusted by hundreds of caregiver service agencies worldwide. 
Its' simple design makes it easy to set up and start using immediately, no special training required, so it's a great choice for the non-tech-savvy caregivers, who are on the run most of the time.
Connecteam offers a set of simple yet powerful tools to help the care providers communicate better, schedule shifts, track time, and organize their daily tasks on the go, from a personal phone — in a click of a button. 
We asked care agencies who already use Connecteam's caregiver management app on a daily basis about the main benefits their business is getting from the app and that's what they listed:
Streamlined communication

: You can

communicate

via updates, notifications, private chat, and an employee directory, and provide your team with relevant information, filtered by their team, specialty, location, information access, or any other criteria. Caregivers can find who they are working with and contact them finding important numbers like the patient's relatives, concierge at his building, family doctor, etc.

Increased employee engagement:

The app allows sending periodical surveys, newsletters to keep everyone on the same page, sharing photos, creating a suggestion box, and creating an open-door policy.

Compliance standards:

you can hold your employees updated and accountable through

digital 'read-and-sign' forms

, such as medication policies and procedures, administration of medication policy, controlled drug policy, sexual harassment policy, and others.

Reduced friction and improved response time

: by using automated checklists and forms, such as for example, you can have transition checklists, home safety assessments, service agreements, client pre-screening forms, facility contact leads, and more — all in the smartphone of every single staff member.

Quick and efficient onboarding and training:

with read-and-sign forms and training, your team has

a structured onboarding

experience that is simple yet effective, so

onboarding new carers

and getting them up to speed takes much fewer resources. It is also unbeatable for onboarding new staff members remotely, for example during the times of

COVID-19

.

Company protocols and policies archive

: from the employee handbook to important company protocols, how-to guides, making all the information available and searchable for the entire team.

Efficient job scheduling: Connecteam's caregiver scheduling app allows you to

assign caregivers for services

based on different requirements, provide relevant information including time, address, and special instructions, allow employees to accept and reject shifts, and more. Forget spreadsheets and PowerPoint done by hand.  As the team grows, you need more efficient and capable solutions. 

Simplified time tracking and payroll

:

easily track work hours

, send automatic reminders to ensure employees are clocking in and out in and out, vacation and sick day requests, view timesheets, and more.
Price: $39/month for up to 50 employees or you can go with a "free for life" plan, which gives you an opportunity to try and use the app in real life, in order to see how your business can benefit from this caregiver's management app.
Best All-in-one App for Caregivers
Start a free trial, or choose the free-for-life plan — no strings attached!
Start for free
MEDsys Software Solutions is a complete technology for home care agencies. MEDsys Software supports Medicare, Medicaid, skilled and non-skilled private duty, pediatrics, and adult nursing. 
The software is 100% web-based and offers convenient features, such as:
real-time data exchange

visit verification

scheduling

billing

caregiver management

client management

field communication

insurance management

payroll management

care plan management
Price: starts at $100.00 per month, per user. They do not have a free version but offer a free trial.
Care.com's app helps family and relatives to find temporary, qualified care for their loved ones — all with just a few taps of a finger through a mobile app. So for the home caregivers, this app is something similar to what Fiverr is for freelancers, or Uber is for drivers — a way to find customers and receive jobs.
Caregivers can upload resumes and recommendations, book interviews, and even receive payments through the app, making it simple for both a professional caregiver to provide services, such as:
child care

senior care

housekeeping

pet care

tutoring

home-schooling services

special professional caregivers for people with disabilities and special needs 
Price: Care.com's app is available for free on iPhone or Android.
CareSmartz360 is a HIPAA compliant, cloud-based solution that manages every aspect of your home care business: 
Client Assessment & Intake

Scheduling & Point of Care Management

Billing & Payroll, Human Resources

CRM & Marketing

Training

Reporting

Franchise/Agency Management
Price: CareSmartz360 pricing starts at $10.00 per month, per user. They do not have a free version but offer a free trial
The Alzheimer's Association is believed to be the leader in action and awareness around this specific disease, so they decided to develop this "caregiver buddy" app to help caregivers, dealing with this challenging disease and very needy patients/
The app includes features like 
hygiene and meal-related daily care tips

ideas for some fun activities that can stimulate the body and mind of patients with dementia

It also covers how to cope with new and sometimes overwhelming behaviors, like aggression or hallucination

24/7 helpline for urgent cases 
So basically, this app is some kind of a personal library and personal assistant for those caregivers who deal with people with special needs.
Price: Alzheimer's Caregiver Buddy is available for free on iPhone or Android.
firstHOMECARE EHR software is a CRM for healthcare agencies that combines robust functionality with an intuitive, easy-to-use interface.
The features include:
billing & invoicing, including Medicare, Medicaid, and Commercial insurance billing

built-in email integration

electronic signature

scheduling

time tracking by client

bedside charting

trending function

alerts
Price: Pricing is available upon request.  
Caring Village is another caregiver app that enables users to store important data and work-related files in one place. 
It also offers caregivers to create a team of caregivers to share information with and coordinate help by using the built-in messaging.
The app can also be used for tracking medications or food supplies, creating and filling-in wellness-journals, and profiles for the customers. 
Price: Available at the App Store and Google Play for free.
Medisafe is an easy-to-use healthcare app to be used mainly as a medication reminder for both care providers and patients. 
Apart from that, it provides 
medical tips

refill reminders

progress reports

discounted prescription offers
Price: Available at the App Store and Google Play for free.
CareZone refers to themselves as "health info organizer," and is designed for caregivers to keep track of uploaded or manually added medical information by organizing contacts, insurance, medication files and ID cards of their patients and customers all in one place. 
There's also a shareable calendar and a to-do section in order to share information and assign tasks to others on your care team. For example, caregivers can also create to-do lists to keep track of appointments and medication times through the app. 
Price: CareZone is available for free on iPhone or Android.
eCare21 app provides 24/7 patient monitoring through wireless and wearable devices (such as a smartwatch, Bluetooth, or FitBit device). 
Caregivers can remotely track the wearer's glucose, heart rate, activity, medication, weight, calorie intake and sleep, and other parameters.
eCare will be most helpful for caregivers as they manage their loved one's schedules and meet their health needs, but it may take several apps to tackle other caregiving challenges, such as scheduling, medications tracking, budgeting, meals, legal errands and so on.
Price: Available for iPhone for free.
This caregiving app is the way to create a virtual supportive community of care around a senior citizen or someone who needs assistance. 
This app features an interactive calendar where individuals can manage everything from doctor appointments, family gatherings, necessary errands, and other details. 
The "Helping Hands" section works as a group message board, so caregivers, friends, and family members can post encouraging notes to the care recipient, their families, and others in the group. 
This app also allows caregivers to select group coordinators and a community member page where everyone's contact information, birthdays, and listing of preferred phone call times.
Price: Available for iPhone for free.
Bottom Line On The Top Apps for Home Caregivers
Caregivers have a very sensitive and important job to deal with. Juggling schedules, lots of data to memorize, different people to be in contact with, an overwhelming amount of paperwork to fill-in and store, and so much more.
Sometimes it all can be so stressful and hard, that not only the quality of the care provided for the caretaker is influenced, but the care provider might need some psychological or even medical help for themselves.
If you are trying to reduce the stress and organize the work in a more clear and efficient way, using one of the modern caregivers' apps might be just that helping hand you need.
Being able to organize and track schedules, create and store notes, fill-in forms and checklists and communicate with important people — and doing all that from your own mobile phone, even on the go, will make your work much easier, and your caretakers much happier.
Best All-in-one App for Home Care Providers
Start for free and streamline your home care service with intuitive scheduling, tracking employee work hours, assigning shifts and getting signed checklists – all on your mobile phone!
Start for free