Follow these manufacturing safety tips and best practices to keep your workers safe and productive while on the job and to keep your production line running smoothly.
Table of contents
Establishing clear manufacturing safety guidelines is crucial for reducing accidents and injuries in the workplace. They keep workers safe, eliminate injury, and help employees work more efficiently while remaining compliant with industry regulations.
In this article, we'll be going over 12 of the most important manufacturing safety tips that you need to know to minimize risk to your workers and your company.
Implement a safety culture across the company
You can only achieve daily workplace safety by incorporating accident prevention into the company culture. Make sure that safety is highlighted from day one of employee training, and teach your workers how to identify and report safety issues. Let them know that everyone is responsible for maintaining safety at work, and encourage all team members to speak up if they see a safety issue. You should also hold regular safety meetings with your team.
A great way to implement a culture of safety is to follow the 6s method, a methodology that originated in the manufacturing industry to promote productivity and establish clear guidelines and procedures.
The term builds on the original 5S method, which includes the principles sort, set, shine, standardize, and sustain. However, the 6S method adds the element of safety.
Here's a quick overview of each element:
Sort: This involves separating items used on a daily basis from those that are not. Sorting helps maintain a decluttered workspace so there's less risk of accidents.
Set: Set refers to keeping your factory in order by making sure all equipment is where it's meant to be. This may involve creating physical boundaries within the space to make sure people work where they're meant to.
Shine: Shine refers to cleaning your work environment on a regular basis.
Standardize: Managers need to create a structure to ensure employees follow all workplace procedures. This may involve creating training documents and holding meetings to teach workers about the systems in place.
Sustain: This step focuses on making sure everyone follows all workplace procedures regularly.
Safety: This final element focuses primarily on safety. In addition to establishing standard company procedures, leaders must identify safety hazards and how to prevent injury in the workplace.
The 6S method is crucial in the manufacturing industry because it improves productivity, efficiency, and safety by promoting workplace organization, standardization, and ongoing improvement.
Prevent risks with early reporting
A dripping hose, an open window, a loose bolt, or even a wet floor might cause incidents, damages, or even injuries—so make sure every hazard is taken seriously and reported right away. Employee management apps, like Connectem, come with customizable digital forms that workers can fill out to report any safety hazards directly to management.
Doing so can raise the overall safety standards at your facility and help increase production performance rates.
Implement customized safety checklists
Create daily checklists to ensure employees follow safety procedures and don't accidentally injure themselves or others. When employees are required to go through checklists at the beginning or end of their shifts, the chances of injury drop dramatically.
To start, go over all manufacturing safety topics and work processes and identify anything that can lead to hazards. Create checklists with action items employees need to complete to prevent injury.
Questions to consider include:
What service/product is the company providing?
What machinery will employees be exposed to and need to operate?
Are there any hazardous chemicals present in the workplace?
What electrical safety issues do I need to consider?
Is there a likelihood of fall risks in the workplace?
Are there any potential fire risks to consider?
Once you've created checklists for each job, add them to your workers' shifts in your employee scheduler so each team member has the necessary checklists available while on the job.
Require safety gear and safety equipment
Operating heavy objects and machinery, exposure to toxic materials, and working in dark and cluttered spaces can all affect people's health. These things can also expose factories to potential risks like fires, explosions, accidents, and injuries.
That's why wearing safety gear and protective clothing should be an absolute must for employees at all times, such as gloves, safety glasses, masks, helmets, and protective clothing.
Provide comprehensive safety training
Workplace safety training in the manufacturing industry prevents injuries and might even save a life. Proper training teaches employees how to protect themselves and their coworkers from accidental injury.
While it may seem like a lot of work, creating training materials and training courses doesn't need to be that time-consuming. You can easily create your own courses and materials and deliver them with an employee training app like Connecteam. That way, employees can access all of the materials directly from their phones or tablets.
Upload safety documents, videos of workers operating machinery, and quizzes to teach your staff how to minimize safety risks. Use short training modules and mix up the mediums to keep employees engaged.
In addition, refresher training is essential to ensure that workplace safety is consistently emphasized.
When you create a refresher course, upload it to your employee training app and set an automatic notification the next time employees open the app. That way, they won't miss it, and you can track their progress and make sure they complete the course. You can even provide a digital form for them to sign upon completion.
💡 Pro Tip:
Incorporate OSHA's safety and hazard regulations into your training program so employees fully understand what's legally required when operating machinery or dealing with hazardous chemicals.
Get started with Connecteam for free today!
Properly use equipment and tools
Handling tools and machinery incorrectly is one of the most prevalent causes of workplace injuries. Therefore, make sure your team knows how to properly use every piece of equipment they need to operate and that they only use each tool for its intended purpose. You should also implement a program to clean all equipment regularly to prevent misuse.
💡 Pro Tip:
Create an employee Knowledge Base and keep all your equipment manuals and standard operation procedures stored online. That way, employees have instant access to them directly from their phones and can locate them easily whenever they need a refresher.
Get started with Connecteam for free today!
Prevent slips, trips, and falls
As the second most prevalent cause of nonfatal injuries in the workplace, it's crucial that aisles remain clear and spills are properly cleaned to prevent slips, trips, and falls. To prevent these unsafe conditions, encourage your employees to keep their work spaces clear or even provide a bell they can ring when they see a potential hazard. That way, you can address the issue as soon as possible.
Another way to encourage fall protection is to use drip pans and guards to clean spills immediately. Also, make sure to check that there are no holes, loose boards, or nails projecting from the floor. If any of these hazards are noted, be sure to replace or fix them right away.
Keep work areas organized and clear of clutter
Maintaining a clean and organized workplace should be a fundamental part of your team's daily routine. A clean and organized workspace is important for workplace safety because it:
Reduces hazards and spills
Protects your employees' health
Keeps your production line running smoothly
Increases productivity because there's more space to move
Provides a good overall impression of your factory
Encourage correct posture
Having a good posture in the manufacturing industry actually leads to improved productivity. Poor posture adds unnecessary strain to the joints, muscles, and ligaments, which can lead to more serious injury later on.
When lifting equipment, teach your employees the following tips:
Have a firm grasp on the object before lifting.
Maintain a wide stance and get close to the object before you need to lift.
Never bend at the waist in order to lift objects low to the ground.
When needing to lift low objects, bend with your knees and hips – your legs should do most of the work.
Get help when lifting heavy or awkward objects that you can't lift yourself.
If you have employees responsible for driving or operating machinery, such as jig welders, remind them to:
Not extend their arms to reach the wheel.
Their knees need to be able to bend and comfortably reach the pedals.
Adjust the height of their seat so that their knees are at the same level as their hips or higher.
Ensure that their back is straight and resting on the back of the seat when driving.
Use a lumbar roll to add support to the curve of the back.
Conduct regular safety inspections
Create inspection forms and checklists to regularly review safety measures and ensure proper procedures are in place to prevent injury and accidents. Inspections also help identify hazards that you may have missed previously, such as loose wires, blocked exits, or poor lighting.
Then, make sure team members, supervisors, and health and safety committees conduct inspections regularly. Depending on the time of the week and the day, you may also have different inspection checklists.
To learn more, check out this Oregon OSHA video on safety and hazard inspections:
Take breaks
Injuries are more likely to occur when employees are tired, less focused, and unable to adequately observe safety hazards. Additionally, repetitive actions and activities can lead to fatigue, especially when handling machines. By ensuring everyone takes regular breaks, you can help employees remain alert when on the clock.
💡 Pro Tip:
Consider offering your personnel some fun activities in the middle of a long shift, like a 10-minute stretching session or even team-building games. This is another way to provide some rest from regular work routines, relieve some stress, and boost morale.
Communicate with your staff regularly
Consistent two-way communication allows employees to easily discuss safety hazards and concerns with their managers and teammates. They can ask questions, get clarification, and provide feedback. Communication also keeps all staff members up-to-date on new or improved safety measures and can even help maintain employee morale.
That's why it's important to implement an effective communication system, like Connecteam's in-app chat. You can message employees individually or in group chats and send important updates, announcements, and reminders on the company newsfeed.
Discuss safety matters and brainstorm together to develop new manufacturing safety tips and identify problems and hazards. Ask your employees for input, and be sure to reward them for their winning ideas with digital badges or redeemable points for gift cards.
Automate Workplace Safety Efforts With an All-In-One Employee Management App
Manufacturing companies use Connecteam to increase safety standards and awareness, streamline daily processes, boost communication, improve compliance, and optimize training.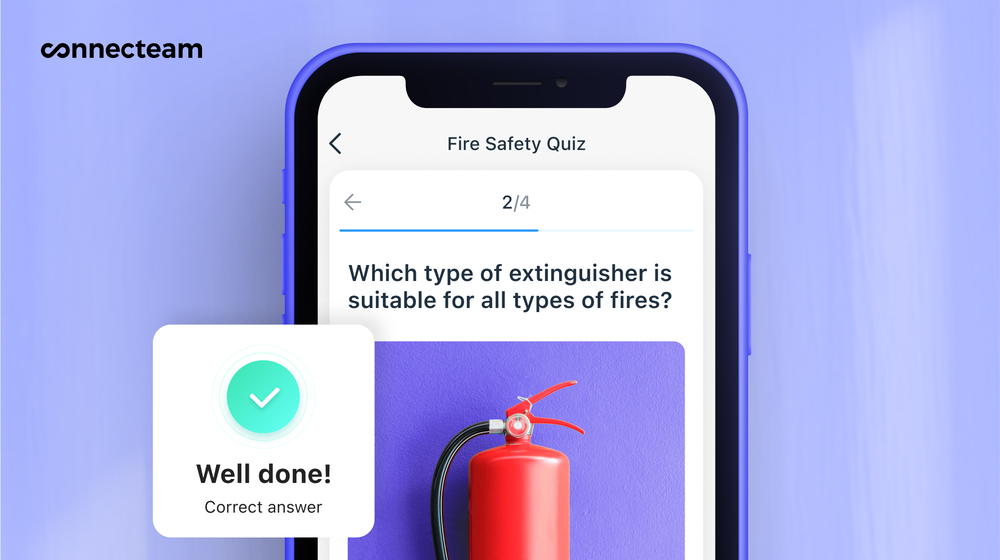 Here's a quick look at how Connecteam can help promote manufacturing safety guidelines:
Quick and easy reporting makes it easier for all employees to report safety hazards in real time for further evaluation and response. Reports can include:


Safety hazard observation
Incident report
Vehicle accident report
Safety inspection checklist
Expense reimbursement
Visitor request form
And so much more
Connecteam offers a free-for-life plan for companies with up to 10 employees, and pricing starts at just $29/month for up to 30 users.
Want more great articles straight to your inbox? Subscribe Here ⤵