The United States had as many workers in the manufacturing sector in December 2019 as it did 69 years ago. Even with the growing numbers, manufacturers of all industries face common challenges: time tracking, accurate payroll, communication, scheduling, operational workflows, safety training, and onboarding to name a few. Not to mention, a mix of complex products, global expansion of operations, and outsourcing all of which need manufacturers to approach quality management in a different way and with manufacturing software solutions.
Automated technology, mobile apps, and IT-powered solutions are leading to an "Industry 4.0. From Big Data" and manufacturing is undergoing a technological transformation that will only enhance productivity and safety.
To truly take advantage of this growing trend, manufacturing managers and owners are making the switch to manufacturing software solutions. The software for manufacturing companies offers a helping hand during all phases of the production cycle: time tracking, job scheduling, inventory, accounting, and even enterprise resource planning (ERP).
As such, we created a list of the best manufacturing software to effectively usher you into this industrial, technological era.
8 Best Manufacturing Management Software Solutions
Connecteam is the best manufacturing software as it offers an all-on-one mobile-first solution to efficiently manage your organization from anywhere. Connecteam offers all the tools you need to communicate with your team, schedule shifts, track time, and organize and grow your business even if your team is deskless
Manufacturing companies who use Connecteam on a day-to-day basis told us about the main benefits of Connecteam to their business:
Raising the bar on safety:

provide employees with necessary information and safety resources, safety protocols,

ongoing safety training

, and most importantly real-time safety reporting.

Targeted communication to reach every worker:

From logistical and operational communication, all the way to engaging updates, Connecteam's

manufacturing management software

offers

advanced communication features

like chat groups and channels, real-time push notifications, updates directly to your employee's mobile phone, employee directory, and more.



Simplified time tracking and payroll: Easily track work hours, send automatic reminders to ensure employees are clocking in and out in and out, vacation and sick day requests, view timesheets, and more.
Onboarding new hires and training:

quickly and efficiently

onboard new workers

and get them up to speed. With read and sign forms and training, your team has

a structured onboarding

experience that is simple yet effective.



Compliance through 'read and sign' forms:

Connecteam helps manufacturing companies to ensure all employees are compliant through digital 'read-and-sign' forms, such as employee handbook, uniform agreement, sexual harassment policy, and others.

Sending and receiving reports and forms in real-time from the floor:

day-to-day operations are a core function of a manufacturing company. Connecteam's checklists & reports help remove friction from daily activities and automate information flow. Popular examples include safety inspection checklist, safety hazard observation, maintenance tickets,

COVID-19 daily health declaration report,

and more.



SOPs and company protocols available

: from the employee handbook to important company protocols, making all the information available and searchable for the entire team.
Price: Connecteam's manufacturing management software is easily the most affordable solution. Instead of paying for each user, it offers a fixed monthly fee starting at just $39/month for up to 50 users. Or you can commit to the free plan after your free 14-day trial is up.
The best choice for shop floor operations
From raising the bar on safety, effective and streamlined communication, time tracking with GPS, receiving reports from the floor in real-time, training, compliance, and so much more. You can have it all in one place, start for free!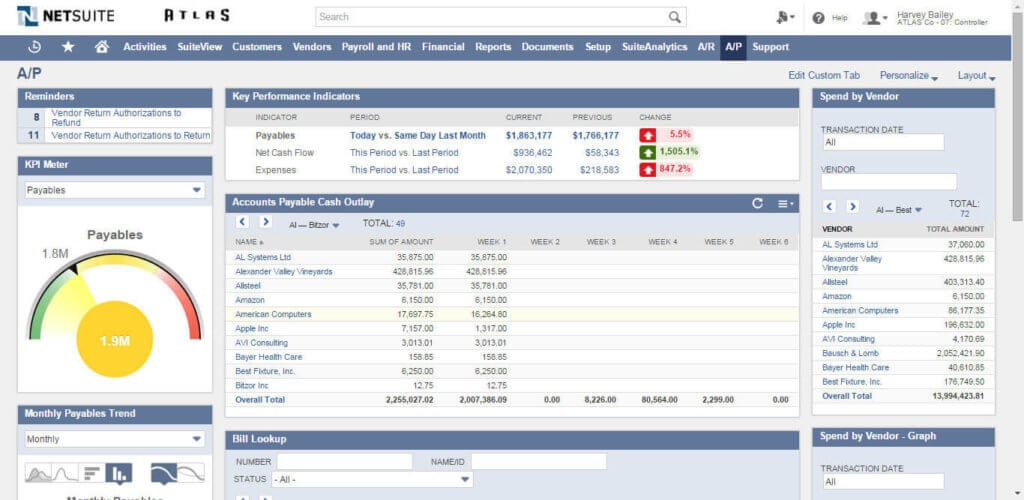 NetSuite's manufacturing cloud ERP is a robust solution that keeps the modern manufacturer in sync. The software is agile so it can support your business needs as no two companies are the same. In addition, it offers a global ERP to support you from anywhere and caters to various f manufacturing businesses, from consumer goods to medical devices.
Netsuite offers the following product features:
CRM

Product data management

Order management

Planning and scheduling

Procurement

Production control

Supply chain management

Shop floor control

Quality management
Price: Pricing is based on company size, but NetSuite's base license costs $999/month with access costs of $99/user/month.
Global Shop Solutions is a family-owned ERP system company. This particular solution focuses on the heavier industries, including machine building, aerospace, plastics, rubber, wood manufacturing, and more. You are able to mix and match tools to suit your business needs.
Global Shop Solutions offers the following helpful features for manufacturing businesses:
CAD interface

Inventory

Job costing

Product configurator

Shop floor management

Quality control

CRM

Company messaging

Advertising
Price: Pricing is available upon request.
Prodsmart is a leading manufacturing execution system software (MES) and its goal is to connect machines, people and processes.
Here are some top features available on Prodsmart:
Real-time data and reports

Visualize workflows

Planning and manufacturing resource planning (MRP)

Scheduling and time tracking

Quality management

Comprehensive audit preparation

Employee communication
Price: Pricing plans start at $199/month per manager for a minimum of three managers. There is also a 14-day free trial. Additionally, custom enterprise solutions are available.
Manage projects and maximize efficiency with your workers when you sign up for Hubstaff. Hubstaff is available on desktop and any mobile device so you can streamline operations.
The following are the features Hubstaff offers for manufacturing companies:
GPS time tracking

Automated payroll

Automatic daily time cards straight to your email

Simple invoicing

Workforce management software

Project and budget management

Job scheduling with alerts for missed, late or abandoned shifts
Price: There is a free plan with basic capabilities for one user and advanced plans start at $7/month/user. There is a 14-day free trial.
Fishbowl Manufacturing is an ERP solution that is suitable for small and medium-sized businesses. With Fishbowl, you can handle advanced work orders, manufacture orders, bills of materials, and other tools needed to maximize efficiency in the production process. From simple or more complex manufacturing needs, Fishbowl Manufacturing has the features available.
These are the top features available:
Automated custom, batch, and repair work orders

Work order instructions

Lot tracking and serial number tracking in work orders

Multilevel bill of materials

Bill of materials costs

Available to build calculations

Manufacture order to purchase order functionality

Order management

QuickBooks & Xero integration
Price: Pricing is available upon request. There is a 14-day free trial.
JobBOSS is an ERP platform that offers many features for any manufacturing team size. The features available are all made to increase process efficiency and save time.
JobBOSS offers the following features:
Order processing

Inventory management

Cost analysis

Optional add-ons: quality control, scheduling, and accounting

Integrates with QuickBooks and Sage 50
Price: There are three pricing plans: Core, Premium, and Enterprise. Speak with the sales team to learn more about the pricing of each plan.
uniPoint is actually a frontrunner in the field of quality management software for manufacturing companies. It offers ERP-integrated QMS that works well in industries like medical, food and beverage, automotive, chemical, and so on. UniPoint's diverse tools are spread amongst three modules: core, add-on, and web, all of these can help your company automate quality control.
These are some of the robust features available on uniPoint:
Non-conformance

Corrective and preventive action

Document control

Reduce costs

Ensure compliance

Add-on modules: inspection, auditing, health and safety, and validation
Price: Pricing is available upon request.
Choose the best manufacturing software solutions
Manufacturing software solutions are revolutionizing the manufacturing industry in the United States and lead to massive growth in production and more, thanks to innovative methodologies, solutions, and tools.
Whether it's time tracking, job scheduling, shop floor management, communication, reports, accounting, or anything else, manufacturing software solutions can take your business to the next level. The software for manufacturing companies we listed above are a great way to boost production output and effectiveness and engage your workforce.
Scale your manufacturing business with Connecteam
Effectively manage projects and maximize efficiency with Connecteam's all-in-one solution. From easy time tracking, increased safety and awareness, reports in real-time from the shop floor, accurate payroll, streamlined communication, and so much more – you can do it all on Connecteam. Talk with a Connecteam expert to learn more about how our app can help streamline your operations.
Get started for FREE