Even post-pandemic, the manufacturing industry, especially in the United States, is in demand. Big demand.
But even that doesn't make any of the usual challenges any easier. Unless you're using manufacturing management software that is.
See, the best manufacturing management software solutions offer a helping hand during all phases of the production cycle:
time tracking

job scheduling

inventory

accounting

and even enterprise resource planning (ERP).
As such, we created a list of the best manufacturing software to effectively usher you into this industrial, technological era.
10 Best Manufacturing Management Software Solutions
Connecteam is the best manufacturing software as it offers an all-on-one mobile-first solution to efficiently manage your organization from anywhere. It's easy to use (even if your team isn't so tech-savvy), has the best customer support around, can scale with your company, offers various features, and is highly affordable. Win!
Manufacturing companies who use Connecteam on a day-to-day basis told us about the main benefits of Connecteam to their business. From automating tasks to accurately pulling timesheets for payroll (that integrates with Quickbooks Online) to enhancing engagement and building a more efficient scheduling and dispatching process. And that's just scratching the surface.
Key Features:

Pricing:
#1 Choice For Shop Floor Operations
Free 14-day trial, no CC required!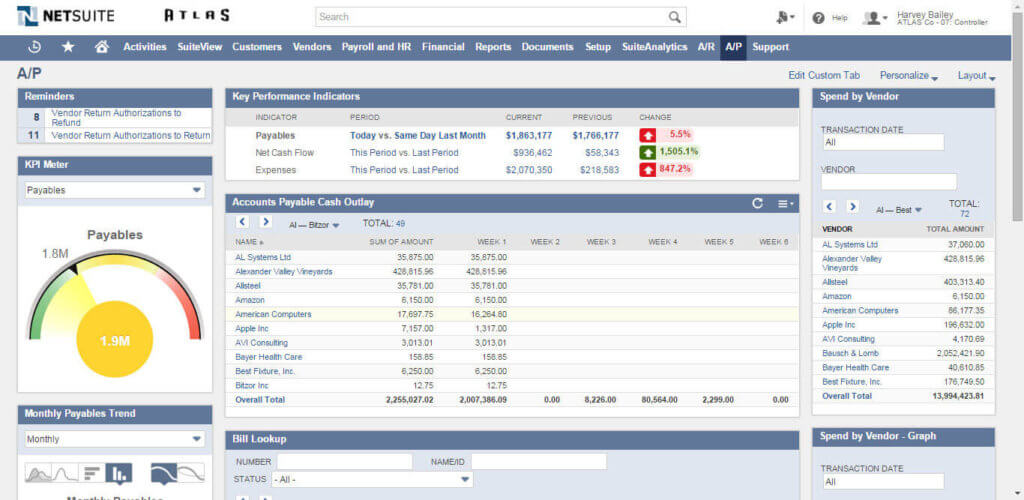 NetSuite's manufacturing cloud ERP is a robust solution that keeps the modern manufacturer in sync. The software is agile so it can support your business needs as no two companies are the same. In addition, it offers a global ERP to support you from anywhere and caters to various manufacturing businesses, from consumer goods to medical devices.
Key features:
Pricing:
Global Shop Solutions is a family-owned ERP system company. This particular solution focuses on heavier industries, including machine building, aerospace, plastics, rubber, wood manufacturing, and more. You are able to mix and match tools to suit your business needs.
Key Features:
Pricing:
Prodsmart is a leading manufacturing execution system software (MES) and its goal is to connect machines, people, and processes. It makes it easy to keep an eye on processes from order to shipping so you can focus on larger, big-picture tasks. Scheduling is a big help, as it focuses on teams, machines and materials.
Key Features:
Pricing:
Manage projects and maximize efficiency with your workers when you sign up for Hubstaff. Hubstaff is available on desktop and any mobile device so you can streamline operations. It allows you to GPS time track and automates payroll in just a few clicks so you have total transparency on time spent on jobs and projects.
Key Features:
Pricing:
Fishbowl Manufacturing is an ERP solution that is suitable for small and medium-sized businesses. With Fishbowl, you can handle advanced work orders, manufacture orders, bills of materials, and other tools needed to maximize efficiency in the production process. From simple or more complex manufacturing needs, Fishbowl Manufacturing has the features available.
Key Features:
Pricing:
JobBOSS is an ERP platform that offers many features for any manufacturing team size. The features available are all made to increase process efficiency and save time.
Key Features:
Pricing:
uniPoint is actually a frontrunner in the field of quality management software for manufacturing companies. It offers ERP-integrated QMS that works well in industries like medical, food and beverage, automotive, chemical, and so on. UniPoint's diverse tools are spread amongst three modules: core, add-on, and web, all of these can help your company automate quality control.
Key Features:
Pricing:
With DEAR Systems, you have a 360-degree view of all of your production costs and inventory so that making business decisions is more strategic. You can look into matters like pricing strategies or loss reduction practices. Plus, you can estimate costs, address production issues, and more is possible on this Cloud ERP software.
Key Features
Pricing
With Fulcrum, you are able to rely on data to make smart business decisions, can schedule your staff, have access to live production tracking, workflows, and purchasing capabilities. All of this is designed so you can focus on what matters instead of drowning in mundane tasks of running your company.
Key Features
Pricing
Frequently Asked Questions About Manufacturing Software Solutions
What Challenges Can MAnufacturing Software Solutions Handle?
Manufacturers of all industries face common challenges and this is where the best manufacturing software solutions come in.
For example:
time tracking and accurate payroll

communication

dispatching and

scheduling

operational workflows

onboarding
Are Manufacturing Software Solutions Expensive?
Some of the best manufacturing software solutions are really quite affordable, but it all depends on the solution you choose.
For example, the Connecteam manufacturing software solution is incredibly affordable as it's a fixed price for up to 50 users. After that, you pay per user to add on.
Are The Best Manufacturing Software Solutions Hard to Use or Implement?
Similiar to the pricing question, it all depends on the manufacturing management software solution that you use. Some will be easy to implement and easy to use while others have a long learning curve. Only by understanding what features are critical for the software to include can you start to narrow down a list of the best manufacturing software solutions.
Going Forward, Choose the Best Manufacturing Software Solutions
Manufacturing software solutions are revolutionizing the manufacturing industry in the United States and lead to massive growth in production and more, thanks to innovative methodologies, solutions, and tools. Whether you're starting a manufacturing business or have been around for years, it's critical that you're using a digital tool.
Whether it's time tracking, job scheduling, shop floor management, communication, reports, accounting, or anything else, manufacturing software solutions can take your business to the next level.
The software for manufacturing companies we listed above is a great way to boost production output and effectiveness and engage your workforce.
Scale Your Manufacturing Company With Connecteam
Effectively manage projects and maximize efficiency with Connecteam's all-in-one manufacturing solution.
Get started for FREE