Table of contents
The company
Many companies claim to "revolutionize" or "disrupt" their industry but few actually do. Sodastream is one of those unique companies that actually do as advertised.
Speaking of advertising, they're the ones with the Superbowl commercial that exploded containers of carbonated beverage bottles. If you still haven't seen their online viral campaign, the third in the series of "F**k Plastic Bottles", well, you should. The Youtube video stars Hafþór Júlíus Björnsson, the actor who plays "The Mountain" in Game of Thrones and has gained over 50 million views. In the video, Björnsson isn't very happy with careless use of plastic bottles and listens to dolphins crying.
Sodastream was founded over 100 years ago but until the early 1990s, Sodastream was just another small manufacturing company. They had a very nice, yet niche, operation selling a simple and affordable way to turn tap water into flavored sparkling water. However, their regular customers that were getting older and they were unable to grow with younger audiences.
At the same time, "sustainability" and "ecological footprint" were becoming global hot topics. Sodastream quickly realised that they were actually producing a sustainable way of drinking carbonated beverages.
Not only that, using Sodastream, consumers can control how much sugar they add to their carbonated beverage. So place two giant check marks on on two of the biggest concerns facing consumers today.
A rebranding and product redesign was quick to follow and the rest is history. Sodastream is now leading the food & beverage industry in the manufacturing of green and sustainable beverages, which saves an average of 550 bottles per user per year.
The challenge
However, with success come challenges, and overcoming those means change. Sodastream has had to rapidly increase its workforce while trying to keep up with growing demand.
For most small business owners this is the dream scenario. The one that ends with you on a yacht in the Caribbean. However, Sodastream were quick to realize that what worked before is not likely to work now. They needed to adopt a new company culture and push forward an operational shift.
The thing is, that when you manage 20-30 employees, fundamental shifts in company culture and procedures can be rapidly deployed and adopted throughout the entire workforce. On the other hand, large manufacturers suffer from an inability to create and manage effective, meaningful, and sustainable communications with their deskless workforce.
How do you create a fast and effectively way to deliver company policies to all your employees? How do you manage daily changes in operational tasks and workflows and communicate those to relevant employees? How do you provide on-the-job training? How do you make sure employees are aware and complying with safety regulations?
For a manufacturer that wants to sustain and manage growth answering these questions is mandatory.
Since Sodastream, naturally, wants to experience continued growth, they decided to dive deeper into their employee communications strategy and discover more specific and acute problems:
The Sodastream manufacturing floor staff is diverse and communicates in three different languages: Arabic, Russian, and Hebrew. So, in addition to the regular difficulties managers have communicating with deskless employees, there is also a language barrier that is difficult to negotiate, which exacerbated the employee engagement problems they face.
Manufacturing floor employees don't have access to emails.
The way managers communicated with work floor employees is through a plain, old fashioned, bulletin board. This method offers no accountability and compliance measurements, and leaves managers in the dark.
Due to low industry wide employee retention rates, Sodastream experienced a loss of their best human capital, while at the same time, experienced a recruiting influx of young and inexperienced workers. The younger workforce was most comfortable communicating using mobile devices, which presented an opportunity for introducing an employee app.
Training new employees is costly because it means employees are off the floor during work hours and it requires extensive maintenance and training budgets.
Sodastream's employee engagement troubles are not distinct. In fact, 26% of manufacturing workers are not happy at their job, and the manufacturing industry as a whole ranks last in employee satisfaction, according to a recent study.
The same study concludes that, not feeling valued by your employer tops the list as the key factor for employee resignation, shortly followed by lack of tools and resources to complete the job, and lack of professional development opportunities.
Employee Engagement
It is at this point that we'll first introduce the term "employe engagement". Recently, employee engagement has been getting more screen time than Donald Trump, well, maybe not that much, but it's quickly become the most debated topic in human resources.
Why is employee engagement so important?
Because, communicating with your employees, whether they are dispersed, deskless, or other, is increasingly difficult, and a "dis-engaged" employee is an ineffective and costly one.
Don't take our word for it though: According to a recent study on the manufacturing industry, engaged employees have a productivity rate that is 70 percent higher than those of non-engaged workers. They also enjoy a 78 percent higher safety record, 44 percent greater profitability, 86 percent greater customer satisfaction, and 70 percent lower employee turnover.
Download your FREE guide on "10 Tips for Engaging Your Frontline Teams" ⤵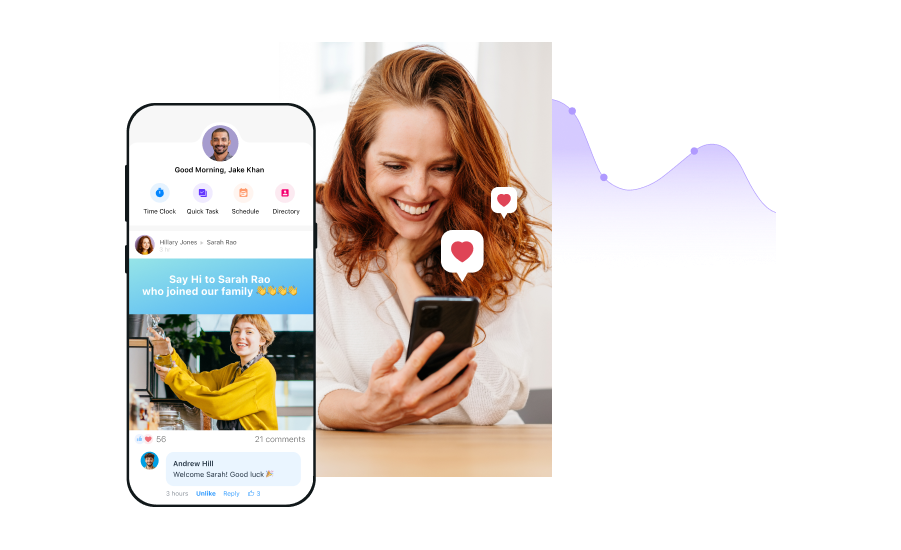 The solution
If you were too busy to read the above and decided to skim on down, then first of all, Hi. Second, let's recap the above real quick:
Sodastream has a deskless workforce that works on the manufacturing floor.
In addition, various languages are used to communicate.
And, high employee turnover rates are very common with a workforce that consists of mostly young Millennials.
Present communication and training difficulties.
The result is a disengaged workforce, and you should care because disengaged workers are 44% less profitable.
So how do we engage a workforce that is seemingly dis-engageable (if that's even a word)? Enter, employee apps. Employee apps allow businesses to engage their workforce using the mobile devices they already use and love.

Using an employee app, a company can create a mobile hub of operations where the workforce can communicate, collaborate, manage tasks, create workflows, and develop training modules for on-the-job training from anywhere – at anytime.
Considering the problems faced by Sodastream, Connecteam's employee app was the obvious solution.
The results
I'll give you the tl;dr – Sodastream have been very successful at engaging their workforce around their employee app. I guess that part is obvious or we wouldn't have written this case study.
So let's get down to it:
Goal: increase employee engagement
Sodastream used Connecteam's employee app to do the following:
Create a company news feed with daily updates including weather updates, daily tips, and more.
Provide updates on the meal of the day at the company cafeteria.
Create "My Department" with modules for:

Professional training
Team building exercises
Outcome:
Employee engagement has gone through the roof. Almost every one of the deskless Sodastream employees has downloaded and logged into their employee app. But it gets better:
93% of Sodastream employees log into the app at least twice a week and engage with the company news feed or access one of the training modules that they have been assigned by their supervisor.
Added Meaning
This is where we repeat how studies have shown that engaged employees are more productive and efficient employees. They stay with your company longer and are happier. However, that really does not need repeating since the connection is very clear.

What is worth mentioning is that it's becoming increasingly easy and cost effective for small businesses to improve their employee productivity and retention in the same ways that larger businesses do and have been doing for some time now using affordable tools like Connecteam. When a large proportion of your workforce is dispersed, mobile, virtual, or deskless, an employee engagement app provides even greater value making engagement that much more challenging but also very rewarding.

Connect your deskless workers with an employee app.
Connecteam makes it easy to run your business. Try it yourself.
Start for free