Employee scheduling is a critical aspect of business management, acting as the bridge between operational efficiency and employee satisfaction. However, even the most seasoned managers can end up making scheduling mistakes.
Not only does this disrupt operations, but can also lead to decreased morale, increased employee turnover, and potential legal complications.
In this article, we'll be going over 6 of the most frequent employee scheduling mistakes and how to solve them.
Managing employee availability manually
Imagine this: You're at work and one of your employees, Joe, approaches you to let you know that they are unavailable to work Monday and Thursday next week. You jot it down in your Notes app on your phone.
The next day, you're in the middle of an important task, and another worker, Kim, calls to say they need to swap shifts the following week due to a family event. You make a mental note and tell yourself that you'll write it down later.
But when it comes time to make next week's schedule, you can't remember which shifts Kim said she needs to switch. Not to mention that you've received many other shift requests from other workers that you simply cannot keep track of.
If this scenario sounds familiar, you're not alone. Keeping track of everyone's availability is exhausting, not to mention incredibly difficult. And without a solid system in place to do so, you're much more likely to end up with scheduling errors.
The solution: Use a digital scheduling system that allows employees to submit their own availability. That way, should have a clear overview of when everyone is available to work when creating employee schedules.
No streamlined management system in place
Without an integrated management system, managers must handle scheduling tasks by hand. Besides creating the schedule, managers also need to track employee hours, manage PTO and shift swaps, and calculate overtime.
Handling these tasks manually not only takes more time than with an automated system, but it results in scheduling errors, resulting in inconsistencies and frustration.
The solution: Look for employee scheduling software that allows you to automate and centralize all of your scheduling processes in one place. It should cover all aspects of scheduling, be easy to use, and help you maximize the full potential of your workforce.
Failing to communicate all job-specific details to employees
When you're managing a team that works from multiple job sites, communication is essential. Creating schedules is only half the battle–the other half is ensuring employees have all shift-specific details they need to do their jobs safely and effectively. Details may include client contact details, technical equipment information, cleaning requirements, customer requests, and directions to specific job sites.
Finding a way to relay this information is crucial. Managers may rely on text messages, emails, or loose pieces of paper, but this can be incredibly inefficient, resulting in misunderstandings, confusion, and a lot of back-and-forth communication.
The solution: Maintain a centralized, online location where you can keep all shift-specific tasks and details. You should be able to update information as needed and employees should be able to access it from anywhere. That way, you don't have to waste time resending information to employees while they're on the job.
Not confirming employees have viewed their schedules
So you've published the schedule, but how can you be sure that everyone saw it? Even if you hang it up in the office or send it out via email, you don't really have a way to confirm everyone has seen it. And once workers start trading shifts, maintaining a clear understanding of who's working when gets even more difficult.
The solution: Have a system in place so employees can accept and reject their shifts. This ensures that they have seen the schedule and agreed to work on their assigned days. It also promotes employee accountability and helps reduce no-shows.
Trading shifts is too complicated
The time-consuming, muddled process of trading shifts leads to scheduling errors and confusion. Not only do employees need to speak to each other, but they need to reach out to you for approval. Then, you need to physically make the change on the schedule. It's a multi-step process that's prone to errors.
However, if you automate the process and allow employees to manage shift trading on their own, it frees up your time and energy to focus on more important tasks. All you need to do is approve their shift swaps.
The solution: Implement a system that allows workers to trade shifts directly from their phones. The system should also notify you so you can approve or deny their requests and automatically update the schedule. 
Insufficient managerial oversight during shifts
Working with deskless employees presents many managerial challenges, including a lack of oversight during shifts. Not only can this leave you in the dark as to what's happening during shifts, but it can also lead to decreased productivity and efficiency amongst your team, inconsistent service, and a decline in team morale.
The solution: Implement an employee management app that sends you real-time notifications when employees clock in and out and complete tasks. You should be able to communicate with workers from anywhere and send them questions and updates. This assures you stay on top of employee progress and provide feedback as needed.
Introducing Connecteam: Your All-One-Solution to Employee Scheduling and Team Management
If any of these common scheduling mistakes sound familiar, you're not alone. Creating shift and job schedules is incredibly complex. Doing so requires you to balance multiple factors like employee availability, skill sets, and personal preferences against business demands and legal regulations.
And of course, last-minute schedule changes and illnesses further complicate the process.
Fortunately, Connecteam's all-in-one employee scheduling app streamlines, automates, and simplifies the entire scheduling process. Here's how:
Intuitive drag-and-drop scheduler makes scheduling easy
With the shift scheduler, you can easily assign shifts based on employee qualifications, preferences, and availability. You can also use pre-made scheduling templates to make the process even faster or create your own. Or, create and automatically assign recurring shifts.
Scheduling errors are reduced or eliminated
Connecteam has automatic shift conflict alerts that let you know immediately of any scheduling errors. This helps you reduce labor costs by avoiding double scheduling, assigning the wrong employee to a shift, or assigning an employee who's scheduled for PTO.
GPS time clock and geofencing tools help provide better oversight
The GPS-enabled time clock lets employees clock in and out directly from their mobile phones from wherever they're working. Additionally, GPS location tracking captures employees' locations when they do so. That way, you can be sure no one is getting paid for work when they aren't on the clock.
Employees can trade shifts themselves
With just a click of a button, employees can request shift swaps directly from the Connecteam app, and you can approve or deny them.
Once you approve a shift swap, the app automatically updates the schedule and sends push notifications to anyone whose working hours or days have changed.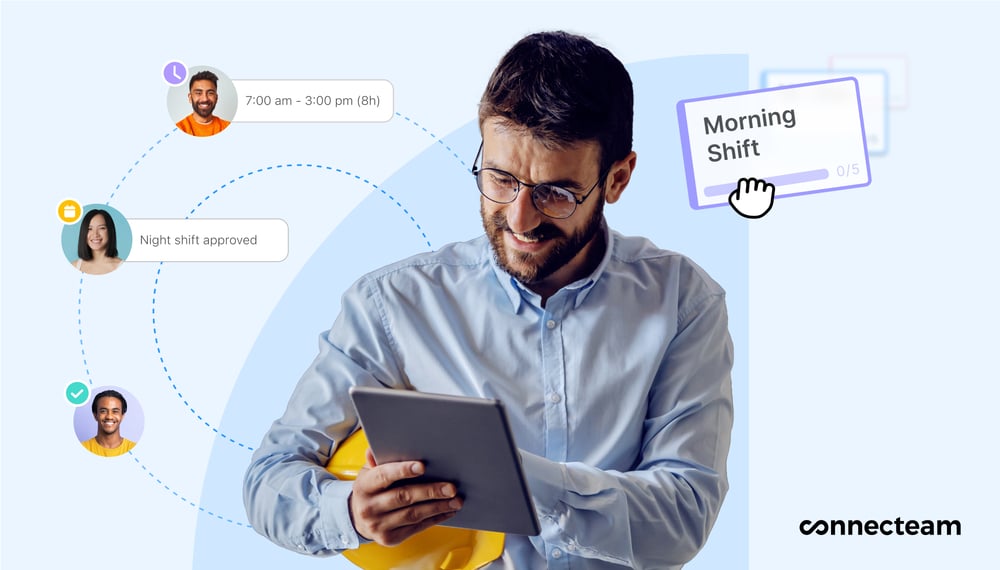 Include all the shift-specific details you need
Add all shift-specific notes, images, forms, and checklists with each shift. Employees will see the information as soon as they clock in so they know exactly what's expected of them. You can also check in with their progress throughout their workdays.
Communication tools to remain updated with your employees
Remain connected with your entire team with Connecteam's in-app chat feature. Employees can message each other privately or via group chats, ask and answer questions, and share files. You can also share important updates and announcements on the company newsfeed.
>>Get started with Connecteam for free today!<<
Create Error-Free Schedules Every Time
Creating schedules is a complex, cumbersome task. It's difficult to keep track of everyone's availability and job sites, and it's incredibly easy to wind up with scheduling errors.
Fortunately, most scheduling mistakes can be avoided with the right software. Employee scheduling apps, like Connecteam, make it easy to streamline the process and free up time so you can get back to doing more important tasks to run your business.
Want to Receive More Great Articles Straight to Your Mailbox? Subscribe Here ⤵