Your exclusive hospitality management suite
Effortlessly manage your entire hotel team and streamline daily operations with Connecteam's hospitality management app.
We help the best hospitality businesses keep their staff engaged, connected, and aligned
It all starts with smart scheduling
Create schedules covering your 24/7 operations based on staff qualifications and availability
Reduce absenteeism with notifications and employee shift confirmations
Save time and effort with templates, open shifts, and self-service shift replacements
Communicate expectations by adding shift information like tasks and checklists
Simplify employee timekeeping
View employee arrival times and quickly spot absences with clock-in notification
Prevent buddy punching with user logins and verification options
Streamline payroll with accurate, exportable digital timesheets and integrations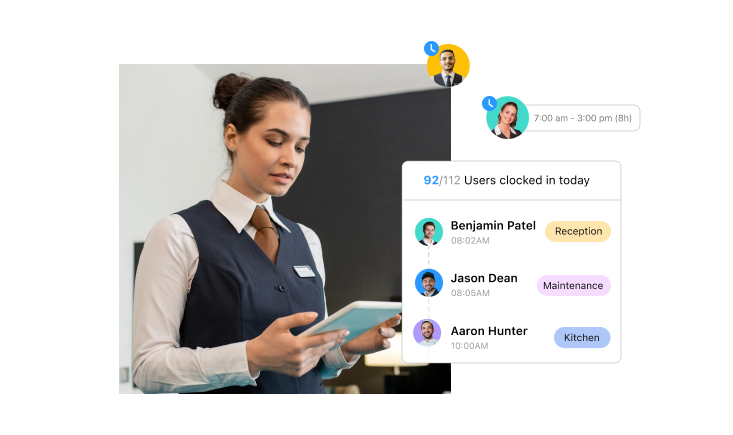 Using an employee management app in numbers
0

%
Greater productivity among new hires
0

%
Higher guest satisfaction
0

%
Decrease in absenteeism
Five-star internal communication
Instantly connect with your entire workforce using a hospitality staff app
Share company-wide as well as department-specific updates to your social feed
Reach all the right people with chat groups based on position, department, or shift
Streamline hotel operations
Simplify daily workflows and gather real-time insights with digital forms and checklists
Eliminate data entry errors and delayed access to vital information, improving decision-making
Provide employees and managers with easy access to forms from their mobile phones
Assign detailed tasks on the fly and receive instant notifications when completed
Get Connecteam 100% Free for Up to 10 Users!
Small Businesses Think BIG
Explore hospitality best practices
Connecteam's hospitality app is the perfect tool to manage your hotel staff. With Connecteam, you can communicate with all employees, save time on employee training, reduce costs for daily operational procedures, and take your guest experience to the next level. With easy-to-use hotel concierge software, hotel staff can have everything needed to provide valuable information to any guest while being able to report and communicate back to hotel management immediately and on any matter. With Connecteam's hospitality app, your employees will be able to fill daily checklists, open maintenance tickets from anywhere, report live on any guest request, view hotel activities and agenda, and so much more. But that's not all, as a world-leading employee app, with Connecteam you can do much more, like employee scheduling, time tracking, employee engagement and many more great features that will make your hospitality app feel like home. Connecteam's hotel concierge software starts at just $39/month for up to 30 users! Start with the free plan today to discover everything the Connecteam's hospitality app has to offer.