St. Patrick's Day is celebrated in the United States on March 17, the anniversary of the death of Saint Patrick (the patron saint of Ireland) in the fifth century. It celebrates Irish culture and the legacy of Saint Patrick. It's not a federal holiday and many businesses aren't closed for the day. Nevertheless, there is a long tradition of celebrating the day with green beer, green clothing, and festivities. A St. Patrick's Day office party lets you celebrate with your staff. It can also be a fun way to give your team something to look forward to. Here are some things to keep in mind if you want to plan a party.
Why Throw a St. Patrick's Day Office Party?
There's no law saying you have to mark the day in any way at your organization. Still, you may want to celebrate for a few reasons.
It's inclusive. St. Patrick's Day is a non-denominational holiday that can include everybody. If you want to celebrate a holiday but don't want to exclude anyone because of their religious beliefs, St. Patrick's Day is a great option.
It's fun. St. Patrick's Day is a fun holiday where people can relax and even be a little silly. People often wear oversized hats and lots of green, as large hats are connected to leprechauns, a folklore creature from Ireland, and green is a color heavily associated with Ireland. St. Patrick's Day can also involve parades and light-hearted celebrations.  
It can help build camaraderie and company culture. Having a chance to socialize at a St. Patrick's Day party is a great way for your team to get closer and to get to know each other. Photos from your St. Patrick's Day celebrations can become part of your company history, while any unique celebrations, decorations, or games you create for the holiday can help you build company traditions that can be passed down from year to year.
It can make employees happier. Your team works hard all year long, so a St. Patrick's Day party can be a nice way for people to enjoy some time doing something fun. It can put a smile on workers' faces. It also shows you care enough about your employees' well-being to do something special for them (like throwing a party).
It can build your employer brand. If clients and customers see you celebrating St. Patrick's Day or if you post pictures of your celebrations on social media or on your company website, it can show that you're a great company to work for. It demonstrates that your workplace allows employees to take some time to celebrate something fun. This can help you attract and retain talent.
St. Patrick's Day Office Party Ideas
So, what are some ways you can mark St. Patrick's Day?
Go green
St. Patrick's Day is traditionally celebrated with the color green. Saint Patrick was also associated with the shamrock, which he used to explain
the idea of the Holy Trinity
. Although St. Patrick's day today is a non-denominational holiday celebrated by people of all faiths and backgrounds, these religious roots are the reason you see shamrocks in St. Patrick's Day decorations. You can decorate your workplace with green and shamrocks or even turn your social media and website green for the day. You can ask your workers to show up in green or provide them with Shamrock pins or stickers they can wear throughout the day. Use
Connecteam chat
to share pictures of shamrocks and quotes from Irish writers. Online chats can be a great way to include everyone in your celebrations, including deskless and remote workers.
Share a meal together
Many restaurants, museums, art galleries, bars, and other venues have spaces where you can celebrate St. Patrick's Day together. These can be great places to share a meal. You can also have food catered into the workplace. One option is to eat Irish food together. Traditional foods such as Irish soda bread, corned beef and cabbage, beef stew,
boxty
, bacon and cabbage,
coddle
, and other treats can be fun, and may even introduce your team to foods they don't usually eat.  If you do decide to feast on Irish food together, take dietary requirements and allergens into consideration. If some of your employees are vegetarian, for example, then you should offer meatless dishes. You should also display the ingredients of each dish in case anyone has allergies. 
Celebrate Irish workers and culture
If you're looking for a unique and meaningful way to celebrate St. Patrick's Day, why not celebrate Irish workers and culture? They are part of the story of America. Irish immigrants have traveled to America since colonial times, with
Charles Carroll
, the grandson of an Irish immigrant, being one of the signers of the Declaration of Independence. People from Ireland immigrated to America throughout the 1800s, especially following the Irish Potato Famine of 1845-1852. While many of these newcomers faced discrimination, they played a major role in the building of the nation's railroads and canals, and should be celebrated.  You might want to share the stories of some
famous Irish-Americans
, including President Kennedy (who was proud of his Irish roots), actor Maureen O'Hara, activist Mother Jones, and others online. Celebrating Irish culture and Irish Americans as a team lets you learn together.
Have a cèilidh
A
cèilidh
(pronounced kay-lee) is a traditional social celebration in Ireland and Scotland. It includes food, songs, and dancing. You can create your own by playing Irish music in your chosen venue, serving traditional Irish dishes, and even trying some
Irish dance moves
together.
Take part in local St. Patrick's Day activities
Many cities have St. Patrick's Day parades or other big events. Your company can create a float or march in the city parade. It's a fun activity you can plan for together and it helps your community become familiar with your organization, making it a great way to promote your business to others.
Engage in some leprechaun fun
Leprechauns are part of St. Patrick's Day traditions. They're also part of Irish folklore, where they're described as small, mischievous supernatural beings. These creatures are thought to be a bit greedy, and are said to hide their gold coins at the end of rainbows so no one can get at their treasure. Plenty of St. Patrick's Day décor and symbols include the leprechaun. You can create little leprechaun jokes by drawing tiny footprints in your office for St. Patrick's Day. You can also hand out chocolate gold coins or put puns and riddles online for your team to enjoy.
Download your FREE guide on "10 Tips for Engaging Your Frontline Teams" ⤵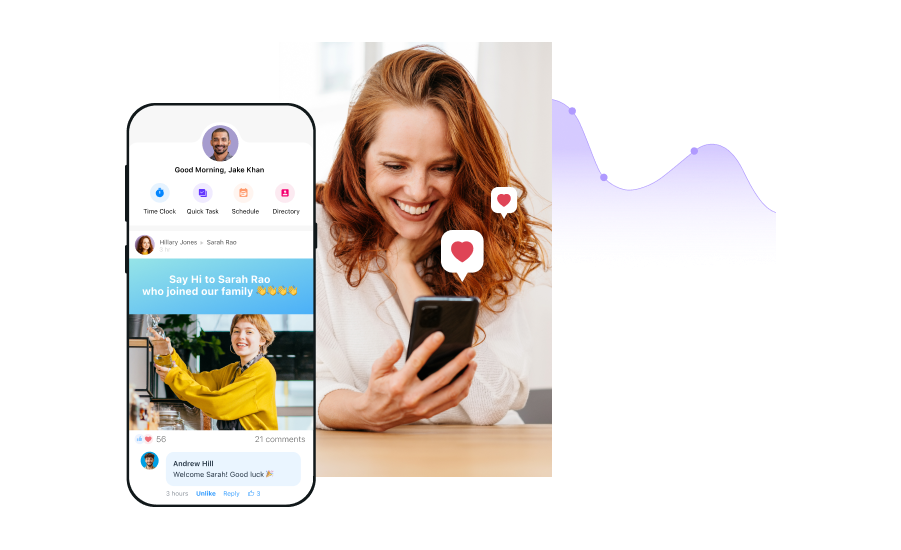 How To Organize Your Saint Patrick's Day Office Party
Start planning early. Begin with
Connecteam surveys
to find out whether your employees are interested in a St Patrick's Day party and what they would like to do. Keep in mind that not everyone may want to celebrate the holiday. While it's commonly celebrated in America, you may not just have workers from the US at your company. You want to make sure everyone is comfortable with the idea of a St. Patrick's Day office party. If there is interest, ask for volunteers who can organize the logistics of the event. Give them a deadline and a budget to work with. Have them book a venue or arrange for food, and make sure you decide on any kind of theme or decorations well in advance so you can order anything you need.
Best Practices for Your St. Patrick's Day Office Celebrations
While St. Patrick's Day workplace parties can be a lot of fun, there are a few HR challenges that can come up. Here's how to tackle them.
Alcohol. Green beer and Irish whiskey are traditional parts of many St. Patrick's Day celebrations outside of work. In the workplace, alcohol can lead to unpredictable behavior at your party and can make your organization liable for injuries and accidents, too. It can also make your festivities uncomfortable for anyone who is in a recovery period. Instead, serve green soda and other green non-alcoholic drinks.
Cultural sensitivity. While St. Patrick's Day is a celebration of Irish culture, some of the traditions can be uncomfortable for someone who is actually Irish. People might try fake Irish accents or wear T-shirt slogans that might be offensive. Before your party, you may want to set some ground rules about what is and isn't appropriate.
Kissing traditions. A common slogan seen on St. Patrick's Day hats, stickers, T-shirts, and other clothing items is "kiss me, I'm Irish." Some slogans are even more graphic. These are inappropriate for the workplace, as they could make your employees feel uncomfortable. Again, setting some ground rules for what clothing and decor is and isn't appropriate can help here.
Inclusion. If you're throwing a St. Patrick's Day office party, be sure to include everyone at your workplace. Send out invitations to your whole team and allow them to choose to either take part or not participate. If you have mobile or remote workers, include them too. This may mean creating an online festivity that anyone can take part in. It can also mean ensuring that any in-person party is held at a time when everyone can take part.
You Don't Have to Be Irish to Throw a St. Patrick's Day Office Celebration
St. Patrick's Day office parties can be a great way for any organization to have fun, unwind, and build great memories that contribute to the
company culture
. Whether you choose to wear green, celebrate Irish culture, or share a meal together as a team, a little planning can create an inclusive party everyone can enjoy.