Employee resignations are a normal part of business but can be prevented with the right strategies. We look at 6 reasons employees quit and share tips on how to retain your best workers. 
Table of contents
The last few years have seen a surge in voluntary employee exits—a phenomenon known as the Great Resignation. Losing your top talent isn't merely disappointing; it can also have serious consequences. High turnover can hamper productivity, affect team morale, damage your reputation with customers, and so much more. That's why you need to do everything you can to retain your top workers.
To develop a good retention strategy, though, you must understand why good employees leave in the first place. Otherwise, you'll spend time, money, and effort trying to fix the wrong issue. For instance, offering better pay isn't the right solution if your employees feel overworked. You'll need to hire more employees or offer additional support to ease their workloads.
In this guide, we look at 6 reasons why good employees quit and share strategies you can use to prevent turnover.  
Key Takeaways
The last few years have seen a rise in the voluntary quit rate in the US—meaning preventing turnover is more crucial than ever.
To prevent or resolve employee turnover issues, you need to get to the root of what's causing your workers to leave. You can do this by conducting surveys and having regular check-ins with your employees.
Pay dissatisfaction, bad managers, a lack of recognition, and employee burnout are some of the leading causes of employee exits 
Consider offering workers better benefits, flexibility, and timely feedback to keep them driven in their roles and loyal to your company.
6 Reasons Good Employees Quit & What to Do to Prevent It
Many managers feel confused about why good employees quit despite the company's retention efforts. Often, this is because companies aren't identifying the right issues or resolving them properly.
Below, we've outlined the top reasons great employees leave their jobs. We also share tips to address these concerns so you can proactively prevent high employee turnover and its costs.
Reason 1: They're dissatisfied with their compensation
Problem
With the rising cost of living, compensation plays a significant role in employee satisfaction and retention. In fact, Pew attributed 70% of voluntary quitting to workers being unhappy with their pay. Good employees who are dissatisfied with their pay are more likely to move to a company or start a business with more upside in compensation.
Adding to this problem is the looming economic downturn. Many companies have had to work with lower compensation budgets, keeping salaries flat and cutting back on bonuses. This has pushed many workers to look for positions elsewhere.
Solution
Paying workers even slightly above market is a great way to retain them. You can do this by offering a higher base salary or hourly wage or providing cash incentives.
You could also consider offering workers better benefits if cash increases aren't an option. For instance, some employees would find a great health insurance plan highly appealing and prioritize it over a salary increase. Similarly, in this economic uncertainty, workers could also value benefits like rent subsidies and higher employer 401k contributions. 
Finally, companies with tighter budget constraints can still provide employees non-monetary benefits. Consider offering PTO (paid time off), mental health days, and flexible work arrangements to keep your top performers engaged and loyal to your company.
Reason 2: They're unhappy with their growth and career advancement
Problem
In a recent study, Pew found that a lack of career advancement opportunities was among the leading reasons for voluntary exits. Today's employees want to work for companies that support career goals and provide better growth opportunities. Otherwise, they'll likely move to a company with a better professional development program.
Solution
A LinkedIn report found that 94% of employees would stay in their jobs if they had better training and development opportunities. Provide employees with regular training and access to helpful resources and guides so they're well-equipped to do their jobs successfully. You can even consider offering a fixed training budget to each employee and letting them choose their own courses. 
Additionally, offer training to help your best workers upskill and cross-skill. This could be through online or in-person training or even job shadowing. They'll appreciate the opportunity to learn, and you can benefit from closing existing skills gaps in your company.
Finally, set workers up with a mentor, buddy, or coach. This is a great way to provide them with additional support and see a path for growth at your company. They can get career guidance from more experienced colleagues and ask questions they may not be comfortable asking you or other managers.
Reason 3: They're disengaged and are experiencing a lack of purpose
Problem
Gallup recently reported that only about a third of US employees are engaged in their jobs. Disengaged workers are more likely to underperform, create a negative work environment, and ultimately quit their jobs.
A big driving factor behind disengagement is a lack of purpose. This can stem from multiple factors. Some workers are simply bored or unfulfilled in their roles, while others can't relate to the company's mission or don't understand how their work contributes to company goals. And some want their jobs to be more meaningful and help make the world a better place.
Without a clear sense of purpose, team members feel disconnected and unmotivated—causing employee engagement levels to drop and workers to seek employment elsewhere.
Solution
Conduct regular check-ins and roll out pulse surveys to ensure your workers are satisfied in their roles.
Where employees aren't feeling challenged, consider providing them with more stimulating work. For instance, you could move them to another role at the same level or offer them more responsibility in their current position. Further, promoting your high-performing workers into senior or managerial roles is a great way to keep them on their toes and support their growth.
Also, ensure your workers are aligned with your company's mission. Frequently remind them of your business's goals and how their work contributes to organizational success. Company-wide town halls, team offsites, and one-on-one sessions are all great places to hammer home the company's mission. 
💡 Pro Tip:
Get good workers involved in company decisions by holding focus groups and polls to gather their thoughts. This is a great way to help them feel connected to your company's mission and foster their sense of purpose at your business.
Additionally, make sure your employees understand your company's values and can see how they manifest in your working practices. For example, let workers know you prioritize diversity, equity, and inclusion and demonstrate how you champion that in hiring, promotions, compensation, and so on.
You can also take steps to help employees find a higher purpose in their work. For example, you can offer volunteering days or organize charity drives. Or, you can let employees mentor junior workers so they can find meaning in their work at the company, even if it's not directly related to their roles.
Finally, you can show workers what your business does to help improve the world, such as donating to charities. This can help them see that they do indeed have a part in helping others while working at your company.
Reason 4: They're mentally or physically burned out
Problem
Many workers today are pushing back on "hustle culture"—i.e., overworking at the expense of mental and physical well-being.
During COVID-19 lockdowns, employees had more time to spend on personal commitments and could more easily prioritize their health. This resulted in a shift in workers' priorities that lasted even after lockdowns ended.
Employees now value their mental and physical health more and have learned to establish boundaries in their professional lives. This means employees who are overworked, overwhelmed, and burnt out are much more likely to quit their jobs in search of a better work-life balance.
Solution
One of the most effective ways to prevent burnout is to ensure you're adequately staffed. Hiring additional workers can help you distribute work more evenly so no single person is saddled with too much responsibility.
Also, efficient shift scheduling can do wonders in preventing employees from becoming overworked. Start by ensuring you schedule enough rest breaks for your workers during shifts and offer enough time off between shifts.
You can also offer flexible shifts or time off in lieu when employees work beyond their scheduled hours. In addition, consider restricting overtime hours so you can proactively prevent burnout before it escalates. 
All this said, some workers may still experience stress or burnout despite your best efforts to prevent it. To combat this, consider offering better health insurance benefits, discounted gym memberships, and workstation adjustments to show workers you value their well-being. Additionally, you might provide subsidized therapy, access to meditation apps, and employee assistance programs to help workers cope with stress.
Reason 5: They don't feel recognized and valued
Problem
Studies show that a lack of recognition and appreciation is among the top reasons people leave their jobs. Employees who don't feel valued are less likely to go above and beyond in their roles and more likely to leave the company.
Solution 
There are several ways to establish a culture of recognition in your company. Firstly, you can send workers private thank-you messages to show them their work matters. Alternatively, give them a company-wide shout-out on your newsfeed or through a group chat or email. Awards for years of service and employee-of-the-month are also great ways to recognize workers for their contributions.
Beyond this, consider offering bonuses and rewards for good work. These can be cash bonuses, vouchers, or gift cards, and go a long way in incentivizing workers to perform well. 
Moreover, asking employees for feedback on your company's rewards and recognition program also helps them feel valued. Run regular focus groups or employee recognition surveys to gather their thoughts, then implement their ideas where feasible so your workers feel appreciated and cared for.
Reason 6: They're in conflict with their managers or teams
Problem
Poor management can have a major impact on employees—and can manifest in various forms. For example, workers may feel they aren't given enough clarity and direction from their managers. Or, they could feel that they don't receive regular feedback and recognition. In some cases, bad managers mistreat workers and hamper their growth, leaving them with no choice but to leave. 
Similarly, team conflicts can also lead to employee resignations. When workers don't mesh well with their coworkers, it creates a toxic work environment and results in resentment, finger-pointing, and other issues.
Although this can happen in any industry, dispersed workers are more likely to face problems with their managers and teams. Limited interaction with their colleagues can make workers feel disconnected and isolated from the company and can also lead to misunderstandings.
Solution
Foster a culture of open and honest communication in your company. You can do this by gathering regular feedback from your employees through check-ins, surveys, polls, and more.
Similarly, consider using an instant messaging platform to have one-on-one or group discussions with your employees on the go. This way, you can maintain regular communication and resolve any issues between workers before they snowball. A company intranet is another great way to keep workers updated with news and announcements in real time.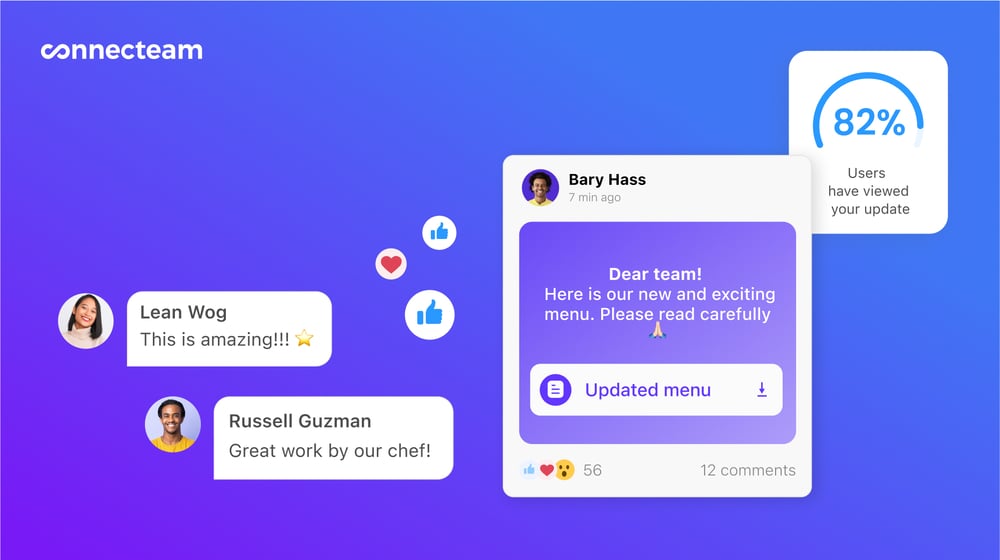 To prevent tension between managers and employees, ensure your company's supervisors and managers have appropriate leadership, conflict resolution, and goal-setting training. Also, provide them with resources to support team members at all stages of their development and ensure they appropriately reward and recognize workers' contributions.
Finally, ensure a sense of belonging at your company through team-building sessions, company offsites, and other workplace events. These efforts help team members feel connected and can make it easier for workers to communicate and collaborate effectively down the line.
Conclusion
While employee turnover is a normal part of business, you can prevent it by looking at the reasons behind departures. In most cases, employees quit due to unhappiness with their compensation, managers, or the company's culture, or because they're burnt out.
You can address these issues proactively using the strategies we covered in this guide. For instance, consider offering more pay, better benefits, rewards and recognition, and creating a positive work environment for your team.
You should also conduct regular check-ins, chats, surveys, and polls to stay on top of employees' sentiments. This way, you can tailor your retention strategy to align with their needs and elevate the overall employee experience at your company.
For more information on retaining your top talent, check out our guide on 24 effective employee retention strategies.
FAQs
Why do good employees leave high-paying jobs?
It takes more than good compensation to retain your top workers. Some employees leave due to team conflicts and poor relationships with their managers. Others depart for better growth opportunities elsewhere. Research also shows that workers often leave due to feeling bored, unappreciated, or overworked in their companies.
Why do good employees leave bad managers?
When you think about why good employees leave, quotes like "workers don't leave companies, they leave managers" or "employees don't quit jobs, they quit toxic work cultures" come to mind.
Poor managers don't set clear goals for their employees. They also don't provide regular feedback or support workers' careers. Some managers also create toxic work environments, pushing workers out the door. These are a handful of reasons why good employees leave jobs with bad managers.
Want to Receive More Great Articles Straight to Your Mailbox? Subscribe Here ⤵