How St. Paul's Preschool Streamlined Payroll with Connecteam
Key Takeaways:
The Challenge:
St. Paul's Christian Preschool is dedicated to "developing a foundation for a love of learning" by offering methods rooted in a learning environment focused on social and academic facets. 
Like many education practices, St. Paul's Chrisitan Preschool faced challenges with:
A lengthy, time-consuming payroll

process 

Disorganized scheduling

that often fell through the cracks

Inefficient communication channels

caused us to jump from solution to solution

Paper employee documentation that is easily lost or mishandled
The Solution:
Digital, automated timesheets

are automatically shared with the accountant instead of exhausting manual processing 

Simple employee scheduling

keeps everyone notified of changes and it's easily accessible

One solution for efficient internal communication

improved how the team stays in touch with each other

A virtual record for employee documentation allowed for better handling and processing of records
The Outcome:
Saved hours on

processing payroll with an automated solution 

Enhanced scheduling

so we didn't have to chase down availability 

Better communication

to keep everyone on the same page

Efficient employee documentation available at a click
We sat down with Nancy and a few of her colleagues to learn more about their experience with our employee app. Here is what they had to say!
#1 Employee Management App
Improve productivity, transparency, and efficiency
Start for FREE
Background:
The mission of St. Paul's Christian Preschool is to educate the hearts and minds of young people for lives of learning, leadership, and service. 
St. Paul Christian Preschool generally enrolls 50-60 children and typically employs 10-12 teachers and staff.  Due to COVID St. Paul's team is much smaller. St. Paul's is working hard to meet the needs of its clients and staff during these challenging times. In fact, St. Paul's "is committed to making the preschool experience as rich and positive as possible." 
St. Paul's Christian Preschool is located in the heart of State College Pennsylvania close to Penn State University. St. Paul's Christian Preschool clientele is a very diverse group of children and families from across the globe.  St. Paul's is a very inclusive, diverse school.
Currently, they have 8 employees working with the Connecteam app.  In the past, they employed part-time college students. The maximum number of users on the app is 25 when the school is open at full capacity.
Challenges Faced:
Prior to Connecteam, the school used a system of paper timesheets. It was a lot more work for the accounting department and was one of the bigger hurdles St. Paul's Christian Preschool experienced before Connecteam.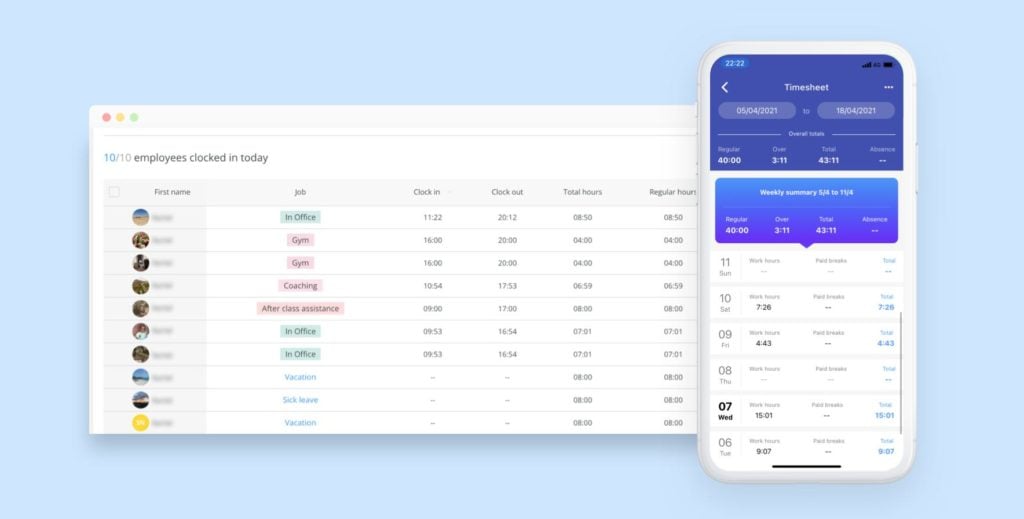 Additional challenges that St. Paul's Christian Preschool encountered: inefficient job scheduling, inconsistent communication with multiple channels used, and difficulty maintaining employee documentation.
"Using this payroll feature has saved a couple of hours of labor for each pay period."
The All-In-One Solution
Efficient Payroll Processing
Using a manual process with paper timesheets for payroll, was more time-consuming and inefficient for the accounting department. 
"Now they just simply export the spreadsheets to the accountant and it streamlines the entire process."
Streamlined Job Scheduling
When St. Paul's has a larger staff, especially with part-time college students that have ever-changing schedules, it's much easier to communicate through the chat on Connecteam. It's a single platform to keep in constant communication. If a student worker's schedule changes, then they can easily notify the administration. This helps to ensure that the preschool is always properly staffed.
Currently, they have one shift because of COVID. When the team was larger, the scheduling feature was used more frequently. It worked really well! This allowed us to communicate and offer updated scheduling notifications with the part-time students.
Enhanced Internal Communication 
St. Paul's Christian Preschool has group chats that they use to send out information to the staff. For example staff meetings or changes in scheduling. (And we like that the schedule automatically sends notifications with any change so it keeps everyone aligned without us having to worry.) Individuals can use "private chat" if it's something that is not intended to be shared with the entire team.  Prior to Connecteam, St. Paul's used text messages, phone calls, and emails to communicate with every single team member. 
All of these methods just weren't efficient and it was inconsistent. 
Archive Access
One capability of the app is the archive capability for past employees. "In Pennsylvania, if you are applying for jobs in education or working with children, you have to submit all of your prior employers and then we get contacted and have to verify dates of employment in order for people to be able to progress with jobs related to working with children, she explained." 
It's helpful to look in the archive and employee dates of employment versus pulling out paper files that have been put into storage.
Final Thoughts
It was effortless for all of our staff and for the administrators to be able to figure out how to use the Connecteam app. 
All of our staff like using this format, and it's easy for our staff to sign in and out each day. It creates a convenient way to document everything about our payroll system, including days off and hours worked. We can use the notes section to document why someone scheduled a day off or called in sick. If there's a question that comes up later, we can show the documentation to the employee via notes.
"It's a user-friendly system and it has been a big benefit to our school.time "
See How St. Paul's Preschool Improved Their Daily Operations By Implementing Connecteam
"Leading education management app that's so easy to use!"
Start for FREE

Start for FREE