Meet
Connecteam,

The

Slack

Alternative for Deskless Workers
Pay less. Get MUCH more.
Flat fee of $39 for 
up to 50 users
Privacy settings and secured data
Tailor-made for field employees
Admin dashboard
Why is
Connecteam
a better choice than
Slack
?
See the differences for yourself!
Surveys and suggestion box
Employee training and quizzes
All-in-One Solution for Field Employees
A simple collaboration app to connect and engage your workforce
Feed updates in real-time
Surveys & live polls
Customizable 1:1 or group chat
Searchable employee directory
Smart groups & tags
Notifications & auto-reminders
Privacy settings
Admin dashboard
Get started for FREE
Clear & Intuitive Interface
Benefit from a purpose-built workplace chat
Connecteam is designed for the modern deskless employee. It's easy to use and user-friendly, made especially for people that are not tech-savvy.
Get started for FREE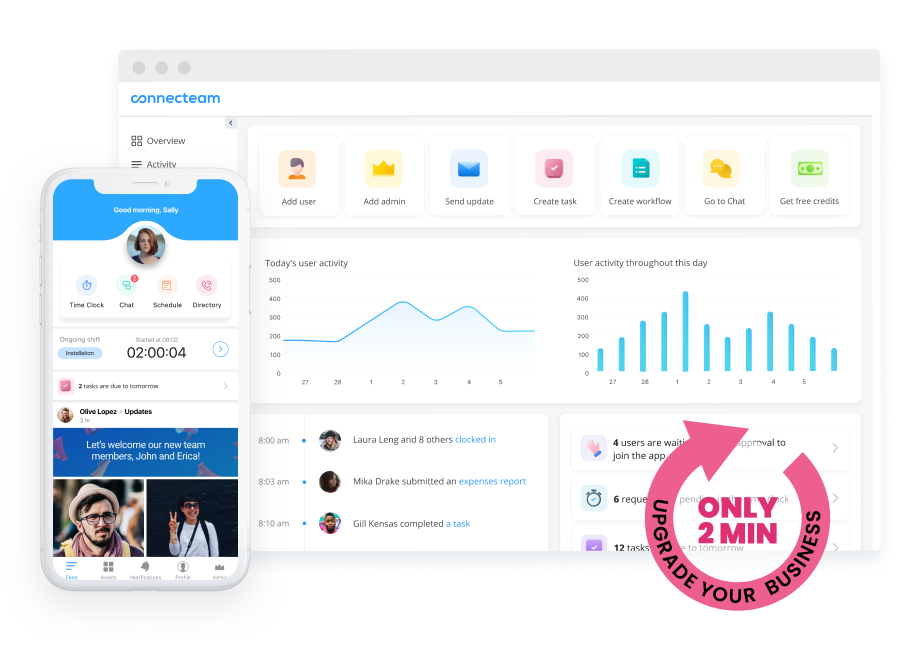 Easy to implement and switch to Connecteam
Built for busy people with a deskless workforce
Quick and credit card free sign up
Easy and intuitive to self-learn and explore for any employee
Move your entire business management to Connecteam in less than a day!
Finally, you don't need a work email to use the app, just your phone number!
Get started for FREE
What Our Customers Say
I tried about 20 different platforms for workforce management before deciding to go with Connecteam. It's everything we needed (plus more), all in a single solution. Not only did we cut our previous costs by 80%, everything is now in a single solution.
Scott W.
Director of Operations
Connecteam allows us to reach 100% of our workforce, no matter where they are!
An amazing employee communication app for my deskless team!
Join thousands of companies, already enjoying Connecteam.
Connecteams all-in-one employee management app is a Slack alternative, built and designed especially for deskless employees.
Connecteam is the industry-leading Slack Alternative app for time tracking and scheduling. Everything your business needs is available on Connecteam's easy-to-use and super affordable platform: GPS time tracking, geofencing, absence request management, shift planning, dispatch assignments and so much more than Slack app is offering.
As the best alternative to the Slack app, Connecteam offers four key strengths we believe are directly related to the success of your business when using an employee app:
 – Better scheduling and time tracking features for your business
– No paying for each user or a monthly basis, pricing starts with a flat fee of just $39 a month  for up to 50 users, or you can stick with the free plan
– Modern user experience with setup taking only 15 minutes
– As a leading Slack alternative, we boost employee management with the only all-in-one app
Try Connecteam, the best Slack app alternative for free!