Don't you just LOVE managing payroll?! Show of hands, please, who here just can't wait for that time of the month (or week) to calculate employee wages, PTO, taxes, benefits, and all those other super-fun things? What? No one? What a shock!
Seriously though, the shocking part of payroll is the ridiculous length of time small business owners and bookkeepers spend on payroll and federal employment tax compliance management. Just consider: one in three small businesses report spending more than 80 hours – the equivalent of two full weeks of work – each year on federal taxes, including payroll (employment) taxes. In addition, 11% of small business report spending over 10 hours a month on payroll management. With numbers like these, it is no wonder employers and bookkeepers are pulling their hair when it's time to manage payroll. After all, payroll is the last thing you want to deal with, but it is the first thing you should get right. It's a double-edged sword!
And every small or medium business owner also knows that payroll is indispensable, just like human resources and time tracking. You just can't keep your business moving forward without payroll. On top of that, even the most dedicated and loyal employees want a steady paycheck so you really can't afford mistakes. Plus, the amount of time you need to dedicate to payroll is insane and that's putting it lightly. You need to invest time to calculate checks, properly manage withholdings, enter all the payment amounts picture-perfect, and process direct deposit and checks – yeah, that can take you the WHOLE pay period to complete. And complete properly, without mistakes. Yikes.
With all that time spent on payroll, you would think that payroll would be bulletproof and immune to mistakes but, unfortunately, payroll is very prone to mistakes. In fact, 33% of employers report making habitual payroll mistakes. The American Payroll Association shows an error rate of between 1-8% of total payroll in companies that use traditional timecards, and roughly 40% of small businesses incur an average of $845 a year in IRS penalties as a result of mismanaged payroll processes.
In fact, depending on company size, the best-performing organizations take, at most, two to four days to resolve a payroll error. The worst performers need five to 10 days, or more.
So what do we do? We turn to automation and increasingly sophisticated payroll and time and attendance software solutions. The issue isn't a lack of available, and often effective, payroll management applications but rather the challenge of picking the right one. In our research, we found over 200 different payroll software vendors, ranging from fresh new startups on the scene to familiar old faces like Kronos and (of course) Quickbooks.
Track Employee Hours & Streamline Payroll Processes
The main purpose of payroll software is to help you pay your team and track each of those payments. That is what payroll software excels in, but if you're paying your employees on an hourly basis, it does require you to use a software that excels in tracking employee work time.
With
Connecteam's leading time tracking solution
, you can expedite the timesheet review and approval process and can also export it in your preferred format to simplify payroll. Connecteam is designed to help you save time with quick actions and visual flags that point out what matters: auto calculated breaks, overtime, double-time, daily limit, auto clock-out, add shifts in bulk, accommodates multiple shifts a day, add absences, and much more.
#1 Time Tracking Software
Timesheets and payroll are made simple on Connecteam. The app is designed from the ground up to save time and flag what matters.
Learn more
Criteria Used To Compare The Best Payroll Software Solutions
Since you probably don't want to start sifting through the hay for your proverbial needle, we have done all the footwork for you. How? That's easy! We asked small business owners and SME bookkeepers to tell us what payroll management software they use, and why.
After polling a small group of bookkeepers using a bookkeeping Facebook group, we came with the following criteria to compare the most used payroll software for small businesses.
If you can't see the infogram, please click here.
10 Best Payroll Software Solutions
The prom queen of payroll software is QBOP (QuickBooks Online Payroll). QBOP is definitely the most popular when it comes to online payroll software solutions (especially in North America but is also coming along in Australia, New Zealand, and the United Kingdom). It's important to acknowledge that payroll systems are complex and rightfully so. That means that it takes time to learn how to use each one so wouldn't you want to know how to use the most popular one?
Why choose QBOP?
The most popular software solution, so very likely to be used for general accounting,

inventory management

, invoices, etc.

Many integrations available

Employee self-service portal

Affordable for small businesses

Versatility for various industries

You can do in-house bookkeeping
Connecteam's time and attendance software can integrate with QBOP.
Many bookkeepers may not be aware of the difference between QBOP and IOP. We're here to set the record straight. IOP is best for bookkeepers or payroll services companies that run payroll for many clients. It acts as a payroll center for all of a bookkeeper's accounts manageable from one place and easily integrates with our Quickbooks and Intuit software. So, if you run accounting on QBOP then you can also run the payroll on IOP and integrate between them.
In addition, another difference between QBOP and IOP is that IOP can be offered as a white-labeled solution. That means that your clients will not be aware that IOP is being used as your payroll backend and you can market it as your own payroll solution. That should get some of those wheels turning.
Why choose IOP?
If you run many payroll accounts, it's more affordable than QBOP

If you are already proficient in Quickbooks

If you're looking for a solution that easily integrates with Quickbooks solutions

Client portal with various levels of access
Nothing affects the length of time spent on payroll management like the application user experience. The word on the bookkeeping street is that Gusto is the most user-friendly solution available on the market right now, which makes Gusto one of the front-runners in the category. This is one of the reasons we expect to see Gusto grow its share on the market.
Why choose Gusto?
Superb user experience

Payroll reminders

Employee self-service portal including employee onboarding

Services available for both W-2 employees and 1099 contractors

Unlimited monthly payroll runs

Reasonable pricing
Paychex is one of the most popular payroll software for small business but also one of the more expensive solutions, mostly due to public demand. Rumor around the accounting department's water cooler is that Paychex is robust but not simple, easy to use, or set up. That can be a huge factor for small businesses when they're looking for the best payroll software. Paychex requires a lot of personal information to get started and running reports comes with its share of red tape and added costs.
Why choose Paychex Flex?
Great import and export capabilities

Good cross-platform support for payroll and self-service functionality

Useful payroll reminders

Unlimited number of custom fields
The solutions offered by ADP, and specifically their small-business oriented RUN, are very similar to those offered by above mentioned Paychex – expensive but popular. This solution is for you if you prefer to send employees physical paychecks rather than direct deposit as ADP can (for an additional fee) print, sign, and mail paychecks on your behalf.
Why choose RUN by ADP?
Popularity on the market – many accountants and bookkeepers are familiar with the interface

Printing and mailing of paychecks

Automatic wage garnishments and other withholdings
One of the cheapest payroll solutions out there for small businesses, Sage Payroll. Now it may lack the bells and whistles that other payroll software have to offer, but for many businesses, it is more than enough in terms of functionality. One of its main strengths is security – your payroll information in the cloud is fully encrypted, and user access permissions can be customized to ensure data security and integrity.
Why choose Sage Payroll?
Superb reporting capabilities

Affordable

Custom user access permissions

Top-notch security
The jury is still out on SurePayroll's ability to faithfully serve the needs of small businesses. While some claim it has a user-friendly and intuitive interface, others complain that the user experience is clunky and it takes a while before processes are properly streamlined.
In addition, some users are happy with the broad pre-defined set of fields and variables in the application database, and others despise the complex and long employee registration process. We're not telling you this to provide you a wishy-washy review that's neither here nor there. Payroll software has to be flexible and SurePayroll demonstrates their ability to be flexible through their user experience, which is a sign of a good payroll solution.
Why choose SurePayroll?
Customizable dashboard

Highly detailed employee profiles

Excellent service and customer support
If you're looking for the best-rated service and support, you should really check out what Wagepoint's offering. And since they're Canadian, you can probably trust their claim to have the friendliest support and service staff around. In addition to clear and affordable pricing, Wagepoint offers a free trial period to let you try before you buy so that you can see just how helpful and friendly these Canadians (and their software) are.
Why choose Wagepoint?
Superior service and customer support

Free trial

Affordable pricing
Here's the thing, Xero is not just payroll software, it offers a web-based accounting system designed for small and growing businesses. In addition to payroll management, it has robust asset management capabilities, offers approval levels, inventory tracking and so much more. Therefore if you're looking for an all-in-one small business accounting suite, this just might be it.
Why choose Xero?
Thorough records and transaction forms

Customizable reports

30-day trial option
Like many other payroll software solutions, PayCor is about much more than just payroll. It is a modular system that can be used for payroll alone, or use additional modules offered on the platform to manage all employee "lifetimes" within the company, from recruiting to departure. Did we already mention that flexibility is important to payroll software?
Why choose PayCor?
Important notifications and reminders

Ease of use

Integration with additional PayCor Perform Modules for an all-in-one solution
The Bottom Line On The Best Payroll Software For Small Business
Payroll software is the first to enter the HR cycle in any business. Without payroll software, you cannot pay your workers or comply with tax laws without investing a great deal of time in paperwork. So it's no wonder there's such a broad selection of payroll management and automation solutions out there – there's something for everyone, and everyone needs something.
Usually, but not always, the person choosing the payroll solution will be a bookkeeper or an accountant because they are the ones charged with producing payroll that is both compliant and accurate. Therefore, many will choose a payroll solution based on the accounting software they use because, well, it's easy. But, that's not always a great idea.
Though it can be more complicated in the short run to choose payroll software that is different from your accounting software it could actually end up saving you time and money. That's why shopping around is always a good idea, especially if you have your best interest at heart, and hey, why wouldn't you?
Now, on the odd chance that you want to run payroll but are not a bookkeeper or accountant then, once again, you need to consider a different set of criteria for your search. Simply remember to start by outlining what it is you hope to accomplish using this software. What are its must-haves, and then use this article to make your choice? Bon chance mon ami.
Leading Time Tracking App
Easily track and manage work hours on jobs and projects, improve your payroll process and the way you manage timesheets, and collaborate with your out-of-office employees like never before. Quick and easy setup, full implementation support included and you can start for free!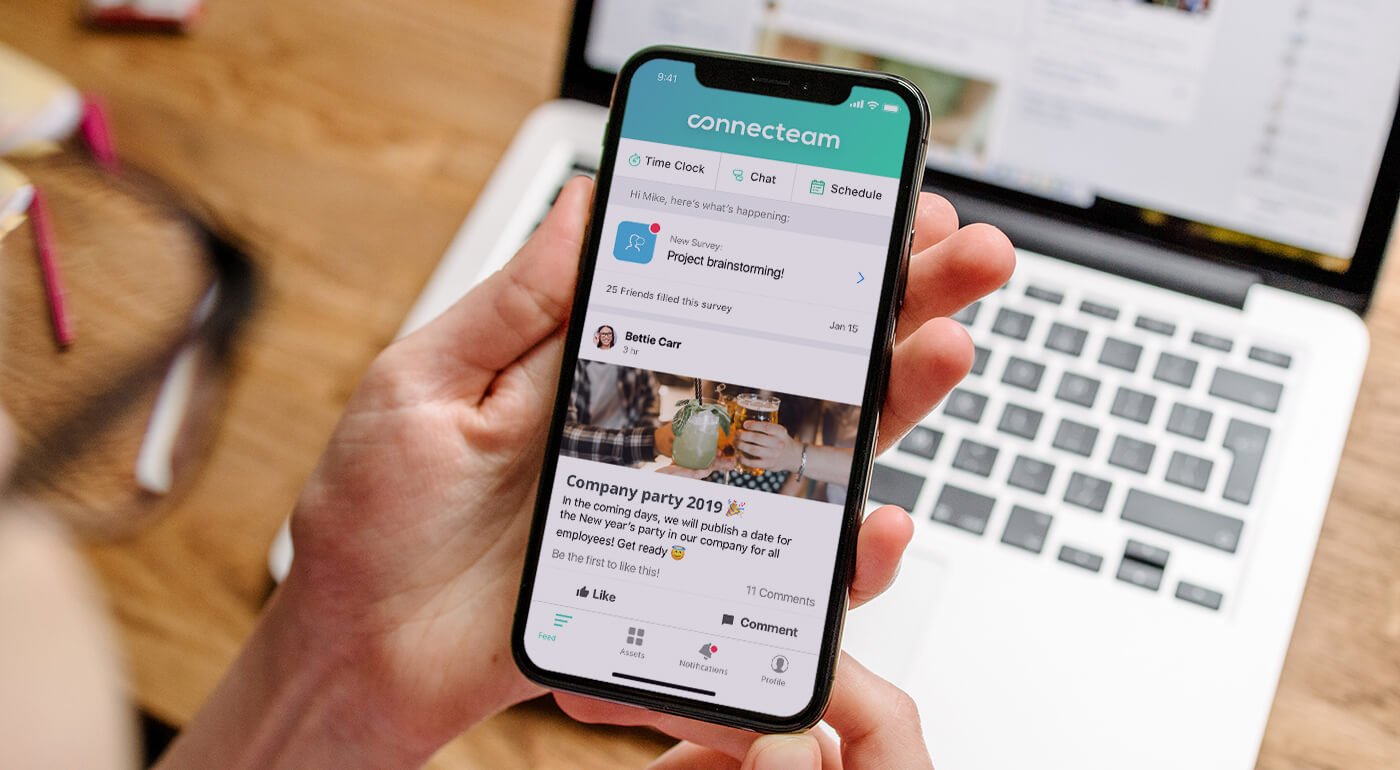 Learn more