How Work Calls Disrupt Productivity and How Business Communication Solutions Can Help
Over the last decade, we have witnessed a revolution in the world of internal communications. In the blink of an eye, mobile phones became common and popular for virtually everyone. Due to this revolution, day-to-day tasks and how businesses work completely changed. Employees and managers that were once unconnected and unreachable now had the ability to remain connected during work hours. This made a huge impact on productivity and engagement. Today it's hard to imagine that employees and managers were once only able to meet face-to-face during a morning meeting, after that, they were all on their own. If anything changed, if an incident occurred, or a huge sale happened, employees and managers had to wait until end of the day just to communicate any of these instances.
But now, mobile phones are the main tool in our everyday life. It's the easiest way for managers to reach their employees and manage their day-to-day business needs. Think about it: how many phone calls do you answer or make yourself on a daily basis? Research says you're either making a call or are answering one around three times per hour.  
But almost 10 years after this amazing revolution, we see the downside of this connectivity and the endless phone calls. In this article, we will elaborate the downside of phone calls and even explain why and how phone calls have become the number one enemy of productivity! But we're not here to just focus on the negative, we also outline solutions to the problems at hand.
So just how do phone calls harm productivity?
Phone calls are incredibly disruptive.
An unplanned call pulls you away from what you and your employee are trying to accomplish and if that's not the definition of productivity loss, we don't know what is. In fact, an unplanned call takes a full 23 minutes to recover from. Every time you call your employee, you're causing them to stop whatever task they're on and it takes them longer to get back to it.
Missed calls – timing is everything.
There are a hundred reasons why calls go unanswered, either you're in a meeting or your employee is with a customer. Think about it, how many times in a day are your employees trying to reach you without success? And how many times are you trying to reach them? This endless game of phone-tag only eats up your time.
Pictures are crucial.
Unfortunately, when you're on a phone call, you're only limited to verbal communication. How many times are you explaining something that a picture could easily sum up? For example, if you've been in a car accident with the company car, it's easier to send photos of the damage to your boss and the insurance company then it is to describe the damage on a phone call. Or if you've just finished tiling a client's bathroom but come across a problem, it's much easier to snap a photo to explain the delay then to chat about it on the phone.
Sharing and receiving information to many people.
This is supposed to be an easy, quick task but it's actually time-consuming. Sometimes you need to make multiple phone calls just to share simple information or to coordinate a company event. Sure, you can schedule a conference call with all your employees to share new company information, but just coordinating a day and time that works for everyone is a nightmare. What happens if everyone isn't available then? You have to chase after those who missed the call to make sure they're in the loop; and just like that, a whole day or even week is wasted!
Data is unstructured and without format.
Let's say someone called you to report a broken lamp in the store and needs it fixed within two days. Then you hang up the phone but realize you forgot to ask what type of lamp it is and when can the repairman can come to the store. Now you have to call your employee again to get all the information, once this is done and you call the repairman, you see that you are still missing information so you need to call the employee again. The cycle continues over and over. This is what happens when the information is unstructured.
Priorities are nonexistent.
You don't have the ability to decide what is more important, for example let's say you received 10 emails to your inbox, you can easily decide according to priority who you will answer first, you can't do the same with a phone call. There is no way to know when a call is coming in or if you really need to answer in that exact moment or if it can wait a few minutes.
No history.
Because nothing is recorded, when you need to retrieve information from a call that happened three days ago, you can't. No analytics exists to show you what subjects most of your phone calls were on or why your employees needed your help.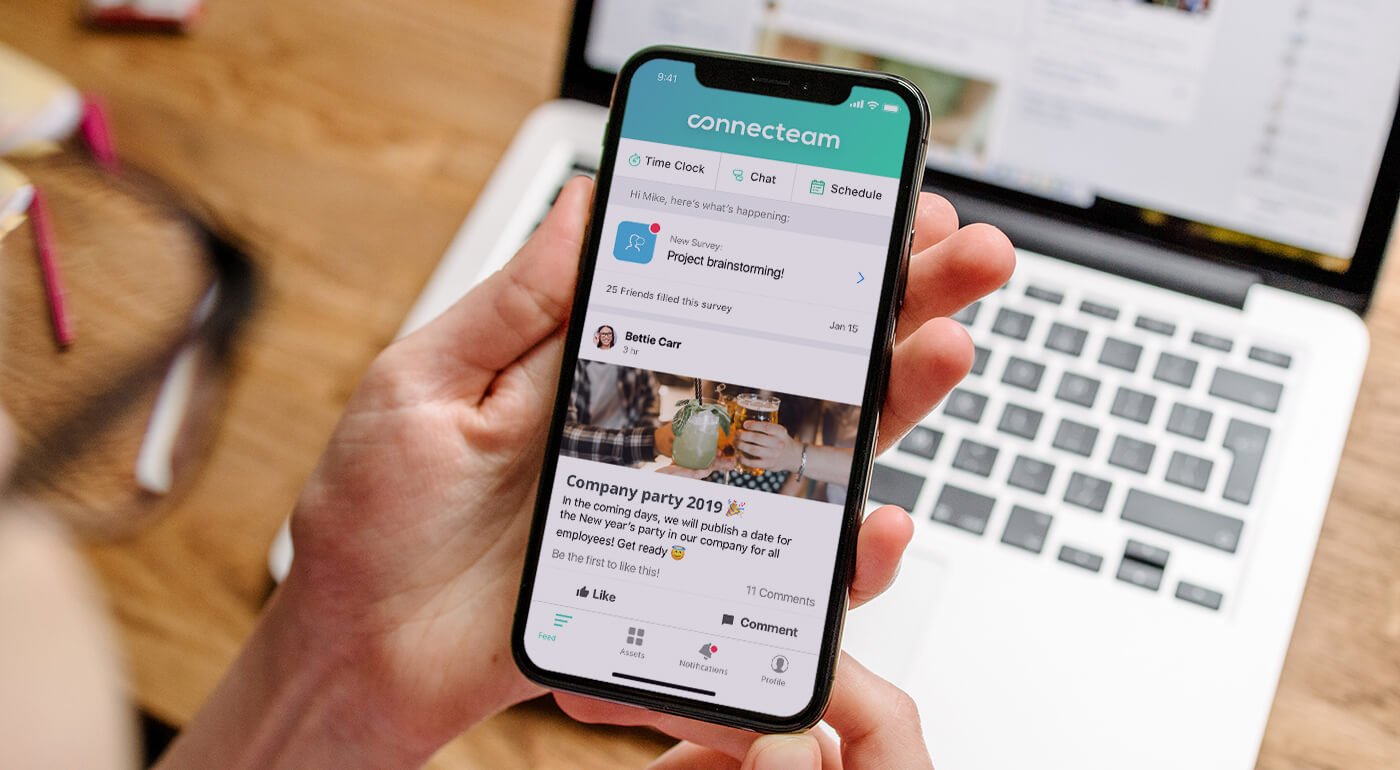 Phone calls are here to stay and they are still the best solution in some cases, but on the other hand, it's 2019 and with all of the problems associated with phone calls, there is a simple solution. In the market, there are numerous mobile business communication solutions made especially for a business to take care of their day-to-day needs. These business communication solutions should include the right bundle of  tools to handle the problems we've outlined above.
The tools a business communication solutions should include:
Chat: for group messaging and media sharing.
We pointed out three pain points of phones calls in the blog – they're disruptive, missed calls are endless, and pictures are crucial – and a business communication solution, like chat, can help to diminish or remove all three of these problems. Instead of disrupting your employees with a phone call, simply send them a message via a chat app so they can continue to work and are not stopping what they're doing to answer you. If an employee receives a push notification, they may also stop what they are doing. However, it's a small interruption compared to a phone call which requires you to almost completely stop what you're doing or simply takes way too much of your concentration.
Instead of engaging in a game of phone-tag, again you can easily send a group chat to relay whatever you need. You can also quickly send a photo, video, or location to your manager or employee when relevant instead of spending time on a call when a picture is worth a thousand words.
Chat makes internal communication simple; easily create team chats or start a one-on-one dialogue to save time and avoid productivity loss. Connecteam is an online business communication solution that features advanced management tools built especially for in-organizational use; create surveys, a suggestion box, an employee directory, and more.
Digital online forms: in order to get structured data and history.
Think back to the example we gave: if an employee contacts you about a broken lamp in the store. Instead of them calling you, they can simply open a pre-made digital report on the business communication solution app and fill in all relevant information, you can even get a digital signature. This saves both of you time and ensures no information is missing, plus you have a history of all entries ever made.
Business communication solutions should make it easy to create a form, report, or checklist. With Connecteam, you can start from scratch or edit an existing template and choose from various field options, like free text, multiple choice, image uploads, documents scanner, digital signature, GPS location and much more, especially for mobile devices.
Updates: to send immediate messages, distribute announcements, celebrate success,  and much more.
Send an immediate update with a push notification to easily reach all of  your employees with or without the ability for user comments. This way, your employees get the information they need when they need it, and you can easily track the engagement rates and know exactly who viewed your update and when. Most business communication solutions nowadays are cloud-based, so you'll history embedded into all features, that way no data is lost.
The goal of these business communication solutions is to help you and your employees streamline communication, spend less time on phone calls, and improve productivity. Take just 10 minutes to check out Connecteam's employee communication solution, you'll see the ROI almost instantly.
Reduce phone calls and streamline communication
With Connecteam, you have multiple ways to communicate and engage with your employees. Everything is available in one place and is accessible from anywhere. The time to lower phone calls and boost compliance, engagement and overall communication is easy with Connecteam.
Find out more
Want to get more tips?
Join 20,000+ others who get our weekly newsletter with Business owner tips!