Manage Your Field Service Business with Connecteam's Field Employees App
Communicate, operate and train your on-the-go employees in one app
Job dispatching
Employee hours tracking
Multiple communication tools
Online checklists & forms
Get the job done with Connecteam's field service management app
Easy, Yet Powerful Job Scheduling
Schedule jobs and projects for your field employees
Dispatch jobs for multiple employees in a click. Attach all necessary information so that your employees have everything they need at all times in their Connecteam app while on the job.
Start your free trial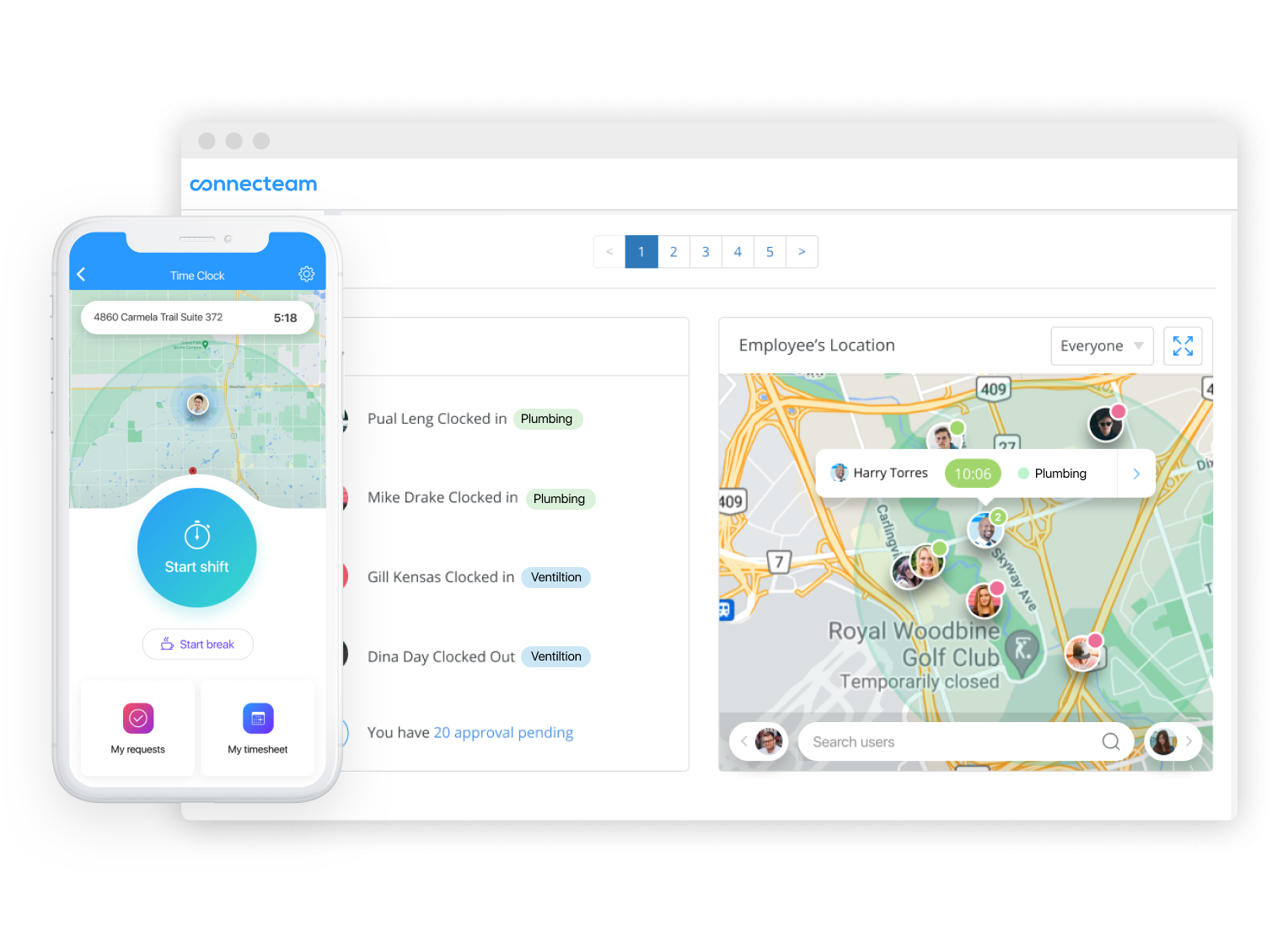 Accurate Field Employee Time Tracking
Use GPS time clock to track work time and equipment usage
With Connecteam's field service app, you can track what your employees are working on, when and from where. Track time spent on jobs, driving or buying supplies. Our easy to use GPS time clock is highly capable and customizable.
Start your free trial
Online Checklists & Forms for Field Employees
Get rid of pen and paper! Automate daily processes and operational procedures.
Safety checklist
Hazard report
Reimbursement form
Job ticket info forms
Equipment inspection checklist
Supervisor checklists
Instant Work Announcements, Updates and Monthly Trainings
Reach every employee with diverse communication tools for every need
Share company policies, regulations, equipment manuals, safety procedures or communicate with employees directly via chat to make sure all field employees are on the same page.
Start your free trial
What Our Customers Say
This software is so user-friendly. It has saved us a TON of time with the time clock, chat, and workflow features. Their customer service is the most helpful from any company I have ever worked with.
The Connecteam software is very easy to set up, roll out to users and maintain. It provided everything we needed and is very cost-effective.
It is easy to communicate and use! Everyone on the app loves it! Great Service! :)
Whether you're in the office or in the field, Connecteam's field service business app gives you all the tools you need to grow and manage your business at your fingertips. With most of your employees constantly on the move and without access to computers or a company email, Connecteam's field service app allows you to keep everyone on the same page with multiple communication channels. Scheduling shifts and dispatching jobs is easy to do with Connecteam's field service scheduling software. Enhance daily operations and tasks with our digital checklists, forms, and reports. Boost employee engagement, retention, morale, and lower turnover with Connecteam's field service management software, from feedback surveys to private or group chat, a suggestion box and so much more. Save time, streamline daily operations, enhance professional skills, keep track of hours and so much more can be easily done with Connecteam's field service app. Start for free today!