Connect, Engage And Retain Your Frontline Staff
All the tools you need to motivate your employees, improve performance and drive down turnover.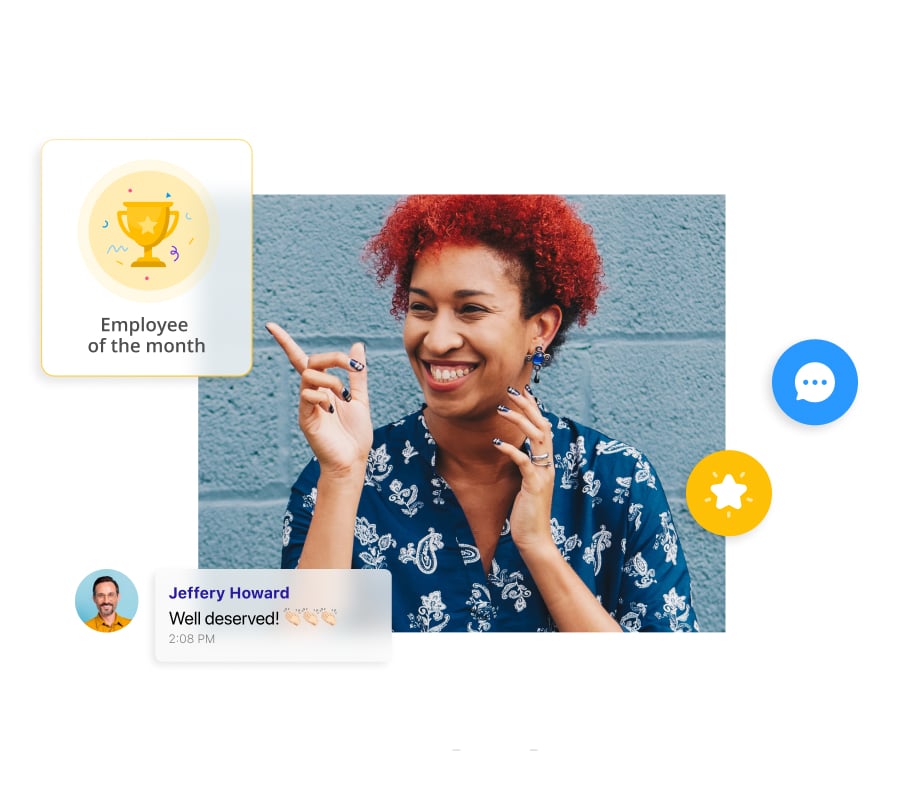 Trusted by Over 36,000 Companies Worldwide



Connect with Every Single Employee
Transition to real-time, modern communication app
Instantly share updates, announcements, and other information with relevant teams.
Easily customize the app to reflect your values, culture, and brand.
Set push notifications and auto-reminders.
Know who viewed your content in real time.
Make Your Team Feel Appreciated
Nurture a sense of belonging & drive a culture of excellence
Recognize exceptional employees & put their success in the spotlight.
Reward work achievements with virtual tokens that they can redeem as gift cards.
Celebrate birthdays & significant milestones.
Turn your business into the best place to work at
Book a Demo
Capture Feedback And Spark Participation
Put your team front and center, and let every voice be heard.
Capture your employees' thoughts and mood directly from the field, and make decisions based on organizational surveys and live polls.
Facilitate Peer-To-Peer Communication.
Forget about texts and emails. Empower your staff to converse over your own internal organizational chat.
Enable your team to have 1-1 chat conversations.
Launch dedicated work group and team chats.
Segment your teams and allow knowledge sharing.
Introduce an organizational directory to help your team connect.
Finally, An App That Your Team Will Actually Love To Use
Getting started takes only a few minutes–no training needed!
Connecteam's simple and familiar interface makes daily communication effortless for managers and provides a great employee experience.
See What Our Customers Have To Say
Everything is great in Connecteam. It is literally an all-in-one software. It's incredible what you can do all in one app!
Connecteam has helped our business tremendously. Everything at our fingertips. All my staff can access the info anywhere and they can connect with each other at any time
Connecteam allows us to communicate much more efficiently than ever before and has really made the company feel more united.
Easy to set up and customize. Very intuitive, great for mobile teams!
Very easy to use, very user-friendly. Scheduling is great as you can set up to 12 months ahead with each job! Cost is great for the options you get.
Love them! Recommend them to all business owners I know. Has dramatically improved our team communication and productiveness.
I love Connecteam and they are a fantastic group of people getting the job done. This product really works!
I am a HUGE fan of the Connecteam App. The Customer Service I have received is AMAZING!
The Connecteam platform checked all of the boxes for our operations. Timeclock, Scheduling, Workflows, and Customization features have streamlined our business and improved our staff communication significantly. Plus it's very easy to use!
Connecteam is the only app that featured EVERYTHING I needed in one software rather than having to buy several.
Looks professional, easy to use, and great value for the cost. love that they are constantly working hard to continually improve (on an already amazing solution)!
Connecteam has been a complete Game Changer for our company! It is so user-friendly, not only on the admin side but to our employees. It has cut down on so much paperwork!
We LOVE that the app is easy to use from an end-user standpoint and extremely customizable from an admin standpoint. We'll continue to refer this app to clients looking for a modern, user-friendly solution to time tracking, employee communication, and process improvements.
Very easy to use and the features cover everything we need to build a better, stronger, and well-organized team.