Meet Connecteam,
the best TSheets alternative
Stop paying more for less. With Connecteam's award-winning software, your business will enjoy the world's best employee scheduling and time tracking features and so much more for only $29 a month for up to 200 users!
Connecteam is an all-in-one employee management app, built and designed especially for deskless employees.
Connecteam is the industry-leading app for time tracking and scheduling. Everything your business needs is available on Connecteam's easy to use and super affordable platform: GPS time tracking, geofencing, absence request management, shift planning, dispatch assignments and so much more.
As the best alternative to TSheets, Connecteam offers four key strengths we believe are directly related to the success of your business when using an employee app:
Better scheduling and time tracking features for your business
Better scheduling and time tracking features for your business
Better scheduling and time tracking features for your business
Connecteam includes many features that businesses need for day-to-day time tracking and scheduling. There are features for manual time entry, PTO management, GPS features like geofencing and GPS stamping, view current and past timesheets and Connecteam even has the option for a Kiosk station for clocking in and out.
Scheduling features are easy to use and save you a lot of time whether you are working on a dispatch basis or a shift basis. It comes with an intuitive drag and drop interface and advanced features such as templates, recurring shifts, a copy of previous weeks, and more. Each job or shift can contain an ocean of information like the type of job, the shift name, special instructions, file attachments, etc. And your employees can see it all on their mobile phones and are notified of changes and upcoming shifts. Moreover, as a manager, you'll be able to schedule directly from your mobile phone or make last-minute changes on the go, and your team will be notified in real-time!
No paying per user or a monthly base, pricing starts at just $29 a month or stick with the free plan
No paying per user or a monthly base, pricing starts at just $29 a month or stick with the free plan
No paying per user or a monthly base, pricing starts at just $29 a month or stick with the free plan
10 Users/Month
20 Users/Month
50 Users/Month
100 Users/Month
$80
$160
$400
$800
$29
$29
$29
$29
Additionally, T-Sheets has a $20 base fee / month
When we created Connecteam, we knew that a product that could easily scale with your business was key. That's why we chose not to charge per user, instead, we offer fixed, predictable monthly plans that are easier on the back pocket.
Pricing starts at just $29 a month for up to 200 users so you don't have to pay per user. Or, you can even start with our free for life plan before making the switch to a premium plan. With such affordable pricing, you can focus on the bottom line.
In addition, there are NO extra or hidden fees and there is no base fee either.
Modern user experience with setup taking only 15 minutes
Modern user experience with setup taking only 15 minutes
Modern user experience with setup taking only 15 minutes
It was important for us that our solution will be easy on the eye, easy to implement and fun to use – we understand that you don't have time to train your employees to use the app which is why we made it so simple and fun to use.
Connecteam focuses on modern design and user experience without compromising on robust features and capabilities. With these in mind, our app easily appeals to multiple generations in the workplace. Both younger and older generations alike can easily use Connecteam.
"The eye candy dashboard is amazing and the mobile application is very much uncomplicated, with simple yet effective home menus and easy to use. The intuitive and smart way the launch pad was built not only is giving me many ways to communicate productively with my team but is also affecting positively our revenue, as we are on top of everything in real-time."
- Daniel
Enhance employee management with the only all-in-one app
Enhance employee management with the only all-in-one app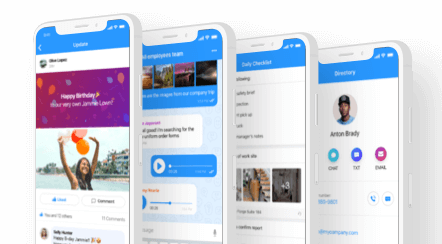 Enhance employee management with the only all-in-one app
Connecteam offers all the necessary capabilities that you MUST have in order to make scheduling and time tracking work (i.e. integrated communication tools, workflows, seamless integration between features, etc.)
We understand that the new generation of time clock and job scheduling solutions should give more. It shouldn't be complicated to get more capabilities for your dollar. That's why all our plans offer chat functions, an in-app directory, feedback surveys, job scheduling, a digital checklist, on-boarding and training and so much more, all for the same affordable price.
"Want to design your own employee app? No, seriously... a REAL app? Connecteam is for you. Want to add custom features such as a mobile time clock, work schedule, event calendar, incident report app, reimbursement report app, online education center, custom push notifications, digital company handbook, in app messenger, team self-assessment, team surveys, a mobile help desk, and much much more? Connecteam is for you. It is ready for you right after sign up, and scaling up seems endless. I could rave for days - l.i.t.e.r.a.l. days about everything I love about this software! What I will say is that Connecteam has solved every problem I've had since starting my business that I paid over 2x as much for other programs to do that couldn't. Connecteam is what all other 'create your own app in a few clicks' companies wanted to be and promised to be."
- Nyla
Connecteam: one app to manage your employees & business
Connecteam is your tool to manage employee engagement, development, and relationship. You can streamline communication, give your employees a platform to be heard, boost engagement, strengthen the company culture, align employees with company policies, streamline daily operations, build professional skills and so much more.
Start for free
T-sheets
Connecteam
Full job scheduling capabilities
Geofencing (users can only track time when in the work site)
Allow users to accept/ reject shifts
Users don't need company email
Users login with
Company email or Intuit account
Mobile phone number
Advanced mobile admin capabilities
Approving leave from mobile with push notification for the user
Editing past user entries/ shifts from the mobile
View historical timesheets of your user on mobile
All-in-one added value
Posts and updates for employee engagement
Affordable pricing
Base fee
$20-$40
No base fee
Pay per user
Starts at $8 per user per month
No pay per user
Fixed and affordable price for up to 200 users
Support
Availability
Mon-Fri during business hours only
24/7
Connecteam: the best employee management app
Connecteam is an all-in-one mobile solution for employee management. And it offers powerful solutions for communication, operations, time tracking, scheduling, workflows, files, knowledge base and much more.
Start for free
With Connecteam, you can manage your teams easily and effectively. Whether it's keeping everyone on the same page, or tracking hours, creating schedules and celebrating success, you and your team can do it all under one roof, with one employee management solution.
Unlike most disconnected solutions, Connecteam offers everything a business needs to take things to the next level: easily share workflows, communicate and engage with employees, schedule or dispatch jobs, track employee's time and so much more in one simple, integrated platform that all your employees can use, regardless of how tech-savvy they are.
Connecteam's core features
Powerful GPS time clock
While employees are on-the-go, they can easily clock in and out (with a GPS time stamp), geofencing, request time off, view current or past timesheets, and more. Plus, employees can add a "tag" to each shift like a job, project, customer or another option you set up so you're always up to date on what is being worked on and at what time.
Time saving job scheduling
Create single, multiple or team shifts, and you can even upload shift bulks with an Excel file. Everything is neatly organized and runs smoothly with calendar view, drag & drop options, and easily copying last week's shifts. With status updates, employees can change the shift status so you always have a crystal clear view on a shift's status – like checking in at the job location and reporting once completed, or rejecting a shift.
Simple employee communication
Easily deliver the right message at the right time to all your employees. Through many communication tools, you can easily enhance your day-to-day business routine; live chat group or private conversations, an in-app directory for all work contacts, live polls, share images, videos, GIFs, and docs, immediate updates with or without comments and likes, employee feedback surveys, a suggestion box and more.
Robust digital checklists, reports and forms
Employees can fill and send reports and checklists from anywhere. Choose from pre-made templates or create your own from scratch; employees can add pictures, video, and an e-signature while on-the-go. As a manager, you can set required fields so nothing important gets left out and send automated push notifications to remind employees to complete reports on time.
Digital training and knowledge base
Your employees don't have to be in the office nor carry papers with them in order to have direct access to information, policies and training material. From one place, you'll be able to provide your employees with an intuitive learning experience and easy access to files, media of any kind, searchable online libraries, professional courses, quizzes, and web-services. A true all-in-one solution.
Connecteam offers you an all-in-one stop shop for everything your business needs. It is easy to use, quick to setup and provides a wonderful experience.
But don't just take our word for it,
have a look at what our customers are saying!
Connect your deskless workers with Connecteam's employee app
A simple, powerful and affordable solution to manage non-desk employees. Try it yourself!
Start for free