Table of contents
Change is good. Especially in organizations that are used to the old-school ways of communication – email, Intranet, or text messaging. A staff communication app brings a much needed sense of organization in managing a team of people. Here is how a staff communication app drives efficiency and ease:
Create a connected workforce, no matter their location
The simple brilliance of this type of app is that everyone is connected, whether they are around the corner or across the country. Traditionally, workers who were on the road or worked remotely felt a little left out of the goings-on at work. Now, with employee apps that specifically focus on improved communication between employers and employees, employees of all locations can feel a part of things. Not just managers can message employees – employees can also message each other, fostering a sense of camaraderie and team spirit, a must for non-desk employees.  
Streamline company training and compliance
An employee communications app concentrates training and compliance in one place, making it more simple for both the employee and employer. Since many non-desk workers are unable to come into the office for HR and on-the-job training, an employee app makes this possible to do remotely, on the app. A manager is able to create training programs for specific employees, and keep them up to date with compliance training when needed. Rather than have HR or management hold individual or group meetings that can be time-consuming and sometimes unnecessary, employees are able to self-train easily and on their own time.
How management can monitor employee progress
Many employee apps, including Connecteam, allow management to have a bird's eye view of their employees' performance and progress with various manager dashboards. This is especially relevant for onboarding employees. Connecteam has a manager admin console that includes a monitoring dashboard messaging center, content manager and the app manager. Each one gives management a place to create, design and monitor the various aspects of running a team.
Download your FREE guide on "10 Tips for Engaging Your Frontline Teams" ⤵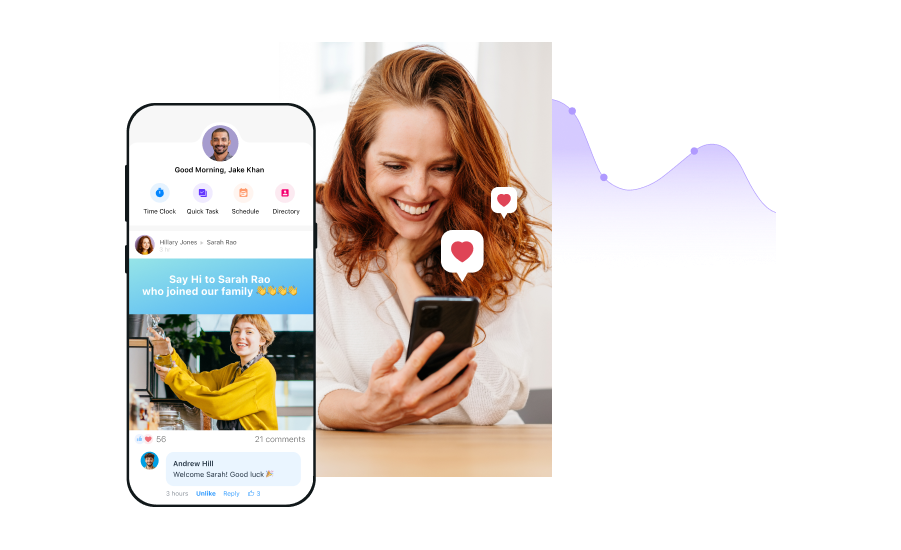 Easy access to an employee virtual library
Many staff communications apps allow management to create a virtual library of content relevant to the various roles in the team. This helps all employees, near and far, feel as though they are equipped with the tools and knowledge to do their job in the best way possible. Content can include videos, presentations and documents. Employees' access to this content drives efficiency by having it all in one place, rather than having to send emails to individuals with attachment and after attachment.
Manage communications and content in one place, while keeping it professional.
We all know the dreaded WhatsApp work group, a slew of messages that are sandwiched between your family WhatsApp group and texts to your sweetie. There should be a separation between work and home life. An internal communication app give you that, with everything in one place without interfering in your personal life. Furthermore, since employee apps are typically used with workers who don't sit behind a computer all day and check their email frequently, one dedicated work app is the easiest and most efficient way of managing and helping them succeed.
Get your employees on board!
New processes start with management, but are maintained by employees. So, pitch the idea to your colleagues and co-managers, and then set up your own staff communication app. The next and most critical step is to get your employees on board to make sure they can navigate through the app, use it as a resource and understand that it's an important tool to help them grow.
Connecteam: one app to manage your employees & business
Connecteam is your tool to manage employee engagement, development, and relationship. You can streamline communication, give your employees a platform to be heard, boost engagement, strengthen the company culture, align employees with company policies, streamline daily operations, build professional skills and so much more.
Learn more now
Want to Receive More Great Articles Straight to Your Mailbox? Subscribe Here ⤵