6 Best Small Business Management Software​ Solutions in 2021
When you're a small business owner, you're basically Superman or Superwoman. Why? Because you're running around, wearing a dozen hats, just to keep everything running smoothly and efficiently. You're in charge of problem-solving, building professional skills, streamlining onboarding, tracking time, boosting engagement and morale, creating job schedules, providing exceptional customer service and the list goes on. 
While you're basically a superhero, you still need a little help. So you're constantly scouring the web, looking for that ONE solution that will finally make everything easier so you can focus on the big picture. Lucky for you, we know what the answer is. Small business management software. 
While it's a bit of a mouthful, small business management software is exactly what your business needs to run smoothly. And get this, the best small business management software is available on your mobile phone. But why does that matter? Because it means that you and your employees can do your work from anywhere, at any time.
Now, we admit, there are many small business management software solutions available, so how do you know what to look for? Well, we recommend the following: 
Easy to use.

Affordable.

No annual contract. 

Security and control is top-notch. 

Can easily scale with your business.

Great customer service when needed. 

Quickly has a direct impact on investment.
You know what to look for now but we've made it even easier. Below we list the six best small business management software solutions in the market today. We highlight what features are most beneficial and the price – all of which should help you make the decision as to which small business management software is right for you. 
6 Best Small Business Management Software​ Solutions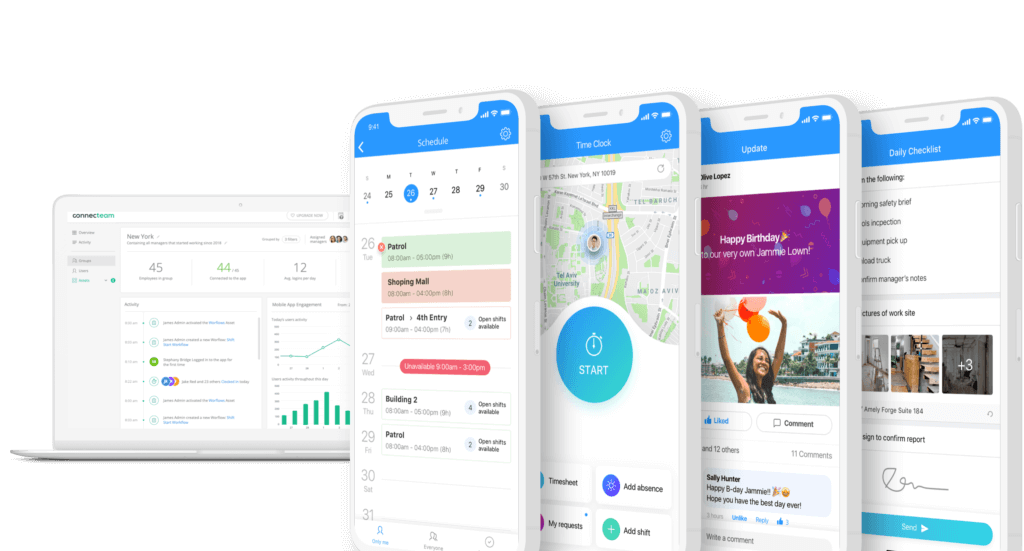 Connecteam features a true all-in-one small business management software solution. This easy to use mobile app has the full package for management of your business and employees – from onboarding to engagement to communication to scheduling to time tracking and so much more. Via the dashboard, you have full visibility into your company and employees.  
Through operation features, you can track hours via the time clock with GPS, job scheduling for recurring shifts or dispatching, and make all checklists and forms digital to create smooth workflows and procedures. 
Use the communication features to start a private or group chat, an in-app employee directory, a suggestion box, custom surveys and so much more. All features can help keep everyone on the same page while boosting employee engagement. 
Streamline onboarding and build professional skills via the training software. Create professional courses or chapters, build a searchable library, create a knowledge hub with all materials, procedures and protocols, send quizzes and more.
Price: There is a free plan and pricing starts at just $29/month for up to 200 users. (Yup, you don't need to pay per user!)
#1 Software for Small Businesses
Everything you need to grow your business is available in one app. With Connecteam, you can communicate with all employees, manage payroll, job scheduling, time tracking, make checklists and forms to digital, and so much more. Start with the free plan today!
Start for free
SAP SuccessFactors is a cloud-based human resource management solution that targets small to large size businesses. Through SAP, you get a handle on recruitment, on-boarding, workforce planning, performance, compensation and more. 
Through the "productivity" feature, you connect all employees to crucial updates and information no matter where they are. Managers and employees can upload content, review group resources, edit personal information, submit feedback and more. The "time and attendance" feature allows you and your employees to make, approve and cancel time-off and vacation requests, and you can view timesheets. Via the "talent management" feature, you can upload learning material to build professional skills. 
Price: Contact a customer service representative to learn more about pricing.
On-boarding, payroll, insurance and benefits, and employee engagement. That's what you'll get from Gusto's cloud-based payroll, benefits, and human resource management software. Small and medium businesses may find Gusto useful but it only caters businesses and employees located in the United States. 
With Gusto, you can send offer letters to new hires and with a Gusto account, employees can sign new hire paperwork while you store it on the dashboard. Gusto has health benefits and workers' compensation benefits, such as medical insurance, 401(k) contributions, time tracking, and integration services so employees can access their payroll from web, tablet or smartphone. Additionally, employees can gain HR advice, internal surveys, engagement platforms to celebrate birthdays, anniversaries, etc. 
Gusto integrates with Xero, QuickBooks, TSheets, Expensify, and more. 
Price: There is a free one month trial. Choose from three pricing plans: Core $6/month/user plus $39/mo base, Complete $12/month/user plus $39/mo base, and Concierge at $12/month/user plus $149/mo base. All plans are month-to-month and are not long-term contracts.
Workday is an enterprise-level software solution for financial management, human resources, and planning that was launched back in 2005. It involves data to drive better choices for your business so you can take the guesswork out of daily operations. Customize the software to match your needs while engaging all employees. 
The Workday Human Capital Management (HCM) allows managers total oversight on where things stand with their employees; it's easier and more efficient to plan, recruit, and develop talent. However, through its other features, you can also manage payroll, time tracking, absence requests, expenses and more. 
Price: Contact a sales representative to learn about your pricing options.
If you're looking to monitor your cash flow in real-time then this New Zealand company is for you. With Xero, you can  send and track invoices, create expense claims, and import and categorize your latest bank transactions. All key information is available at first glance via the dashboard and you can customize reports so you only track the monthly trends that are crucial for your business.
Tracking your monthly spending and the money that is coming in can easily be filtered so you're always on top of your finances. Xero can integrate with more than 700 small business apps, like PayPal and Stripe. 
Price: There is a 30 day free trial with unlimited users. Choose from three pricing plans: Early $9/month, Growing $30/month, or Established $60/month. The Early plan is limited to only 5 invoices and quotes, 5 bills and reconcile 20 bank transactions. Therefore we recommend that you carefully review the three plans before making a decision.
Founded in 2013, Scoro is a SaaS (software-as-a-service) solution for professional and creative services. Scoro has features ranging from project management, work scheduling, time tracking, CRM, financial management (billing and invoicing), and reporting. 
Use Scoro on desktop or any mobile phone. Scoro may also integrate with Mailchimp, Dropbox, Quickbooks, Zapier, Xero, and more. 
Price: There is a free 14-day trial. Scoro is a tiered subscription service so the price depends on how many users you need. There are four options: Essential – $28/month/user, Work Hub – $42/month/user, Sales Hub – $42/month/user, and Business Hub – $48/user/month. There is an additional fee if you want a Scoro expert to set everything up for you, starting at $899, $1,699 or $3,399. 
Do More With Small Business Management Software
When you choose the right small business management software for your business, you can easily scale your business. From communication to payroll to job scheduling to engagement and more. Everything you need is conveniently available in your small business management software so make sure you choose the solution that you and your employees will love. 
Connecteam is perfect for small business management
Connecteam is built for small and medium companies, to help you efficiently and easily handle all those pesky, time-consuming mundane tasks you hate. From job scheduling to payroll to digital forms and checklists to time tracking and so much more.
Learn more
Want to get more tips?
Join 20,000+ others who get our weekly newsletter with Business owner tips!