Manage your employees from one place
Communicate, operate, and train your non-desk employees with Connecteam's all-in-one employee app. Easy to use, customizable, and scalable like no other.
Get started for free!
Start for free
What is Connecteam?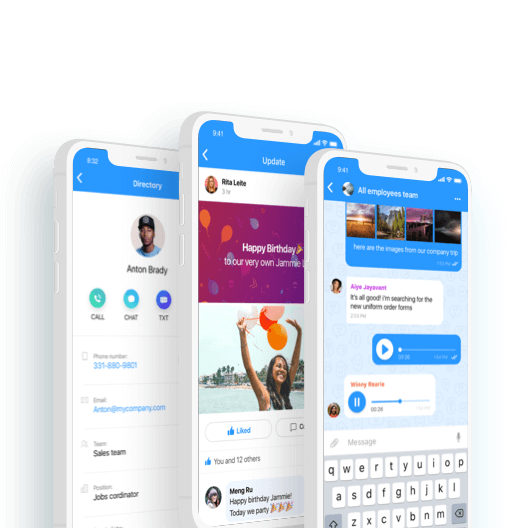 Simplify employee communication
Easily communicate the right content at the right time to every single employee. We offer multiple communication tools to enhance your day-to-day business routine; live chat group conversations, directory for all work contacts, immediate updates with or without comments and likes, employee feedback surveys, a suggestion box, and more.
Take employee management to the next level
Go paperless and automate daily procedures with Connecteam's mobile-first checklists and forms platform. This 100% customizable solution can take any procedure that's run by pen and paper, spreadsheet, text messages, or phone calls, and easily creates a fully automated process that can be used from anywhere at any time. Everything you need to improve compliance, standardize operating procedures, and move your business forward is available in the palm of your hand.
Track employee work hours
Track and manage employee work hours on jobs, projects, customers, or anything else you need. Our employee time clock is easy to use for smooth implementation and packs everything you're looking for to avoid buddy-punching and time theft, improve time management, comply with labor laws and make payroll processes faster and more efficient; GPS location stamps with maps display and geofence employee tracking; tags and shift attachments; automated breaks; overtime and double time; automated push notifications and reminders, and more. Reduce the noise and hassle with an employee app that works for you.
Dispatch jobs and schedule shifts
Manage your employees' everyday job roles and shifts with Connecteam's employee scheduling app. Create single, multiple, or team shifts with calendar view and drag & drop options. Use our GPS status updates for visual job progress, and easily include a location for quick navigation, notes with a free text description, and file attachments of any kind for employee collaboration, so employees can always be on top of their job role requirements.
Enhance professional skills
Your employees don't have to be in the office or even carry bulky papers in binders in order to have direct access to company information, policies, and training material. From one place, employees have access to an intuitive learning experience and easy access to files, all media types, searchable online libraries, professional courses, quizzes, and web-services.
Visual and actionable insights
The admin dashboard is your everyday tool as a manager. It allows you to add features to your employee app, create content, run and export reports, modify admin access and control, and manage all employees from a single place. The dashboard automatically tracks and measures everything that happens in your employee app and makes all data clearly visible and actionable. All app activity will be documented over our secure cloud for your use at any time, with no storage limit.
START NOW
Connecteam is trusted by over 8,000 companies worldwide
Testimonials
"Connecteam enables us to reach 100% compliance on the job. We save time and cost, while improve communication, job performance and service quality."
"As a big retail company, Connecteam 's solution is ideal for us. The App and its management system help us to be in constant contact with all the employees of the company, which are located throughout the country."
"Connecteam improved our work processes in a significant way. The mobile app helped us improve our workflows and made our projects run more effectively. As an organization, our overall communication and flow of information has become fast and accurate""
"Connecteam is an intelligent collaboration solution. In Sodastream, we found this solution friendly and useful, with high adoption rates among our users. The Connecteam staff are creative and dynamic, and great partners to work with."
Connect your deskless workers with Connecteam's employee app
A simple, powerful and affordable solution to manage non-desk employees. Try it yourself!
Start for free