Scale Your Retail Business with Connecteam
Connecteam's employee app is the perfect solution to manage your frontline staff
Employee shift scheduling
Time clock app
Online mobile-first checklists & forms
Multiple communication tools
Get your frontline retail teams on the same page in a click
Easy But Powerful Employee Shift Scheduling
Customize schedules for multiple employees & manage it all from one place
Set recurring shifts and allow employees to claim open spots for each shift. Receive live feedback for check-in and completion with a GPS location stamp, notes and media files attachments
Start your free trial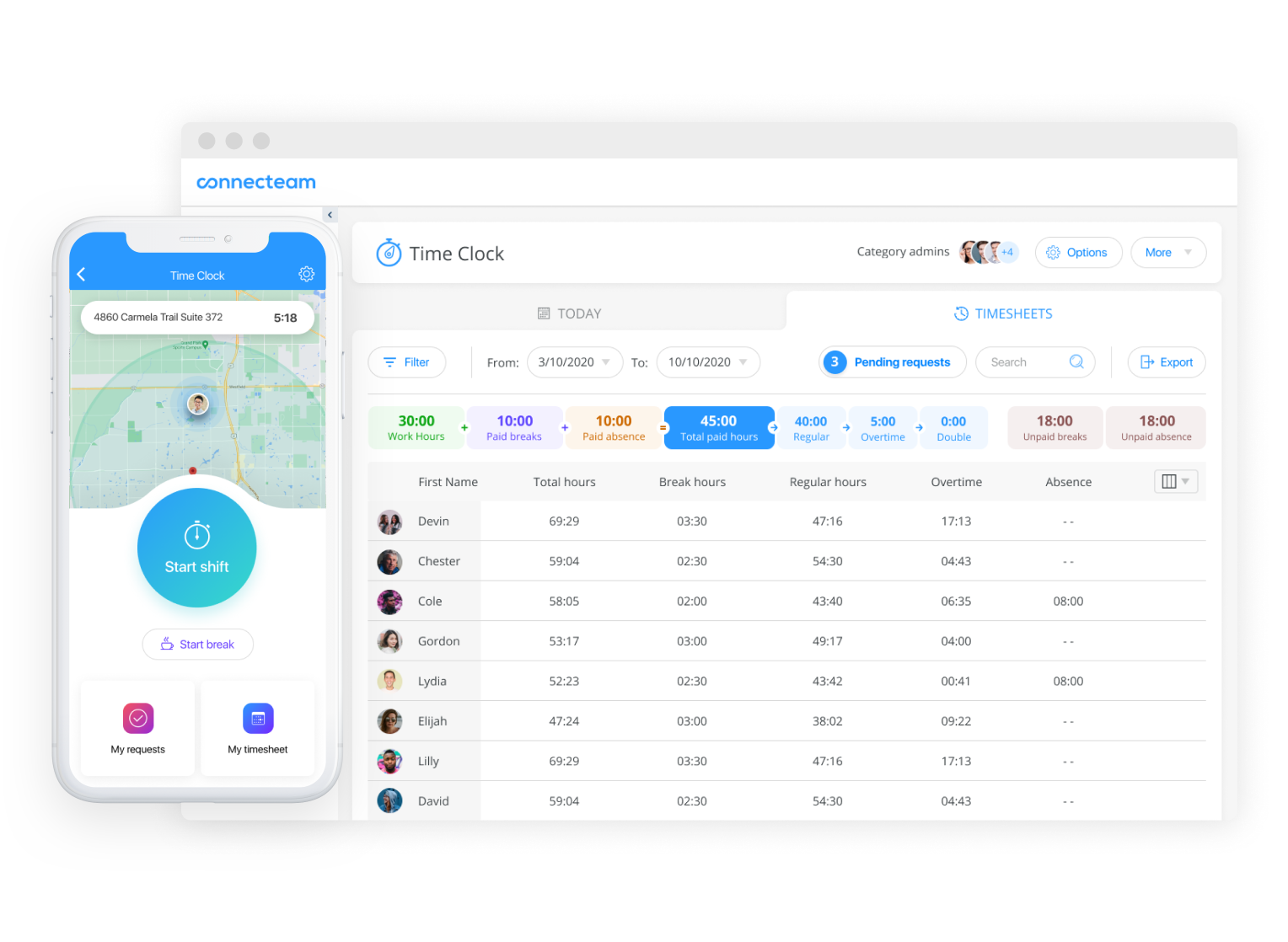 Retail Employee Timesheets and Time Clock
Easily customize it to fit your retail stores
Track employee work hours and expedite payroll. Our time clock app is extremely user-friendly, it takes seconds for employees to clock in and one click for managers to export timesheets.
Start your free trial
Online Checklists & Forms for Retail Employees
Automate daily processes and operational procedures. Receive live updates from the field in a click.
Opening Store checklist

Cash deposit checklist

Inventory order form

End of Shift Checklist

Daily sales report

PTO Requests

Technical store issue tickets
Work Announcements, Chat, and Training
Engage with your frontline workforce in one app
Reach every single employee via our dedicated chat, or communicate through measurable group updates. Ensure your team is aligned & easily share valuable knowledge to better onboard new employees.
Start your free trial
What Our Customers Say
"Connecteam has never been more valuable to us. In addition to using it for sharing important information, we also use it for daily checklists and inspections"
Cora B.
Human Resources Advisor
"Connecting and engaging our non desk employees has never been so seamless before"
Nicolette D.
Marketing & Finance Specialist, Retail
"Connecteam is by far the best software I have used for keeping the entire organization on the same page."
Rakesh D.
Chief Travel Geek @ TripDesign.Us