The #1 Time Clock App for the Deskless Workforce
Easily track work hours on jobs and projects. Improve payroll process and collaborate with your staff like never before. Quick and easy setup. Start your free-for-life plan now!
Easily track employee work hours,
streamline payroll process, and so much more!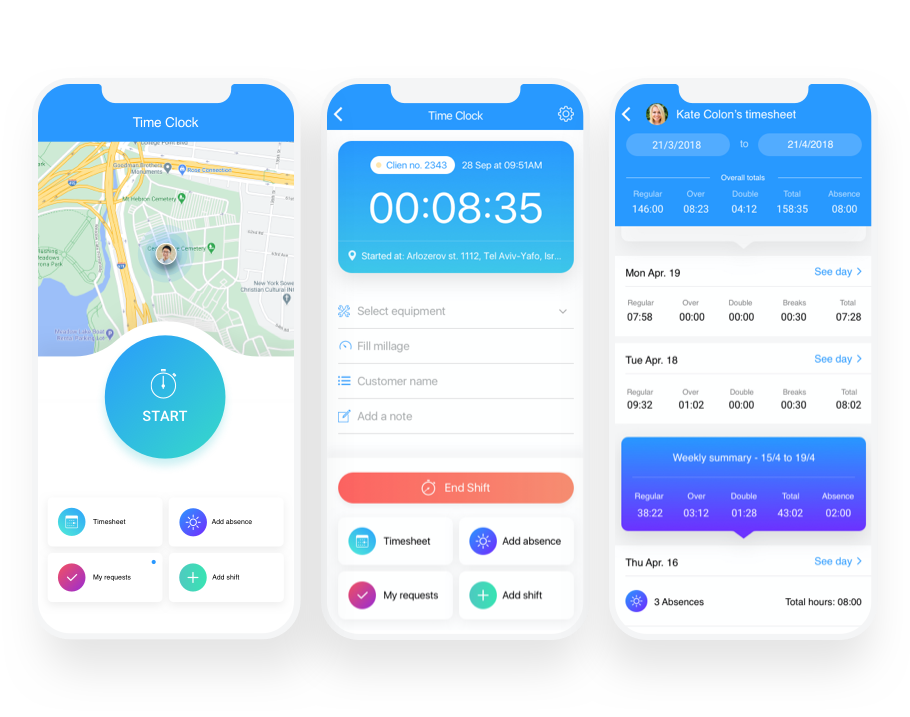 Mobile Time Tracking
Built & designed for deskless teams
Automate time tracking with a simple mobile time clock app. Include GPS location, digital time log, jobs, and more. A simple and intuitive user experience that doesn't require any training.
Start your free trial
Timesheets Made Simple
Save time and effort on payroll calculations
Streamline timesheets review and approval process. Quick actions and visual flags point out what matters: auto-breaks, overtime, double-time, daily limits, and more.
Start your free trial
Real-time Visibility
Always know who clocked in, when, and where!
Whether you're in the office or in the field, gain real-time visibility into staff activity. Easily contact team members with the in-app chat function and track team performance, even on-the-go!
Start your free trial
GPS Capabilities
Ensure employees are where they should be
Avoid employees clocking-in outside the pre-designated site with advanced GPS geofence capabilities. Simply set up worksites and link them with a job, a customer, or a project. Once set up, employees utilize the time clock only in pre-defined locations. 
Start your free trial
Push Notifications, Reminders & Reports
A time clock app that works for you
Smart automation ensures operations run smoothly: push notifications to remind your team to clock-in and out, daily limit alerts, auto clock out for employees who exceed the allowed working hours, and more. Avoid overtime and get daily summary reports!
Start your free trial