Table of contents
The best property management software should make it easier for you to manage your employees, collect rent, manage maintenance requests, and generate vacancy listings — while offering an intuitive and responsive interface. Whether you have a residential or commercial property, you need the right software to help you beat the competition.
Considering all of these tasks you need to juggle, 32% of property managers said that efficiency was their main concern. It's this reason why so many turn to property management software. Property management software leads to higher efficiency which allows for better productivity, leasing units quickly and boosting revenue.
In addition, the property management software you choose can even help you with marketing, renting, and maintaining rental properties – but where do you even start? There are dozens upon dozens of solutions in the market. We gathered the best benefits property management software has to offer and then compiled a thorough list of the top 10 solutions in the market so it's easier for you to make the best choice.
Benefits of Property Management Business Software
This software helps you manage to properties of all types and sizes. Moreover, modern platforms are easily upgraded and enhanced so that you can grow effortlessly while meeting expanding needs and demands.
By investing in a top property management software for small business, you are effectively lowering the need for additional manpower and are saving wages. A lot of software solutions in the market are cost-effective options.
Thanks to the software, you are able to automate complex tasks and processes, which help you save a ton of manpower and time. You're able to do pretty much anything, like send reminder emails and notifications, create documents and reports, communicate with your staff, and more. Automating all your manual processes helps you save time so you can focus on the big picture.
Information access in real-time
You don't have to be at your desk to complete your work because property management software is available anywhere and at any time, and probably on your mobile device too. When all key data is available in one place and is available at any time, you have a simple and accessible platform to manage your business and employees.
It's a bit of a no-brainer that the solution you choose should be easy to use and to implement. If it's time-consuming and complicated then you won't use it and neither will your team. Make sure the training is short or is just that easy you don't need to train a single person on the software.
Keeping all your confidential information secure in a trusted property management software solution is a must. Many top solutions have advanced security measures like encryption, firewall, and backup/recovery modules.
With all the above in mind, you know have all the information needed to choose the best property management software for your small business. We have separated the solutions by the tools your business would benefit most from – management, business software, and other necessary tools.
Employee Management and Money-saving Solution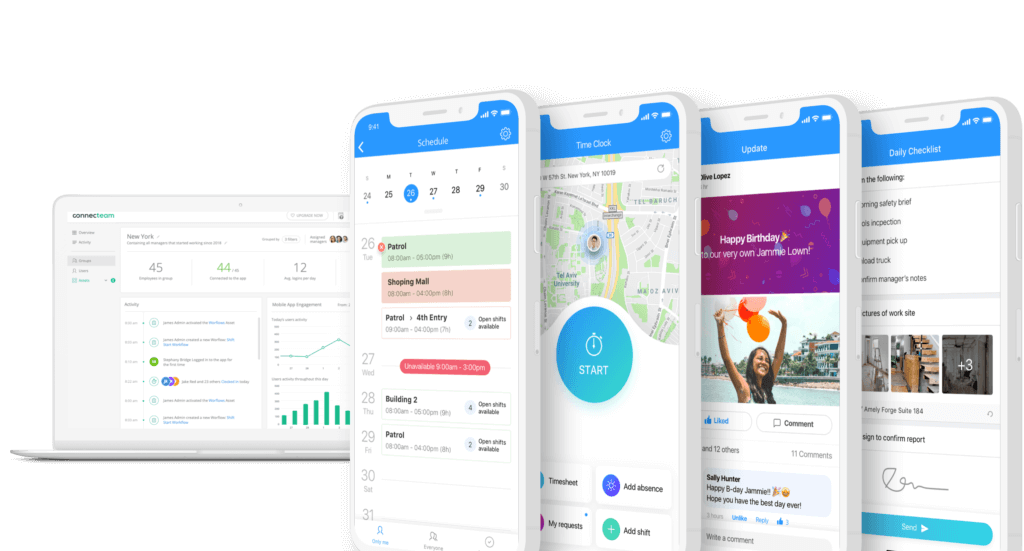 Connecteam is the best property management software that offers an all-in-one, mobile-first solution for deskless employees, allowing you to effectively manage your company while on the go.
Streamline communication: forget chasing employees around on phone calls, in a click, you can send logistical and operational communication, engaging updates, announcements, and more through advanced communication features like chat groups, real-time push notifications, private chat, updates directly to your employee's mobile phone, and more.
Smart groups: create content especially for the groups like your building managers, maintenance teams, and office staff, so you can send them updates and announcements such as new policies or getting into new territory.
Fully searchable work directory: allow employees to search for any work contact via pre-determined profile attributes so they can easily make a phone call, send an email, or start a private chat conversation, without the need to save contacts on their personal mobile device. This makes it easier to find who is managing which building and in a tap, you have their contact information.
Task Management & Workflows: create one-off tasks, for example, when doing an inspection and finding something wrong you can create a one-off task to maintenance to fix it. You can easily create and assign tasks with built-in reminders and you get notified once the task is completed. For more routine tasks, you can create weekly or monthly checklists, such as reviewing that there are no hazards in public areas or ensuring maintenance comes once a month to inspect the elevators. All tasks are recorded for future reference and shared with relevant people, additionally, you can track who completed what task and when.
Automating checklists and forms: reduce friction and improve response time by automating reporting processes, such as hazard reports, incident reports, expense reimbursement, and more. Through "read and sign" forms, you ensure all employees are compliant through digital 'read-and-sign' forms, such as employee handbook, uniform agreement, and more.
Dispatching maintenance jobs with the schedule: easily dispatch maintenance jobs to a specific building and include shift tasks that are marked off when each task is done. Employees can add images, PDFs, digital signatures, and more if needed as well.
Precise payroll: These schedules are logged and completed to the second so that it can be transferred to payroll in a breeze. With integration to Quickbooks and Gusto Payroll, everything is quite literally streamlined from beginning to end.
Employee onboarding & training: get new hires up to speed and enhance knowledge for current staff through videos, quizzes, PDFs, Google Drive documents, and more. Actionable insights are available from the dashboard so you can track training progress in real-time.
Company protocols and policies available: all materials are accessible in real-time, from the employee handbook to important company protocols, how-to guides, making all the information available and searchable for the entire team.
Price: Starts at $39/month.
Free trial: Start with the free 14-day trial and switch for the Free for life plan! Or get started with one of the premium plans.
#1 App for Property Managers
Connecteam is the best solution for property managers, with everything your business needs to run daily operations smoothly.
Property Management Business Software Solutions
If there's one thing anyone knows about Salesforce, it's that their software is considered the #1 CRM worldwide. Real estate agents use Salesforce Essentials to offer a faster response time, streamline communication to maintain client relationships, and quickly respond to queries and concerns. In addition, CRM makes it easy to automate form and document filing and event data retrieval.
On top of that, Salesforce Essentials is available on a mobile app so real estate agents can perform all daily tasks while on the go – like tracking emails, calls, and meetings automatically so nothing gets missed.
Price: Pricing starts at $35/user/month.
Free trial: Yes, there is a free 14-day trial.
IBM TRIRIGA Facilities Management is an integrated workplace management system that makes it easier to boost operational, financial, and environmental performance. Top features of this property management business software include facility management, lease accounting, space management, capital project management, automates processes and approvals for environmental services, and environment and energy management.
IBM TRIRIGA makes it easy to manage project activities, provides assistance in managing workplace configuration and space utilization, and even gives you a choice to deploy the platform on-premise or in the cloud.
Price: Contact an IBM representative for pricing information.
Free trial: Details not available, however, you can book a free demo.
AppFolio is an online solution that has various management and accounting tools. Easily centralize your property management processes including marketing, accounting, online rent payments, applicant screening, online lease agreements, and so on.
The platform works well with many kinds of properties like a student, residential, commercial, and HOA housing. This allows landlords and residents to obtain a clear communication channel, marketers can improve online visibility and property listings, and property owners are able to effortlessly manage their properties.
Price: Depending on the property type (residential, commercial, etc.), prices vary but start at $1.25/unit/month.
Free trial: While there's no free trial, you can schedule a free demo.
Propertyware is a scalable platform built for small residential and single-family properties. The property management business software combines accounting and online property marketing and management so you are able to cut expenses and boost revenue.
Propertyware is best for landlords responsible for managing rental properties and tenants, REO/asset managers in charge of bank-owned properties, and fee managers responsible for properties and fees for their owners. The property management business software helps to simplify leasing renewals, communication with tenants, rental management, and more.
Price: Pricing starts at $1/unit/month and requires a $250 monthly minimum plus an implementation fee of 2X the monthly subscription price.
Free trial: There is a free trial however the website does not offer a timeframe for the trial.
Cloudbeds is a hospitality software developer that includes a suite of OTAs, payments, reservations, and reporting so their users can focus on their clients and delivering expert customer service. Its features include a drag-and-drop calendar which helps reduce manual tasks, built-in reports, permissions by role, a cash drawer to monitor cash and a housekeeping module to easily mark rooms as dirty and clean, and more.
Price: To receive detailed pricing costs, you will need to add your "location" and your "property type" on Cloudbed's pricing page.
Free trial: After completing a free consultation, you can choose to test a demo account.
For over 30 years, Rent Manager has been offering robust features to further property managers and rental service companies. Top features include open API, VoIP phone integration, online portal tools, electronic payments, enterprise accounting, mobile applications, and more.
You should also use Rent Manager to benefit from the voice recording and broadcasting feature, the virtual post office so you don't need to print anything anymore, and reporting features so you can create lease agreements, quick reports, and other vital files.
Price: You'll need to request pricing after filling a form with the necessary information to be able to receive a quote.
Free trial: While there is no free trial, there is a free demo available.
Other Great Tools
Monday is a project management app that helps organize all your tasks and boosts internal communication. It's easy to use, simply create a project, add tasks to the project, and add steps to each task. Once your employees complete a task or steps in a task, the status is automatically updated so everyone is aware of where projects stand in a glance.
Additionally, you can create knowledge bases to host documents (procedures, the employee handbook, sales tips, etc.) and anything else that's project related. Monday is also available on desktop and mobile.
Price: The pricing plans available are based on the number of users: 5 users/$29/month or 10 users/$59/month.
Free trial: Yes, there is a free 14-day trial.
Even the best property management professional knows that social media is golden in today's day and age. With Buffer, you can schedule and manage every single social media platform (Facebook, Twitter, LinkedIn, Pinterest, etc.) and posts from one place. Easily and quickly send your message to your social platforms, without the added hassle. Create posts, analyze the data and engage your followers.
By mapping out, creating, and having all your social posts automatically uploaded, you free up a lot of valuable time so you can focus on your clients and the bottom line.
Price: There is a free plan or you can purchase the $15/month starter plan.
Free trial: There is a 7 day free trial with the Pro plan otherwise you can use the Free plan.
With Mailchimp, you can easily send out newsletters straight to your customer's email. Additionally, you can create landing pages, signup forms, and Facebook ads with Mailchimp. The interface is super easy to navigate and the unique templates are professionally and beautifully designed. In a click, you can reach the relevant clients and can gain new ones as you increase your marketing efforts.
As your audience grows, Mailchimp grows with you. The small business app has even more features that can help automate all your marketing goals and it isn't complicated to understand.
Price: Pricing starts at $9.99/month and goes up to $299/month, it all depends on what your business needs are.
Free trial: While there is no free trial, there is a free plan your business can use.
The Bottom Line on Property Management Software
Based on the 10 best property management software for small businesses that we listed above, the perfect fit for your business and employees is available. Any of these solutions listed above can help you focus on the bottom line, better your communication efforts and so much more.
The Leading All-in-One Employee App
Connecteam is the employee app that connects everything a business needs from field to office, all in one place. In the click of a button, you can connect your staff, manage day-to-day operations, improve employee experience and engagement, and drive your business forward. Start for free!
Learn More